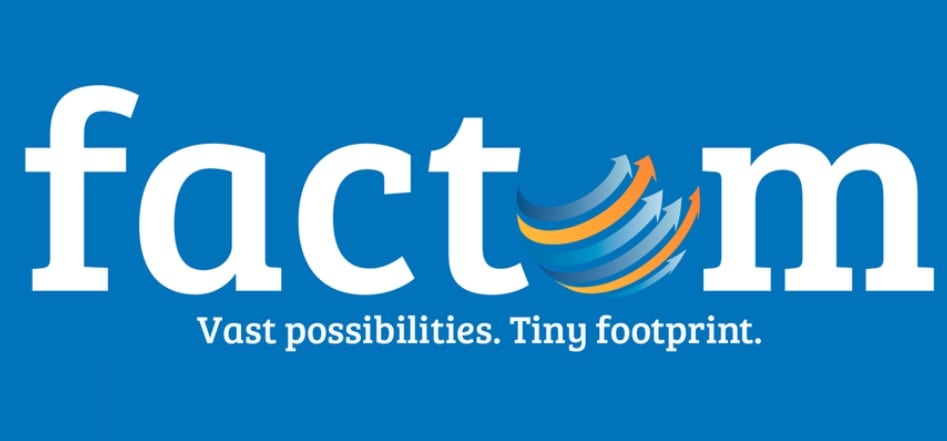 Blockchain technology has many applications in business and government administration. Factom, is one of the first projects using decentralized ledger technology to solve some of the most pressing economic and social issues plaguing society today. Factom essentially uses blockchain tech to provide a system, where the falsifications of records is impossible. Corrupt politicians must be shaking in their boots at the thought! Bitcoin's blockchain can be used as a transport mechanism, and that is exactly what Factom is doing, by building a data stream right on top of Bitcoin. Factom's system can secure millions of records in a single cryptographic hash. A decentralized and forgery-proof record keeping system like the one promised by Factom, is a godsend, in today's morally bankrupt corporate and political landscape. Business and government organization will be transformed almost overnight, if Factom has its way.
The Factom project, initiated a crowd-sale on the 31st of March, raising over $200,000 in several days. The funds that have been raised so far, will go towards the development and future legal and administrative/maintenance costs of the Factom system. Factom is currently registered as a non-profit organization, and all of its development will be open-sourced.
Factom recently sponsored the Texas Bitcoin Conference, which took place in the heart of downtown Austin. Factom recently secured strategic partnerships with the likes of Vaultoro and Rivetz. Peter Kirby, President of Factom, sees many potential applications of blockchain technology, that extend far beyond the financial arena. Bitcoin in its current design, is able to handle only a small amount of data to be inserted into the blockchain, but Factom can handle much larger loads of data. A good example of a potential application of the Factom system is Vaultoro, a gold trading platform, which can utilize third party blockchain-based verification system for auditing gold reserves.
Becuse of Factom's encoding scheme, a lot of data can be encoded with a single hash, unlike Bitcoin's blockchain, where bloat has already become a hotly debated issue. Bitcoin's blockcahin is already close to 30 gigabytes, and only a small portion of the world is currently using it – it was never designed for any kind of data storage, Factom is.
Distributed data storage systems such as Factom, can also solve the seemingly unstoppable plague of identity theft, that has infected society so pervasively. Imagine, logging into your favorite social network or online bank account, without the slightest concern that someone else may steal your identity. Factom's data system, has the potential to eliminate most forms of insurance, bank and corporate fraud. Society has to bear the costs associated with fraud via higher premiums, taxes and fees – an immutable system of records, can reduce or downright eliminate all the extra costs associated with this form of criminal behaviour. Voting systems can also benefit from Factom: no more voting fraud, no more government corruption. Factom is one very ambitious blockchain-based project, an alpha version is currently available on Github. The beta version of Factom is scheduled to be released in May.
Image source: http://factom.org/