Pros
Huge Number of Games
Fun Theme
Lots of Developers
VIP Scheme
Real Money Tournaments
Cons
Many Country Restrictions
Low Withdrawal Limits
BitKingz Casino is an online casino that tries to be different and, in many ways, succeeds. It doesn't really do anything innovative and you won't find many features that aren't available on every other online casino. However, it adopts a fairly unique style and has a few features that are somewhat unique. In fact, one of these does something that we have been requesting for years!
…adopts a fairly unique style and has a few features that are somewhat unique.
The site is available in most gambling regions around the world, including large parts of Australia and all of Canada. Its only license is from the authorities of Curacao, which means you can't play if you reside in Sweden or the United Kingdom, but it has made itself very accessible to players from other countries, with a multitude of payment options, currencies, and supported languages.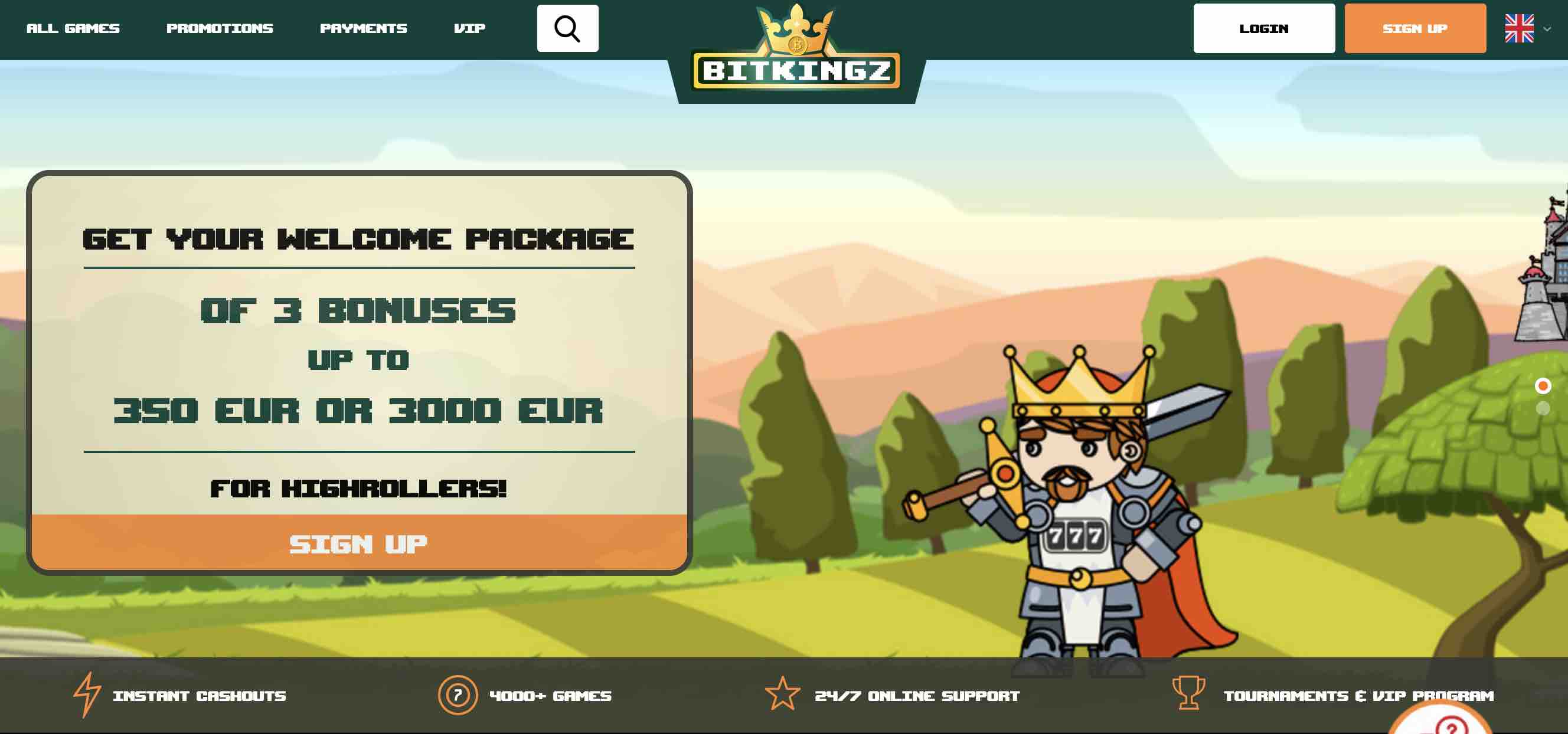 Bonuses
BitKingz Casino uses a fantasy aesthetic with knights, kings, dragons, and castles. But unlike casinos like King Billy, which goes all-out on the graphical front, BitKingz Casino adopts a simple style akin to an old-school video game.
It reminds us of the classic Ghosts n' Goblins but maybe that just shows our age. In reality, it probably looks more like some modern mobile game that we've never heard of.
The site is owned and operated by DAMA N.V., a game you may recognise if you have read any of our other Bitcoin casino reviews. That's because DAMA has created over 20 other online casinos. Most of these, like BitKingz Casino, were launched in 2020, and it's highly likely that we'll see many more sites appear in the next few years.
The question for this review is whether BitKingz Casino compares to its many sister sites and whether those comparisons are good or bad. After all, while we have reserved a lot of praise for DAMA in the past, we've also highlighted some issues with this operator's sites.
Games
BitKingz Casino is home to more than 4,000 games. As far as we can tell, this wasn't always the case, and there were decidedly fewer titles when the casino first launched. But that's good news, as it means they are doing their best to grow the gaming roster and ensure there is a little something for everyone.
The games are sorted by type and developer. You can choose to see only games by NetEnt, Playtech, and Pragmatic Play, for instance, or you can limit your search to jackpot games.
One of our personal favourite categories is the "Buy Bonus".
These games all feature an option that lets you pay for the bonus, skipping the usual endless spins and Scatter-searching and going straight to the bonus. Games include Sweet Bonanza, Champions of Rome, Fat Santa, and Super Striker. There aren't a huge deal of titles in this section, but the games that do exist are worth checking out.
Other features to look out for include the famous Megaways payline mechanic, which adds a random number of lines to each spin, and Cascading Reels, which can turn one win into many, often with multipliers attach. In fact, if you play Gonzo's Quest Megaways, you can benefit from both of these features in a single slot.
The games look great on desktop and even better on mobile, with support for a multitude of devices and platforms. To play on smartphones and tablets, just access the site using your device and you can play directly through your web browser.
Bonuses
When you join BitKingz Casino for the first time, you're entitled to a bonus of up to €350 or €3,000, depending on whether you're a small stakes or high stakes player.
The standard bonus requires a minimum deposit of €20 and is spread across three deposits, with a 100%, 70%, and 110% match respectively. These are capped at €150, €100, and €100.
As for the high roller bonus, you need to deposit a minimum of €30 and will be offered the same match percentage, but with a maximum of €1,000 each time.
This is something you don't see very often but it's something that we love and something we have requested for years now. A handful of casinos do split their bonuses between small stake players and high rollers, but the latter often consists of a measly Cashback bonus.
By varying the maximum payouts and the minimum deposits, it creates two possibilities that will appeal to two differently groups. It's a simple solution and yet it's one that so many casinos overlook. Even Cadabrus Casino, which we praised highly for offering multiple bonuses, didn't impress up as much as BitKingz Casino.
And that's not all, as BitKingz Casino also has a Loyalty Scheme (see below) and a Reload Bonus. The latter is known as the Wednesday Reload and offers a 30% deposit match. Again, this is targeted to both groups of players, with one capped at €100 with a minimum deposit of €20 and the other capped at €1,000 with a minimum deposit of €100.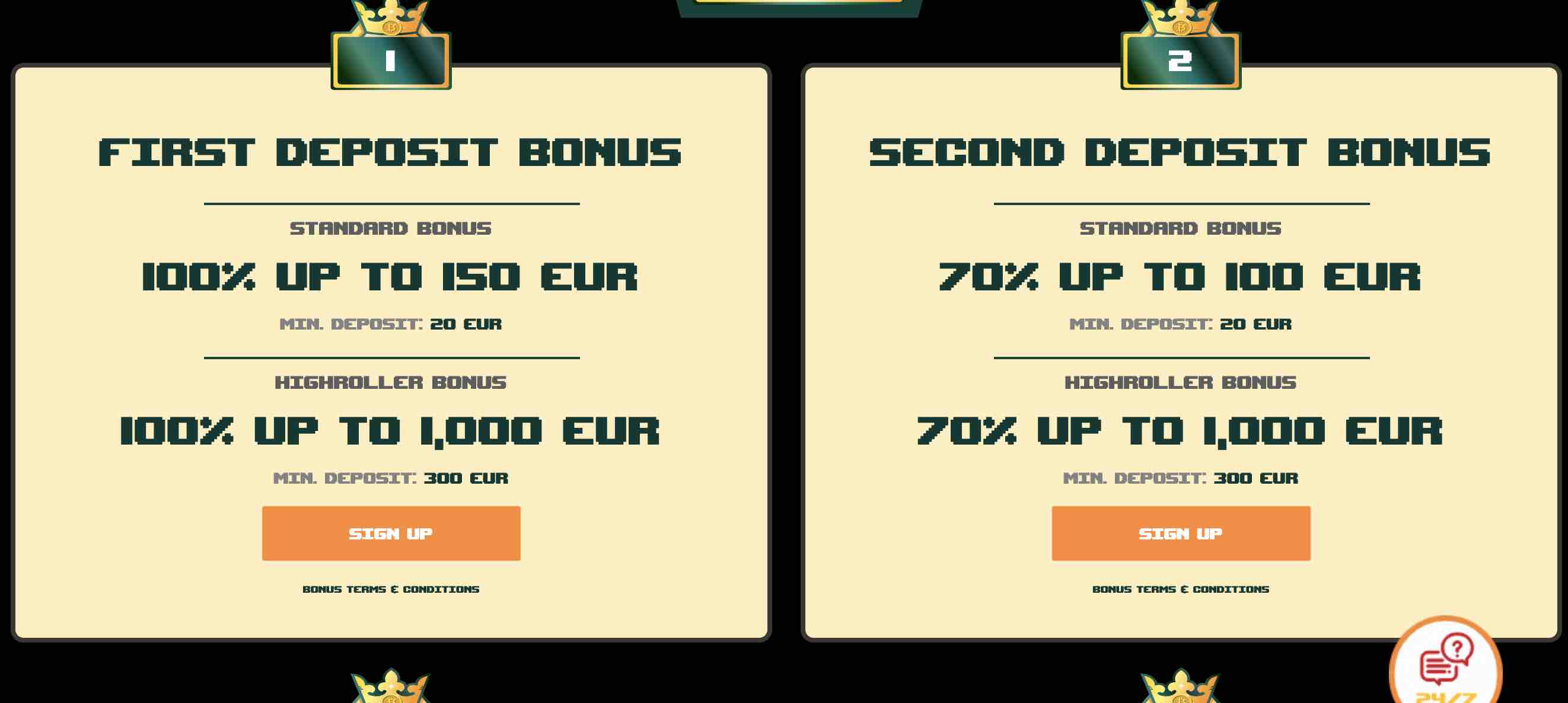 VIP Scheme
There is something about fantasy-themed casinos and Loyalty Programs that just works so well. It's a theme we have encountered several times before. In fact, we recently reviewed Kingdom Casino's Loyalty Scheme and not only did we praise it, but we compared it to the brilliant King Billy, another medieval-themed casino with a praiseworthy Loyalty Scheme.
With that said, what makes this BitKingz Casino bonus so special and how does it compare?
For one thing, it's much more than a simple copy-paste job. Many casinos tend to use the same formula when it comes to these bonuses and just regurgitate the same theme. As far as we're concerned, originality is a key feature of any Loyalty Program.
After all, loyalty is the key word here, and if a casino wants you to remain loyal to it above all others, it needs to offer something you can't get elsewhere.
You start the BitKingz Casino Loyalty Scheme in "Crypto Land". From there, you advance to other areas of this crypto world and collect bonuses along the way. There are 28 steps in total, all leading to Bitcoin Kingdom. Once you make it to step 28, you'll be given 300 Free Spins and 15% Cashback.
But that's not all, as there are many Free Spins and a whole lot of Bonus Credits to collect on the way.
You don't need to do anything special to join and everyone can earn a share of the spoils. It's all relative, which means that you get more if you deposit/bet more, but you can also get a return if you're wagering fairly conservatively.
Banking Options
You can use Visa, Mastercard, Skrill, Neteller, and other traditional payment methods at BitKingz Casino. In addition, it facilitates payments made using CoinsPaid, which allows it to accept payments using Bitcoin, Litecoin, and a variety of other cryptocurrencies.
Payments are processed in a few hours and there is no charge. You may miss out on the casino's bonuses if you use Skrill or Neteller, but there are no such issues with other payment options.
Your deposit needs to be at least €20 and the same applies to withdrawals. As for the maximums, these are fixed at a very disappointing €4,000 for both deposits and withdrawals. That €4,000 limit is listed on countless online casinos and is incredibly frustrating and deflating.
On the one hand, BitKingz Casino appeals to high rollers by offering them an exclusive and generous bonus. But at the same time, it restricts them by limiting how much they can deposit and withdraw.
If you're tempted by this site but are discouraged by the withdrawal limit, we recommend getting in touch with the casino before you join. They might offer you a unique bonus or limit.
No casino in their right mind will turn down a large deposit from a high roller, and if they believe that it will benefit them, they will find a way to accommodate you. Of course, this only applies if you're depositing thousands or even tens of thousands at a time, and you won't get special treatment just because you're lining up a deposit of €50.
Highlights
Great Developers
Lots of Games
High Roller Bonuses
VIP Scheme
Mobile-Friendly Casino
Unique Theme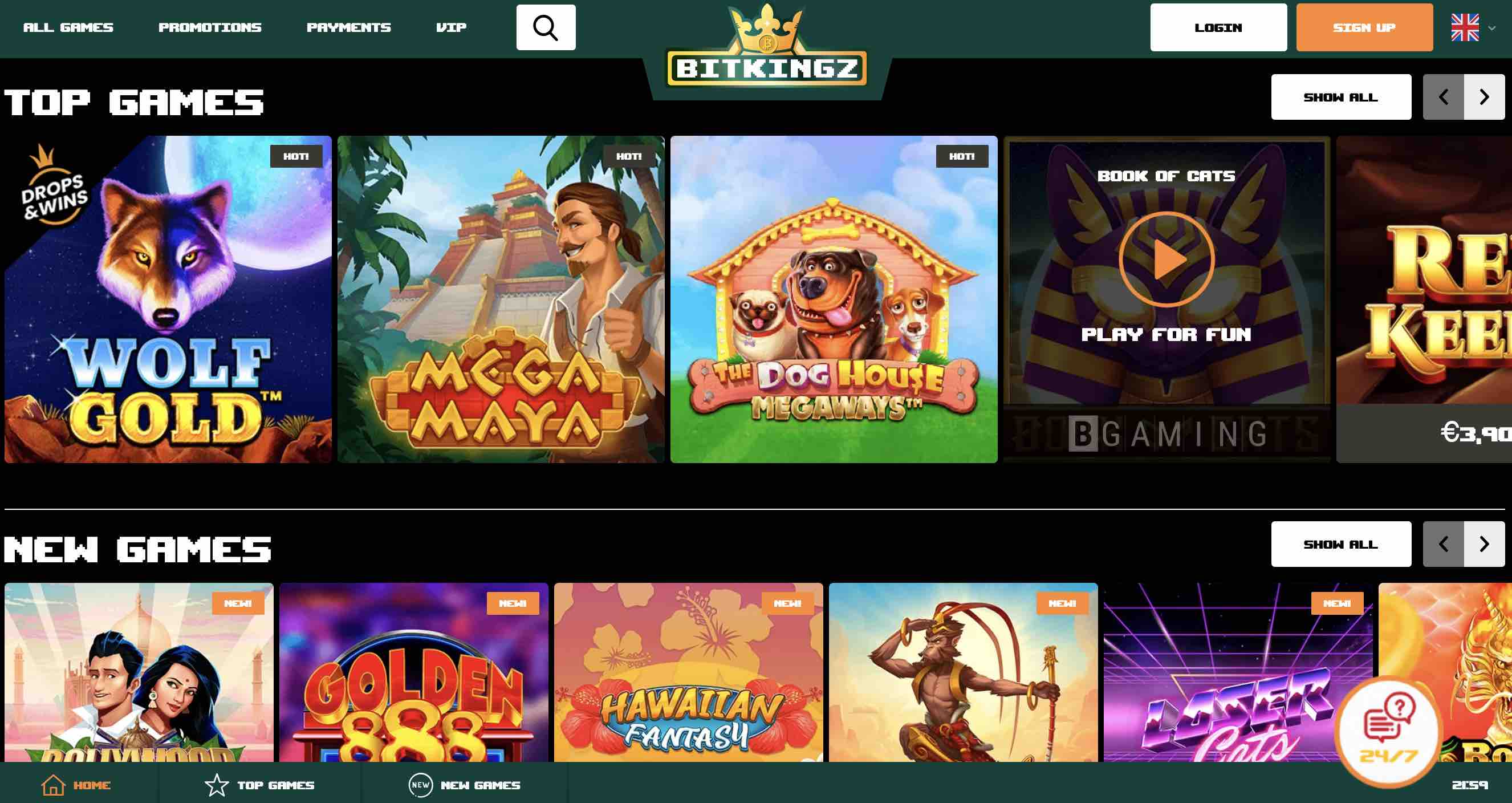 FAQs
Does it Have a VIP Scheme?
Yes! It has a very good VIP scheme and we recommend checking it out. Don't get too caught up in the Welcome Bonus and make sure you look into the Loyalty Offers as well. For other big VIP-friendly casinos, take a look at PokerStars Casino.
What is the Withdrawal Limit?
The withdrawal limit is very small as players are limited to no more than €4,000 a month.
Where is it Regulated?
It is regulated by the authorities of Curacao. They are not the strictest, but they are still a respected regulator and one that guarantees the security of this casino and countless others like it.
Is Bitcoin Accepted?
Yes! As the name suggests, BitKingz is all about the cryptocurrencies and you have several of these to choose from.
Is it Available in the UK?
You cannot join BitKingz if you are in the United Kingdom as it is not regulated by the UK Gambling Commission.
Can I Join in the US?
You are unable to join this online casino if you are located in the United States.
Reviews and Support
Despite its relatively short time in operation, BitKingz Casino has received a wealth of online casino reviews. Most of these are positive, highlighting some of the benefits we have discussed already, but a small percentage are very critical.
Some of these reviews discuss the withdrawal limits, an issue we mentioned above. However, the more concerning of them talked about the verification process, and the apparent snail pace at which it operates.
It seems that there have been issues processing withdrawals and verifying customer data. This has led some players to get very frustrated with the casino. One review was from a player who won several thousand Euros, couldn't get their money, and eventually lost all of it.
Most long-time gamblers have this story. You win big, but the casino asks you to undergo a verification process. You wait a couple of days, eagerly anticipating your money, but there is an issue and you're forced to submit more documents. These requests increase in frequency and with each one, you get more and more frustrated.
Eventually, you reach a point where you have all-but written the money off and decide to gamble with it. You risk it all, lose it all, and only then does the casino decide to complete your verification.
It's really frustrating when casinos do this, but you have to remain patient. They are forced to conduct these assessments and sometimes they run into problems, at which point additional checks need to be made. The good news is that you're not being scammed. If you're a genuine player and you didn't break any rules or use someone else's card, you'll get there in the end.
And if the casino continues to reject you for whatever reason, don't resort to gambling your money. Simply leave them a review, go through the complaints process, and if that fails to get anywhere, go straight to the regulator.
BitKingz Casino does seem to be a little slow in this regard, but only for a small minority of players. More importantly, this is a legitimate casino and you don't have anything to worry about. You will get your money eventually.
We would also like to point out that BitKingz Casino takes the time to respond to all customer reviews—negative and positive. We discussed the benefits of this during our Booi Casino Review and stress that it is a very important but often neglected practice.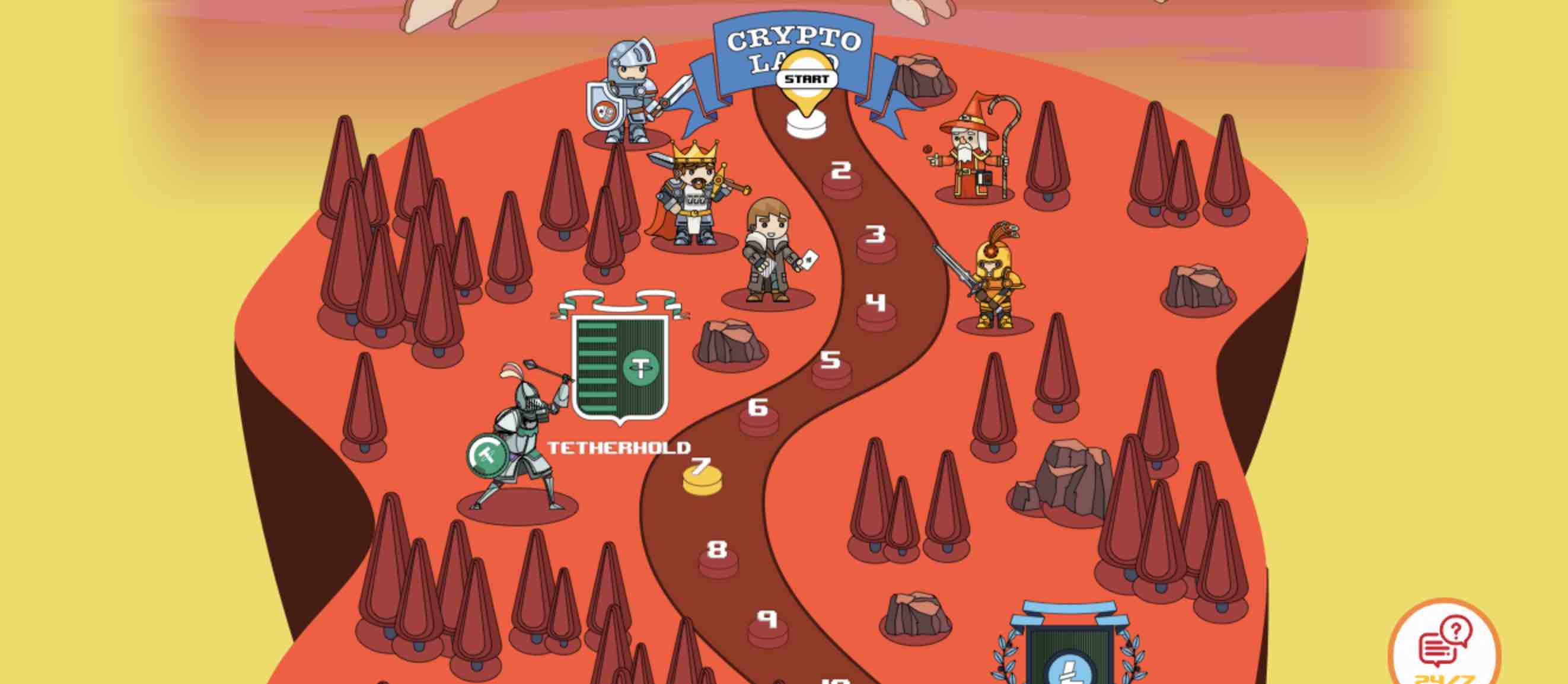 Final Word
We praised BitKingz Casino's unique theme and we really do like it, but we also have an issue with it. The block text, when displayed on certain backgrounds, can be a little hard to read. It's not something that we have to squint or strain at, which is why we didn't mention it above, but it's still not quite as fluid and as easy as it could or should be.
The biggest issue we have with BitKingz Casino, however, is the withdrawal limit. We outlined our concerns above so we won't get into it again, but needless to say, it's a massive issue and one that will deter a lot of players.
They tempt high rollers and then place restrictions on them. It's like inviting someone to stay at your 20-bedroom mansion in the hills, before telling them that they can't leave the bedroom, use the pool, or access the garden. If they get rid of this issue and expand those limits, our casino rating would be much higher.
However, these issues aside, BitKingz Casino is still a very generous and worthy online casino, and one we would recommend to players seeking a unique experience. You can choose between two well-structured Welcome Bonuses, join a generous Loyalty Scheme, and take your pick of hundreds of real money games.
It's everything you could want in an online casino—assuming you're not a high roller. If you are, you may be better off taking a look at BitStarz Online Casino, which is much less limiting and considerably more varied. That's why it's topping our list and it's why BitStarz has become the yardstick with which all our casinos are measured.
BitKingz Casino Review Details
Restricted Countries:
Estonia
France
Israel
Italy
Lithuania
Netherlands
Spain
Sweden
Switzerland
UK
US
Languages:
Arabic
Czech
English
Finnish
German
Hindi
Japanese
Norwegian
Polish
Portuguese
Spanish
Currencies:
AUD
BTC
CAD
ETH
JPY
LTE
NOK
RUB
USDT
XRP