If web wallets were Premier League football teams, PayPal would be Manchester City; Skrill and Neteller would be Liverpool and Manchester United, and ecoPayz…well, ecoPayz would probably be Tottenham. It has a big foundation, a lot of support, and immense potential, and yet it always seems to be standing in the shadows of its bigger and better-known rivals.
ecoPayz should be bigger, it should be better known, and it deserves way more acclaim. In this ecoPayz review, I'll show you why, highlighting all of the fees, features, and benefits of using this payment method to gamble on online casinos.
What is ecoPayz?
ecoPayz was founded back in 2000, at which point it was actually known as EcoCard. The name change came in 2013, but ecoPayz still offered an EcoCard…which didn't help to clear up the confusion.
There are several products offered by ecoPayz, including ecoAccount and the ecoCard.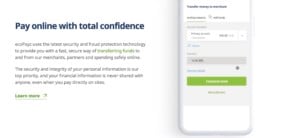 The ecoAccount is the main product and the one that will be the main focus of this review. The ecoAccount is basically an eWallet that you can use to receive, store, and send money in a variety of currencies.
You can add funds to your ecoPayz account through another payment method or by receiving them via another user or an online casino. Once the funds are in your account, you can spend them at retail locations or make deposits in casinos and sportsbooks.
Basically, ecoPayz works similarly to services like Neteller. The difference is that it's much smaller and doesn't have the reach or accessibility of the three main web wallet services: Neteller, Skrill, and PayPal. Still, those are some pretty impressive companies and ecoPayz would probably be fourth on the list of the biggest web wallets.
ecoPayz, just like PayPal, also offers prepaid cards to all its members. This is where the ecoCard comes in.
The ecoCard is a prepaid Mastercard that you can use anywhere in the world. It's basically a debit card that connects to your ecoPayz account and can be used just like a normal MasterCard. Anywhere that you can use a MasterCard, you can use an ecoCard.
You don't have to undergo any credit checks when applying for this prepaid card and so it won't harm your credit rating.
ecoPayz Fees and Limits
ecoPayz fees are not too dissimilar to the fees charged by Neteller and Skrill. You will be charged a percentage of each deposit every time you transfer money into your ecoPayz account, with the biggest charges coming from bank wire deposits in combination with currency conversions.
As for the ecoCard, it's completed free to acquire and activate, but you will be charged a 2.99% currency conversion fee and a 2% cash withdrawal fee (with a minimum charge of €1.50). There are also limits (€250 to €500) on how much you can withdraw from an ATM in a single transaction, as well as maximum daily limits (€750 to €1,500).
One of the best things about ecoPayz when compared to other services is that peer-to-peer transfers are completely free. It means that you can transfer money to and from your friends, family, and clients without incurring any charges.
ecoPayz has three account levels: Silver, Gold, and Platinum. The higher your level, the greater the limits and the lower the fees. The difference isn't huge though, and you likely won't notice it unless you are transferring huge sums of money.
The biggest difference concerns the maximum account balance, which is fixed at just €15,000 when you have a Silver account but jumps to €120,000 with a Platinum account.
The Best ecoPayz Casinos
There aren't as many ecoPayz casinos as there are Skrill, Neteller, and even Paysafecard casinos. But you still have a few top sites to choose from and you can find all of them at the top of this guide.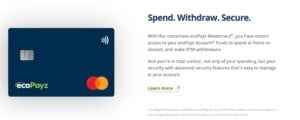 Every online casino on this page accepts ecoPayz as a deposit and withdrawal method and all of them have been vetted by our team of reviewers.
The links above will take you directly to the casino, where you can collect the latest Welcome Bonus, or to our review page, where you can learn more about the site's payment methods, bonuses, games, and more.
Pros of Using ecoPayz
Why should you use ecoPayz to gamble at an online casino? Take a look at the following pros to see what this payment method has to offer.
Good for Bankrolling
ecoPayz is a great tool for bankrolling.
It's a benefit that you can get from most web wallets and even from cryptocurrencies like Bitcoin. Simply put, if you determine that you can afford to lose €500 every month and wish to use that as your bankroll, you just deposit it into your ecoPayz account and then leave it there.
Once the cash is in your account, you can use it to deposit at as many online casinos, sportsbooks, and poker sites as you want, making sure that you spread the money throughout the month.
If you win any money, you can use it to bolster your bankroll. If you lose, you just need to wait for that bankrolling period to end, at which point you can load your account again.
It requires some self-discipline, of course, but the same could be said for all payment options and if you use it in combination with deposit limits, it's a great way to keep problem gambling in check.
Safe and Secure
ecoPayz is very safe and secure. It is certified by the FCA and uses the latest security procedures and technology to guarantee the safety of every account and transaction.
Your money is safe with these guys, and in the unlikely event that anything does happen, you have recourse for action.
Not Connected to Your Bank
The days of dodgy online casinos and stolen card details are long gone. All legitimate casinos are incredibly secure and highly regulated, making sure that nothing happens to your cash or your details. However, some people still worry that something will happen and so they refuse to use their debit cards to gamble.
In such cases, you can just use a prepaid card instead. The ecoCard will be connected to your ecoPayz account and to whatever money you fund it with. In the unlikely event that the details are stolen, you don't need to worry about anyone gaining access to your bank account.
Easy to Use
If you have any experience with web wallets and similar services, you should adapt pretty quickly to ecoPayz. It's far from a difficult service to use and it's very user friendly. After all, we're talking about a service that has existed for over 20 years—it's had a lot of time to fine-tune its interface and to make sure it's one of the best on the market.
Fast Payments
Web wallets like ecoPayz, just like cryptocurrencies like Ethereum, can process fast—almost instant—payments. You don't need to wait around for banks to accept and process the payment. It all moves fluidly and you should have your cash within a few minutes.
Of course, all casinos have a pending time, and this can delay the withdrawal process somewhat. It means that the casino is sitting on your withdrawal and isn't actually processing it. This can happen as a result of security protocols and it's relatively common, but many casinos skip it altogether while have a pending time of 24 hour less.
Cons of Using ecoPayz
For all the pros of ecoPayz, there are also a few cons that need to be considered before you use this payment method.
Not Widely Available
You won't find ecoPayz on as many online casinos as Skrill and Neteller. It's still out there, and as you can see by the list of sites at the top of this guide, there are enough casinos to go around. But your options are much more limited.
If you're looking for a payment option that can be used on most casinos and sportsbooks, as well as one that is accepted by online merchants, ecoPayz is not a good fit.
High Fees
ecoPayz is far from the most expensive of ewallets, but it's still not a cheap option. Take the account fees as an example.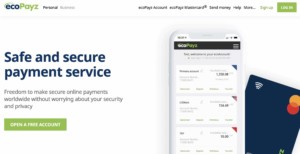 If you deposit money into your ecoPayz account with a bank wire transfer, you could be hit with a charge of up to 7%. If you need to convert it into another currency, there's an additional charge of 2.99%. If you eventually withdraw those funds into your bank, you can expect to be hit with a fee of between €5.90 and €10.
That's a lot of money and it all adds up. If you are processing huge sums of money on a regular basis, those fees may make life difficult (and expensive) for you. In such cases, you should consider using as method like a debit card, instead. You won't be charged so many high fees, although you will need to wait a little longer to get your funds.
Alternatively, use a cryptocurrency. There are rarely any fees associated with these payment options and all payments are processed very quickly.
FAQs
When Did ecoPayz Launch?
ecoPayz launched in 2000. It's often mistakenly believed to be a much younger company, as it wasn't as well-known in the early years and spent much of that time in the shadows. But it's actually just one year younger than Neteller and it is older than Skrill.
Is it ecoPayz or EcoCard?
ecoPayz used to be known as EcoCard, but it changed its name in 2013. It's why some sites still list this service as EcoCard.
Is it Safe?
ecoPayz is very safe and secure. It uses advanced SSL and TLS protection, along with two-factor-authentication. It is also certified by the FCA and is backed by of the most respected operators in the online financial services industry.
Is it Better Than PayPal?
That's for you to decide. On the one hand, it might be available at more online casinos than PayPal, especially if you are based outside of the United Kingdom. At the same time, though, it's not as big or as comprehensive. It really all depends on what you're looking for and whether you prefer the interface and the features on ecoPayz or PayPal.
What Currencies are ecoCards Available in?
The ecoCard is available in USD, GBP, and EUR. You can acquire and use one of these cards across most European countries and they're a great way of spending the money in your ecoPayz wallet.
What are ecoPayz Fees?
It depends on what you're using your ecoPayz account for and whether or not you have the prepaid cards. The level of your account or card will also impact the fees. Take a look at the fees section above for more information.
Play ecoPayz Casinos Now
As noted at the outset of this review, ecoPayz has never quite reached the heights of Skrill, and that's a shame. Personally, I prefer ecoPayz, and not just because I'm not a big fan of Skrill.
One of the issues I have with Skrill is that it's always positioned as a better and cheaper version of PayPal, seemingly by people who have either never used PayPal or have a vendetta against it. For me, Skrill has always been slower, more problematic, and more expensive.
Maybe I'm just not the target user. Maybe it really is cheaper and better, but only if you're using it for specific reasons. In any case, most of my experiences with Skrill have been frustrating. The same can't be said for ecoPayz, though.
I have found ecoPayz to be very easy to use, more in-line with PayPal than Skrill. In my opinion, the customer support is better, the prepaid cards offer more benefits, and it's more of a complete service.
I still prefer to use PayPal and cryptocurrencies, but if I had to choose between ecoPayz and Skrill, I'd definitely opt for the former.
If you haven't used this service, now is a good time to change that. Take a look at the sites above, sign up, and make sure you have your ecoPayz account ready.