Pros
Packed Casino
Large Sports
BTC and Fiat Currencies
VIP Scheme
Real Money Tournaments
Cons
Sparse Information
Poor Bonus Terms
Lack of Polish
PowBet is a bitcoin-friendly casino and sportsbook that launched in 2021. It is owned and operated by a company known as Rabidi N.V., one that is licensed by the authorities of Curaçao.
PowBet is a bitcoin-friendly casino and sportsbook that launched in 2021
2021 was a big year for online casinos, as you can see from our BTC online casino top list. The question is, does PowBet deserve a place on that list and is this a casino worth of your time and money?
Let's find out!
Software and Games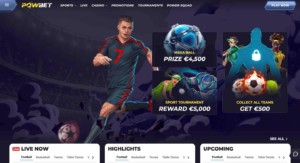 The casino section on PowBet is well structured, easy to navigate, and packed with games from top developers.
It's everything you would expect to find in a modern online casino, with games from the likes of NetEnt, Spinomenal, Evolution Gaming, Red Tiger Gaming, Big Time Gaming, Quickspin, Blueprint Gaming, Thunderkick, and several others.
You'll find a slew of 3D slots, table games, Live Casino games, and jackpot games, with menus and filters to helpyou find what you're looking for.
All games can be played on both mobile and desktop platforms and I didn't experience any issues on either of them.
Sportsbook
My introduction to the PowBet sportsbook was an odd one. As noted in reviews of sites like Space Lilly Casino, I can be very pedantic when it comes to casino content. As far as I am concerned, if a casino wants your money and complete trust, it should go to the trouble of hiring good writers, designers, and editors, and that's very rarely the case.
With PowBet, there were a few things that distracted me.
Firstly, there were a few FA Cups games on at the time, including one between Hartlepool and Blackpool, only the former was written as "Hertlepool". It wasn't just a one-off, either, as the mistake was repeated throughout the live betting markets and elsewhere. And there were others, with "Altrincham" written as "Altricham".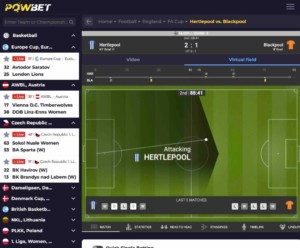 Also, if I say to you "Espanyol Barcelona", what is your immediate reaction?
It's probably to assume that Espanyol are playing Barcelona. In actual fact, Espanyol Barcelona is the full name of the team commonly known as Espanyol (technically, the full name is RCD Espanyol de Barcelona), but it's not one that the average non-Spanish football fan will recognise. The same goes for Real Sociedad San Sebastian, Juventus Turin, and a few others, and yet these are the names that PowBet decides to use.
It's not a huge issue and I know I'm nit-picking, but it stops it from being a seamless experience.
The same goes for some of the functional choices that the sportsbook makes. For instance, it has an issue with the "Back" button. It borders on being one of those irritating sites that refuses to let you go back. "Are you sure? I mean, I know you clicked 'Back', but have you thought about staying right here instead? I think you should. You'll like it here. How about you never leave?"
If you're trying to add relevant bets to your slip, you'll need to navigate through more menus and clicks, as "Back" isn't always the simple option it should be.
It's minor things like this that stops PowBet sportsbook from being a truly standout site. After all, sportsbooks all use similar white label software and offer the same games, markets, and bets. Unless you're talking about truly unique sites like bet365, the only way for these sportsbooks to differentiate themselves from one another is to add a little more polish and style, and PowBet fails with that.
Bonuses and Promotions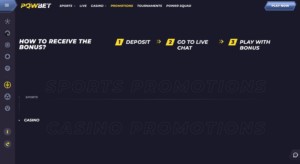 As is often the case with casinos and sportsbooks, the bonuses on PowBet are split. You can either collect the casino ones or the sportsbook ones, and as a new player, you should stick with the one that will benefit you the most.
The sportsbook bonus offers 100% up to €100, which is fairly generous for sports betting. The casino bonus goes one step further and offers up to €500, along with 200 Free Spins.
One of the frustrating aspects of this bonus is that it doesn't really tell you much. The main advertising tells you nothing, and even when you click "See Terms and Conditions", the only thing it tells you is that you should deposit and register, and then you'll find a bonus in your account.
Not very helpful.
Even clicking "See More" won't help you, but you can find the Terms and Conditions elsewhere on the site.
These terms state that all Free Spins have a winnings cap of €80. They also mention that wagering requirements apply, but I can't find the actual requirements anywhere!
It's incredibly frustrating and it's also very unusual, as most regulators require these terms to be front and centre.
It's another area in which PowBet lacks a little polish, much to the annoyance of its players.
On the plus side, there are other bonuses to look out for and it doesn't all hinge on the Welcome Bonus. PowBet also has a VIP scheme and real money tournaments. I wouldn't put these on the same level as the ones you can find at King Billy and other casinos at the top of our list, but they're interesting, nonetheless, and they give you something to play for once the Welcome Bonus is over and done with.
It should also be noted that some PowBet bonuses seem to be reliant on you contacting Live Chat. I personally hate it when you need to speak with support just to activate a bonus and I know that many others do, as well. However, as there is such limited info available on the site, I can't even be 100% sure this is the case.
Payment Options
PowBet accepts a few different payment options, including Bitcoin, Ripple, Visa, MasterCard, Neteller, Skrill, Ethereum, Paysafecard, Litecoin, and Interac. These payment methods are completely free to use (though you might be charged by your bank or provider when making a transaction) and most are available for withdrawals, as well as deposits.
On the subject of withdrawals, there are some pros and cons to how PowBet operates.
Firstly, most withdrawals are processed very quickly. The average pending time is less than an hour and while that should be the case with all modern casinos and sportsbooks, it rarely is, and so PowBet deserves some praise for that.
It means you're not waiting around for your winnings and should get them just as quickly as the casino received your deposit.
Secondly, there is a withdrawal limit in place and this is where the site trips up a little bit.
It is one of the lowest withdrawal limits that I have encountered, similar to the one I complained about on Cadoola Casino.
Players are limited to withdrawals of no more than €500 a day, or the equivalent in their chosen currency. This extends to €10,000 a month.
If you're a small stakes player, you likely won't have an issue with this, but as soon as you start depositing several hundreds of Euros at as time, it becomes an issue. As always, the withdrawal limit doesn't apply to progressive jackpots, but it does cover everything else, including fixed jackpots and general sportsbook and casino wins.
This issue aside, there are a lot of positives here.
If you have an issue with your PowBet deposit or withdrawal, contact the PowBet customer support team using Live Chat. There are other ways to get in touch with them, but this is the quickest and the most convenient.
Highlights
A Sportsbook and a Casino
Accepts Crypto and Traditional Currencies
Real Money Tournaments
A VIP Scheme
A Live Chat Feature
User Reviews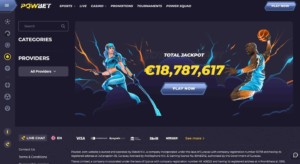 At the time of writing this review, there aren't a great deal of reviews for PowBet out there. The good news is that there are no glaringly negative reviews. The bad news is that I couldn't find any positive ones, either.
As a result, there isn't much I can say about what other players think about PowBet. If you have any experience with this online casino, please let me know in the comments below. We publish all comments that we receive, providing they are obscene or defamatory in any way.
Unlike other "casino review" sites, we're not just looking for positive praise and ass-kissing, so even if your experience was absolutely terrible, post it!
Of course, if you have an issue with the site directly, contact them in the first instance and see if they can resolve it. All sites should be given a chance to right their wrongs.
FAQs
Is PowBet Licensed?
Yes, PowBet is licensed by the government of Curacao, which means it can provide gambling services to players in dozens of countries worldwide. Curacao is the leading provider of regulation for Bitcoin casinos, and one that also provides licenses for top sites like Kingdom Casino.
Can I Play PowBet in the UK?
For a gambling site to be legally available in the United Kingdom, it must have a license from the UK Gambling Commission. PowBet does not have such a license and so you're not able to play from the UK. In fact, you won't even be allowed to access the homepage as there is a geo-blocker in place to ensure that only players from regulated regions can visit.
Can I Join PowBet from the US?
The United States is another region where PowBet is not available. All US players will be prevented from accessing the PowBet website and are unable to sign up and play. The same is true for many other online casinos as the online casino industry is not very accessible in the United States.
Can I Use Bitcoin?
Yes, you are free to use Bitcoin when gambling at PowBet. Simply visit the cashier, select the Bitcoin option, and transfer some money across. There are numerous other methods available, including Litecoin, Ripple, and Ethereum, and you can see all of these in the cashier.
When Was PowBet Launched?
PowBet launched in 2021 and was one of the many casinos and sportsbooks to launch during this year. As noted in the PowBet review above, it's a new site and so the issues that it has may iron out over time. However, I can only review it as I see it, and that's why I focused on the cons as much as the pros.
Should I Join PowBet?
My PowBet review might seem negative, as I was nit-picking a lot, but this is still a solid gambling destination that has a lot to offer. If you're the sort of person who likes to move around a lot and collect bonuses as you go, then it's always worth signing up, playing, and seeing what it has to offer. If you're more of a one-site player, someone who likes to stay for the long haul, then this probably isn't the site for you. There are much better options out there.
Final Thoughts
PowBet launched in late-2021 and I wrote the above review during the first week of 2022. As a result, the site hasn't had a lot of time to grow and improve and this may be where there are some issues and a notable lack of polish.
However, I'm reviewing an online casino that is 100% ready to go, not an early-access video game. It should be ready. It should be polished, and while the mistakes are small, they are also sloppy and simply shouldn't be there.
It's a shame because if you remove these issues, PowBet becomes a very solid online casino and sportsbook. With them in place, however, it can be a little off-putting and frustrating at times.
I would still recommend signing up and giving it a go if you're looking for a new casino with a decent bonus, but if you're searching for a site that will become your new home for many months and even years to come, this probably isn't it. You should check out Bitstarz Casino instead, as it has all of the style, poise, and polish that PowBet lacks.
PowBet Casino Review Details
Restricted Countries:
Belarus
Bulgaria
Cyprus
Estonia
France
Iran
Iraq
Israel
Lithuania
Spain
Sweden
Switzerland
Turkey
US
Languages:
Czech
English
French
German
Hungarian
Italian
Polish
Portuguese
Russian
Spanish
Turkish
Currencies:
AUD
BRL
CAD
EUR
INR
JPY
NOK
RUB
USD