Pros
Good Selection of Games
Good List of Developers
Fiat Currencies
Cryptocurrencies
Loyalty Scheme
Cons
Bad Design
Minor Site Issues
Withdrawal Limits
Whenever we review a new online casino, we like to play a game called, "What is going on?". Casinos are a dime a dozen these days and new ones are released every single day. Many of these sites use the same games, payment options, and bonuses. Some of them even hire the same customer support providers—they are turnkey operations from start to finish.
To try and stand out, they create their own unique names, logos, and themes.
Sometimes, these themes are generic and the name is just a spin on "Slots", "Games", or something similar. Other times, as is the case with the wine-themed Champagne Spins Casino, they choose something complete random just so they can be unique.
And then there are casinos that just throw anything at the board and see what sticks.
That's where Space Lilly comes in. This casino is themed around a planet-hopping superhero named Lilly. Players follow her on her journey and gamble along the way, because why not?
This casino is themed around a planet-hopping superhero named Lilly.
If it all sounds like a bit of a mess, you ain't seen nothing yet. As we have noted many times before, sometimes it's great if things are a little "out-there". We love unique, we love weird. The question is, does Space Lilly enter into the "weird and wonderful" category or is it just plain weird?
So, to all you universe travellers out there, it's time for a new adventure. Just remember: Don't panic and always carry a towel.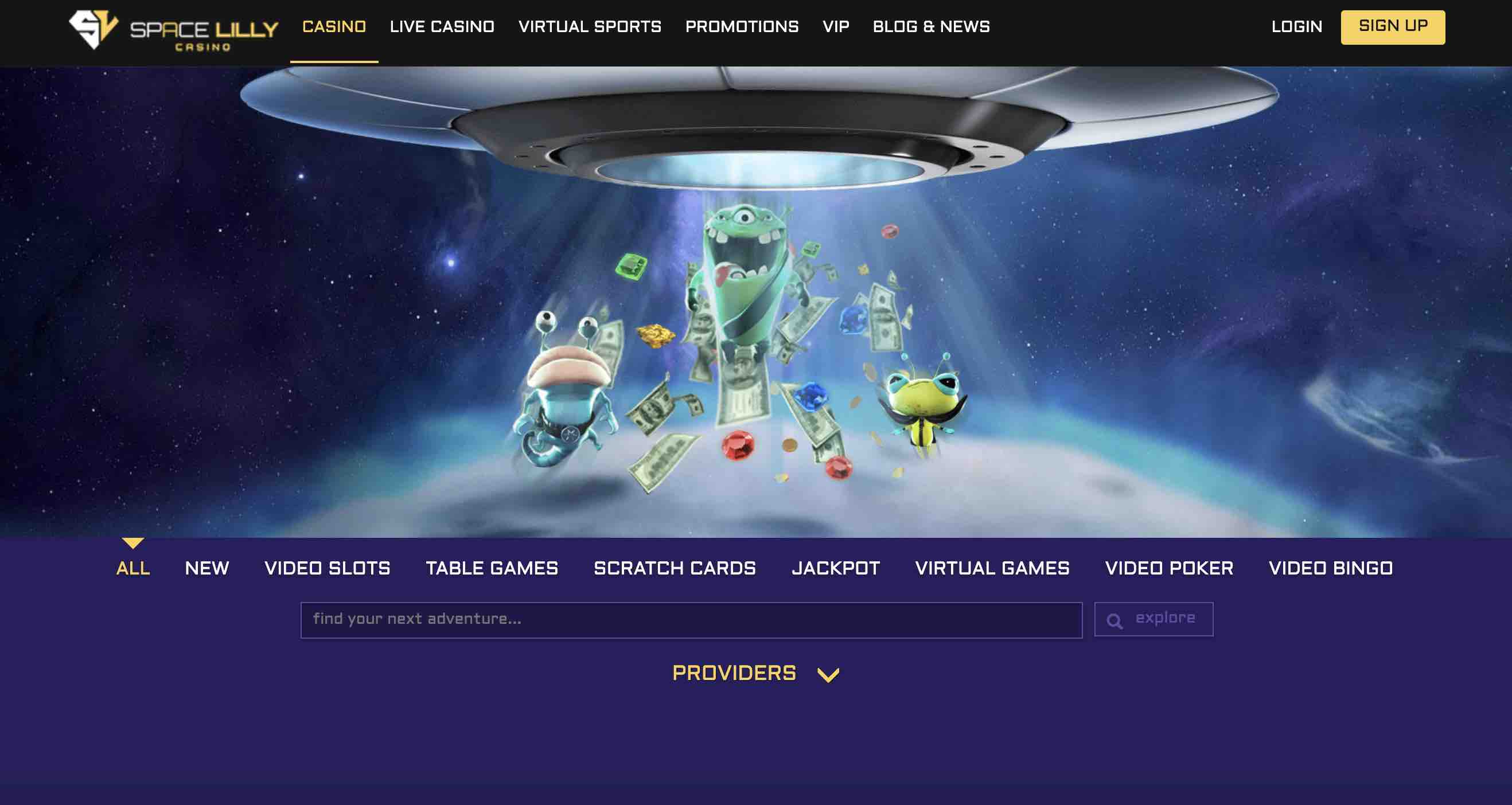 Bonuses
Space Lilly launched in 2016. In that sense, it's relatively new, but this is the online gambling industry and a lot can happen in a year. If casinos don't update and stay with the time and the trends, they tend to get left behind and look very poor as a result.
Thankfully, that doesn't necessarily apply to Space Lilly, but it is far from ideal. You are first introduced to a casino with a loading page that declares, "We are checking your browser". The casino then glitches and switches, and eventually the site loads. Such a screen is not uncommon, but usually, when it disappears you are greeted with an avatar-rich site filled with sliders, animations, and more.
Instead, with Space Lilly, you get a very simple and basic website that barely warrants the several seconds you need to wait.
Software
We really wanted to like Space Lilly. It sounded bizarre and as you might expect from a reviewer who quotes The Hitchhiker's Guide to the Galaxy and constantly praises fantasy-themed casinos like KingBilly, bizarre is brilliant.
The problem is, it was all a little messy.
Firstly, while we hate criticising copywriters (everyone is trying to earn their way), the writing on Space Lilly is poor. Not only does it read like it was translated from content that wasn't very well written in the first place, but it has been formatted in an odd way.
It doesn't seem like it was written by a professional English copywriter and that's a massive mistake for an online casino that expects players to trust it with their money. You can get away with this level of content on a site that doesn't primarily target English readers and is providing basic instructions, but when you're trying to be exciting and enticing, you need to get the wallet out and find someone capable.
The design of the casino is a little better. In fact, it's very good, but it's ultimately let down by a lack of consistency.
Take a leaf out of Cadabrus's book: Find a style and stick with it. On Space Lilly, there are designs that seem to be influenced by Mars Attacks, ones that use an overtly cartoony style, and then you have basic sketches that look like the designs you used to get on action figures in the 1970s. As if that wasn't enough, it also features hyper-realistic spacemen.
If Space Lilly was a computer game, we'd suspect them of taking stock elements, stitching them altogether, and accepting whatever mess they produced. As it's an online casino, we suspect that they have been a little more original than that, but it's still not ideal.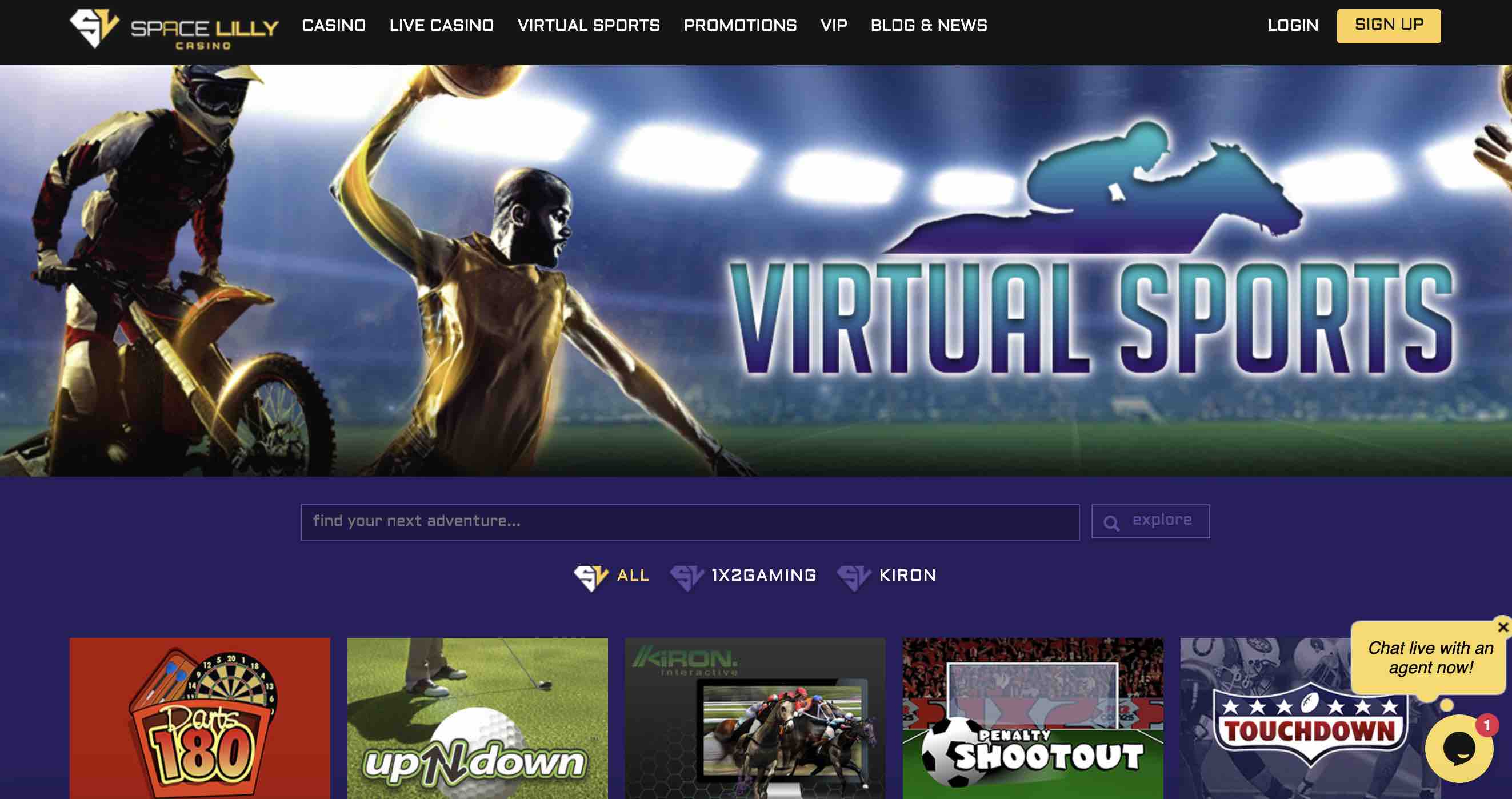 Games
What Space Lilly lacks in style, it more than makes up for in substance and this is especially true for the casino's gaming selection. Some of the creators listed here include:
Betsoft: Creators of The Slotfather, It Came from Venus, and Night at the Museum. These are some of the most unique and beautiful slots in the industry.
Big Time Gaming: If the developer's name is not familiar, its creation most certainly will be, as BTG is the innovator behind Megaways.
Evolution: The biggest name in the Live Casino sector and one that is always a welcome sight when you're looking for quality Live Dealer titles.
Microgaming: An oldie but a goodie, and one that is responsible for hundreds of classic video slots and dozens of jackpot games, video poker titles, and more.
NetEnt: Who doesn't love NetEnt? This is the only creator that can rival Betsoft for sheer style and originality.
Quickspin: A Playtech-owned developer that created the Big Bad Wolf title, among many others.
Yggdrasil Gaming: A fast-rising developer that has created multiple award-winning games, including Vikings Go Berzerk.
If you visit the Space Lilly games room, you can use the main filter to search by developer, highlighting games by your favourite creators. Alternatively, click or tap on one of the following menu options to base your search on specific categories:
New: Although it has been around for several years at this point, Space Lilly still updates its casino with the latest and greatest slots, which is always good to see. At the time of writing, it has just gotten its hands on the Deadmau5 slot and is also promoting Gonzo's Quest Megaways—a new take on a casino classic.
Video Slot: Hundreds of video slots that span all of the aforementioned developers and include some of your favourite titles, such as Book of Dead, Dead or Alive, and Starburst.
Table Games: Although Space Lilly puts slots first, it doesn't neglect table games entirely and offers a plethora of card games, games-of-chance, and more.
Scratch Cards: Virtual versions of your favourite scratch cards, all of which can be played in just a few clicks, giving you a chance to win big with every game.
Jackpot: Take a spin on any of these games and you could win a lifechanging sum of money. The variety is huge and the jackpots are equally impressive.
Virtual Games: These games include Crown & Anchor, Football Manager, Sic Bo, and Magic Wheel.
Video Poker: Microgaming is one of the biggest names in the Video Poker sector and has created a vast assortment of titles, including versions of Jacks or Better and Deuces Wild.
Video Bingo: A selection of numbers games, including Keno, Classic Bingo, and more.
Live Casino: All of these games are played in front of real dealers and using real equipment. The majority are provided by Evolution Gaming and you'll find games like Roulette, Blackjack, and Baccarat.
Virtual Sports: A great way to bet on live sporting action without turning on your TV and waiting for the kick-off! We personally love these games and have expressed that love during reviews of Rabona and many other casinos.
Bonuses
Space Lilly is pretty generous in the bonus department, offering all new players up to $1,444 in bonus credits and 244 Free Spins. These are spread across your first three deposits. And this is just one bonus!
There are several Welcome Package bonuses to explore. Take a look at the offers, check the wagering requirements, and choose the one that is best suited to you.
That's not all, either, as Space Lilly also has a VIP Scheme. This rewards you for making regular deposits and for keeping the slot reels spinning and the cards turning.
One of the few issues we have with these bonuses is the way that they are pushed on the user. We were active on the main page for several seconds before the Live Chat feature popped up and displayed a selection of offers.
We understand the need for pop ups and promotional offers, but we feel that these need to be a little more subtle and considerably less annoying. It's okay to receive a little reminder, and it's okay for more of these to be posted if the bonuses are not clearly displayed elsewhere.
But you have to consider that most players arrive at an online casino after clicking an affiliate link, in which case you're already well on your way to getting a bonus. And if you arrive at the casino directly, as we did, you'll make a beeline for the promotions page.
We hate pop-ups at the best of times and find them really frustrating, but when they advertise things we already know and can find elsewhere, they are especially annoying.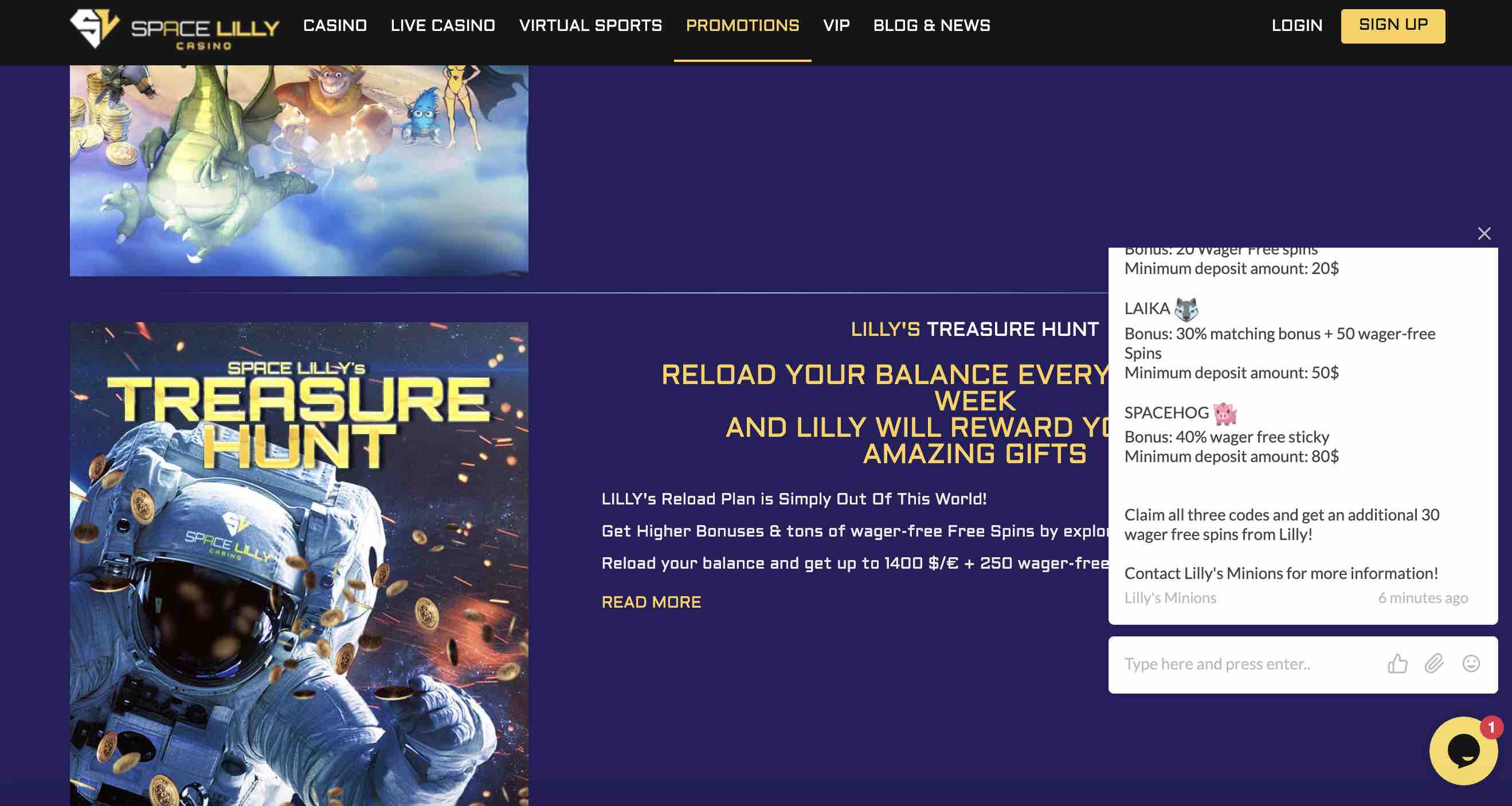 Banking Options
Space Lilly accepts a multitude of traditional and cryptocurrency payment methods, including MasterCard, Visa, Neteller, Skrill, Ripple, Ethereum, Bitcoin, and Litecoin.
The payments are also processed fairly quickly. You won't get your winnings instantly like you do with Bitstarz and other top casinos, but you shouldn't need to wait very long. It takes just a day or two on average, which is more than acceptable for most players.
It can be a problem if you are asked to verify your ID, as that will add a couple of days to your wait, but this process is generally very quick and smooth.
If all of that sounds acceptable, just wait, as there is one major downside you need to know about…
Limits
The only thing that frustrates us more than bad themes and messy sites are withdrawal limits. These limits are much more common than they should be and we have complained about them many times.
Unfortunately, Space Lilly is another site to add to the growing list of casinos with withdrawal limits. You cannot withdraw more than $7,000 a week and $20,000 a month.
The good news is that this isn't as limiting as it is elsewhere.
At Cadoola Casino, for instance, you are restricted to just $500 a day and $10,000 a month and this is true for many other casinos operated by the same developer. Space Lilly allows double this amount and, as a result, it's more accommodating for medium stake players.
Of course, if you're a high roller, it's a different story. In such cases, you have to be very selective when it comes to playing at online casinos. A good 90% of them just won't be a good fit, either because they have withdrawal limits or lack a loyalty scheme.
FAQs
What is the Withdrawal Limit?
The withdrawal limit is fixed at $7,000 a month, which is very low. If you're looking for a site with a large limit, take a look at our Ladbrokes Casino review.
What Language Does it Accept?
Space Lilly Casino only works in English at the time of writing.
What is the Theme of Space Lilly Casino?
Your guess is as good as ours...
Is Space Lilly Casino Fair?
Yes! It is a regulated site that ticks all the necessary boxes when it comes to security and fairness, and so it's perfectly safe and completely legit.
What Currencies are Accepted?
Space Lilly Casino works in AUD, CAD, and EUR, but it also works with a variety of cryptocurrencies, including Bitcoin and Ethereum.
Highlights
Good Games
Welcome Bonuses
VIP Scheme
Many Top Developers
Varied Payment Options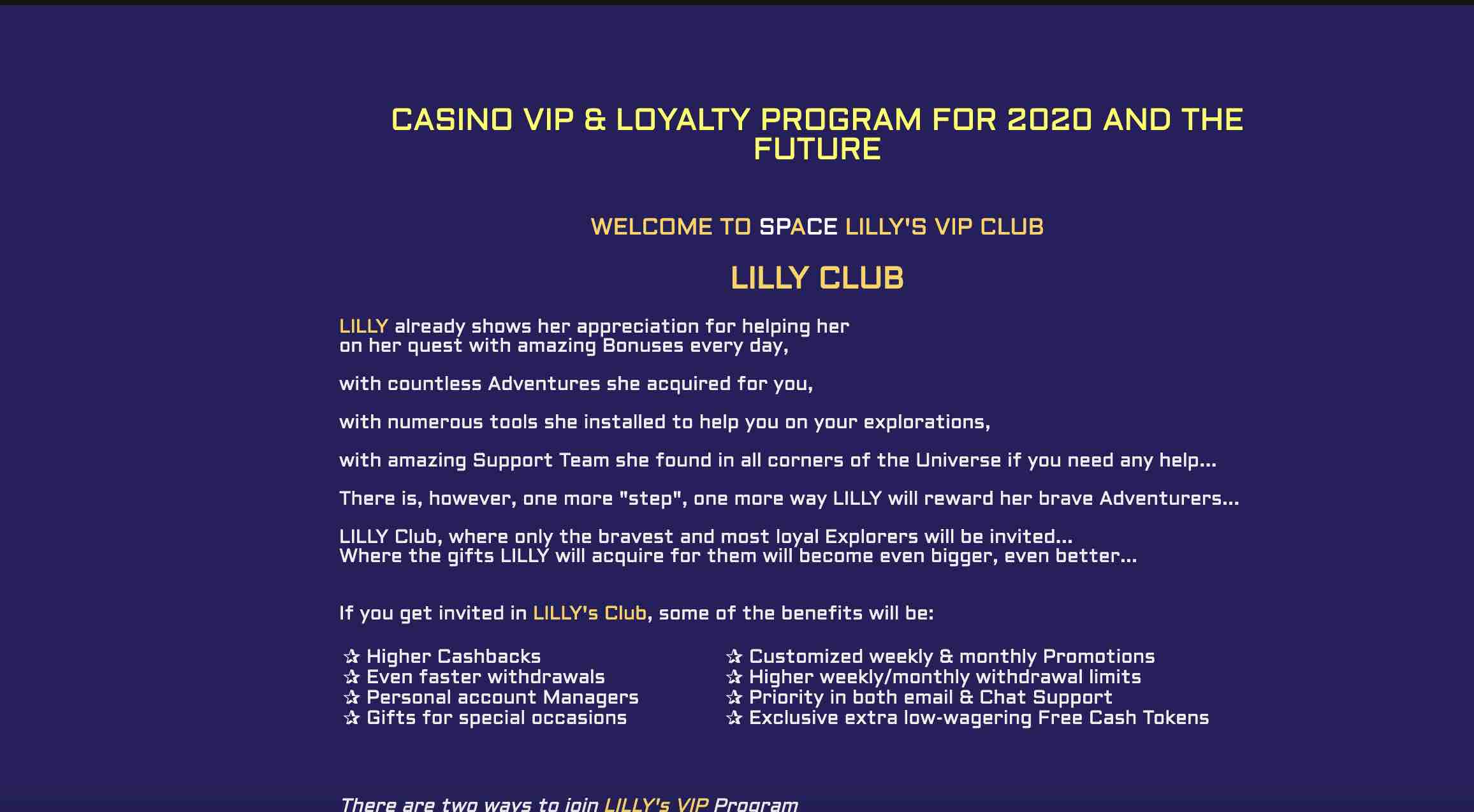 Final Word
We have said a lot of negative things about Space Lilly Casino. The truth is, it probably doesn't deserve all of that hate. We just expect a lot from modern online casinos and when they don't meet those standards, we feel disappointed.
It has never been easier to hire capable writers and designers. Find a native writer, a knowledgeable designer, and let them loose. The more you restrict them, you harder you make it for them and the worse the content will be. An editor can add a final polish to proceedings and ensure that everything is prim and proper.
These casinos pay thousands of Euros a month just to remain in operation, and yet they skimp on the basics. It's like opening a store, hiring the best staff and the most exclusive products, and then asking your best friend's 7-year-old niece to paint the sign and stock the shelves.
Still, it's not quite as bad as WCasino and it still has a lot going for it, including a good selection of games, bonuses, and payment methods. If you focus on the positives, you'll find a decent online casino, albeit one that isn't going to make it onto any best-rated Bitcoin casino list any time soon.
If you're looking for a new online casino, we recommend taking a look. You might even like some of the things we hated and if you do, this casino might be just what you're looking for.
Space Lilly Casino Review Details
Restricted Countries:
Afghanistan
Albania
Algeria
Cambodia
Croatia
Czech Republic
France
Hungary
Iran
Iraq
Israel
Italy
Netherlands
Slovakia
Slovenia
Spain
Sweden
Switzerland
UK
US