Microgaming is one of the oldest and biggest iGaming developers in the world. It is responsible for a huge number of award-winning slots and continues to create new titles every single month. There are few areas in which Microgaming hasn't dabbled, including Live Dealer games and poker, but slots and other interactive games are where this developer truly excels.
The casinos listed above all have Microgaming games and include some of the highest-rated BTC-friendly casinos that we have encountered. If you need a little more information on the games they contain and the technologies behind them, keep reading this guide to the best Microgaming casinos.
Microgaming Features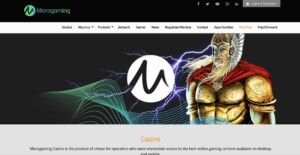 Microgaming has had a lot of time to fine-tune its software and to evolve its ideas. In over 20 years, it has created some of the most advanced software and the best games that the industry has ever seen. You might not realize it, but some of the software that you enjoy on games created by Playtech, NetEnt, and Betsoft, was developed by the minds at Microgaming.
Just take a look at the following features. Not all of these are unique to Microgaming and many weren't invented by the company, but they're all special and they can all be found on Microgaming online casinos:
Rolling Reels
The Rolling Reels mechanic is one of our personal favourites and we're clearly not alone in our obsession, as it has been replicated by dozens of developers and on countless slots. It often goes by other names, including Chain Reaction, Cascading Reels, and Avalanche (used on NetEnt's Gonzo's Quest), but it's ultimately the same mechanic and is based on the same idea.
In simple terms, every time you land a winning payline, the symbols in that line will disappear and new ones will fall into their place from above. Microgaming was one of the first to use this mechanic and its games remain some of the best.
Incredibly Prolific
Microgaming releases games at a phenomenal rate, more so than any other developer. There are over a dozen new titles launched every year and these are launched under the Microgaming name and its many subsidiaries.
It's why there are so many online casinos out there that only stock Microgaming titles and still have over 500 games to choose from. You can't really do this with other developers, even relatively big names like NetEnt and Betsoft.
Of course, not all of those games are worthy of winning awards or earning your respect.
Betsoft may have far fewer titles on average, but they also have a far more advanced roster and tend to focus more on creating innovative titles. That's not to say that Microgaming isn't good, but rather that quantity doesn't always equate to quality.
Progressive Jackpots
Microgaming launched one of the very first progressive jackpot slots in Cash Splash. The idea was to create a game with an online jackpot that gradually increased with every spin. The jackpot was connected across all casinos and was released completely at random to one lucky player.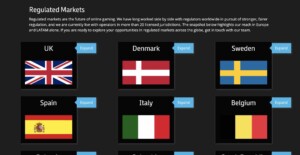 This idea proved popular, as you can imagine, and it eventually evolved into the brilliant Mega Moolah slot machine, which launched in 2006 and has since become one of the world's best-loved slots.
All progressive jackpot slots have a base RTP of around 85% to 89%. This is very low, and as a result, the games are often thought to have a very poor payout on the whole. However, that's only because the rest of the edge is tied into the jackpot itself and once you factor that into the equation, these games usually exceed 95%.
Simply put, the slot takes more of your money than a standard slot and that cash goes into a prize pool that is eventually released.
Licensed Slots
Microgaming, like all good developers, has signed deals with numerous major brands over the years, acquiring licenses that they use to create many top slot machines.
It's a tactic that all iGaming developers employ and one that helps to draw more attention to these games and get more eyes on the casino and developer.
Retro Slots
We mentioned that Microgaming doesn't always have big and grand graphics. Personally, this is something we always look for in online casino games. However, not everyone has the same attitude and many players prefer games that keep things simple. This is where Microgaming truly excels as it's one of the best developers when it comes to retro slots.
If you're looking for games with just 1 to 3 reels, as well as games with classic features like Nudge, then see what Microgaming has to offer.
Best Slots
We have played hundreds of Microgaming slots over the years. The vast majority of online casinos have at least a few dozen of these games and some of them use only Microgaming titles (only with a small selection from developers like Yggdrasil). If it exists, there is a good chance we have played it, reviewed it, or at the very least heard about it.
As a result, we've had a lot of time to create a list of our best Microgaming slots. It's a long one, but there are some gems to be discovered so pay attention if you're keen to discover this developer for yourself.
Mega Moolah
Mega Moolah is not only Microgaming's biggest slot—it's one of the biggest in the industry. It launched in 2006 and has smashed many records for the biggest single slot jackpot ever.
So, what makes Mega Moolah so special?
Well, for one thing, it has the highest seed jackpot of any progressive jackpot slot. It begins at $1 million, which means even if you claim the jackpot mere seconds after someone else, you will still win a 7-figure sum. That's a promise that other slots just can't make.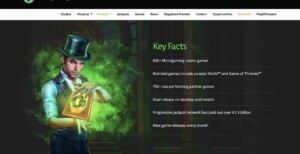 What's more, the sheer popularity of this game means the jackpot regularly exceeds $10 million and has edged close to $20 million on occasion.
That's a staggering sum of money, and you have a chance of winning it with every spin that you take. Unlike some other progressive jackpot slots, where you are required to stake a minimum amount to qualify, Microgaming gives everyone a chance to win.
The only difference is that your chances increase along with your stake.
Think of it like playing the lottery. If you stake $1 per spin, you've bought 1 lottery ticket. If you stake $10, you have 10. In both cases, you have a chance of winning the jackpot, but in the second instance, your chances are much higher.
Last but not least, despite being 15 years old, Mega Moolah still holds up against more modern slots. It doesn't look quite as impressive as Betsoft slot machines and it's somewhat lacking in the feature department, but it still looks better than more than half of the slots created today.
Avalon II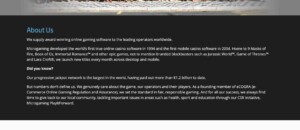 Go in search of the Holy Grail and collect some big prizes on the way! Avalon II is one of Microgaming's standout creations. It's also one of those sequels that became way more popular than the original.
After all, when was the last time you saw Avalon, as opposed to Avalon II?
It's not that the original is bad, but that the sequel is so much better. The graphics are slick and the game has a very fluid and natural feel to it, but it's the features that make this game so special.
There are several of these to unlock and they all form part of a long journey. If you make it to the end of these features, you can continue your journey, eventually making it to the end, at which point the biggest prizes will be unlocked.
Game of Thrones
It was inevitable that a developer would create a slot based on the Game of Thrones TV show. After all, it is one of the biggest shows in history and the majority of its viewer base are adults, making for the perfect slot machine license.
The only surprise is that the game doesn't feature any soundbites, images, or animations from the TV show. This is something that the developers are usually keen to exploit, suggesting that they either wanted to take a more streamlined and professional approach (unlikely) or they just didn't have the rights to use anything from the show.
In that sense, it's based more on the book than the show, but all things considered, it's still a great slot. There are 243 ways to win and a feature that lets you choose how many Free Spins you want and how big the multiplier should be.
The Star Series
The Star series of games is one Microgaming's most popular and it's also one of the longest running, including titles like Basketball Star, Football Star, Cricket Star, and Break Away—the latter does not have the "Star" suffix but it's still part of the series.
All of these games are based on a single sport and have very similar themes and styles. The main feature is Rolling Reels, which we discussed above. There are also Free Spins to unlock and a randomly activated feature themed around a specific element of the slot. For instance, in Rugby Star it's a Pass feature; in Break Away, which is based on ice hockey, it's a Puck Shot.
The Star series may seem a little dated and to an extent, it is. After all, it has been a few years since these games were launched and Microgaming doesn't seem to be launching any new titles in the series. However, the features ensure these games still have a lot to offer and that's why they are included on our list.
Table Games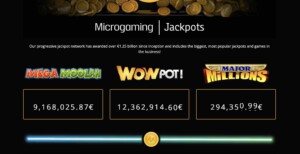 Although Microgaming is best-known for its vast and ever-growing selection of slot machines, there's much more to this online casino developer. It also has a wealth of table games, including brilliant titles like Double Exposure Blackjack, which has some of the best odds of any Blackjack game.
Microgaming has also created some of the best Video Poker titles on the market. In fact, it has the largest selection of Video Poker games and is the go-to creator for these titles. It's also one of the few developers still focusing on virtual scratchcards, an often-overlooked category that can be great fun when you need a break from slots or table games.
FAQs
When Was Microgaming Launched?
Microgaming was first founded way back in 1994, making it one of the oldest developers out there and the oldest that is wholly dedicated to online casino games.
Can I Invest in Microgaming?
One of the most popular questions for any successful company is whether or not it's possible to buy stocks/shares. Microgaming is definitely the sort of company you would want to invest in if you could, but it's privately owned, which means it's not on the stock market and you cannot buy any shares.
Where Are Microgaming Games Available?
Microgaming has licenses from major gambling regions all over the world, including the United Kingdom, Spain, Bulgaria, Sweden, and more. You can play Microgaming titles if you are located in any of these regions.
Where Can I Find Microgaming Titles?
Look for the best Microgaming casinos (on this page) and make a beeline for the games room. You can use the filter to search by provider, narrowing the games down so that they show only Microgaming titles.
Is Microgaming Fair?
All of the developer's games are audited for safety and fairness,. Ensuring you are 100% secure while you play.
Where is Microgaming Based?
The Microgaming headquarters is located in the Isle of Man, but the company operates in dozens of regions all over the world.
Play Now
Are you ready to discover Microgaming for yourself and see what all the fuss is about? Just click the thumbnails at the top of this page to be directed to the best Microgaming casinos in that accept Bitcoin.
If you need more information about these sites, just take a look at our review, as we have extensive reviews on all Microgaming casinos.