Yggdrasil Gaming may not be the biggest or the most established developer in the industry, but it's one of the fastest-growing and it has undergone some massive changes over the last few years.
It's hard not to like Yggdrasil Gaming and it is even harder not to fall in love with the creator's many great games. If you are familiar with the online casino sector and have spent any length of time on the biggest and best sites, there's a good chance that you will have encountered Yggdrasil before.
In this guide, we'll highlight some of the best Yggdrasil Gaming casinos on the internet right now, helping you to experience this great developer and all of its feature-rich titles for yourself.
All About Yggdrasil
Yggdrasil Gaming was founded back in 2013 by the former CEO of NetEnt. I actually remember writing about Yggdrasil just a couple of years after it launched. In fact, I wrote about the brand many developers for a number of different sites, and in most of those articles, guides, and blog posts, I described it as a promising fringe developer.
It seems like an age ago now, and it's almost hard to believe just how far Yggdrasil Gaming has come since then.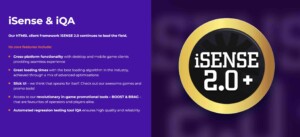 On the one hand, the Malta-based company is not as big as creators like Playtech, and it may never reach those heights, but its growth has been immense and it's still growing.
Not only does Yggdrasil Gaming create a number of top titles, including some of the most popular slots in recent years, but it also has its own program through which other developers are invited to create. It has created a variety of technologies, signed numerous major licenses, and is constantly looking for ways to grow and expand. It has its sights set on the iGaming throne, and if it keeps growing, it could be there within a decade or so.
Yggdrasil Gaming is licensed by a number of authorities, including some of the biggest and strictest in the world. It has licenses in Great Britain, Isle of Man, Romania, Gibraltar, and Malta.
Yggdrasil Casinos
Every casino that we have reviewed here at Coinbuzz has undergone a strict vetting process. We do some initial tests to make sure that the site is regulated and fair, and we follow this by looking for red flags that would otherwise exclude them from our list. If those tests are passed, the sites are passed onto me or one of the other Coinbuzz writers.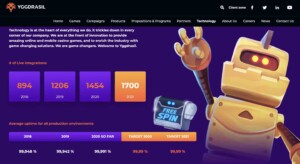 At this point, more checks are performed, and if we're confident that we're onto something good, we conduct a review and post it. Only then do we look to affiliate with the site. It ensures that we only create trustworthy relationships and only have the very best sites on our top list.
In all of those reviews, you will find mentions of the casino's gaming providers, and if Yggdrasil Gaming is on that list, it will be linked at the top of this page.
In other words, if you look to the sites on this picture, not only can you be confident in the fact that every one of them has Yggdrasil slots, but you also know that they are all safe, fair, and offer bonuses good enough to please our reviewers.
They are the best Yggdrasil Gaming casinos on the web, and we're constantly updating the list to make sure it stays that way.
What Makes Yggdrasil Unqiue?
Innovation is behind every successful brand in the iGaming sector. The same could be true for many other sectors, but to a much lesser extent.
Many companies choose to follow and not lead. They do the things that they are comfortable doing and only pivot when they see that others have succeeded. This attitude doesn't always work in the iGaming sector. The frontrunners often win the race, as we have seen with Live Dealer giants Evolution Gaming.
It's also something we have seen with Yggdrasil. The company is one of the most innovative in the industry and has produced a wealth of great slots based on some game-changing technology.
Yggdrasil Games
Contrary to what you might think, slots are not built on some standard template that is just fed information such as themes, graphics, and bonuses.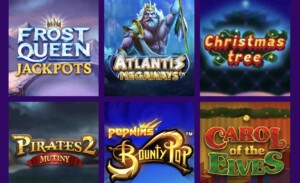 The best developers use unique platforms that allow them to gain an edge over their competitors and ensure that their games stand out from the crowd.
It's true for creators like Betsoft and it is also true for Yggdrasil.
One of the most standout platforms in the industry was actually created by Yggdrasil Gaming. Known as iSense and iQA, it is built on HTML5 framework and offers faster loading times, complete mobile/desktop compatibility, and a slick user-interface. It also incorporates promotional tools and analytical elements that are a big hit with casinos.
As far as the actual games are concerned, Yggdrasil is best known for its bonus slots, but it also produces progressive jackpot slots and table games. There aren't as many of these as there are with the jackpot-heavy Microgaming, but they are expanding all of the time.
Best Yggdrasil Slots
Although it has a small selection of table games, Yggdrasil Gaming is best-known for its slots, and that's what we'll look at here. What follows is a list of the best Yggdrasil slot machines based on my personal recommendations.
2 Gods Zeus vs Thor
Greek gods and Norse gods are a common sight in the online gambling industry. Playtech is a perfect example of this. Its Age of the Gods series explored all of the major Greek gods, demi-gods, and titans, and once it had finished with the likes of Zeus, Apollo, Hermes, Pandora, Hephaestus, and countless others, it turned its attention to Norse gods.
Yggdrasil Gaming, with its connection to Norse mythology (the name "Yggdrasil" is rooted in Scandinavian myth) made gods like Thor and Odin its priority from the beginning.
In 2 Gods, these two worlds collide in an apocalyptic war. It's the king of the Greek gods vs the most powerful Norse god, and it's a game that offers some interesting features, fantastic graphics, and an impressive 2048 paylines. The game was released toward the end of 2020 and has proved immensely popular since then.
Vikings Go Wild
Personally, I have never been a huge fan of the Vikings Go Wild series, one that includes Vikings Go Berzerk and Vikings Go to Hell. It's a great game and an even better series, don't get me wrong, but holding these games up as the best that Yggdrasil Gaming can do simply doesn't do the brand justice. Still, if you want to see the game that started it all and the series that game Yggdrasil its name, this is a good place to start.
Vikings Go Wild was launched in the summer of 2015 and still looks great today. It has an RTP of 96.3% and a low to medium volatility. It is dully optimised for mobile and has a sizeable maximum win that extends to just under €400,000.
Nikola Tesla's Incredible Time Machine
Nikola Tesla is one of the great minds of the last few hundred years. He is the father of electricity and one of the greatest inventors in history. He is also the subject of this Yggdrasil Gaming slot machine, one that has a maximum win in excess of €1 million, along with an RTP in excess of 96%.
It is a beautifully presented slot machine and one that includes several unique features, including the Energy Burst Exploding Wild. The slot has an industrial feel to it but there is also a steampunk vibe, creating one of the best-looking Yggdrasil games in the creator's catalogue.
Dr. Fortuno
Dr. Fortuno is one of the most interesting characters that Yggdrasil Gaming has created over the last few years and they liked him so much that they created a Blackjack game based around him.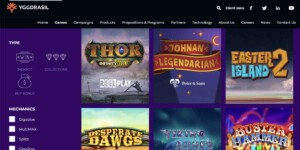 This Yggdrasil Gaming game has a maximum win of €400,000 and a massive Free Spins feature.
The RTP is a little over 96% and it's an incredibly beautiful game, taking players to a world of carnivals and magic.
Dr. Fortuno reminds me of the brilliant (but very volatile) Golden Ticket slot from NetEnt. The mechanics aren't the same, but the vibe and theme is very similar.
Champions of Rome
Many great slots have been set in Ancient Rome and the Coliseum in particular, but Champions of Rome is one of the best. With an RTP of 96.4%, a medium to high volatility and a maximum win of over a quarter of a million dollars, it's a pretty basic slot on the surface. But when you dig underneath that surface, there is much more going on, including the ability to choose your fighter and go to war in the greatest arena of them all.
There are lot so extra Wilds to unlock and big wins to scoop. The game's aesthetic is not the best and Yggdrasil Gaming has certainly done better in that department, but it's far from the worst, either, and it still looks great.
Lucha Maniacs
Although it doesn't have the biggest maximum win or the best RTP, Lucha Maniacs is probably my favourite slot from Yggdrasil Gaming. It is a very fun and laid-back title that adopts a Mexican wrestling theme, with several masked wrestlers fighting in the ring.
Lucha Maniacs was launched back in 2018, but it feels much older than that as it has quickly grown into one of the most popular slots in the developer's roster. There is a big Free Spins feature that you can re-trigger and several colourful characters to keep you entertained.
Play Yggdrasil Casinos Now
Now that you know all about Yggdrasil Gaming, including its technology, its unique selling points, and its many great games, it's time to get out there and start spinning for yourself! Just scroll to the top of this page, find a casino that you like the look of, and sign up! All of these casinos have extensive reviews and we have also provided direct links to the Welcome Bonuses, allowing you to collect a big offer as soon as you sign up and deposit.
How Many Casinos Have Yggdrasil Games?
In 2018, Yggdrasil Gaming titles went live on just under 900 sites. The following year, this jumped to 1200 and then 1450. In 2021, the number of live integrations hit 1700, and that's before the year has even reached its conclusion! It's one that we have seen countless times over the last couple of years and one that we are seeing much more of, as these numbers show.
Can I Play Yggdrasil on Mobile?
Of course! Yggdrasil Gaming, like many other small-scale developers, has always strived to put mobile gaming first and while its games are also accessible on desktop, they often work best on mobile. You can play these games on smartphone and tablet devices and there is support for a variety of platforms, including iOS and Android. The games are fairly high-tech, but you don't need a powerful device to play them and they should work on most devices.
What Does Yggdrasil Mean?
Yggdrasil is a sacred tree that plays a central role in Norse mythology. It is said to be the tree that Odin hung from to gain knowledge of other worlds. If you like mythology, it's a fascinating story, and one that you can read all about here. It also ties in with many of Yggdrasil Gaming's biggest titles and gives you some insight into why they are so keen on covering Norse mythology.
Is Yggdrasil Fair?
Yggdrasil slots are very fair and use advanced random number generators to ensure that this remains the case. Yggdrasil Gaming is also regulated by some of the most respected authorities in the online gambling industry, including those in Malta, Gibraltar, and the United Kingdom. If you reside in any of the regions where Yggdrasil Gaming is licensed, then you should be able to play their games. Assuming, of course, that you find a casino that actually has a contract with Yggdrasil.
What Other Developers are Like Yggdrasil?
There are a few other top developers out there that prioritize great graphics, mobile compatibility, and innovative features. NetEnt is the obvious one, but we also recommend checking out ThunderKick. It's a site that follows a similar process and is as equally devoted to creating games that look great, play well, and offer a variety of top features.