Pros
Community-Focused Site
Big Bonuses
Lots of Features
Fast Withdrawals
Low Wagering Requirements
Thousands of Game
Cons
Limited Table Game Selection
Questionable Country Restrictions
Limited Responsible Gambling
BC.Game describes itself as a "community-based crypto casino" that aims to offer players the best experience possible. It looks a little different to what you might be used to and it follows through with the community theme, but how does BC.Game compare to all the other Bitcoin casinos on the market?
BC.Game describes itself as a "community-based crypto casino"…
Can it complete with top crypto casinos like Bitstarz and is it worthy of your time and money? Let's take a look.
Basics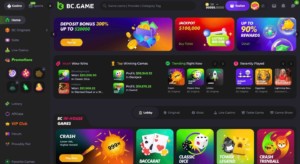 The community aspect of BC.Game comes courtesy of Live Casino games, events/promotions, and a chat feature, the latter of which is available throughout the site.
Think of it like a bingo chat room, only it's there when you're transacting, spinning slots, and just messing around on the homepage.
You don't even need to be a member to use this chat facility, though the most active users are also the most active players. You'll notice many familiar faces and names, and that creates the community feeling that the operators were aiming for.
The first time I launched the chat function, there were a few members chatting about games and complaining about losing while someone else randomly posted the lyrics to an Evanescence song. It was quite amusing and no doubt welcoming for new players.
The next time I checked, they were swearing at each other, offering their opinions on hardcore pornography, and spouting idle threats. It's a bit of a mixed bag, as you would expect.
When you give people free rein to say and do as they please, and combine it with the frustration of losing money and missing out on bonuses, you're going to get a lot of angry comments and conversations.
If you want to join in, you're welcome to do so. If not, just ignore it. You're not forced to participate in the chat and no one will know you're there if you don't participate.
Away from the chat function, the BC.Game website is very busy, but not in an overwhelming way. It strikes a good balance between "feature-rich" and "easy to use" that many sites struggle with.
Country and Responsible Gambling Issues
I have a couple of issues with this site and feel like I need to get them out of the way before I delve any deeper.
I am in the United Kingdom, and so I usually conduct these reviews with the help of a VPN. If a site is not licensed in the UK, it shouldn't even let me visit, and that's the case with most of the sites I have reviewed, including the likes of Oshi Casino.
With BC.Game, not only was I allowed to visit the site sans-VPN, but it also let me sign up. The fact that it uses cryptocurrency means that it would probably let me deposit, as well. After all, crypto is decentralised, so it's not connected to anything that would tell the site where I'm from.
This causes a couple of issues.
Firstly, it exposes me to potential issues. If anything goes wrong, I won't have any protection from the regulator, as there is no UK regulator here. Secondly, I could be underage—the site wouldn't know. I could also be on a problem gambling list.
And that brings me to the final issue. BC.Game doesn't have an extensive problem gambling program and seems to have the most basic features.
There are links in the site's footer that reference its responsible gambling policies and anti-money laundering policies, but it doesn't seem to actually practice what it preaches.
If you're in a region covered by the Curacao gaming license, this doesn't really mean anything. It's still a regulated and fair site.
Software and Games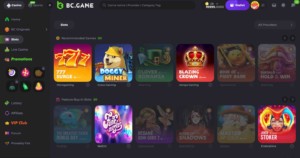 BC.Game has hundreds of games covering many different categories, including Live Casino games, slot machines, number games, and specialised crypto games.
It's extensive, to say the least. In fact, even if you focus purely on the slot machines, there are still over 1,500 to choose from and these include some of the biggest and best developers. The bulk of the site's games are provided by NetEnt and Microgaming, but you'll also find games from Betsoft, Quickspin, Yggdrasil, Pragmatic Play, and more.
These options can be a little confusing to begin with, as all of the menus and categories are represented by icons and not words. It makes for a nice change, though, and once you have spent some time on the site and have clicked around for a bit, you'll settle in.
BC.Game is completely mobile optimised, so you can play on iOS and Android devices.
Bonuses and Promotions
BC.Game has several deposit bonuses, including a choice of First Deposit Bonuses:
80% Bonus for Deposits of $30+ (Max. $79)
100% Bonus for Deposits of $80+ (Max. $3999)
180% Bonus for Deposits of $400+ (Max. 1 BTC)
When you have finished with your first deposit bonus, you can move on to a 200% matched offer before collecting a 220% match on your third and a 240% match on your fourth.
It sounds like a lot and it is, but these bonuses also have high minimum deposits, including a $150 minimum with the fourth deposit bonus.
On the plus side, the wagering requirement is very low at just 35x. This number applies to the bonus amount, so if you collect a bonus of $100, you'll need to wager $2,500.
There are other terms, as well, but most are favourable and there are no nasty surprises hiding away. Still, as with all sites and bonuses, you should always check the terms and conditions just to make sure.
BC.Game has a daily free spin where you can win prizes worth up to 5 BTC, as well as cashback offers and regular loyalty promotions.
Shitcodes are another fun addition and something that I haven't seen anywhere else. These codes are basically bonus codes that you enter into a relevant space and then wait for perks and awards.
You can find BC.Game Shitcodes in the site's forum and in special announcements. Some of them are also posted in the chat room. If you're not much of a social person but are eager to see what the BC.Game community has to offer, this is a great excuse to check it out.
Last but not least, there are Master Medals that you can collect as you deposit, wager, and win. These medals incentivise you to keep playing and are a fun addition to a promotions section that never fails to disappoint.
There are a few issues with this site, including the registration issues outlined above, but there's nothing wrong with its bonuses.
Payment Options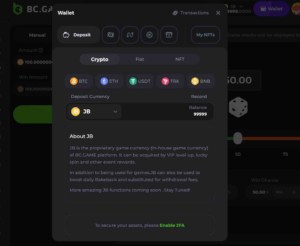 BC.Game accepts a wide range of currencies and payment options, including all popular cryptocurrencies. Take a look at the box below this review for a full list of the accepted payment options and currencies.
To deposit, just click the "Deposit" option and then choose from Crypto, Fiat, or NFT. You will be presented with a few different options and can then add funds to your account. There is a minimum deposit equivalent to just €10.
In addition to ETH, BTC, and USDT, you will also see JB, which is the site's proprietary currency. You can earn these coins when you participate in promotions and join the VIP Club. You will also be given a number of them when you first join.
If you don't have any crypto, you can buy them through the site and then use them to make a deposit. Just select the "Buy Crypto" option and then choose from MoonPay or Banxa.
Highlights
Over 1,500 Slot Machines to Choose From
Stacks of Progressive jackpot Slots
Crypto-Focused Games of Chance
An Active Community and Chat Feature
Lots of Live Casino Games
A Multi-Tier Welcome Bonus
Regular Reload and Cashback Offers
Full Support for Mobile and Desktop Players
Your Account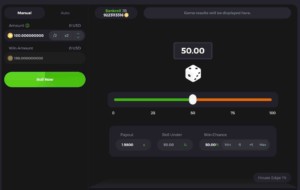 You are not asked for a username when you first sign up for a BC.Game account. Instead, you will be assigned a random username, along with a unique user ID. If you visit your account, you can change this name, which comes in handy when you use the chat feature.
The account page will also tell you a lot about your activity on the site, including the games that you play the most often, the promotions that you're a part of, how many wins you've had, and what your total wager amount is.
All of this is very useful information and it adds to the sense of engagement and immersion that the site creates.
FAQs
Who Owns BC.Game?
BC.Game is owned and operated by BlockDance B.V., a gambling company that is licensed in Curacao.
Can I Join From the UK?
It did let me join from the UK, but I wouldn't recommend doing this. The fact that it is not licensed means you don't have any protection if anything goes wrong, such as an unlawful suspension of your funds.
Can I Join from the US?
US players should not be able to sign up for a BC.Game account, as it appears on their restricted countries list. I recommend staying away if you are in the US.
Is BC.Game Legit?
Although the above review raises some questions about the registration process and responsible gambling program —this is still a fair and legitimate online casino. It's licensed, and it has also been active for more than 5 years at the time of writing.
How Old is BC.Game?
BC.Game has been around since 2017.
Does BC.Game Have a Loyalty Bonus?
BC.Game rewards players in several ways, including rakeback, reload offers, and more. It's not the best we have seen, but there's definitely a lot to get excited about. If you would like to see what our favourite loyalty bonuses look like, check out the brilliant King Billy Casino.
Final Thoughts
BC.Game has a lot to offer. It's a crypto casino that tries to be different and succeeds in its aim. The chat room and forum are not a wholly unique addition, but the inclusion of Shitcodes gives them a little more meaning and actually encourages you to get involved. It also creates more of a welcoming atmosphere and means the comments are not just an endless succession of hate.
Sure, you'll find a fair share of these, but the BC.Game community is mostly friendly.
The bonuses and games are incredibly well considered and there are lots of options for both of them. You can take your pick from over 1,500 slots, stacks of Live Casino games, and what seems to be a never-ending supply of promotions.
But despite all of these positives, there are a few things that need to be changed:
Country restrictions processes is lacking. I get why the site might want to make the sign up process easier and quicker for its genuine players, but the site should tighten up the process to protect it's players.
The responsible gambling tools and resources also need some work.
All things considered, BC.Game is a good site and it's worth joining if you are in a region covered by the Curacao eGaming license.
BC.Game Casino Review Details
Restricted Countries:
China
Curacao
Dutch Caribbean Islands
France
US
Languages:
Chinese
English
Finnish
French
German
Hindi
Polish
Romanian
Spanish
Turkish
Ukrainian
Vietnamese
Currencies:
AAVE
ADA
BNB
BTC
EOS
FLOKI
FLOOR
FTM
GALA
HEX
LUNA
MATIC
SAND
SHIB
TOMO
TUSD
UNI
USDC
USDT
XRP
YFI
ZCASH