Betsoft Gaming is an online casino developer that has been mentioned more times than any other creator here at Coinbuzz. As regular readers will know, we absolutely love this innovative and stylish developer and it seems that we're not alone, as a huge number of Bitcoin-compatible online casinos have Betsoft games.
In this guide to the best Betsoft casinos, we will highlight some of the things that make this developer great while showcasing the very best Betsoft Gaming sites on the market right now.
Best Betsoft Casinos
There was a time when finding Betsoft on a list of casino developers was like finding a needle in a haystack. We know, because we tried, and you just couldn't find Betsoft games on most of the biggest European-centric online casinos.
To an extent, that remains the case, and the UK is a great example of this. Betsoft games are few and far between in this country and even the ones that do exist don't have much variety on offer.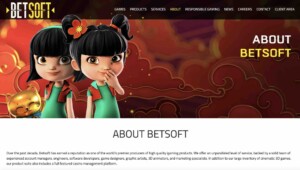 Thankfully, that is no longer the case. Cryptocurrency casino operators, as well as many general sites licensed in Curacao, have fully embraced Betsoft Gaming and made it easier to find the developer's best creations.
We have listed the best Betsoft Bitcoin casinos on this page, including the majority of our personal favourites. Some of our personal favourites including the exceptional Bitstarz and the high-limit Cloudbet.
Remember that all of these sites offer Welcome Bonuses and other promotions. Just click the links on this page to sign up, claim your bonus, and start your journey.
For more information about the sites, including payment options, alternative gaming providers, and more, take a look at our casino reviews. Every single site on this page has an extensive review behind it.

What Makes it Unique?
We've made it abundantly clear that we love Betsoft titles, and we're not just saying that because we say it about all developers. After all, we're not big fans of Reel Time Gaming, we think Microgaming have a tendency to produce too many cheap and nasty titles (although they do have some fantastic ones as well) and we have previously been critical about the lack of inventiveness displayed by fringe creators like GameArt.
We're definitely not in the business of providing baseless praise for iGaming developers, so what's so good about Betsoft?
Well, many things, including all of the following:
Stunning Graphics
Betsoft uses technology known as Slots3 to create some of the best-looking slot machines in the industry. If you have seen these games for yourself, you'll know exactly what we mean.
Many slot developers like to talk a good game and often use highly descriptive and exaggerated texts to describe their games. They'll tell you that the game features "breath-taking graphics" and "3D animations", and if you focus on the text alone, you could be forgiven for expecting a slot reminiscent of a next-gen video gaming title.
But what you actually get is a pretty bland and boring game with animations that barely qualify as 3D and imagery that definitely isn't next-gen.
Betsoft is different. It still makes those claims, and so do its reviewers, but it actually has the quality to back them up and these titles look every bit as gorgeous (and more) as they claim.
They are not quite next-gen, but when compared to other creators, they are certainly on another level. If developers like Yggdrasil and Playtech are Xbox, then Betsoft is a super-powered gaming PC or PlayStation 5.
If you have spent a long time playing classic real money slot machines created by the likes of Microgaming, you'll see a massive difference when you make the leap to Betsoft.
Uniqueness
Some slot games are all style and no substance and the same is true for a number of online casinos and sportsbooks, as well. But that's an issue that Betsoft definitely doesn't suffer from. Its games are just as fun and unique as they are beautiful, and yes, we know that we're starting to sound like obsessed fanboys!
Take Max Quest: Wrath of Ra as an example. It's a multi-award-winning title that completely changed the industry and altered the way that we think about online casino slots.
Wrath of Ra swaps standard reels and paylines for a setup that looks more like a mobile game. Monsters walk across the screen and your goal is to shoot them, collecting payouts when you do so. It is completely different to anything that you have played before, and you may not see anything like it for several years.
The only problem with this game is that it has since gone out of circulation and can no longer be found on Betsoft online casinos. That's a huge shame, but we have it on good authority that similar titles will be released in the future and some of these will even be in the same series.
More importantly, the fact that Betsoft won so many awards and achieved so much recognition for this game means that others will likely follow in its footsteps, and that's great news for players who enjoy unique and original games.
Innovation
As noted above with Max Quest: Wrath of Ra, Betsoft is constantly pushing the envelope and trying to do something new. This is important, as many casino developers prefer to stick with what they know, especially when what they know works so well.
After all, there is a reason games like Book of Dead and Starburst (created by the amazing NetEnt) are so well known while games like Spinfinity Man and Max Quest are not. These simpler games are what most players are familiar with. They want something that they can pick up and play without needing to think about rules or interaction; something that is similar to games they have played a million times before.
Players like us, who are always looking for something new, are in the minority and so the majority of online casino developers ignore us. Betsoft does not, however, and we feel like they are one of the few brands (along with Yggdrasil Gaming) willing to explore new areas.
Quantity
More often than not, quantity takes a hit when quality takes over. This is true for many top-tier developers, as they tend to be smaller and more creatively focused and this means that they release just a few games every year.
Blueprint Gaming is a great example of this. All of its games are of the highest level and it's clear that the designers have spent a lot of time crafting those titles, creating those stories, and acquiring the necessary licenses.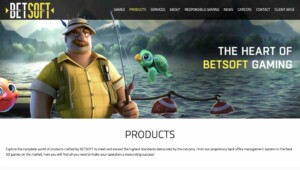 Where Betsoft is concerned, however, you get the best of both worlds. It's a big company and it has been around for some time. As a result, it has had more than enough time to create an expansive catalogue and to increase its base of operations. It's not quite up there with the likes of Playtech and Microgaming, who have rosters with hundreds upon hundreds of games, but it does still have one of the biggest selections in the industry.
You can take your pick from dozens of top titles and because these are created by one of the world's best developers, you know you're always guaranteed to have a good time.

Best Betsoft Slots
As noted above, there are many top Betsoft Gaming titles to choose from. The vast majority of these are real money slot machines, and this is where Betsoft truly excels and where its reputation was born.
If you're not sure where to start, take a look at the games below—a prime selection of the very best Betsoft slots available right now.
The Slotfather I and II
The Slotfather is a classic, and just like the Godfather, the second is just as good as the first. You assume the role of a gangster living in the big city and doing jobs for the eponymous mob boss.
There are lots of big cash prizes to win and the game combines high-stakes action and lots of interesting set pieces, including Free Spins, extortion bonuses, suitcases full of money, and a great deal more. The goal is to control as much of the city as you can and to collect lots of prizes on the way.
In many ways, the Slotfather epitomises everything that is great about Betsoft as it combines absolutely stunning graphics with great sound, a fantastic story, and a host of features and unique game mechanics. You can get lost in this game for hours, and once you've had your fill and are looking for something else, you can move onto the sequel!
Who knows, when you've finished with the second one, Betsoft might even release a third. Although, we have a feeling it will be better received than the trilogy on which it is based.
A Night in Paris
If you think that Betsoft has only been creating breath-taking slot machines for the last couple of years, think again. They have been in this business for a long time and while their games have been getting better, they still looked fantastic when they first began.
A Night in Paris is a great example of that. It was launched back in 2011, which means it is a decade old at the time of writing! Not bad for a slot that has better graphics that anything you have seen and played elsewhere (except for other Betsoft slots, of course).
You follow a bandit who breaks into a museum and is tracked by a well-built security guard. There are lots of fun animations as the crafty little thief makes his way through the museum and tries to steal its prized possessions. It's a fun and ambient little slot and it has always been one of our personal favourites.
Spinfinity Man
We mentioned the Spinfinity Man slot above, noting how it was one of the creator's most unique slots. It's not quite as innovative as Max Quest as it still has a basic set of reels, but there's a lot going on here and it's great fun to play.
We recommend this top real money slot to anyone who played and enjoyed the Marvel and DC Comics slot machines created by Playtech and Microgaming. The Marvel slots have now been resigned to the pages of iGaming history, replaced by Greek and Nordic gods and placed under the Age of the Gods umbrella, but that's just more reason to get your superhero fix here!
Spinfinity Man offers an abundance of paylines and multiple rows and reels. There are big features and mechanics to unlock and you'll have a lot of fun stepping into the footsteps of the titular character.
Dr. Jekyll and Mr. Hyde
Another classic Betsoft game that has stood the test of time and remains just as impressive now as it has always done.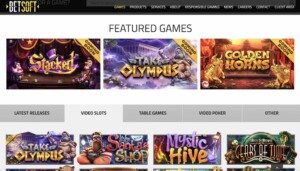 This story takes on the timeless tale of the famous doctor and his alter ego. Players will find symbols such as potions, Wilds, and the two main characters themselves.
Features are unlocked when specific symbol combinations appear on the reels and it's this unique trigger mechanism that makes Dr. Jekyll and Mr. Hyde such a brilliant and extraordinary creation.
There is also a very dark and ominous aesthetic to this game, one that is further enhanced by the intelligent use of sound and gaming mechanics.
Table Games
Although slots are what Betsoft does best, they are not the only games that this creator has to offer. Betsoft has also released a variety of table games over the last few years, including European Blackjack, Zoom Roulette, Pontoon, Triple Edge Poker, and 21 Burn Blackjack.
These games don't feature the jaw-dropping graphics that Betsoft slots are best known for, but they are still a lot of fun and have some great mechanics and features.
You'll also find a small selection of video poker titles. Again, these are not as creative as the developer's slot machines, but that doesn't make them any less interesting and they are well worth playing if you're a fan of this popular card game.
FAQs
What is the Best Betsoft Slot?
It is a matter of opinion, but we have listed our personal favourites in this guide. This should help to point you in the right direction.
Are All Betsoft Slots 3D?
Yes! And that is one of the best things about this developer.
What Happened to Max Quest?
Although it was one of the best Betsoft slots, Max Quest: Wrath of Ra seems to have disappeared. Maybe it just was not as popular with casinos.
Is Betsoft Fair?
Like all good developers, Betsoft goes out of its way to audit its games and ensure that every spin is fair.
Can I Play Betsoft with BTC?
Yes, you can. In fact, the vast majority of the casinos at the top of this page accept cryptocurrencies and all have Betsoft games.
Play Today
Now that you know everything you need to know about Betsoft games, there is only one thing left to do: Play!
So, take a look at the sites on this page, find one that is available in your location and accepts your preferred payment method, and start playing!