All iGaming developers claim to be devoted to innovation, but Big Time Gaming actually practices what it preaches. Not only is this the creator of the brilliant Megaways feature, but it has also launched other interesting features.
Big Time Gaming also has its own Players Group, which is available on Facebook. The BTG Players Group only has a few hundred members, but everyone is invited to apply and join. Once you gain access, you will be invited to play the latest BTG slots before anyone else.
At the time of writing, for instance, it is trailing its Player Select mechanic, whereby players can choose to play two different games in one. The feature is attached to a slot called King of Cats and it's not available anywhere else.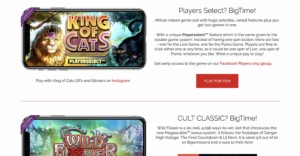 If you want to play it, you need to be a member of the group. Not only will this give you some early insights, but you can also connect with other BTG fans and even speak with a representative from the company.
You're essential a beta tester. I'm not a member of the group myself, so I can't confirm if they take recommendations from players and use them to change their games, but that seems to be the case.
If you're a big fan of Big Time Gaming, and you're actually committed to playing new releases and helping the company to improve its offering, sign up to the Players Group.
The Best Big Time Gaming Casinos
Big Time Gaming is a fringe developer, which means it's never the main developer used by online casinos. But that's a good thing, not a bad one, as it means you can find the software on a host of different sites, whether it works closely with Playtech or Microgaming.
BTG games are hosted on hundreds of online casinos available all over the world, and we have highlighted some of the best ones at the top of this page. All of the casinos you can see above have games from Big Time Gaming, as well as a host of other top creators.
There are lots of bonuses to collect and features to explore, and many of these sites also accept Bitcoin, Litecoin, and other cryptocurrencies.
Click the links, visit the sites, and start spinning some BTG slots today!
Big Time Gaming Features
Big Time Gaming is an innovative developer and it has a lot of things going for it. But let's be honest, when you think about Big Time Gaming and unique features, you think about Megaways and nothing else. And that's not a bad thing, as we're talking about one of the most popular mechanics in the iGaming industry.
Megaways is a mechanic that randomizes the number of paylines that appear every time the reels are spun.
In many ways, it's like a standard 243 "ways to win" slot machine in that all consecutive symbols of the same type will form a winning payline. The difference is that there are more rows and columns, which massively increases the total number of paylines. The actual rows can change from spin to spin, and so it's possible to go from "just" 1,000 or 2,000 paylines with one spin and then over 100,000 with the next.
Of course, even with 100,000 paylines, there is no guarantee of a win. You still need those initial symbols to connect and if they don't, you're going to end up empty handed. However, the more paylines there are, the more likely you are to get a return. It also increases the chances of a big win, although Megaways slots usually legislate for this by reducing the size of the payouts for each symbol.
The Megaways has been used on several Big Time Gaming slot machines but you will also see it on slots created by many other developers, including the massively popular NetEnt. That's because BTG has licensed it to other creators and they use it to create new titles and to revive older ones.
One of the great things about Megaways is that it can be used to upgrade a slot, as opposed to completely overhauling it, and so it's popular with developers as well as players.
It has been used on some of the most popular slot games in the industry, including Gonzo's Quest, Monopoly, Great Rhino, Ted, and Wish Upon a Jackpot.
The Megaways mechanic has helped to turn Big Time Gaming into one of the biggest and the most influential developers in the iGaming industry and has no doubt made it a lot of money in the process. Hopefully, we'll see similar innovations from the brand in the future, although it's unlikely that anything will have as big of an impact as Megaways.
Best BTG Games
All Big Time Gaming slots are available on desktop and mobile, with support for most devices and platforms. They have great graphics, unique mechanics, and some great features, as well as high RTPs.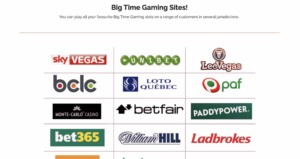 There's so much to like about BTG creations and that's why they are so popular within the online gambling industry.
If you haven't experienced the best of Big Time Gaming for yourself, then you don't know what you're missing! I have hand-picked a few of the creator's best slots below to give you an idea of what to expect.
Just remember that this is just my opinion and it's just a small selection—there are many more quality titles out there.
Who Wants to Be a Millionaire? Megaways
Who Wants to Be a Millionaire? Is one of the most sought-after licenses in the online gambling industry. After all, it was a massively popular gameshow and one that became famous all over the world. It's perhaps not quite as easy or as natural to turn it into a casino game as something like Deal or No Deal, but it's still workable. In fact, after acquiring the license to use the brand, BTG found a way of turning it into a great game and one that has become immensely popular.
Firstly, it's a Megaways slot, which means it has thousands of possible paylines. Secondly, it drops players into the famous hot seat and comes complete with the studio audience, prize ladder, and even the lifelines.
Players are given a chance to climb the prize ladder when they make it through to the main bonus round, and there are a couple of other features to look out for as well. It's a brilliantly executed slot and you don't even need to be a fan of Who Wants to Be a Millionaire? To enjoy it.
In fact, while I used to be a fan in the old days, the format became a little tired and dull and it lost its impact on me. But despite that, I still found the Who Wants to Be a Millionaire? Slot to be enticing and interesting and have played it more than any other game in the BTG catalogue.
Bonanza Megaways
Bonanza is the game that many people picture when they think about Megaways. It was one of the first and remains one of the biggest, with over 117,000 paylines and the inclusion of a Chain Reaction feature.
If you have read my reviews on Microgaming slot machines and even Quickspin casino games, you will know that I have a soft spot for Chain Reaction features. I have to admit that I'm not a big fan of Megaways, and that makes me somewhat of an outsider, as everyone else seems to love it. However, I do like it when it is combined with other great features, including Chain Reaction and Free Spins, and that's what makes Bonanza Megaways so appealing in my eyes.
Extra Chilli Megaways
There are a few slot trends that never seem to go away, trends that every developer explores. Some of them are obvious, including Ancient Egypt and the Wild West, where developers have a lot to work with and are utilising aesthetics that are always on-trend. Others are less so, and the "hot food" theme is a great example.
Sure, a lot of people love chilli peppers these days and super-hot sauces are more popular than ever, so how that ever found its way into a slot theme is beyond me.
Still, Extra Chili manages to make it work. It uses the Megaways mechanic and combines symbols of red and green chilli peppers. The background of the slot is also very busy and colourful and this helps to add to the aesthetic somewhat.
Donuts
Donuts is a weird and wonderful little slot that takes players to a small donut shop in the middle of a US desert. It looks like one of those tin-roofed diners that you see in American films, the ones where the protagonists stop to refuel or relieve themselves, only to be brutally murdered by some masked maniac.
Thankfully, there is no senseless murder here, just some super-sweet and glazed donuts. It's hard to make it through a session of the BTG Donuts slot without craving a sweet treat and heading to your nearest Dunkin' Donuts or Krispy Kreme, so it's probably best to avoid this one if you have a sweet tooth and are watching your weight.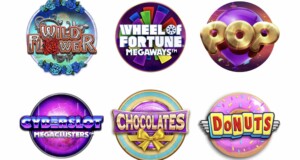 For everyone else, Donuts is a sweet and colourful exploration of Americana.
It's surprisingly nostalgic (considering I didn't live through the 1950s and have never been to the United States) and it's also quite simple.
In fact, it's one of the only BTG slots on this list that doesn't use the Megaways feature and isn't overloaded with paylines.
Book of Gods
Book of Gods is proof that BTG isn't all about mega paylines—it can also go big with the bonuses. There are Free Spins, Wilds, Retriggers, and Expanding Symbols, to name just a few. There is a lot going on here and it's all wrapped up in a neatly and god-like aesthetic.
The "book of…" theme has been explored by several creators over the years, including the popular Play'n GO. Most of the games that uses this theme are fun and have a lot of great features to explore, but Book of Gods manages to stand head and shoulders above them, and that says a lot about its level of quality.
FAQs
Who Created Megaways?
Big Time Gaming created the Megaways mechanic and has used it on slots like Bonanza Megaways, which has over 117,000 paylines and is one of the best examples of this feature.
Why is Megaways Used by Multiple Developers?
Although Megaways was created by Big Time Gaming, it has been licensed to other creators. It's why you will often see the BTG logo plasters across Megaways titles, even if they were created by developers like NetEnt and Microgaming.
What Does BTG Stand for?
BTG stands for Big Time Gaming and it's how the developer is better known. The name is also written as BigTimeGaming.
What is the Best Big Time Gaming Casino?
There are many great online casinos out there that host games from Big Time Gaming. We have covered dozens of Bitcoin-friendly BTG casinos, for instance, and you can find the best of these at the top of this page. If you're not a BTC fan and are looking for more traditional payment options, as well as a little poker, bingo, and sports betting, we recommend checking out Sky Vegas and Sky Casino. Both sites operate under a single brand, one that also contains Sky Bingo, Sky Poker, and Sky Bet. Ladbrokes and bet365 also tick all of these boxes. You can find these casinos in our reviews section or at the top of this page.
What Developers are Similar?
BTG is very unique, but if you're looking for a developer that doesn't use re-skinned games and makes sure that every release is unique, take a look at Quickspin..
Play BTG Casinos Now
You've seen the games, you've learned about the markets, and you know all that you need to know about the brand—the only thing left to do is play! BTG clearly has a lot to offer online gamblers and there are hundreds of top casinos out there that showcase games from these creators.
Scroll to the top of this page, choose one of the online casinos, and start playing. We have linked to the latest bonuses to make it easier for you and you can also find extensive reviews on all of these sites.