Pros
Big Welcome Bonus
Simple Theme
Good Reload Offer
Variety of Payment Options
Mobile-Friendly
Cons
Slow Withdrawals
Withdrawal Limits
ClubRiches Casino launched in 2021 under a Curacao eGaming license. It operates in dozens of countries around the world but seems to focus on Canada, Australia, Russia, and Norwegian, where you'll find the bulk of its players.
launched in 2021 under a Curacao eGaming license
I spent some time on the ClubRiches website. I played its games, tried its bonuses, and spoke with its customer support team. I also saw what other players were saying about the site and got some valuable insights. Ultimately, I found a site with a lot of promise and a nearly equal amount of flaws.
Check out the following ClubRiches Casino review to see what I thought about the site.
Basics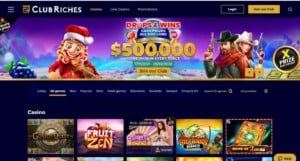 ClubRiches Casino has a very simple but elegant aesthetic, blending a brilliant blue with a warming gold. It's far from the best I have seen and pales in comparison to the crisp style of Bitstarz Casino and other top BTC sites. But it does the job, it's easy on the eye, and it's very easy to find what you're looking for. That's really all that matters.
If I had to pick faults, I'd say that ClubRiches Casino looked a little dated, certainly more than it should for a casino that launched in 2021. But as someone who has spent the past couple of years researching and rejecting sites that were seemingly designed by a 12 year-old using GeoCities, ClubRiches Casino is a veritable masterpiece next to many other sites.
I feel that the site is a little more suited to mobile players than desktop ones, but ti works really well on all platforms and the lack of big graphics and intricate imagery means that everything loads very quickly and moves with a great deal of fluidity.
Software and Games
The only thing that makes me happier than seeing Betsoft Gaming in an online casino is seeing NetEnt, Big Time Gaming, and Yggdrasil Gaming right alongside it.
Microgaming is also listed here, as are a few other big creators. I would have liked to see an appearance from Playtech, giving me another chance to play classic slots series like Kingdoms Rise and Age of the Gods, but that's when we start getting into the territory of personal preference.
The developers that you see here will depend on your location, but there are a lot of great providers to explore wherever you are in the world.
It should be noted that I've seen some review sites mention Blueprint Gaming and Red Rake Gaming, but I could not find them in the game's room. Still, I only tried from a few regions, and I can't be absolutely sure that these developers are not available.
There are hundreds of games to explore and if you don't fancy browsing by provider, you can search by game type instead. There are options such as:
Blackjack
Roulette
Virtual Sports
Live Casino Games
Slots
Jackpot Games
The Virtual Sports are particularly noteworthy, and I always like to see them included, as noted in my review of the excellent Rabona Casino. The Live Casino is also impressively put together, with a mix of games from Evolution Gaming and Pragmatic Play Live.
You will also notice that there are a lot of Drop and Win games here, giving you many chances to win big.
Bonuses and Promotions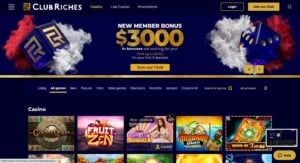 There are some big pros and cons where the ClubRiches promotions are concerned.
Firstly, all new players are invited to collect up to $3,000 as a three-part Welcome Bonus, with each part offering a maximum of $1,000. There is also a Reload bonus that runs from Tuesday to Thursday every week and gives loyal players the opportunity to scoop a $300 bonus.
It's always good to see such a high Welcome Bonus, and it's even better when it's spread across multiple deposits to give small and medium stake players a higher return. Regular reload bonuses are also a welcome sight.
But that's when the benefits stop.
Firstly, there doesn't seem to be much in the way of a VIP Program, which means it lags behind sites like BetChain Casino, and many others.
Secondly, while there is a section for "Tournaments", it was empty at the time of this review and a couple of days previous. The fact that it doesn't show any old/finished tournaments suggests it has been empty since it launched, which is a disappointment.
The size of the bonuses are good, and the terms are decent, but there really needs to be more going on here, especially when you consider the bonus-rich sites that ClubRiches is competing against.
Payment Options
You can use a multitude of payment options at ClubRiches, including both cryptocurrencies and fiat currencies. That's definitely a positive, but as with other aspects of ClubRiches Casino, it is swiftly followed by a couple of negatives.
Firstly, your withdrawals will be subject to a pending period that can last for anywhere up to 72 hours. In my experience, it didn't take this long, but that's how long it could take and so you should be prepared for that.
To be honest, anything longer than a few hours is frustrating and unnecessary in this day and age. There are sites like Pokerstars Casino that will process your payments in a heartbeat, with the cash landing in your web wallet more or less as soon as you click "confirm". The same is true for countless other top casinos, from the big and well-known brands to obscure and brand-new creators.
There is no excuse for such slow pending periods and it's very frustrating to see.
The other issue is the withdrawal limit, which seems to be a common issue on new online casinos. You are limited to withdrawals of no more than €3,000, or the equivalent in your chosen currency. That might be more than enough to meet your needs as a small stakes player, but if you're depositing 3 and 4-figure sums, it's going to be an issue.
Highlights
A Very Generous Welcome Bonus
Collect a Three-Tier Bonus of $1,000 Each
An Impressive Reload Bonus
Complete Support for Mobile Players
An Easy-to-Use Website
User Reviews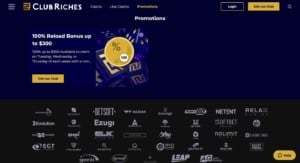 There are a few good reviews out there for ClubRiches and that's good to see, but there is one terrible review on a major online gambling site that drew my attention above all others.
In the past, I've made it clear that you shouldn't focus too much on single reviews, or even a handful of them. Most players complain when they lose money, claiming that the site is "rigged" in a moment of anger. Others misunderstand bonuses, don't get what they want, and then try to get back at the casino.
The reason the ClubRiches review caught my attention is twofold.
Firstly, it talks about a nightmare verification scenario that is almost exactly like one I have experienced myself. In that scenario, I was giving the casino exactly what they asked for, and every time they returned it with a lame excuse, citing things that didn't make sense. The only thing they didn't request from me was a vial of blood and a semen sample, and I'm sure that request would have arrived if I hadn't given up.
The review in question explains a similar scenario on ClubRiches. As I said, you need to take these reviews with a pinch of salt, but I've been there, I've done that, and I've printed my passport on the t-shirt and then worn it in a dozen verification selfies. There are few things more annoying than an unreasonable online casino during a verification check, especially when that check is only being initiated because you have a withdrawal to process.
The second issue I have is with the fact that the casino didn't respond to this player's review and wasn't willing to make a public showing of helping them, something that all casinos should do in this situation.
I tried contacting ClubRiches myself to see how helpful they were and they were okay. A little slow, and I personally think that chatbots need to crash and burn, along with the guy who thought they were a good idea, but I got there eventually.
However, the complaint concerns me, and the way it was—or wasn't—dealt with concerns me even more.
FAQs
Is ClubRiches Safe and Fair?
Make no mistake about it, ClubRiches is a regulated, safe, and secure online casino. It works with the authorities of Curacao, one that you will see on the vast majority of cryptocurrency casinos and sportsbooks. It also works closely with established developers, all of which audit their games for security and fairness, guaranteeing that every game is completely random, just as it should he.
Can I Join From the UK?
You cannot join ClubRiches Casino from the United Kingdom as it doesn't have a license from the UK Gambling Authority. It operates with a Curacao eGaming license, which means it is available in countries like Canada, Australia, and a few other key regions, but not in the United Kingdom.
Can I Play on My Mobile?
Yes, you can play ClubRiches on your mobile device and that's true for most platforms and device types. In fact, as noted in the ClubRiches Casino review above, mobile is the best way to play. It's clear that the developers had smaller screens in mind when they created the casino as it works so much better on these screens than it doesn't on laptops and desktops.
How Can I Collect the Welcome Bonus?
To collect your share of the ClubRiches Casino Welcome Bonus, you just need to sign up, add a payment method, and make a qualifying deposit.
To get there, you should first click the link at the top of this review, as that will take you to the latest Welcome Bonus. We try our best to update these reviews and ensure that they reflect all of the site's new bonuses, games, and more. That's not always possible to do as soon as the changes occur, but whether the bonus has changed or not, visiting through the link above will ensure you get the latest and best offer available right now.
Are There any Slot Tournaments?
There were no Tournaments available at the time of writing, but there was a section where these tournaments would be placed. Usually, casinos will list all of the tournaments that have finished, giving players a chance to see the results and be tempted by the huge prizes they pay. There were no such listings on ClubRiches, so I can only assume that it has yet to host a tournament. That should change in the near future, though. Hopefully, we will also see some more action with regards to the casino's Loyalty Program and maybe even an Elite VIP Program of some degree. In the meantime, if you want to join one of these programs and play these tournaments you will need to look elsewhere, including the brilliant King Billy Casino.
Final Thoughts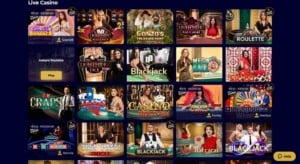 There are a few little issues with ClubRiches Casino, and they seem to start with the site doing something great and then somehow letting itself down.
Take the verification issue as an example. It's okay to be thorough. It's even okay to use a chatbot, providing it eventually connects to a real person, but it's not okay to drag the verification process on for many days or ignore a player's negative review.
The bonuses are another fine example. On the one hand, it offers players a generous Welcome Package of up to $3,000 spread across three bonuses and there is also a great reload offer. But that's it—not much to get excited about in the way of a VIP program, real money slot tournaments, or anything else you will find at other online casinos.
The result is a site that still deserves a good rating, but one that falls short of the brilliant Kingdom Online Casino, as well as a few other. Still, it's worth signing up and checking it out for yourself.
ClubRiches Casino Review Details
Restricted Countries:
Belgium
Estonia
France
Hungary
Iran
Iraq
Ireland
Italy
Netherlands
Poland
Slovakia
Spain
Sweden
Switzerland
UK
US
Languages:
English
Finnish
Norwegian
Portuguese
Russian
Currencies:
AUD
BRL
CAD
EUR
INR
NOK
USD