Spinomenal is an iGaming provider with a surprisingly large collection of online slots for a brand that launched in 2014. It focuses on HTML5 games, which means they can all be played through web browsers on mobile and desktop, and it grows its roster with new games every single month.
In this guide, I'll take a closer look at Spinomenal, covering its many games and features while highlighting the best casinos that have Spinomenal games.
All About Spinomenal
Spinomenal was founded in Israel back in 2014 and it has come a long way since then, creating over 100 slot games and adding new ones every month.

It's not just a slot creator, either, as Spinomenal has also invested in lottery games and dice games, adding the sort of variety that is usually reserved for much bigger creators like Playtech.
Spinomenal has certifications from many major gambling authorities and these licenses allow it to operate in dozens of major gambling regions around the world. They include:
Alderney
Belarus
Bosnia
Bulgaria
Colombia
Croatia
Czech Republic
Denmark
Estonia
Gibraltar
Isle of Man
Italy
Latvia
Lithuania
Malta
Portugal
Romania
Spain
Sweden
Switzerland
Spinomenal Features
There are many features and integrations that help Spinomenal to stand out from the crowd. One such feature is the Spinomenal Aggregation Platform (SPA), which provides casinos with a wide range of integration solutions, giving them access to all of the Spinomenal roster, as well as hundreds of games from third-party providers.
Additional content can also be added as per the needs of the casino. This is not something that really impacts the players as it all happens behind the scenes. However, it's good news for casinos and it's also one of the reasons why you will see Spinomenal games listed on so many sites.
Another thing I have noticed is that Spinomenal seems to do a lot of business with up-and-coming casinos and has even created original games for them. I have reviewed a couple of sites that have hosted exclusive games created by Spinomenal.
Slotman is one such site.
Its original game isn't the best that you will find and, truth be told, it pales in comparison to some of the exclusive titles you see hosted on major UK casinos and sports books (including Paddy Power and William Hill, both of which have been reviewed here on Coinbuzz). Still, it's a game that you won't find anywhere else and as I noted in my Slotman review, that's a huge plus.
Many of Spinomenal's games are a little basic. They aren't the 3D, bonus-rich slots created by the likes of Betsoft. At the same time, however, they are far from simple and are a little more advanced than the retro stylings of Wazdan and some older Microgaming titles.
It's really a blend of the old and the new; the basic and the complex, and it strikes a good balance between the two.
Best Spinomenal Games
In the past, I have used this section to highlight some of the best slots created by specific developers, from Blueprint's The Goonies to the Age of the Gods series from Playtech. Where Spinomenal is concerned, however, I don't really have the same degree of experience.
I'll be honest with you, while I have played hundreds of casinos and thousands of casino games, both in my spare time and as a reviewer and tester, I haven't encountered many Spinomenal games.
This year alone, I have been asked to review, test, and write about 500+ games, all of which were launched within the last 12 months. I've worked with affiliate sites, casinos, and even developers, and yet I don't recall seeing a single Spinomenal game.
That's not necessarily a bad thing (although it is disappointing for me), as it just suggests that some bigger and better-known brands have been prioritised over the last year or so. It also likely has something to do with the fact that Spinomenal doesn't seem to have much of a presence in the UK, where I am based.
As a result, it means I don't really have a lot of experience to draw upon and can't provide you with an honest opinion of Spinomenal slots.
So, rather than giving you a detailed review of my favourite Spinomenal slots, I have just sampled a few of them and reviewed the developer's main categories instead:
Video Slots
Spinomenal has created slots based around some of the most popular themes in the online gambling industry. It's to be expected, and while it's always nice to see something different and unusual, the familiarity provided by these themes will help to attract more players and more spins.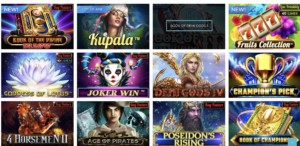 You will find an abundance of slots based around gods and myths, including Poseidon's Rise (based on the Greek god of the sea) and Story of Hercules, which follows the legends of the great mythical warrior himself; slots based on retro themes, including Fruits on Ice and Fruits Collection, and slots based on animals.
There is a lot of colour, a lot of variety, and several series, including Demi Gods and Vikings & Gods.
Buy Feature
I have highlighted the benefits of Buy Feature slot games many times on Coinbuzz and Spinomenal is a forerunner where this feature is concerned.
As the name suggests, Buy Feature slots let you skip all those bonus-chasing spins and allow you to go straight to the bonus. You will pay for it, of course, but at least you have the option.
I can't tell you how many times I've found myself trapped playing a slot because I don't want to quit until I unlock the bonus feature. I've lost a lot of money that way, and only rarely does it actually end with me revealing the bonus feature.
In other cases, I have taken thousands of spins and have never unlocked the bonus.
Take NetEnt's Gonzo's Quest as an example. I have moaned about the popular slot many times on this site, because I've been playing it since the beginning, have spent hundreds (if not thousands) of pounds on it, and I have probably taken 10,000+ spins.
In that time, I have never unlocked the bonus feature. Sure, that's rare, and statistically speaking, anomalies like that have to exist, but it's incredibly frustrating. If Gonzo's Quest had a Buy Bonus feature, you can guarantee I would be opting for it during my next spin.
It's pretty much the only thing that could attract me back to Gonzo's Quest.
If you're a similar type of player and have similar frustrations, you'll understand just how useful a Buy Bonus feature can be. Sure, it's not going to win you money every time and it's definitely not as beneficial for your balance as unlocking the bonus in a few quick spins. But if it helps to stop the rot, it'll be worth it in the long run.
Scratch Games
Scratch cards are criminally underused in the modern gambling industry. The problem is that if you just replicate an offline scratch card, what's the point? And if you add extra bonus features and other gaming mechanics, you've basically just created a slot and most players prefer slots.
It's a very fine balance and it has to be done right if it's going to work. Personally, I love them. I mean, I'm not going to choose them over slot machines and I will always make a beeline for slots that use Rolling Reels/Cascading Reels, Roaming Wilds, Sticky Wilds, and even Progressive Jackpots. But when I have tired of those and I want something a little different, I will look for the scratch cards and maybe a game of video poker.
Microgaming are the kings of scratch cards and have been more or less unchallenged in that area, but Spinomenal are one of the few brands that have actually tried to knock Microgaming off their perch and they have done a pretty good job of it.
There are numerous online scratch cards in the Spinomenal roster, and it's worth checking them out if you can find them.
Of course, they are still scratch cards, and so they operate on a very basic principle of "scratch and reveal", but they are quick, easy to understand, and they usually have some big jackpots, as well.
If you can't resist playing a few scratch cards every now and then, I recommend checking out games like Easter Pick, Champions Pick, and the pixel-art stylings of Scratchy Bit.
In all truth, there isn't a huge difference between one game and the next, as there aren't enough elements at play to differentiate one game from another. But you could say the same thing about retro slot machines, and people seem to love them.
Dice Games
As rare as scratch cards are, dice games are even rarer. It's not an area in which I have a lot of experience, nor is it one that has really appealed to me, but there will be players out there who like these games and Spinomenal have catered for those players.
These games aren't quite what you might expect, though. Personally, I expected variants of Craps. In actual fact, most of the games are basically slots that use dice instead of other common symbols. Still, it adds variety to the Spinomenal roster and that can only be a good thing.
Table Games
Although there is a table game section on the Spinomenal website, the developer hasn't created a great deal of titles in this category. In fact, at the time of writing, there are only two of them and both are variants of European Roulette that are very similar to one another.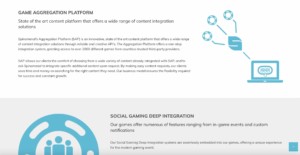 It's something you will also see from the likes of Betsoft and while it adds more variety, it's probably a pointless endeavour.
If you're looking for table games, you go with Microgaming and Playtech, the big names that have been excelling in this area for years.
If someone tells you that you can enjoy a beach holiday anywhere in the world, you book tickets to Greece, Spain, Italy, or the south of France. You don't drive to Blackpool.
FAQs
What is the Best Spinomenal Game?
There are far too many to choose from and, in the end, it all comes down to personal preference. Do you prefer slots or scratch cards and if it's the former, are you more interested in games with lots of paylines and big features or games that keep things very simple? The only way to know is to play them for yourself.
Where Was Spinomenal Founded?
Spinomenal is an Israeli company. It was founded there back in 2014.
Why Can't I Play Spinomenal Games?
First, you need to find a casino that actually has Spinomenal games. Just because you're playing in a region where Spinomenal is regulated, doesn't mean it will have Spinomenal games. Secondly, you need to make sure that Spinomenal's licenses actually apply where you are, as it's possible for a casino to be available but many of its games to be restricted.
Does Spinomenal Have a UK License?
As far as I can tell, Spinomenal doesn't have a license from the UK Gambling Commission, which is unusual. It might explain why I don't always encounter Spinomenal games and why they are very rare in the UK. It does have licenses from Alderney and the Isle of Man, however.
Does Spinomenal Have a Swedish License?
The Swedish gaming license is one of the strictest in the industry and is up there with the UK in that sense. However, Spinomenal actually has a license from the Swedish authorities and so you should be able to play if you live there.
Can I Play Spinomenal Games on Mobile?
Yes, you can play Spinomenal games on mobile and on desktop. You should be able to play directly through your web and mobile browser, so you don't even need to download anything.
Play Spinomenal Casinos Now
Ready to play some Spinomenal slots and scratch cards for yourself? Just scroll to the top of this guide and take a look at the casinos listed there. All of these sites have games from Spinomenal, and many of them also allow you to use cryptocurrencies and other popular payment options.
For more information on these casinos, just click the review link. Every single site listed on this page has been reviewed and vetted by our team and those reviews contain information on bonuses, games, customer support, security, payment options, and everything else that you need to know.
For more guides on top developers like Spinomenal, take a look at my recent guide to Pragmatic Play, a creator that has recently exploded in size and popularity and is at the very top of its game right now.