The gambling industry is one of the most competitive sectors in the world, and not just with the casinos. Developers are also in fierce competition to create the biggest and the best games and all of them want to launch the next viral slot. Pragmatic Play is one such developer and is has launched a few top titles over the last few years.
Pragmatic Play also has more than 100 slots in its catalogue, and while it's not as big as Microgaming, it's still one of the top ten and is deserving of a mention in every list of the best online casino creators.
What is Pragmatic Play?
You can find Pragmatic Play slots and table games on countless online casinos and in regions all over the world.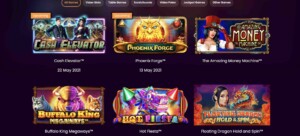 It has licenses from the United Kingdom, Malta, Gibraltar, Romania, and more, and this allows it to place its top creations in front of millions of keen gamblers.
It's rarely mentioned in the same breath as creators like NetEnt, but it's still a big name in the iGaming industry and as this guide shows, it has a lot to offer.
Take a look at our review below for more info.
The Best Pragmatic Play Casinos
If you're already a fan of Pragmatic Play games, or the opening of this guide has enticed you enough to start playing, just browse to the top of this page, click one of the casinos, collect your Welcome Bonus, and start playing.
All of the casinos on this page host Pragmatic Play slots. Some of them have just a handful for you to explore, some offer the full spectrum, but all list Pragmatic Play on their extensive gaming rosters.
Pragmatic Play Features
Animals, ancient civilisations, Eastern influences, and myths—all of these popular themes are integral to Pragmatic Play's creative process. In fact, all but a few of its games fall into one of these theme categories, suggesting that the developers are keen to touch upon the most popular trends.
That's not to say that Pragmatic Play copies other creators, but rather that it seems to focus on the trends that are popular at that moment. It's likely why we saw characters like John Hunter being used to back slots based on ancient civilisations after Play'n GO had massive success with Rich Wilde and the Book of Dead.
We've seen similar methods used elsewhere, including the countless Leprechaun slots that were released after Rainbow Riches became one of the industry's most popular titles.
Great graphics and complete mobile compatibility are two of the areas in which Pragmatic Play excels. It's not as big on unique gaming mechanics as some of the other creators that we have explored, but it does have a few interesting features to keep an eye out for.
Best Pragmatic Play Games
Which Pragmatic Play slot games are the best, and why? It's not an easy question to answer, as there are a lot of top titles to choose from. However, we have been playing Pragmatic Play slots for a number of years now and feel like we have an intimate understanding of how they work, what they have to offer, and how they differ from other games on the market.
With that said, this is a list of our personal favourite Pragmatic Play slot games.
The John Hunter Series
The John Hunter series of games has a very Rich Wilde vibe to it, and the Rich Wilde games also seem to be influenced by Indiana Jones. They follow an intrepid adventurer as he explores multiple key points in history.
For instance, in John Hunter and the Aztec Treasure, he pays a visit to Mesoamerica during the golden age of the Aztecs. In John Hunter and the Mayan Gods, he ventures near the same area, albeit in a completely different timezone.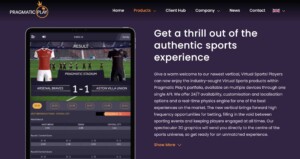 John Hunter is a pretty busy guy and there are several titles out there. They are all very similar, but that's not really a bad thing. When you find a winning formula, stick with it! If you like Book of Dead, we recommend checking this one out.
Personally, we are starting to like John Hunter more than the Rich Wilde classic.
Maybe it's because we've played that slot a million times and have seen it advertised heavily by every online casino and as part of every promotion. But novelty or not, John Hunter definitely has something a little extra to offer and it's a lot of fun to play.
As for the actual slot that you choose, it doesn't really matter. We took a shine to the Mayan one, but that's probably only because two of the others are based on Ancient Egypt and we've played far too many slots with that theme to still hold an interest.
Christmas Carol Megaways
One of the best uses of Megaways in the John Hunter roster, Christmas Carol is a quirky and colourful slot that explores a Dickens classic. It's also one of the most smartly designed slots that John Hunter has released and is well worth a play if you're looking for a cosy Christmas-themed slot machine.
Great Rhino
The Great Rhino slot game is one of the most popular in the Pragmatic Play roster. It's one of those slots that always surprises us, not unlike Starburst. It seems very simple and doesn't really have anything exciting to offer. What's more, it seems that we always lose when we play. But despite this, Great Rhino is one of Pragmatic Play's most popular creations and one that makes an appearance on all of the casinos listed at the top of this guide.
Wolf Gold
Wolf Gold is a very simple slot game on the surface, but it has a lot of substance and once you take your first spin you will realise just where we're coming from.
The game features an impressive RTP, some fluid reels, and a simple interface that makes for the perfect mobile gaming experience. It's not as flashy as some of the other slots on this list, but every time we sit down to play this game it feels like we walk away as winners, and so it has earned a special place in our hearts.
Sweet Bonanza
Sweet Bonanza is one of the few Pragmatic Play slots that doesn't revolve around ancient civilisations, myths, wild animals, or the east. It's all about sugar, and it's the perfect slot for players with a sweet tooth.
It's a candy-coasted creation that is sure to get your tastebuds tingling and in addition to the bright colours, it also features collapsing reels.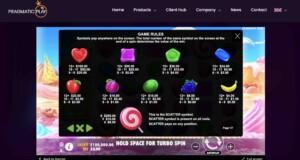 Also known as Chain Reaction, Avalanche, and Rolling Reels, this simple but ingenious feature is a personal favourite of ours and has been used on some of the best slots in the industry, including the massive popular Gonzo's Quest from NetEnt, the quirky Big Bad Wolf from Quickspin, and the sporty Star series from Microgaming.
It removes winning symbols from the reels and drops new ones into their place. If there is another win, this process will repeat, and it will keep repeating for as long as the wins are revealed.
With features like this, you don't need Scatter symbols, although Pragmatic Play has one of them as well and it comes in the form of a giant swirly lollipop.
Table Games and Live Casino Games
Pragmatic Play excels when it comes to slot games. As you can see from our list above, there is no shortage of top slots in the Pragmatic Play roster, including many games that you will have no doubt seen and played before. It might not be up there with the mighty Playtech and other top creators, but as a fringe creator, it excels and it is growing all of the time.
It's not all about video slots and bonus slots, though. Pragmatic Play has also delved into the world of table games. Some of the first games that the developer released were simple variants of casino classics, including the Jacks or Better video poker game and Keno, which is a bingo/lottery game that is played all over the world.
These days, the Pragmatic Play table games collection is very modest when compared to its slots, but it still creates variety and there are a few gems among them, including Multihand Blackjack and American Blackjack, two fun variants of a hugely popular table game.
Where Pragmatic Play really excels is with its Live Casino. Pragmatic Play has invested a lot of money into creating one of the industry's most powerful Live Casinos, seemingly with the goal of rivalling the popular Evolution Gaming, whose games can be found on hundreds of online casinos.
It's fair to say that Pragmatic Play probably isn't going to achieve that goal. After all, Evolution Gaming was one of the first and is now one of the biggest. It has the reputation, the history, and the means to remain the biggest, including a massive team of creators and several high-tech studios.
Still, you don't need to be the best to exist and Pragmatic Play has already had a big impact on this industry and will likely continue to have an impact for years to come.
Some of the benefits of the Pragmatic Play Live Casino include:
All games are staffed by highly trained and skilled dealers
4K streams
A user interface that is HTML5 friendly, which means it works on tablets and smartphones
Newly-built high-tech gaming studio
Customer support available around the clock
Licenses across several major reasons, including the UK, Sweden, and Malta
30 languages supported
Pragmatic Play also offers top-level promotional tools and leaderboard features that casinos can use to promote their games room to players. It's great news for casinos but it's also good for players, as it means there are usually plenty of bonuses to collect and leaderboard promotions to join in with.
FAQs
Why Can't I Play Pragmatic Play Games?
If you see Pragmatic Play games listed at an online casino and yet you cannot find them when you join, it might be because they are not licensed in your region. Casino licenses and developer licenses are a different thing. A developer might be licensed in the United Kingdom, but if the casino is not, then its games will not be available there. That much you probably know, but the same is true for the opposite. If a casino is licensed in your country then you can join, but you will only be able to play games from developers that are also licensed there.
Are Pragmatic Play Games Safe?
Pragmatic Play games are regulated and licensed, and so they are completely safe and secure. The same is true for all reputable developers.
What is the Best Pragmatic Play Game?
It all comes down to your personal preference. We have listed a few of our personal favourites on this guide to help you get started, but that's just our opinion. You might love them; you might hate them, the only way to find out is to play them!
Can I Play Pragmatic Play on Mobile?
All of Pragmatic Play's games are available on mobile, with support for iOS and Android. As with the regulators, just because the developer's games work on mobile doesn't mean that the casino will. However, such issues are very rare as the tools are all there for the casino to make the games available to mobile players.
What Does the Name Mean?
The word Pragmatic essentially means practical, suggesting that the company manages things in a practical manner and doesn't rely on theory or guesswork. Ironically, it is a synonym for Realistic, and there is another developer out there called Realistic Games.
Play Pragmatic Play Casinos Now
Now that you're acquainted with the iGaming mastery of Pragmatic Play, it's time to see some of those slots and Live Casino games in action. Every casino on this list has been vetted by our expert team of reviews and we have considered everything from the games (including all Pragmatic Play titles) to the limits and payment methods.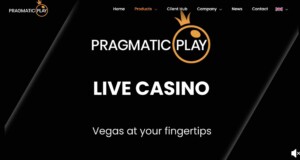 We have also listed all of the latest Welcome Bonuses. These vary quite considerably, and you can usually get anywhere from a massive 5 to 7 Bitcoins, all of the way down to 50 or 100 Free Spins.
But all casinos on this page have them because bonus size is something that we pay close attention to. If a site doesn't have one, it likely won't make the cut.
For more information on top developers like Pragmatic Play, take a peek at our guide to Yggdrasil Gaming, another rapidly-growing creator that is always trying to break the mould and give its players something new to experience.