When you think of the biggest developers in the iGaming sector, you might not think of SG Gaming. In fact, if you're new to this industry, you probably haven't heard the name before.
It's certainly not up there with massive brands like Playtech and long-standing creators like Microgaming, or at least, that's what many players assume. But in actual fact, SG Gaming is a sleeping giant.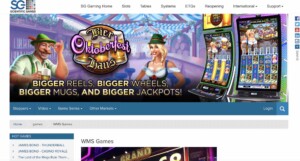 It has had a huge impact on the gaming industry over the years and likely owns some of your favourite brands and your favourite games.
Not convinced? Take a look at this SG Gaming review and we'll show you exactly what we mean.
If you're ready to dive in and start playing some SG Gaming slots, just take a look at the casino on this page.
What is SG Gaming?
SG Gaming is known by several names, including "SG" and "Scientific Games", but "SG Gaming" is the one that seems to be the most common and the one we have used throughout this guide.
The company hires nearly 10,000 people around the world, has a history that dates back many decades and controls nearly $8 billion in assets. It is even listed on the NASDAQ stock exchange and is one of the biggest companies of its type.
It's a little hard to imagine that such a company could exist and technically fly under the radar of the average user, but that's because SG Gaming's main work is offline and not online.
Scientific Games was the first to create a secure lottery instant lottery ticket system back in the early '70s and it continues to play a major role in the scratchcard and lottery sector, creating many of the systems that facilitate the sale of major lotteries in the United States. It also creates slot machine cabinets and you can play these in casinos all over the world, including SG's home of Las Vegas, Nevada.
But what about online slots, we hear you ask? Well, not only has SG Gaming created a few top titles over the years but it has also acquired several gaming studios, including Bally and WMS. These two developers don't have a massive presence in the online gambling sector, but when their forces are combined, it makes for an impressive roster.
And like all large companies, SG Gaming also has the funds, the tech, and the connections to create exciting slots and release them to a vast audience, which is why it has been responsible for creating several eye-catching titles over the last few years.
The Best SG Gaming Casinos
At the top of this guide, you will find a list of the very best SG Gaming casinos on the market right now. All of these sites host SG Gaming games. Some of them have just a handful, others showcase every last title. Just bear in mind that not all of these casinos will be available in your location and you may also be prevented from playing certain games or exploring certain developers due to your location.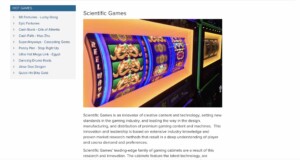 Just click the links above to explore these sites for yourself. We have included extensive reviews on all of them and you will also be directed to the latest Welcome Bonus.
If you find that you can't play these sites because of your location, or any other reason, take a look at our list of Yggdrasil Gaming titles.
They are a little different, but both of them are always trying to innovate and offer players something new.
SG Gaming Features
There are a lot of things that make SG Gaming unique, including its devotion to creating high-quality online and offline slot machines. It works more as a B2B brand, which means its focus is on the casinos and not the players, but through its subsidiaries and acquired brands, it has been responsible for some brilliant slots.
For instance, the acquisition of Barcrest means that SG Gaming owns the rights to Rainbow Riches, which is one of the biggest slot franchises in the world. Everyone who has ever walked into a land-based casino or played in an online casino has taken a spin or two on Rainbow Riches, and unlike countless other widespread slots, most players have loved their experiences with the Barcrest classic.
As for WMS, SG Gaming's acquisition of the brand means that it owns one of our personal favourite slot machines: Ruby Slippers. It's an often-overlooked slot machine that's based on the Wizard of Oz. It may not sound like much on the surface, but there's a lot more going on, as discussed below.
SG Gaming also owns Bally Technologies, The Global Draw, NYX Gaming, and MDI Entertainment. In purchasing these companies, it has grown into a true powerhouse in the online gambling sector and is able to rival the massive Microgaming in the online gambling sector.
As for offline and general gaming, it's way ahead.
Best SG Gaming Games
With such a large roster to explore, it's not easy to select the best SG Gaming titles, but we have tried to do just that and have listed these titles below. Just bear in mind that this is our top list and it's based on our opinions. It's not a complete list and these slots aren't for everyone, but if you're a complete newbie, it'll point you in the right direction and give you a great starting point.
Rainbow Riches
Rainbow Riches is a simple slot that managed to hit so many important touch points and win fans from players all over the world. It adopts a simple Irish/Leprechaun theme and while there isn't much happening in the base game reels, it's a different story once the features begin to unlock.
One of these features takes place right on the reels and activates when three of more of the Wishing Well symbols appear. Once this happens, you just need to choose one of them and then a cash prize will be revealed. If more than three appear, the process is the same, but the difference is that the average win size will increase.
The main feature takes players on a journey along a winding road. Again, it triggers with just three of the corresponding symbols, but the more that are revealed, the more valuable the feature will be.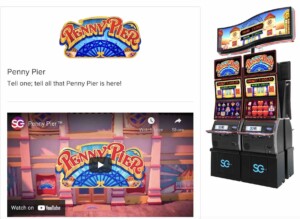 When players enter the feature, they will be tasked with spinning a wheel and moving anywhere from 1 to 6 spaces at a time. There is also a "Collect" symbol on the wheel and if they land on this, the feature will end and the money will be released.
The biggest feature is triggered by the pots of gold and this is when things really get interesting.
There is no graphical feature to explore, just a wheel to spin, but that wheel can trigger some huge wins.
The three features, along with the magical feel and the smooth gameplay, is what makes Rainbow Riches so popular and is the reason that this game has remained one of the biggest and the best for many years.
Ruby Slippers
If we had to list our best slots from WMS and Scientific Games, Ruby Slippers would be at the very top of that list. But despite that, it is often relegated down toward the bottom of the list thanks to titles like Rainbow Riches taking all the plaudits.
We understand why Rainbow Riches gets so much attention, but if you find Ruby Slippers on an online casino, we implore you to play it and see what it's like for yourself.
The game is just like any other, albeit with a magical soundtrack and aesthetic that is based on the Wizard of Oz. We're not huge fans of the film, but we love the slot, and that tells you everything you need to know about its quality.
There are several features to look out for and they are all triggered by their own unique bonus symbol, which appears on the final reel. What makes these features unique is that they can be programmed many different ways.
Each of the 1st to 4th reels has a character from the Wizard of Oz, including the Tinman and Scarecrow. You need at least two of these and the final bonus symbol before the corresponding feature will activate, but each symbol offers its own unique features, including Wilds, Multipliers, Free Spins, Wild Reels, and more.
If you get all 4 characters and the bonus symbol, you'll get a packed feature that contains everything. If not, you'll get a slightly lesser feature that varies depending on the symbols you reveal.
That's not all, either. Every now and then, when the reels are spinning, you'll hear the words "It's happening" followed by the clinking of little red slippers on the bottom of the reels. Pink orbs will then pop out of the slippers and fly over the reels. If they land on a reel, they will turn it wild, and this can happen with between 1 and 4 reels.
Once the Wilds have finished, a multiplier will be added, offering either 2x or 5x. It seems like a fun little random feature, but we have actually won more money via this wild than any of the main game features.
Branded Slots
SG Gaming, like several major developers before it, has invested heavily in pop culture licenses and these have allowed it to create some popular branded slots. For instance, SG Gaming has released several Star Trek games over the years, putting its license to good use.
We haven't seen these games at many online casinos, which is a shame, but we did track them down and play them for the sake of this review, and there are some interesting features to uncover.
It is a different story with the Monopoly license, as SG Gaming has used it to create games that you can find on hundreds of online casinos, including the ones listed on this guide.
The Monopoly license was tailormade for online gambling and SG Gaming has explored it to its fullest, creating games that let you journey around the famous board and scoop big wins on the way.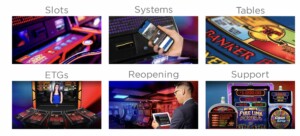 Admittedly, some of these games seem a little more rushed than others and they lack the quality and the innovation that you would expect.
For instance, Monopoly Big Event is a top slot with a huge RTP and a neat interface.
Big Money Reel isn't as impressive though, and Once Around Deluxe also feels like it should be better.
As far as we know, SG Gaming isn't the only creator with a license to create Monopoly games, but it has gotten more out of the license than anyone else.
FAQs
What is the Best SG Gaming Slot?
It is a matter of opinion, but if we had to pick, we would opt for a WMS or a Barcrest title, both of which are now part of the SG Gaming brand. Our personal favourite is Ruby Slippers, which we discussed above, but Rainbow Riches is also worth a spin.
Where Are SG Gaming Slots Available?
SG Gaming has licenses from major regulators all over the world, so as long as you live somewhere where gambling is legal and freely available, you should be able to play these games without issue.
Are SG Gaming Slots Fair and Safe?
Of course! We are talking about one of the biggest gaming brands in the world and one that has been around for a very long time. Developers don't get much safer than this and strict auditing means that the games are completely fair, as well.
Can I Play in the UK?
Yes, you are free to play SG Gaming slots in the United Kingdom as the brand has a license from the local authority.
Can I Play on Mobile?
Most slots created by SG Gaming (if not all of them) are available on mobile and should work with both iOS and Android devices.
Play SG Gaming Casinos Now
Now that you've heard all about the past and present of SG Gaming, including its best slots and owned brands, there's only one thing left to do: Play!
Scroll to the top of this page, find the casino that appeals to you the most, and start playing. If you need a little more information, just click through to our review and you can learn about everything from bonuses and promotions to games and payment methods.
For other top developers and the casinos that host them, click on our Betsoft guide.
Betsoft is one of our personal favourite developers and creates some of the best 3D slots on the market, highlighting features that you won't find anywhere else and graphics that look like something straight out of a next-gen video game.