Pros
PayPal Accepted
Lots of Payment Methods
Variety of Bonuses
Mobile-Friendly
Well Designed
Safe and Secure
Cons
Slow Withdrawals
Low Limits
Slotavia Casino launched in 2020, a great year for online gambling and a terrible year for pretty much everything else. It's a fun and cute little online casino and it also has licenses from both Malta and the United Kingdom, giving it access to some of the biggest and most lucrative gambling markets in the world.
Slotavia Casino launched in 2020, a great year for online gambling and a terrible year for pretty much everything else.
Slotavia Casino seems to have flown under the radar and I didn't actually encounter this one until a good few months after it was released. That's usually not a great sign, but there have been a number of big exceptions, including Slots Palace, which I absolutely loved.
With that said, let's take a look at Slotavia Casino and see what it has to offer Bitcoin players.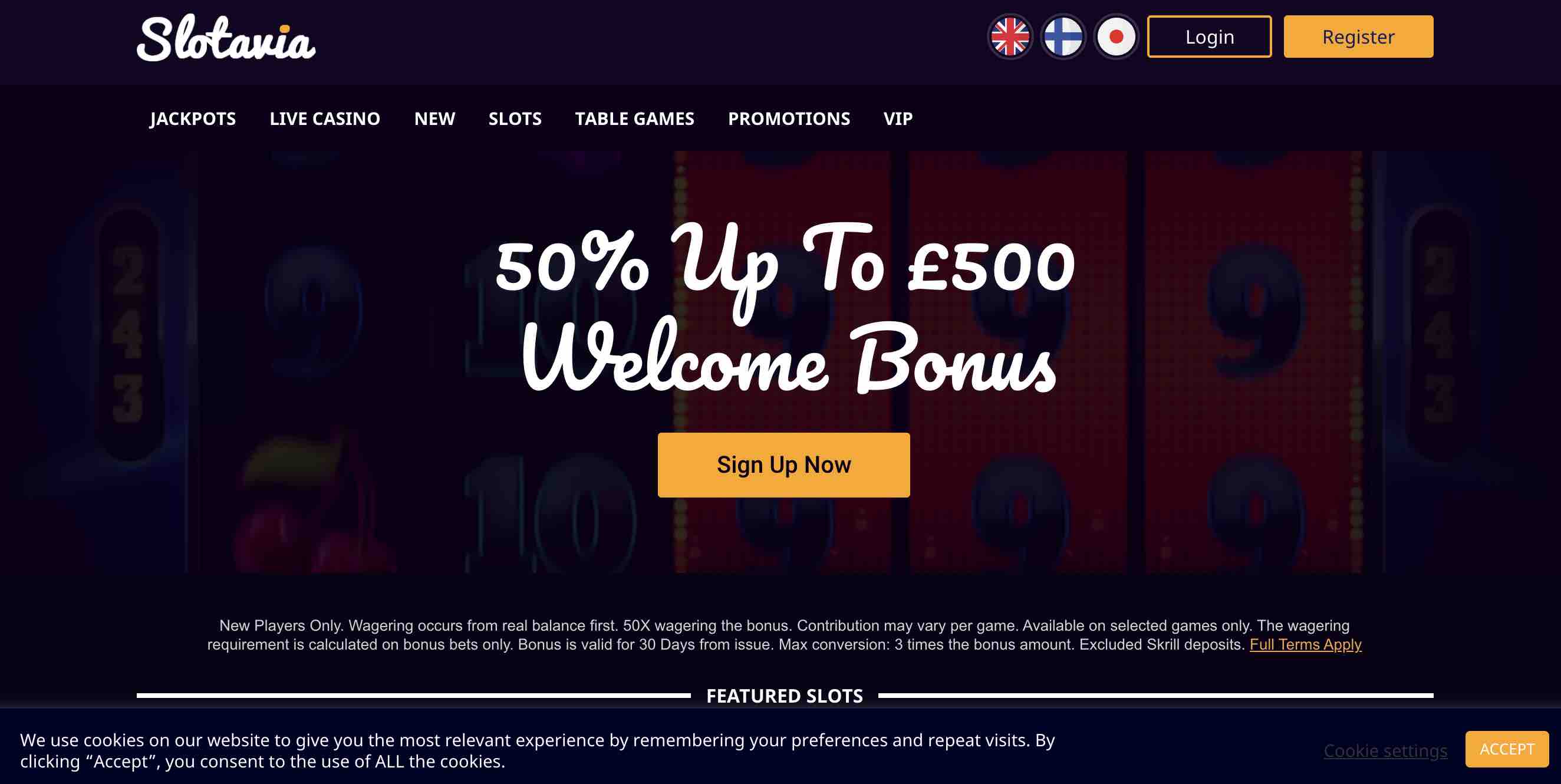 Software and Games
Slotavia Casino has a few major software providers in its games room and these help to keep things interesting, ensuring you have plenty of options when you sit down to play.
SG Gaming titles are among them, including Barcrest and WMS titles, and there are also many games from top developers like NetEnt, Microgaming, Quickspin, Blueprint Gaming, and Thunderkick, with Evolution Gaming providing the Live Casino games.
You can play Slotavia Casino on mobile and desktop and there are stacks of real money slot tournaments to join.
Bonuses and Promotions
Everyone who signs up for a new account with Slotavia Casino can qualify for the casino's generous Welcome Bonus. At first glance, it's quite a generous bonus and one that has a lot to offer all players. After all, it claims that you can collect up to £500 and that's not bad for a UK casino.
The problem is that the bonus isn't quite as generous as it first seems.
Firstly, it's a 50% matched offer, which means that you will only get £5 for every £10 that you deposit. If you want the full £500, you need to deposit a total of £1,000. It's a lot of money, but on the plus side, it opens the door to high rollers.
The second issue with this bonus is that it comes with a sizeable 50x wagering requirement that must be met within 30 days of collecting the bonus. The icing on the substandard cake is the fact that you can't claim anymore than 3x the bonus amount.
For example, let's say that you deposit £200 and claim £100 in bonus credits. The wagering requirement only applies to the bonus amount and as 50 x £100 is £5,000, you now have to wager £5,000 in 30 days. If you're lucky enough to hit a big win halfway through (the dream of every new online casino player) then it'll be a big help and will give you a chance of meeting the requirements with a lot of money left over.
But anything you have beyond £300 in bonus credits will then be lost due to the maximum payout terms.
As if that wasn't bad enough, Slotavia Casino also excludes all Skrill deposits. It doesn't seem to exclude Neteller and Paysafecard, which are often excluded alongside Skrill, but that might change from bonus to bonus.
If you use these payment methods, make sure you check the Terms and Conditions of the bonus before you accept it and start playing.
It's a disappointing Welcome Bonus and it's not as good as the bonuses available at Bitstarz Casino and other highly-ranked sites. However, it's not all bad news as there are other bonus offers available, including a Loyalty Scheme that rewards all players every time they deposit and play.
You will be given points and shown a progress bar that takes you through a series of levels, allowing you to earn a higher rate of points and a greater number of prizes as you progress. You will also find a variety of Reload Bonuses, Free Spins, and other offers that appear sporadically and are available to all loyal players.
Take a look at the Promotions page before you make all subsequent deposits and before you play. There's usually something available to encourage you to deposit a little more cash or focus on specific games and gaming categories.
Payment Options
Slotavia Casino accepts payments using BitBay Pay which allows you to deposit using Bitcoin. The minimum deposit is $20, which is a very reasonable sum. However, you can't use BitBay Pay if you are in the United Kingdom.
Unfortunately, that is often the case. The United Kingdom Gambling Commission isn't very kind when it comes to Bitcoins. It insists on certain procedures and protocols that just don't work with cryptocurrencies, including the fact that you can deposit without needing to verify your details.
There are a few more sites out there that accept players form the United Kingdom and also take Bitcoins. Check out our list of the best cryptocurrency online casinos to discover the best sites that check both of those boxes.
Other payment methods accepted on Slotavia Casino include Neteller, Skrill, SOFORT, Webmoney, Euteller, Interac, EcoPayz, MuchBetter, Paysafecard, PayPal, and Trustly. As always, you can also use debit cards and credit cards, including Visa, Mastercard, and Maestro.
Although there are a lot of deposit options available at Slotavia Casino, they fall a little short when it comes to withdrawals. There are still lots of options out there but it takes a lot longer to process payments than it should.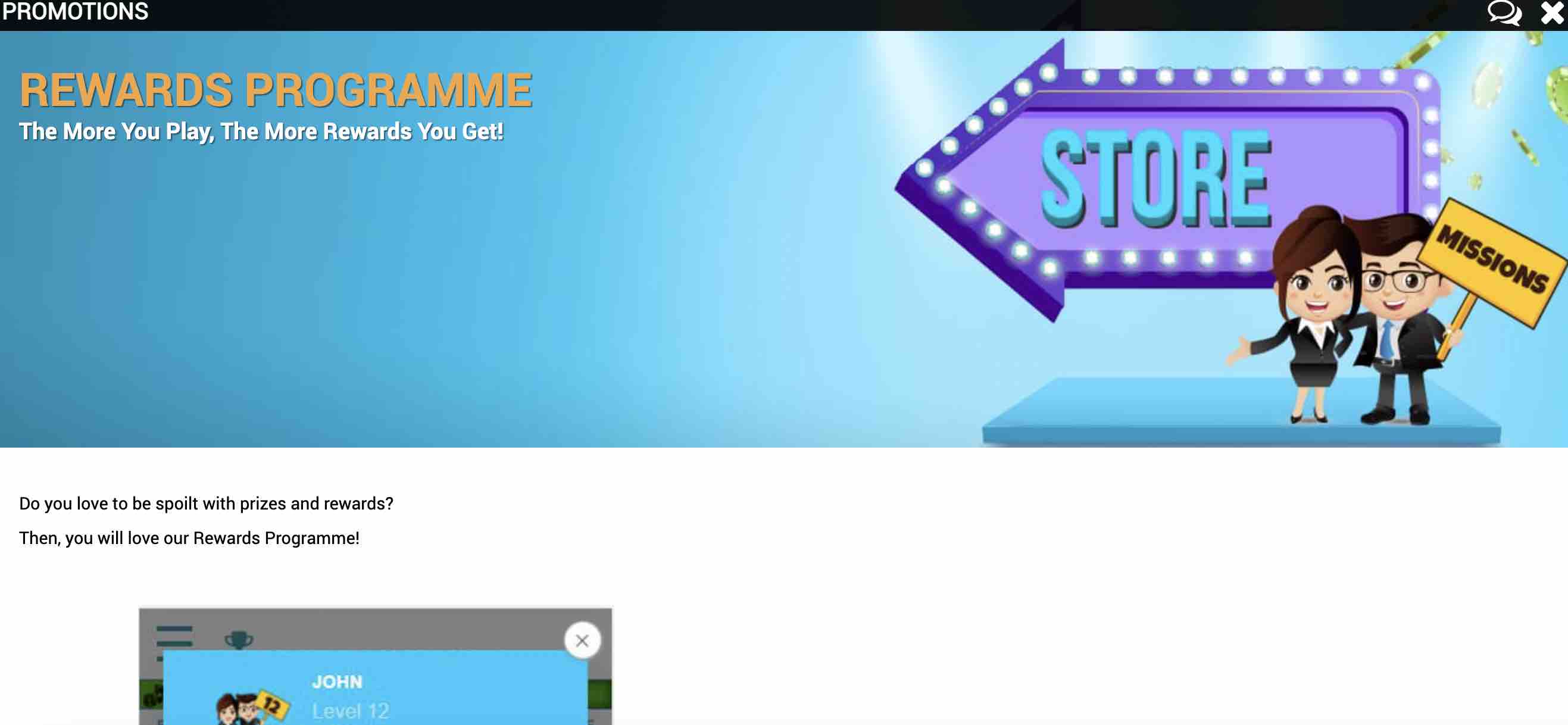 It takes up to 3 business days to process payments using the majority of payment methods, followed by the actual processing time. If you're using PayPal, it means that you should get your money in that 3 day period. If you are using a method like debit cards and credit cards, you could be waiting for between 6 and 7 days, which is a very long time to wait in this day and age.
The withdrawal limits are also disappointing here, as is the case with countless other casinos I have reviewed over the last couple of years (take a look at Roobet for an example). It's not going to impact me personally, because I'm not getting anywhere near £3,000 a week or £6,000 a month. But high rollers definitely will struggle.
In fact, if you deposit £1,000 to claim all of the Welcome Bonus, and you're lucky enough to turn that into a 10x win, you'll need to wait nearly two months before you can withdraw all of that cash. And that's based on the assumption that you're playing for the maximum allotted Welcome Bonus and winning an amount that most players will withdraw at some point during their lives.
You could find yourself depositing a lot more and winning even more, in which case it could take nearly all year to get your funds.
Highlights
Lots of Payment Options
Cryptocurrencies and PayPal
Safe and Secure Online Casino
Big Welcome Bonus (with Clauses)
Lots of Offers
User Reviews
At the time of writing, the only user review that I could find for Slotavia Casino was glaringly positive and posted by someone who has never posted before. Call me crazy, but I need a little more information than that. It doesn't mean that there is anything dodgy here. After all, the casino is very new at the time of writing. But it does mean that I am very limited when judging how other players have reacted to the site.
On the plus side, the review that does exist talks up the casino's verification process, stating that everything is processed every quickly and completely without issue. I can confirm that the verification process is definitely fast, which is how it should be.
I've encountered far too many issues with casino verifications in the past and it's incredibly frustrating. In one instance, it took a casino a week to respond to my submission of documents, only for them to insist that an uncropped passport photo was cropped.
When I took another picture, they gave me the same nonsense, and when I asked if they even knew what the word "cropped" meant, they told me that the issue was because I wasn't in the image. After taking yet another picture, this showing me holding the passport, they responded by telling me the quality wasn't good enough. Then the file size was too big, then it was "cropped" again.
In the end, 3 months passed and I decided to blow the money, knowing I would never see it. At the time, that was a respected online casino. As it happens, it shut down 6 months later, but still, it was respected enough to be regulated by the UK Gambling Commission.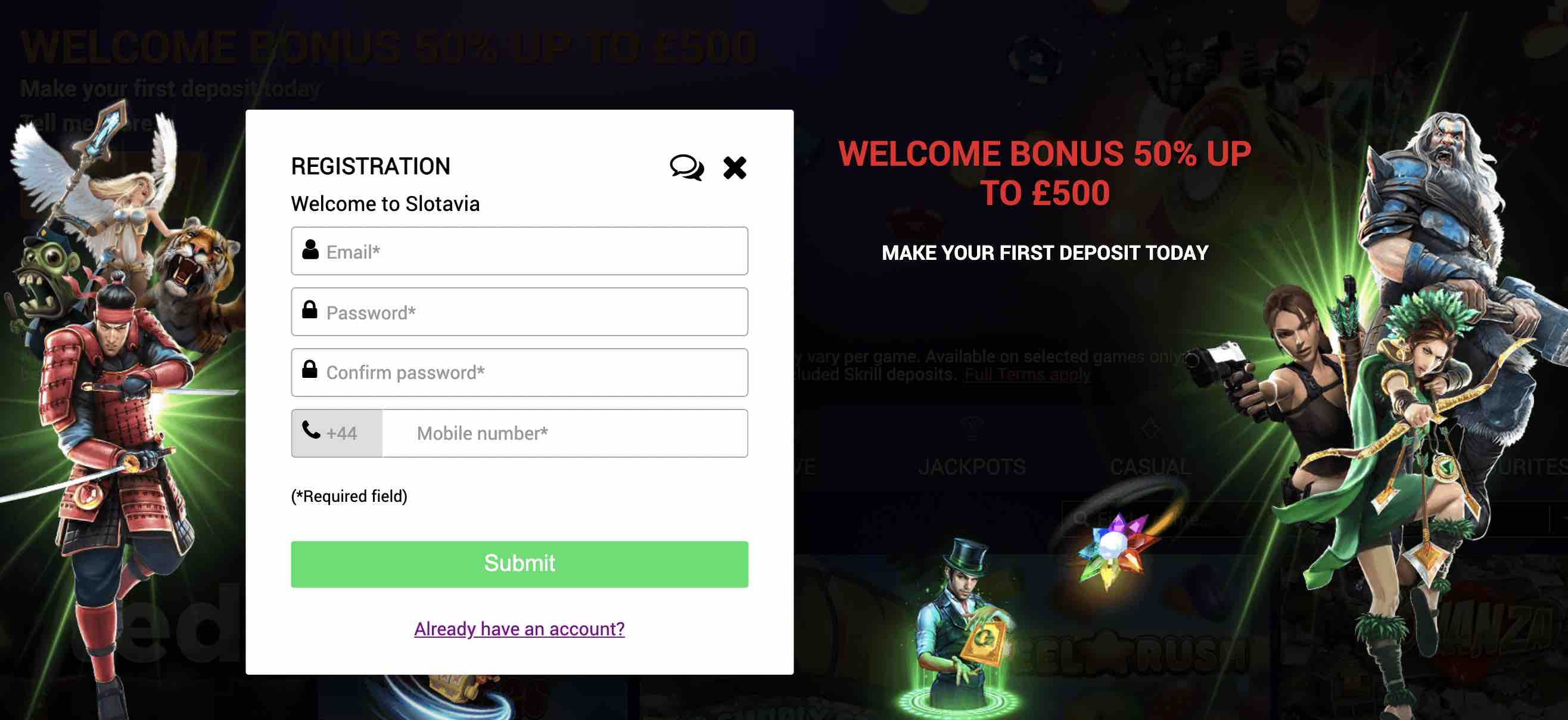 I've also had successful verifications that have taken anywhere from 2 to 6 weeks, which is insane when you consider that the technology exists to make this process almost immediate.
Slotavia Casino doesn't have any of those issues, and while that should be the norm, it's not, and we need to praise sites like Slotavia Casino that actually get it right.
FAQs
Can I Play Slotavia Casino in the UK?
Yes! Usually, I answer this question this question with a resounding "no", but Slotavia Casino has a license from the UK Gambling Authority, so UK players are good to go.
Can I Play in the US?
This is a definite no. There are currently no regulators that cover all of the United States and a license from Malta and the UK won't suffice, either.
What is the Withdrawal Limit?
You are limited to withdrawals of no more than £3,000 a week and £6,000 a month at Slotavia Casino, a disappointingly low amount to say the least. If you're a UK player getting frustrated with these low amounts, take a look at our review of Betfair, where the limits are so big they are basically non-existent.
How Long is Verification?
The verification process is usually very quick on Slotavia Casino and likely won't take more than a few hours. In some scenarios, it could be a couple of days, but the majority will be processed very quickly.
How Do I Contact Customer Support?
The best way of getting in touch with Slotavia Casino is to use the Live Chat feature on the Slotavia Casino website. It's quick, easy, and available to everyone.
Final Thoughts
Slotavia Casino is in much the same mould as online casinos like Cadoola. It gets a lot of things right, has a lot of promise, but is ultimately let down by a couple a minor issues. And just like those casinos, the issues revolve around the withdrawals.
A £3,000 per week and £6,000 per month, the withdrawal limit is far too low and that's bad news for high rollers. Obviously, it's not an issue for small stake players who won't get anywhere near those limits, myself included, but you also have to consider the processing speeds, which are ridiculously long.
It should not take up to 3 days for a modern online casino to process a withdrawal, not when the same casino can process a verification in just a couple of hours.
They might argue that it's all down to regulations and it's true that the UK Gambling Commission is very strict when it comes to underage gambling and anti-money laundering, both of which need to be checked. But if that was the case, where don't we see the same thing on other UK-licensed casinos?
I can think of at least 4 UK sites that I use on a regular basis and all of them process payments instant.
One of them, Pokerstars Casino, usually processes them so fast that I receive a PayPal confirmation email before I have even closed down the Pokerstars Cashier page!
I am willing to overlook the withdrawal limit on account of the fact that it will only impact a small percentage of players. I would even be happy to ignore the frustrating clauses on the Welcome Bonus on account of the many loyalty offers. But it's hard to overlook such slow withdrawals and it spoils what would otherwise be a great casino for long-term use.
Still, there are some benefits to Slotavia Casino, including a Loyalty Program. If you don't mind waiting a few days to receive your funds, it could be a great site to play over the long term. If not, it's still worth checking out, just don't expect super-fast withdrawals!
Slotavia Casino Review Details
Restricted Countries:
Australia
Belgium
Bulgaria
Croatia
Cyprus
Denmark
Estonia
France
Greece
Hungary
Israel
Italy
Lithuania
Portugal
Romania
Serbia
Slovenia
Spain
Sweden
Switzerland
Turkey
US