Evolution by name and evolution by nature—if you're looking for innovative creators then look no further. Evolution Gaming has launched some of the most unique games of the last few years and is also looking to break new ground. Evolution Gaming is one of our personal favourite developers, and if you're a fan as well, then this is the perfect guide for you!
The Best Evolution Gaming Casinos
Evolution Gaming is one of the biggest names in the iGaming sector. If not for this top developer, the Live Casino industry would look decidedly different. It's the developer that every casino wants to work with and the one that every player wants to experience.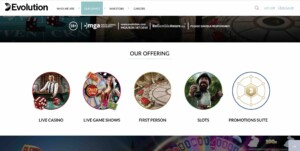 If you take a look at the casinos at the top of this page, you can experience this innovative creator for yourself.
All of the casinos on this page have been reviewed by our experts. We have taken their games, payment methods, bonuses, and other elements into consideration.
And because they all have Evolution Gaming titles, you're always guaranteed a good variety of Live Dealer games.
What Makes Evolution Gaming Unique?
Every developer likes to claim that it is innovative and some of them are, including the excellent Yggdrasil, but more often than not, they just follow trends, copy other creators and try to clamber on the bandwagon. It's why you will you'll see many slot games that look the same, even to the point where they have the same bonuses and similar protagonists.
Evolution Gaming is definitely not one of those. It is a truly innovative brand and one that is always trying to think outside of the box. The Lightning series is a great example of this, as it adds more interactive features to classic table games, but you will also see it in the First-Person series of games and in titles like Crazy Time.
If you look at other Live Casino creators, you will typically see a long list of classic table games that just happen to be played on real tables and by real dealers. Evolution Gaming has those as well, but it does so much more.
Keep reading for information on the best Evolution Gaming games and the features that help them standout.
The Best Evolution Games
Evolution Gaming has a sizeable catalogue of games and it's growing all of the time. The games are generally themed around one of the following two categories:
Classic Table Games
These are the most common type of live dealer games and there are plenty of them to go around. The problem with classic table games is that they can look a little "samey" from one developer to the next. After all, other than opting for American, French, or European variants, how can you make a classic game of Roulette unique?
Evolution Gaming actually has the answer to that question. On the one hand, it has multiple "generic" table games, including Roulette, Blackjack, and Baccarat. But at the same time, it also has the Lightning series, which incorporates interactive elements and slot-style mechanics to make things a little more interesting.
The games are faster, better, and more engaging. They are great for players who have grown tired of the same-old format and are looking for something new. They're also good for players who have never really liked classic table games but are desperate to try Live Casino games.
Gameshows
Gameshows are where Evolution Gaming truly excels. If Blueprint Gaming is best known for its licensed slots and BetSoft is the king of 3D slots, then Live Dealer Gameshows are where Evolution Gaming excels.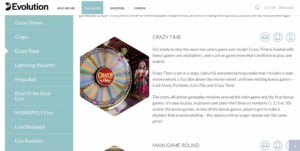 These games are hosted by a presenter who connects with the audience. It sounds like one of those late-night TV shows where the presenter makes awkward small talk as drunk people and insomniacs dial-in to place bets on a Roulette wheel. But while it definitely has that vibe to it, there is much more going on here.
The studios are classy and high-tech, there is minimum awkwardness, everything moves quickly, and there are a variety of great betting options.
List of the Best Games
We've told you what makes Evolution Gaming unique and what categories of games you can expect—now let's look at the games themselves. This is just a small selection of our favorite games from this creator. It should give you an idea of where to look the next time you find yourself at an Evolution Gaming casino, but it is by no means a complete list and there are many more great titles out there!
Crazy Time
Crazy Time is Evolution Gaming's flagship game—the one it promotes above all others and the one that players seem to enjoy above all others. On the surface, it is a simple wheel-based game, but there is so much more to it than that as you can unlock bonus rounds and win huge prizes.
In many ways, Crazy Time epitomises everything that is great about Live Casino games, because regardless of when or where you play, you'll always feel like you are part of something special. It makes a nice change from playing virtual Blackjack and Roulette games.
You don't need to worry about getting lost in complicated rules, either. Just place your bets on the numbers and the bonus games and wait for the result. The bonus games and features include a Coin Flip round, a Mini Slot, a Cash Hunt bonus, a Crazy Time bonus, and something known as the Pachinko Bonus.
Deal or No Deal Live
There are Deal or No Deal games for everything these days. It's such a simple format, and yet it's one that has proved immensely popular with viewers and players all over the world. You can find bingo games, slots, and thanks to Evolution Gaming, you can even play a Live Dealer variation.
There are several pre-game rounds that determine the value of a player's briefcase/box and then it's onto the game itself, which players out just like the gameshow on which it is based. If you're a fan of Deal or No Deal, you should definitely check out this Evolution Gaming creation.
Craps
Craps is a game that has been surprisingly underrepresented in the online casino industry, and it's easy to see why. Not only can some of the betting rules seem a little complicated to first-time players, but you also lose a lot of what makes Craps fun when you swap real dice for simulated ones and packed tables for empty rooms.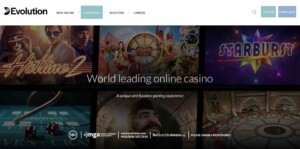 Evolution Gaming is one of the few developers that has managed to bring this game to life in an effective and engaging way. It is a Live Dealer game that drops you into the heart of the action and makes you feel like you're playing in a real casino.
There is even a First-Person variant, which is even more engaging. If you're a big fan of Craps and have been frustrated by the lack of games out there, you should probably make a beeline for this one.
Lightning Roulette
Lightning Roulette is an amped-up version of everyone's favourite wheel-based game. As noted above, Roulette is guilty of being a little dull and repetitive. The same could be said for most table games, of course, but the fact that Roulette is a game of chance that everyone has played just makes it worse.
We don't want to disrespect Roulette, but it's fair to say that many players out there are tired of it. If you're one of these, then you should check out Lightning Roulette before you give up on this game.
Monopoly Live
It would be great if Evolution Gaming has somehow created a massive game of real money Monopoly that thousands of players can enjoy at once, but that probably wouldn't work and it's not what you will get from Evolution Gaming's Monopoly Live.
Monopoly Live is actually a wheel-based game, but it is officially licensed and includes lots of Monopoly elements as well. You can collect Chance cards, take "dice rolls", and in the game's bonus round you can watch as the Monopoly board comes to life.
Live Poker
As any poker player can attest, the game is best enjoyed with other players, particularly in a PvP tournament or cash game. There is no house edge to worry about—it's just you and another player trying to take each other's money. This is something that casinos often struggle to capture because they always need that house edge.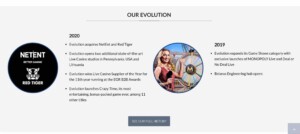 However, Live Poker does a little more than other developers and manages to capture more of the live player experience. You're essentially playing heads-up against a real dealer and there are several versions that you can play, including Side Bet City and Casino Hold'em.
Let's be honest, it's not going to compete with an extended session on PokerStars, but it beats those gimmicky VR and 3D poker apps that promise to simulate the live player experience but just leave you frustrated as you spend the night waiting for slow players and loading screens.
FAQs
What is Evolution Gaming?
Evolution Gaming is a developer of Live Casino games. There is a large selection of these games available and more are being added to the list all of the time.
Is Evolution Gaming Rigged?
This question comes up a lot with all developers and casinos, and the answer is nearly always a resounding u201cnou201d. Firstly, they are strictly regulated and audited. Even if they tried to rig their games, they probably wouldnu2019t get away with it, and why would they even try? Weu2019re talking about an industry where the house always has the edge, and in the case of the developers, there are also licensing fees and other revenue streams to consider.rnrnThey basically have a license to print money, so even if they could cheat, itu2019s unlikely that they would.
How Do the Games Work?
Evolution Gaming combines real casino equipment and dealers with virtual technology. If we use Blackjack as an example, the dealer runs the card over a sensor to detect what your hand is. As soon as the hand is over and the cards are revealed, it already knows what you have and can give or take your money accordingly. It allows for a fast and seamless process.
Where are Evolution Gaming's Casinos?
Evolution Gaming operates casino studios across Europe, including in Riga, Latvia. These high-tech casinos are designed to look like the real thing, but they donu2019t actually operate as real casinos.
Are Evolution Gaming Games Safe and Fair?
Of course they are! As noted above, this casino games developer is regulated and audited by numerous authorities around the world. A lot of time and money is spent on making sure that the creatoru2019s titles are 100% legitimate.
Is Evolution Gaming the Only Live Dealer Creator?
Evolution Gaming is certainly the biggest and the most common, but there are others out there. Playtech has its own live platform, for instance, and there are also platforms created by the likes of Ezugi and Pragmatic Play Live.
Play Evolution Gaming Casinos Now
The gambling industry has come a long way over the last couple of decades and while many different developers and casinos have had a hand in that evolution, the biggest changes have come from just a few.
Microgaming, for instance, introduced us to progressive jackpots and had a big hand in advancing mobile gaming technology. Playtech narrowed the gap between the online gambling industry and the film and TV sectors, acquiring licenses, signing deals, and making it one of the richest sectors in the world.
But when you're talking about player enjoyment and technological advancements, it's hard to look past Evolution Gaming as the most important creator. Evolution Gaming has arguably the best selection of Live Casino games. It is also indisputably the largest innovator in this sector and unlike other top brands, it's not resting on its laurels and is constantly seeking to do something new and to keep pushing the boundaries.
If you have yet to experience an Evolution Gaming Live Casino game for yourself, you don't know what you're missing! Take a look at the casinos at the top of this page, read our reviews, and experience this top-level creator for yourself.