Blueprint Gaming is one of the most exciting and innovative developers in the industry right now. It's a personal favourite of ours and we're always happy to discover what new titles Blueprint is launching and what new licenses it has acquired.
If you have ever taken a spin on slots like Wish Upon a Jackpot and The Goonies, you'll know exactly what we mean. If not, this is the guide for you!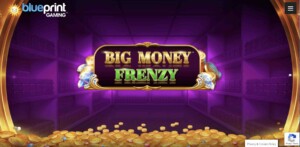 On this page you will find a list of the best Blueprint Gaming casinos. Every casino listed here features a wide range of Blueprint titles, along with games from a host of other top software developers.
If you're not sure where to start but you're eager to try some Blueprint titles, keep reading. We'll highlight some of the biggest and best games available on Blueprint Gaming casinos right now.
What is Blueprint Gaming?
Blueprint Gaming is a UK-based development studio. It's often considered to be a relatively small-time studio and its recent rise has, therefore, surprised a lot of people. In actual fact, it is wholly owned by the Gauselmann Group, a German company with revenue of nearly €3 billion.
The Gauselmann Group is the same multinational company behind Merkur Gaming and in addition to a multitude of online casinos and developers, it also runs hundreds of land-based gaming establishments.
What Makes Blueprint Gaming Unique?
We love 3D slots, and we're not alone in that. As far as we're concerned, the industry needs more slots that go big on the graphics, innovations, and features. Despite this, however, many developers insist on padding out their rosters with low-quality titles built around basic gaming mechanics.
We understand that these games still have their place in the industry and that a small percentage of players prefer them, but for us, it's disappointing to see a beautifully designed thumbnail with a promising theme, only to discover that the "theme" amounts to little more than a background image and the slot has only one or two reels.
It's a trap that the otherwise brilliant Microgaming falls into quite a lot.
Thankfully, however, it's something you definitely can't accuse Blueprint Gaming of doing. Just like the equally excellent Betsoft, Blueprint Gaming puts a lot of time and effort into every single one of its slots.
It makes sure that they look great, sound great, and are utilising themes that are not simply carbon copies of what you can find elsewhere.
Sure, some of these features and ideas repeat across different Blueprint Gaming slots, but they're still varied and unique, and when you're doing something right, why not keep doing it?
For example, consider slots like Top Cat, King Kong Cash, Wish Upon a Jackpot, and many others.
They all have multiple features built-in and these are usually unlocked by revealing 3+ Scatter symbols and then spinning a bonus wheel.
The bonus wheel will dictate which feature you unlock. Some of these features are more rewarding than others, and the better they are, the smaller your chance of unlocking them. However, if you get a feature you don't like, you can choose to "Gamble" it, whereby you spin the reel again to choose between "Collect" and "Advance", with the former giving you a cash consolation price and the latter advancing you to the next feature.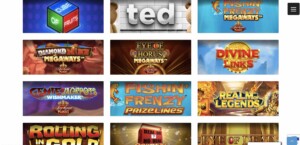 That's not all, either. These games also have randomly activated features, including Roaming Wilds and Colossal Symbols, and these trigger completely independently of the main bonuses.
During any spin, there's also a chance that the Jackpot Kings feature will activate, giving you another chance to win and another incentive to play.
You get a lot of value for money with Blueprint Gaming slots. That's why we love them so much and it's why so many players flock to play the best Blueprint Gaming casinos every single day.
Jackpot King Feature
When you think about progressive jackpots, you picture Microgaming's Mega Moolah and Playtech's Age of the Gods. These are some of the biggest progressive jackpot networks in the world and they have paid tens of millions in prizes over the years.
But there is a new kid on the block: Jackpot King.
This progressive jackpot system is connected to a number of Blueprint Gaming slots, including Ted, Diamond Mine, Deal or No Deal, Buffalo Rising, and King Kong Cash. There are several jackpots to be won and these are connected multiple slots on all sites.
The way it works is this:
Blueprint Gaming adds a "seed" amount to three different jackpots.
This system is added to a number of slots.
Every time a player spins the reels, regardless of the slot or the casino, the jackpots grow.
These jackpots are then triggered at random following a Jackpot King bonus round.
Many progressive jackpot bonus rounds guarantee that if you make it that far, you will walk away with a progressive jackpot. We have taken thousands (if not millions) of spins on online slots and we have never made it to one of these features.
You can imagine our delight, therefore, when we first entered the Jackpot King feature. However, simply unlocking this feature is not a guarantee that you will win a jackpot.
That's not a bad thing, though. In fact, you can win big sums in this feature even if you don't scoop the jackpot, so if you treat it just like an additional feature, you can't go wrong.
During any spin, the Jackpot King symbols will appear across the middle reel. We have unlocked this feature approximately 5 or 6 times and have only seen these symbols appear about 10 or 11 times, so if they appear, there's a good chance it will activate.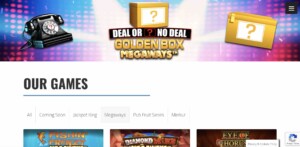 In fact, we've never seen fewer than 3 of these symbols appear and most of the time we see 4, but you need 5 to activate.
When you make it that far, you'll be asked to spin a new set of reels. These reels contain crown symbols and if these appear, they will lock in place and the reels will spin again. After every few spins, you'll be given a chance to Collect or Spin, after which you'll be ushered to the final round.
The more crown symbols you gathered, the more you will win, and if you collected enough of them, you'll be given a chance to scoop the progressive jackpot.
We made it to this final feature once and didn't win any of the jackpots so it's not guaranteed, but we did walk away with a big win.
The Best Blueprint Gaming Slots
As you can see, there's a lot to like about Blueprint Gaming and no shortage of great slots to explore. Many of these slots are based on classic licenses, and they tend to target things that are popular with people raised in the 80s and 90s, as they know that accounts for the majority of their user base.
Take a look at the table below for a list of the best licensed slots.
Rick and Morty
Rick and Morty is one of the most successful animated shows of the last few years. It has legions of devoted fans and is an incredibly funny and well-written show. It's no surprise that someone launched a slot based on this series and if you're a fan of the show, we recommend checking it out.
Deal or No Deal
Gameshows are popular targets for slot and table game creators, and Deal or No Deal is the one that features the most. There have been some hits and misses, but the Blueprint Gaming version of this game is our personal favourite.
Ted
Ted is one of those slots that we keep coming back to, despite the fact that we have yet to walk away as a winner!
Based on the irreverent comedy of the same name, it's a fun and feature-rich slot with a high volatility. There are Wilds, Re-spins, Free Spins, and more. Many of these features are triggered when the sleeping Ted, visible on the reels at all times, wakes up and kicks into action.
The Goonies
A classic film and a brilliant slot. You'll find features based on all of the main characters, as well as a bonus wheel that lets you gamble your feature for a chance of a better one. It's the perfect example of everything that makes Blueprint Gaming unique and one that we recommend even if you're not a fan of the film.
Carry on Camping
Blueprint Gaming have proved that no franchise is safe when it comes to licenses. We're surprised to see a slot based on the Carry On series, but it works, so who cares?
Top Cat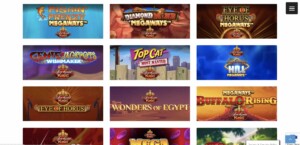 A classic animation that blends seamlessly into an online slot machine. Top Cat has several big features, including a Wild Reel that moves across the reels, multiple Wild Reels that are triggered randomly, and a couple of Free Spins feature. It's also loaded with images, animations, and audio from the classic cartoon.
We personally never watched Top Cat (although we did know about it) before we played this slot. However, we still had a great time here and this was also where we first accessed the Jackpot King feature.
In other words, we had a great experience here even though we have no nostalgia associated with the license itself. It's proof that Blueprint Gaming slots are not popular just because they use popular licenses and are played by fans of those licenses.
This is true for many other great slots, including those created by the exceptional NetEnt.
Viz
Believe it or not, the Viz comic is still being printed. It's fair to say, however, that it's not really suited to this modern world. It's not politically correct, it doesn't have any respect for anyone, and while that's the reason most people loved Viz back in the day, it's something that doesn't really work now.
It's a shame, but you can relive some of those memories with the Viz slot. It features the characters you know and love, including Johnny Fartpants and Sid the Sexist.
Beavis and Butthead
Another classic animation, Beavis and Butthead helped to inspire countless modern animations and TV shows. The show followed two metalheads as they slouched on their sofa and watched TV. It was unique and weird, but it was also brilliant and all of that uniqueness has been captured in the Beavis and Butthead slot.
Other Great Blueprint Gaming Slots
Blueprint Gaming doesn't have the biggest selection of games. In fact, in terms of quantity, it's on par with creators like Thunderkick. However, every single one of its slots is worth getting excited about and there is usually some big fanfare preceding every release.
If none of the above licensed slots appeal to you, consider some of these other Blueprint Gaming classics:
Diamond Mine Megaways: One of our personal favourite uses of the Megaways mechanic. In fact, while we're not huge fans of Megaways, we really like this slot and other Blueprint Gaming Megaways titles.
The Pig Wizard: If you've ever asked yourself the question, what would Harry Potter be like if the titular wizard was a pig? You're probably part of the Blueprint Gaming development team! This is a bizarre theme but it works brilliantly and was one of the first titles that introduced us to Blueprint Gaming.
King Kong Cash: This slot has multiple Free Spin features and is very similar to The Goonies, albeit with a completely unique theme. If you love unlocking multiple bonus features, this is the slot for you.
Wish Upon a Jackpot: Another slot that explores a wealth of bonus features, Wish Upon a Jackpot combines many fairy tale ideas and themes and is lots of fun.
FAQs
Where is Blueprint Gaming Based?
Blueprint Gaming is based in the United Kingdom?
What are the Best Slots?
There are many great Blueprint Gaming slots to choose from. We have listed some of our personal favourites above.
Where Can I Find Blueprint Gaming Slots?
You can find some of the best Blueprint Gaming slot machines at the top of this page, all of which have been reviewed by us.
Can I Play Blueprint Gaming Slots with Bitcoin?
All of the casinos on this page have Blueprint Gaming slots and the vast majority of them accept Bitcoins and other cryptocurrencies.
How Big is the Blueprint Gaming Jackpot?
It varies, as it is a progressive jackpot. However, it is listed at the top of the slot at all times.
Play Now
To explore Blueprint Gaming slots and spin for those Jackpot King payouts, click onto one of the casinos on this page, grab your Welcome Bonus, and have some fun!
If you're not sure where to start, we recommend The Goonies if you're a fan of the film and Wish Upon a Jackpot if not.
Many of these games have high volatility, so make sure you reduce your stake a little and prepare for the long haul. We recommend structuring your stake so that you can take at least 100 spins, as that will ensure the volatility averages out a little.