Thunderkick is one of the most exciting and underrated iGaming developers in the industry right now. This mobile-first creator has created some of the sector's best and most innovative titles, adopting a style of its own and earning countless fans all over the world.
You may not have heard the name Thunderkick, as it's not quite as big or as well-known as the mighty NetEnt or Playtech. But make no mistake about it, Thunderkick has a lot to offer and, in this guide, we'll look at all of the developer's features and games.
What is Thunderkick?
Thunderkick is a small development studio that launched in Stockholm back in 2012.
It has grown steadily since then and has signed deals with numerous casino groups and white label providers, ensuring its games are available on hundreds of online casinos all over the world.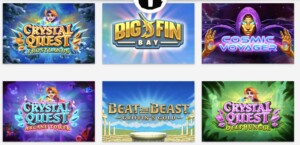 If the Thunderkick name doesn't ring a bell, games like Esqueleto Explosivo 2, Riders of the Storm, Bork The Berzerker, and Not Enough Kittens might be familiar.
All of these titles were created by Thunderkick and they are just the tip of a substantial iGaming iceberg.
The Best Thunderkick Casinos
All of the casinos listed on this page host games from Thunderkick. Some of them have just a handful others have the full roster, but all of them include Thunderkick in their list of iGaming developers.
We have reviewed all of the casinos mentioned on this page and if you click the links, you will be taken straight to those reviews, where you can learn about Welcome Bonuses, Loyalty Bonuses, games, and payment methods. If you're ready to skip the review and go straight to the bonus, just click the bonus link and you can collect the latest offer.
Thunderkick Features
From day 1, Thunderkick has devoted itself to creating eye-catching mobile games. All of its games focus on mobile platforms first and foremost, and while they can still be played on desktop, they tend to look and play best on smaller screens.
These games were literally made for tablets and smartphones, and they are compatible with both iOS and Android platforms.
The Thunderkick style is also quite distinctive. It is perhaps not as distinctive or as impressive as Betsoft, a creator that has devoted itself to a completely unique 3D aesthetic, but Thunderkick slots still look fantastic.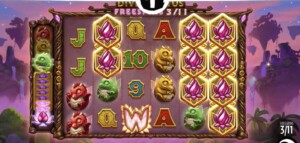 They adopt very colourful visuals, using a bright comic style that has a 3D feel to it without actually being 3D. If we had to create a list of the developers with the most attractive slots, Thunderkick wouldn't be number one, but it would definitely be up there with the best of them.
Graphics and mobile compatibility aside, Thunderkick always tries to do something a little different with its mechanics and features. Again, we wouldn't go as far as to call them the most innovative developer as they are still going things that other creators are doing, but they tend to use very exciting mechanics and are always looking for unique ways to tweak them and make them their own.
As you will see from our list of the best Thunderkick games, this developer also loves utilizing one of our personal favourite slot game mechanics and one that we have raved about dozens of times here at Coinbuzz.
Best Thunderkick Games
We've spent some time praising Thunderkick games and now you're probably ready to see what all the fuss is about, so what are the best Thunderkick games out there right now?
The following list is based on our personal opinions of Thunderkick, so keep that in mind before you read. We're not saying that these are the only good games in the Thunderkick roster, and if you're already a fan, we may have overlooked a few of your favourites.
Keep that in mind as you read our list of the best Thunderkick slot games.
Esqueleto Explosivo 2
Esqueleto Explosivo 2 is inspired by Mexican Day of the Dead, with lots of sugar skulls, fireworks, and festivities. It is a slot with depth and style, and not just with regard to the aesthetics.
Esqueleto Explosivo 2 also features a personal favourite mechanic of ours, one that all of the Coinbuzz team appreciates and has praised on multiple occasions. The feature goes by several names, including Rolling Reels, Chain Reaction, Avalanche, and Cascading Reels. In fact, every developer seems to have their own name for this feature but the idea is the same throughout.
As soon as you open the game, the symbols will fall down from above and become stacked on the reels. Every time there is a winning payline, the symbols in that payline will explode and disappear off the reels, before new ones drop down from above and fill those spaces. If another win is triggered, this process will repeat.
The great thing about this feature is that it can turn an otherwise boring and standard base game spin into something exciting. It gives you a chance to win big with every spin that you take and you are constantly looking for those big strings of wins.
That's not the only thing that Esqueleto Explosivo 2 has to offer, though. This high volatility slot game also has a very decent RTP of over 96%, with 99 paylines spread across the game's 5 reels.
There are many chances to win big and Esqueleto Explosivo 2 also has a Free Spins feature, which whisks players away to a separate game screen and gives them something new to explore.
As the name suggests, Esqueleto Explosivo 2 is a sequel, so if you like what you see here, you should also check out the original Esqueleto Explosivo. We prefer the sequel, but the original game has a lot to offer, as well.
Carnival Queen
Thunderkick likes its cascading reels and that's why we love Thunderkick! Carnival Queen is another great example of this gaming mechanic and one that works incredibly well.
As noted above, this feature allows you to string many wins together, but there is a difference, because every time there is a new win in the same string, a multiplier will be added and this will keep growing and growing.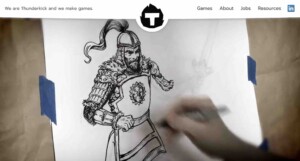 There is a Free Spins round where everything is given a new dimension and it's possible to win huge sums of money with every single one of those spins. The setting is also fantastic, as it takes place against a carnival backdrop and there is a crowd in the foreground that reacts by cheering every time there is a big win.
Carnival Queen has an RTP of 96.1% and delivers an impressive 4,096 paylines. It was released at the beginning of 2019 and quickly became one of the best slots in the Carnival Queen roster.
Bork the Berzerker
Bork the Berzerker is a little simpler and more straightforward than the Thunderkick games above, but it's still a super stylish slot game. The backdrop may be filled with animations but there are some smartly designed symbols and illustrations, the latter of which appear when the game transitions or triggers a wild reel.
In addition to those spins and wild reels, Bork the Berzerker has a massive RTP of 97.3%, although it only has 20 paylines.
Bork the Berzerker has the feel of a slot that is based on a popular animated series, something like a quirkier Conan the Barbarian, but it's not. It's entirely Thunderkick's creation and we have to commend them for that, as they have crafted a truly beautiful, fun, and inventive slot that is great fun to play.
So, don't dismiss this one straight away just because it doesn't have that immediate visual punch provided by some other games. Give it time, take a few spins, and you will see what all the fuss is about and why we love Bork the Berzerker so much.
Not Enough Kittens
It's true, you can never have too many kittens, and we're glad that Thunderkick is in agreement with us on that one.
Not Enough Kittens was launched toward the tail end of 2017 and is a truly beautiful and quirky slot game. The reels depict a mad scientist who sits at the top of the reels pressing buttons and triggering reels of kittens, wool, and other cute things. All of the kittens are in boxes, and there are several different kitten symbols to reveal.
Not Enough Kittens also has a Free Spins feature, and like many other Thunderkick games, these occurs on a different set of eels, one that produces even bigger wins and more opportunities.
Barber Shop Uncut
The only feature better than Rolling Reels (AKA Cascading Reels and Avalanche) is the Sticky Wins, which thankfully doesn't have as many nicknames. Sticky Wins locks all winning symbols in place and then respins the other reels.
For instance, if you spin the 40 paylines and one of the symbols appears across the first three rows on the first payline, those 3 symbols will be wrapped in foam while the others spin again. If a fourth row is added to that string, that symbol will also lock in place and the reels will spin again.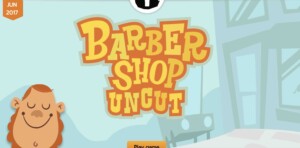 When there are no more wins, the payout will be triggered, the spin will end, and the next one will commence.
It's a fantastic little feature and it's not the only one, as Barber Shop Uncut also has a couple of other features to look out for. The RTP is also very high and is fixed at an impressive 97%.
All things considered, it is definitely one of the best slot games in the Thunderkick roster, and that's an impressive feat when you consider the quality on offer.
FAQs
Can I Play Thunderkick Games on Mobile?
As noted above, Thunderkick began as a mobile-first developer and it has remained that way ever since. All of the games in the Thunderkick catalogue are mobile-friendly and can be played on most devices and operating systems.
When Did Thunderkick Launch?
Thunderkick launched back in 2012. When compared to other top developers out there, it's an infant, but it's still nearly a decade old and it has had a lot of time to innovate and develop.
Where is Thunderkick Based?
Thunderkick was founded in Stockholm, Sweden. We've written many of these developer guides and that city seems to appear multiple times, suggesting that Stockholm is a creative hotbed for the slot machine sector.
Where Can I Play Thunderkick Slots?
Thunderkick has an iGaming license from the authorities of the United Kingdom, Romania, and Malta, allowing it to operate it countries across Europe, including the United Kingdom. Its games are also offered to players in Canada and Australia.
Why Can I Find Thunderkick Games?
It might be because the casino doesn't have them. Just because the casino is available in your location doesn't mean it has Thunderkick games. It needs to sign a contract with the company or a third-party for that to happen. If you are playing at one of the casinos at the top of this guide and you can't find Thunderkick games, it could be that they are not available in your region.
Does Thunderkick Create Table Games?
It might release a few in the future, and there might even be a few table games out there that have flown under our radar, but this is a slot developer first and foremost and that's what it focuses on the most.
Play Thunderkick Casinos Now
As you can see, Thunderkick is a truly extraordinary developer that has a lot to offer players of all stake levels and tastes. This developer hasn't been around for as long as Microgaming and other long-standing creators, but it has a high-quality roster and it is constantly adding new and exciting games to keep players interested.
So, visit one of the online casinos at the top of this page, sign up via the bonus link, and start playing some Thunderkick games today! You can play on desktop or mobile and as it's never the only developer on an online casino, you can also explore thousands of other games from dozens of exciting developers.