Pros
Unique Slot Selection
Top Sportsbook
"Non-Sticky" Bonus
Lots of Interactive Games
Real Money Tournaments
Cons
Slow and Sluggish in Places
Withdrawal Limits
Slow Withdrawals
LiliBet Casino launched in 2019. I'm sure that the owners couldn't believe their luck two years later when Harry and Meghan named their child LiliBet. Then again, everyone now thinks that they named an online casino after a small child, so I suppose it's a doubled-edged sword.
This Curacao-licensed casino is owned and operated by Continental Solutions Limited and, in this review, I'll take a closer look at its games, bonuses, security, and other key features.
everyone now thinks that they named an online casino after a small child, so I suppose it's a doubled-edged sword.
Software and Games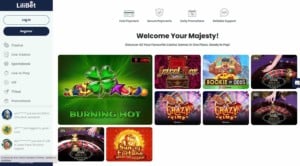 LiliBet Casino has a King Billy vibe to it. The idea is that it's set in a grand kingdom, or so it seems, as it's hard to decipher. To be honest, I didn't even realize there was supposed to be a theme until I saw a text welcoming me and calling me "Your Majesty".
Most of the website is just plain white with black text and the occasional dark blue accents. Besides the crown over the "e' in the logo and the occasional sentence and image, there's not much of a theme here.
I understand that it can be hard to create a cohesive theme on an online casino, but I just wish that more casinos would own their monotony, keep it simple, and just focus on helpful content, decent features, and a clean interface.
LiliBet Casino actually has those things. If anything, the "kingdom" references are a distraction.
As far as the actual games room is concerned, LiliBet Casino works with a myriad of top providers to ensure a varied selection of games. These creators include Microgaming, Pragmatic Play, Yggdrasil, Relax Gaming, Red Tiger Gaming, Tom Horn Gaming, and a few others.
It's a good selection and there is enough originality here to keep things interesting. The menu options are also plentiful and make it easy to find the games you're looking for. However, I have a couple of small issues with the games room.
Firstly, it seems to be a little slow, especially when it is viewed in a minimised window. It can be very annoying when using the menu options and scrolling, and it takes away from the experience somewhat. It's not a massive issue, though, as I'm talking about occasionally staggered scrolling as opposed to loading screens of several seconds.
The issue seems to occur when you scroll down and the site triggers another batch of thumbnails. It's something that all sites do to avoid loading too many thumbnails at once, but it's something that LiliBet Casino doesn't do very well.
The second issue is the quantity and the familiarity.
I like to see original games, and I love it when I enter a games room and don't immediately recognise every thumbnail there. However, I also like to see some classic games, including progressive jackpots from the likes of Blueprint Gaming and Playtech.
LiliBet Casino is also quite limited in size. The list of developers suggests that there is a lot happening here, but many of them simply weren't available to me and the roster was actually quite small.
Compared to casinos like BetAndYou, it's tiny, but it's also small compared to more reasonably-sized online casinos.
Some of the sections to look out for in this games room include:
New Games: All of the latest games worth playing right now. If you're an online casino regular and feel like you've played everything there is to play and want something new, this is the section for you.
Must-Win Jackpots: These games contain jackpots that must be triggered. They are not as high as the ones typically offered on Microgaming, Blueprint, and Playtech progressive jackpot slots, but there are still some big sums to win.
Bonus Buy Slots: All of these games give you the chance to "buy" the bonus. You'll pay a hefty sum for this pleasure, but it means that you don't need to waste a lot of spins playing for it and can skip right to it. Of course, buying the bonus isn't going to be as beneficial as unlocking it naturally on your first few spins, but you can still win big if luck is on your side.
Drops and Wins: This is where I spent most of my time on LiliBet Casino. Not only do the Drop and Wins offer multiple chances to win big, but there are also a lot of great games, including games that use features such as Megaways and Power Nudge.
Sportsbook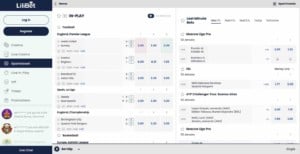 The sluggishness of the online casino didn't give me high hopes for LiliBet's sportsbook. Surprisingly, it was very fluid and I didn't experience any issues with it.
Sportsbooks are pretty standard these days as most websites work with the same white label providers and so they use the same software. Still, there can be some minor variations, so there are always three areas that I consider when reviewing a sportsbook.
How many sports does it cover?
How many markets are there on big EPL football matches?
What are the bonuses like?
The first two give you an indication of the size and scope of the sportsbook while the third one ensures you'll have plenty of bonuses.
Where LiliBet Casino is concerned, its sports coverage is middling to high, putting it on the same level as many other casinos/sportsbooks, including the likes of Rabona.
It's a long way from the dedicated sportsbooks, though, and destinations like bet365 have nearly double the amount of markets, including Results, Correct Scores, Totals, and a bunch of prop bets.
It's a solid sportsbook on the whole, but I do have a couple of issues.
Firstly, just like the main LiliBet Casino website, it doesn't respond well to changes in window size when viewed on a desktop. I usually opt for dual-screen views or minimised windows, but when I do that on the sportsbook, the bet slip bar cuts off the markets along the bottom, as shown on the screenshot below.

I also couldn't find an option to change the odds from Decimal to Fractional or American. This should be standard.
There is a chance I just overlooked it, but if that's the case, it should be more prominently placed, as it's one of the first things that players will seek to do.
Bonuses and Promotions
There are a number of bonuses available on LiliBet Casino, and these are split between the online casino bonuses and sportsbook bonuses. Make sure you get the right one, as you can't use a casino bonus on the sportsbook and vice versa.
The casino bonus offers a 100% match up to €300. It's listed as a "Non Sticky" bonus, which is a term I have not seen on any other online casino.
According to the Terms and Conditions (be sure to check this before you collect any bonus, as most casino complaints and negative reviews are the result of bonus misunderstandings), a "Non Sticky" bonus is simply one that uses your real money before your bonus money.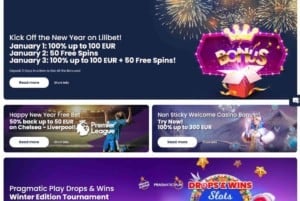 There are pros and cons to this method.
The downside is that while most bonuses will clear your credits first and leave your real money for later, LiliBet Casino does the opposite. It sounds worse than it is, though, because all bonuses have wagering requirements so in reality, it doesn't matter what they use first.
The upside is that you don't need to use the bonus if you don't want to.
If, for instance, you deposit €100 and get an additional €100 in bonus credits, you will start playing with your €100 deposit. If you go on to win €1,000 from that €100, you can choose to cash out all or most of the money and cancel the bonus.
In a normal bonus situation, you would be forced to meet wagering requirements, by which time all of your money could disappear. That doesn't happen here, and LiliBet Casino has to be commended for that.
In such situations, you might be tempted to continue playing and to use your bonus credits, seeing them as a free €100. I would advise against this, though. It's not free money and while you could win more from using those funds, you will also be forced to meet wagering requirements that could take everything away from you.
On the plus side, the wagering requirements on the LiliBet Casino Welcome Bonus are capped at 30x and only apply to the bonus fund. Most wagering requirements go from 35x to 70x, so this is a very low amount.
The other bonuses offered by LiliBet Casino also have good terms. They might not seem as generous as sites like Oshi Casino at first glance, but once you get to the meat of the bonus, you'll realise that they are better than most offers out there.
Payment Options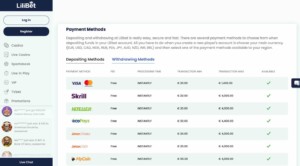 LiliBet Casino has a minimum deposit limit of €20 and a maximum that varies from €1,400 to €4,000. The limits for the withdrawals are the same and players are also restricted to withdrawals of no more than €20,000 a month.
MyCoin is accepted here, as are a number of web wallets, bank transfers, and instant transfer services. There is no charge for using all payment methods and the pending period generally takes up to 48 hours. It's not the quickest, but it could be worse.
Highlights
A Good Variety of Games
Lots of Jackpots and Daily Drops
Slots with Megaways and Other Great Features
A Dedicated Sportsbook
A Selection of Bonuses
Real Money Slot Tournaments
FAQs
Is LiliBet Casino Licensed?
Yes, LiliBet Casino is licensed in the territory of Curacao. The authorities of Curaçao provide licenses to many of the world's biggest gambling operators and are one of the only ones offering cryptocurrency regulation. The Curaçao eGaming license is a certification of quality and fairness.
Does LiliBet Casino Have Loyalty Bonuses?
Yes, you will find a number of loyalty offers here and they offer everything from cashback to Free Spins and more. If it's a traditional VIP Scheme that you're looking for, one that will take you on a journey, giving you points that can be exchanged for cash, cashback, prizes, and perks, check out the loyalty scheme on Kingdom Casino.
What is the Withdrawal Limit?
You are limited to withdrawals of no more than €2,000 per day and €20,000 per month. It's far from the lowest withdrawal limit out there, but it will still make life difficult for high rollers. In fact, they will almost certainly need to look elsewhere.
Do I Need to Verify My Account?
You won't necessarily need to verify your identity as soon as you sign up, but the request may come at a later date. If you want to avoid any hassle when that does happen, you should verify your details as soon as you have some winnings in your account and know that you will be making a withdrawal at some point in the near future. That way, you're not getting a verification request as soon as you attempt a withdrawal, which is where the problems start.
Can I Join from the UK?
You cannot join this online casino if you reside in the United Kingdom. It doesn't have a license from the local government and so you're not allowed to sign up. Some non-UK sites will stop you from even accessing the homepage. LiliBet Casino doesn't do that, so remember that just because you're not blocked from the homepage doesn't mean you can complete the signup process.
Final Thoughts
There are some disappointing aspects of LiliBet Casino that seem to be very easy to fix, including the theme. But at the same time, there are some surprisingly beneficial features here that aren't common in the online casino sector and really should be.
The bonus terms are a great example. I often get frustrated with online casino bonus terms as they seem like they were made with the sole intent of angering players. Even the best casinos clearly care more about the numbers than they do about keeping players happy.
LiliBet Casino's terms are the first ones that make sense and they give players more freedom and more control.
Based on these bonus terms alone, this is a solid casino, but once you add all the other stuff, it becomes of the most exciting out there right now. Sure, it has its issues, but they are easy to overlook.
LiliBet Casino Review Details
Restricted Countries:
Bulgaria
Estonia
France
Greece
Ireland
Italy
Lithuania
Netherlands
Slovakia
Slovenia
Spain
Sweden
Switzerland
Turkey
UK
US
Languages:
English
Finnish
French
German
Japanese
Norwegian
Russian
Currencies:
AUD
CAD
EUR
GBP
INR
JPY
USD