If you spend any length of time on online casinos and sportsbooks, there is a good chance that you have come across the Trustly name before, even if you have never actually used it yourself.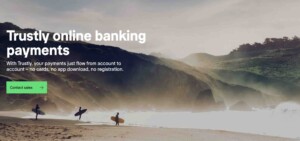 It has been around for close to 15 years at this point but a lot of its growth has occurred in the last few years. The Swedish-based fintech company has signed a lot of deals with major tech companies and casinos and that has facilitated its growth.
If you're ready to play Trustly casinos for yourself, just take a look at the sites at the top of this page. They include some of the biggest online casinos in the world, the majority of which also accept cryptocurrencies.
When you're ready to join these sites, collect a bonus, and start making deposits and withdrawals in Trustly, just find the site that you like the look of and join! If you're looking for a little more information, keep reading this Trustly casino guide.
What is Trustly?
Trustly is an online payment system that works similarly to solutions like Interac, which we have covered in the past. The main difference is that Interac was created almost exclusively for the Canadian market while Trustly has spread into many different markets.
In fact, after earning a name for itself in key European markets, it moved into Canada and Australia in 2020. Not only did this put Trustly in direct competition with the aforementioned Interac, but it also gave Australian players an alternative to POLi.
If you have ever used these programs, you will have a good idea of how Trustly works.
To begin with, you just need to find an online casino that accepts this payment method (see the sites at the top of this guide), visit the Cashier, and select the "Trustly" option.
You will then be shown a series of banks that work with Trustly, covering most major institutions. It also connects through PayPal and Wise (formerly known as TransferWise) and you can use any of these options.
You will then be asked to connect with your bank, where you can make an instant transfer that is facilitated by the Trustly payment method.
In simple terms, it's a bank transfer that occurs instantly and is 100% secure, which means you don't need to wait for wait is usually a very slow and tedious process
Is it Safe?
Trustly is very safe. In fact, it is one of the safest payment methods out there, as it relies on the security of Europe's vast and watertight banking infrastructure. Trustly adds to its security by not storing any of your information and not requiring a username or a password.
PayPal accounts can be hacked and compromised. And the same is true for most web wallets and other payment solutions. However, there are fewer risks when using Trustly.
You still need to be careful when using the software and make sure you're not connected to an unsecured network.
The Best Trustly Casinos
Trustly is available on a large number of online casinos, as you can see from the ever-growing list of online casinos at the top of this page. However, unlike PayPal casinos, which tend to be more focused on the UK market, and Bitcoin casinos, which tend to be heavier on the bonuses, there is nothing really distinctive about Trustly casinos.

There are casinos that are licensed in the United Kingdom, Malta, and Curacao; casinos that work in currencies ranging from Euros and Pound Sterling to Bitcoin and Litecoin. You will also find a huge selection of developers, game categories, and more.
The quality of Trustly casinos also varies quite significantly, from the spectacular to the terrible. Fortunately, we have made life easier for you by only listing the very best Trustly casinos. All of these sites have been reviewed by our team and we have taken several factors into consideration before rating the sites accordingly.
Pros of Trustly
Some of the advantages of using Trustly are obvious, others are a little less so.
No Accounts Needed
You do not need an account to use Trustly. The same can't be said for the vast majority of online payment methods out there, and that sets Trustly apart from the rest. If you don't like the idea of creating new accounts every time you want to use a new payment solution, Trustly could be ideal.
Connects Direct
Trustly connects you directly through your bank account and essentially acts as a middleman between the casino and you. It works with a wide variety of bank accounts and allows for fast and straightforward connections. If you have a bank account in a country where Trustly is available, you should be able to connect and make the necessary transfer.
Available in Many Countries
You can use Trustly in several dozen countries around the world and there are more countries being added to the list all of the time. As long as you are in one of these countries and you have a bank account, then you should be able to use Trustly to facilitate online casino payments.
Some of the most popular countries using Trustly to gamble include Sweden, Ireland, Germany, and the United Kingdom.
Better Solution
Let's be honest, the majority of players on this site won't be able to look past Bitcoin, Litecoin, Ethereum, and other cryptocurrencies as potential payment options.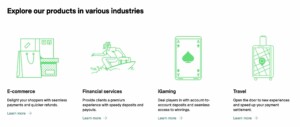 Of the ones that do, most will stick with payment solutions like Neteller, Skrill, and PayPal.
However, there remains a small group of people who insist on using bank transfers and debit cards to make payments.
These methods are slow and troublesome, and Trustly is a much faster and easier solution. If you want the accessibility of bank transfers without the snail's pace at which these payments move, you should stick with Trustly.
Multi-Use
Some payment solutions claim to be universal. They're not just limited to the online gambling industry and you can also use them to play games, send money to friends and family, make retail purchases, and pay for services.
However, very few providers actually follow through with these claims. Take Neteller as an example. It's a fantastic web wallet and is great for gamblers. It also claims to be available all over the world and across many industries, but how many sites have you seen that accept Neteller outside of the gambling industry?
Very Secure
Trustly is one of the most secure payment methods in the online gambling industry. It connects through online banking structures and benefits from all of the advanced security that they provide. Of course, most payment methods are safe these days, but some go that extra mile and Trustly is one of them.
Cons of Trustly
For all the benefits of Trustly, there are also some negatives that you need to be aware of, ones that could potentially be make or break for you.
Not Available in All Countries or Currencies
Trustly is not available everywhere. You can't use it in all countries or even most countries. It does target some of the biggest regions in European and it has also spread to Canada and Australia, but there are still many major regions where Trustly is not available.
On the plus side, Trustly is still growing and it could be a matter of time before it reaches you if it hasn't already done so.
There are also a number of currencies that Trustly does not accept, working in only a handful of the most popular, including Euros and Pound Sterling.
Login Needed
You don't need a Trustly account to use this service and that will save you some time when you first use it. However, you will need to login to your bank account, and because most bank accounts require you to enter a username, password, and authentication key, it's often a prolonged process that drags on a little big.
Of course, the added time that it takes to do this, along with the additional steps required, mean that Trustly is very secure and there is very little chance that anything will go wrong. But if you're all about speed, you might be better suited to some alternative payment options.
No Bankrolling
We have written about web wallets a lot on this site and have noted how payment methods like Skrill, PayPal, and Neteller all provide you with a virtual wallet. These wallets are safe and secure, and offer many of the same benefits as Trustly, albeit without the need for an account.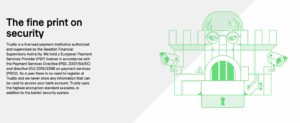 However, the way in which they differ is that you can use your web wallet to bankroll your gambling. Simply move your cash to that account, transferring only the amount that you have budgeted for that specific period. You can then use it to deposit at a number of online casinos or sportsbooks.
It's a handy way of keeping track of the amount of money that you deposit, win, and lose, and you can do that across all of the websites that you use. As Trustly is a direct bank transfer solution, it doesn't provide any of those benefits and cannot be used for the same purpose.
FAQs
If you still have questions about Trustly and the way that it operates, take a look at these frequently asked questions as we delve into the accepted currencies, countries, and more. If you still have any questions about the service or want to tell us about your personal experiences with Trustly, just use the comments section at the bottom of this guide.
How Old is Trustly?
Trustly is not new, not anymore. In fact, it was launched back in 2008, so while it's not quite as old as PayPal, Neteller, or Skrill, it is definitely not in its infancy and has had all the time it needs to grow.
Where Was Trustly Founded?
Trustly was founded in Stockholm, Sweden. If that sounds familiar, it's because we have written those exact words close to a dozen times. Not only has the city of Stockholm witnessed the birth of some exciting fintech companies, but it is also home to the likes of Thunderkick, a mobile-first developer responsible for many top slots.
Where Can I Use Trustly?
Trustly is accepted across more than 8,000 merchants, including some major payment solutions. In addition to the online casino industry, some of the biggest companies that have signed on to work with Trustly include AliBaba, eBay, GoFundMe, TransferWise (now just Wise) and even Facebook.
Is Trustly a Big Company?
As noted above, Trustly works with many major merchants and payment provides. The company also employs more than 500 employees and generates a revenue of around $230 million. It might not be as big as PayPal, but it's definitely a big company. What's more, Trustly's revenue is climbing year on year, suggesting that it will be a lot higher in years to come.
Which Countries Accept Trustly?
Trustly is accepted in dozens of countries around the world and it is expanding into new regions all of the time. Some of the biggest regions where Trustly is accepted include Denmark, Finland, Germany, Greece, Ireland, Italy, Norway, Poland, Portugal, Spain, Sweden, and the United Kingdom.
Which Currencies Does Trustly Support?
You can transfer payments using a host of popular currencies, including GBP, DKK, CZK, NOK, PLN, SEK, and EUR. More solutions may be added to the list in the future, so it's worth keeping an eye out for these.
Play Trustly Casinos Now
As this guide shows, Trustly has a lot to offer online casino players and as the company continues to grow, those benefits just keep getting better.
Scroll to the top of this guide, peruse the many great casinos on offer, and start playing. Not only do all of these sites accept Trustly, but the vast majority also accept Bitcoin, Litecoin, Ethereum, and a host of other cryptocurrencies. They all have bonuses as well, including Matched Deposit Bonuses, Free Spins, and Loyalty Bonuses.
We have written reviews on all of these online casinos and you can read these reviews to learn more about them. Alternatively, simply visit the site directly via the bonus link, collect the cash, credits or spins, and start spinning those slots or playing those table games!