Pros
Crypto Bonuses
Sports betting
Mobile-friendly
Simple Layout
Fiat and Crypto Options
Cons
Limited Games
No Live Chat
Slow Withdrawals
Overly Basic Layout
Lady Linda's Slots is an online casino and sportsbook that goes big on the colour pink but has a relatively simple design beyond that. It is licensed in Curacao and is owned by a company known as Famagousta. It seems to have a lot of things going for it and there are certainly some positives to highlight in this Lady Linda's Slots review, but there are several negatives as well.
It is licensed in Curacao and is owned by a company known as Famagousta
So, let's take a look at the pros and the cons and see what's good about this site and what lets it down.
Basics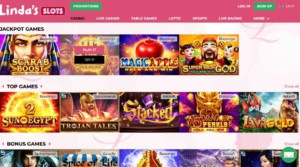 A couple of years ago, I had a job writing about UK bingo sites and slot sites. They're the sort of sites that you won't see advertised on UK television and the ones that never quite make it onto football shirts. But they're still regulated and they are also backed by major brands like Jumpman Gaming and 888 Holdings.
95% of these sites are built on the same software, which was never particularly attractive in the first place. It's like someone released a mediocre film to a lukewarm reception and then said, "This was fun. Let's base every other film we release on the same story and script".
No Transformers jokes please.
The "theme" usually consists of a different coloured header and the same list of games. It's not very interesting, it's not very enticing, and it made my life difficult as a reviewer who had to find something unique and interesting on 30 casinos that were basically carbon copies of one another.
Why is this relevant, you ask? Well, it's relevant because Lady Linda's Slots looks exactly like one of those sites. I almost expected to see the UK Gambling Commission logo and was actually surprised when I didn't stumble across the same-old list of bingo games that you'll find everywhere else.
Is that a bad thing? Well, it depends. If you're like me and you're sick of that aesthetic then it's definitely a bad thing. If you're not a fan of basic and soulless casino themes then it's also a huge negative. But if you prefer to keep things simple and aren't enticed by good looking casinos like Cadabrus, then you'll probably enjoy what Lady Linda's Slots has to offer.
Another issue I have with the site is that it doesn't have a cohesive theme. It's a problem I have highlighted with other casinos in the past. If you're going to have a name that hints at something unique, then it has to make sense. It has to run throughout the casino, from the promotions to the loyalty scheme and the games.
On Lady Linda's Slots, that doesn't happen. Who is Linda? I have no idea. Is she a lady? I suppose so, but as the site isn't clear on whether it's called Lady Linda's Slots or just Linda's Slots, even that isn't confirmed.
I feel like a creative team (complete with a designer and writer) can make some massive changes here. It would be a quick and cheap change to make, and yet it hasn't been made, and that's what frustrates me. You're asking players to spend a lot of money on your website. You're asking them to trust you. The least you can do is drop a few hundred bucks on good copywriting and a design that looks good and makes sense.
Software and Games
At a time when major casinos like BetAndYou have over 4,000 games and most other brands hover around 1.500, it's disappointing (and rare) to find an online casino with just 400 titles, but that's true for Lady Linda's Slots. There are just 400 titles in total and that includes both slot machines and table games.
These games are provided by a variety of different developers, including Betsoft, Apollo Games, Kalamba Games, Habanero, BGaming, and Spinomenal. There are some big names missing from this list and it's far from the most diverse or exciting range that I have seen, but it still covers lots of good games and interesting ideas.
The filter options aren't great and are pretty much limited to "Jackpot Games", "Top Games", and "Bonus Games". But then again, when you only have a few hundred titles to peruse, that's not much of an issue.
You can play all these games on mobile and on desktop. There is no mobile app to download and everything goes directly through your mobile browser.
Bonuses and Promotions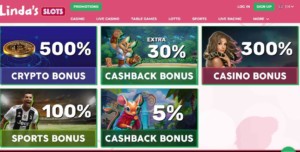 Lady Linda's Slots doesn't have the most games and it struggles in other areas, as well. However, it makes up for this somewhat with the Welcome Bonus. It's not as high as the likes of 1xBit in terms of sheer size, as it's limited to maximum deposits of the equivalent of €100, but the fact that it pays 500% is impressive.
The minimum deposit amount for this is the equivalent of €25. It's a little frustrating that it's called a Crypto Bonus and yet all of the limits and terms are listed in Euros, but it's understandable considering the volatility and ever-changing nature of cryptos.
Once you have the bonus cash, you will need to clear a wagering requirement of 40x before you receive your cash.
There is also a 30% cashback bonus available, which is the biggest cashback payout I have seen, especially when you consider that it's offered to everyone and not just to players who attain a high level in a loyalty scheme.
There are a few caveats, though. Firstly, you need to contact the support team to request your refund the day after your gambling session. Secondly, there is a minimum limit of €20 and a maximum of €2,000. Finally, the cashback doesn't apply if you are using a Visa.
Payment Options
Lady Linda's Slots accepts credit cards, debit cards, instant transfers, and CoinsPaid. There is no Skrill, Neteller, or PayPal here and you can't use prepaid card options, either. It will be disappointing for a lot of players but the fact that it includes CoinsPaid, a leading cryptocurrency service, gives it a thumbs-up from me.
The withdrawal speeds are pretty quick and you should receive your money within 24 hours if you use cryptocurrencies and a few days if you use a debit card. You may be asked to verify your identity before you can make your first withdrawal so keep this in mind and try to get it out of the way early to avoid issues at a later date.
A downside to the casino's payment options is the fact that withdrawals are limited to just €7,000 a month. I have complained a lot about withdrawal limits in the past, including at Ovitoons Casino, but this is probably the lowest I have seen, or rather, the lowest I can remember. €7,000 is still enough to please most players and the majority will never get anywhere near that amount, but it's a roadblock for high stake players and even medium stake players.
Highlights
Over 400 Games to Play
A Very Simple Theme
Sports Betting Options
Live Casino Games
Compatible with Mobile Platforms
User Reviews
Lady Linda's Slots has what seems to be a Live Chat feature. It's a little message icon that appears on the bottom-right of the home screen and pops-up when you click it. But it's not Live Chat. It's a static message pop-up and it asks you for your name, email address, and your message.
There is no Live Chat feature to speak of, and that is a big shock and a massive disappointment for an online casino. It means that the only way to contact the casino is to send them a message and hope that they respond. We're talking about a dedicated, regulated, and professional online casino here so I'm sure that will response will come and I'm confident it will come quickly, but it's no substitution for Live Chat.
I have been gambling online since the early 2000s. In that time, I have encountered between 15 and 20 massive issues with online casinos and sportsbooks, issues that leave me infuriated and desperate for an instant response.
Those issues have ranged from incorrectly settled bets to deposits that have taken more money than they should, games that glitched before paying me money, and other big issues.
It's a rare scenario. But it happens, and when it happens you want someone to whom you can vent.
Imagine that you bet £1 tonight and you win £10,000. You're over the moon, and in your paranoia, you snap a screenshot of the winnings just in case. But then the game closes down, the money doesn't appear in your account, and there is no sign of a win.
Would you be happy to send a message and then wait for a day or 2? Probably not, especially when you consider that the first reply will probably be something like, "Let me pass this onto the relevant department" or even "do you have any more information?". You want someone you can talk to instantly because otherwise you'll be losing sleep and growing increasingly angry before they even respond.
That's why it's important to have Live Chat and/or a phone number. You really need one or the other and a slow support message system is just not a valid substitution in this day and age.
It should be noted that a few review sites do mention that Lady Linda's Slots has a Live Chat feature, but there was no such feature active at the time of writing, suggesting it has either disappeared or gone on hiatus.
User reviews seem to reflect these issues. In fact, one of the few user reviews that I could find complained about the lack of Live Chat and phone support and brought another issue to my attention: verification.
I have had more verification issues than anything else over the years and they are often just as frustrating as incorrectly settled bets, if not more so. The issue with verification problems is that your complaints often fall on deaf ears, with support teams just sending you copy and pasted responses that are completely irrelevant. I can only imagine how frustrating it must be to try and push through a withdrawal when you're constantly facing verification issues and don't have anyone to talk to about it.
And I'm not saying that Lady Linda's Slots has these verification issues. I don't have any experience of that side of the site and so I can't confirm either way. But what I do know is that these issues are commonplace everywhere, even on massive online casinos and sportsbooks like William Hill. There are a lot of regulations to deal with and a lot of boxes to check, and so it's common for someone to trip up somewhere along the line.
FAQs
How Can I Contact Lady Linda's Slots?
You can send a message through the contact form. Live Chat may also be added in the future.
How Old is Lady Linda's Slots?
It was launched in 2021, making it a new online casino.
Can I Play it in the UK?
Although Lady Linda's Slots looks like one of those bland UK bingo sites, it is not licensed to operate in the United Kingdom.
Can I Play on Mobile?
There is no mobile app, but you can play directly through your mobile browser.
Can I Play in the US?
You are not able to play at Lady Linda's Slots if you reside in the United States.
Final Thoughts
At the time of writing, Lady Linda's Slots is a relatively new online casino. But despite its age, I don't feel like I should withhold my criticisms. Sure, it has some lessons to learn and a lot of improvements to make, but we're talking about an online casino here not a promising footballer.
The casino should be ready to go from day 1 and if there are issues at the start, there's a good chance they will still be there 6 months, 12 months, and even 5 years from now.
It's not a terrible site, but it's not a brilliant one either, and I would much sooner play a top-drawer casino like FortuneJack. Still, if you want a decent casino with a generous Welcome Bonus and a stack of good slots, Lady Linda's Slots is worthy of your time.
Lady Linda's Slots Casino Review Details
Restricted Countries:
Estonia
Italy
Malta
Slovakia
Spain
Sweden
Switzerland
UK
US
Languages:
English
Finnish
French
German
Norwegian
Portuguese
Spanish