Pros
Lots of Games
Many Different Bets
Virtual Sports
Huge Welcome Bonus
Cons
Poor Customer Support
No UK Players Allowed
1xBit is a large cryptocurrency gambling site that seems to target the Asian gambling market. It launched back in 2016 and offers a wide selection of betting opportunities, from a vast sports book to an online casino and a live casino. Many players know 1xBit as a sports betting site first and an online casino second, but both aspects of this gambling destination have their merits and will be covered in this 1xBit review.
Not only does 1xBit accept Bitcoin, but it also embraces a huge number of other cryptocurrency payment options and it does this by working with currency exchanges. You can deposit with whatever currency you have in your exchange account, and use that money to place sports bets, take a spin on countless slots, and enjoy some Live Casino action.
It's a well-presented website and it is licensed by the authorities of Curacao, which means it is not available in the United Kingdom and several other European destinations.
…take a spin on countless slots, and enjoy some Live Casino action.
Bonuses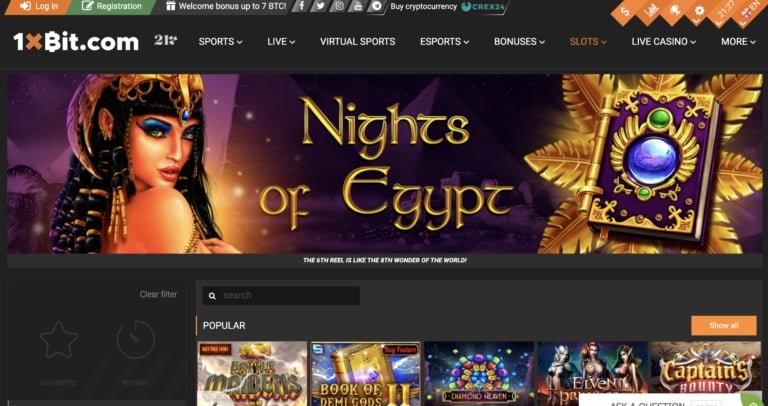 1xBit has one of the most generous Welcome Bonuses in the industry and this bonus has been around for some time. In fact, we first played at 1xBit casino over a year before we wrote this review and the bonus was still being offered back then.
Simply put, when you join as a new player and make your first deposit, you can collect up to 7 BTC. To qualify, you just need to deposit 5 mBTC, or the equivalent in your chosen currency, and the bonus will then be released over time.
As discussed in our guide to welcome bonuses, this offer is structured more like a loyalty scheme as opposed to a traditional welcome bonus. In other words, rather than getting the full 7 BTCs released at once, they will be released steadily as you continue to deposit and wager.
It is obviously not as impressive as getting 7 BTCs all at once, but when you think about it, there's not much difference. After all, a traditional Welcome Bonus requires you to meet some strict wagering requirements before you can collect your money and, in this case, the wagering requirements are simply being applied before the bonus is released, instead of after.
The bonus is spread across your first four deposits. You will get a maximum of 1 BTC for your first two deposits; 2 BTC for your third, and 3 BTC for your fourth. The matched percentages are 100%, 50%, 100%, and 50% respectively, and you can find more information on the 1xBit Promotions page and in the specific bonus Terms and Conditions.
There are Reload Bonuses and other offers, in addition to this bonus, and there is also a Daily Jackpot, which gives all players a chance to win big every single day. Keep a close eye on the casino's promotions page to learn more. If you're ready to join and take advantage of these offers, click the bonus being advertised here and that will ensure the right code is entered and you get the bonus cash you're owed.
Games
Betsoft and Evolution Gaming are the two biggest names providing titles for the 1xBit games room, with the former ensuring there is no shortage of quality slots and the latter keeping Live Casino fans happy. Other creators include the Megaways developer Big Time Gaming, as well as Red Raking Gaming, Pragmatic Play, and Booming Games.
There are also many smaller developers available here. In fact, we counted several dozen creators and these pack the 1xBit games room with hundreds of top titles, ranging from online slots to games of Blackjack, Roulette, Poker, Baccarat, Craps, and more.
All titles are available on mobile and desktop and you can play directly through your browser in both instances.
You can use the tabs on the left-side of the screen to search through this vast selection of games, making it easy to find the right one for you. These categories include:
Baccarat: Punto Baccarat is the variant of choice here but this can be played against a Live Dealer and against the AI.
Blackjack: Get to 21 playing against a Live Dealer and a virtual one, with variants including Spanish 21, Classic Blackjack, and more.
Megaways: A popular mechanic that randomises the number of paylines available in every line and makes it possible for over 100,000 of these to appear during any given spin.
Poker: Classic games of Video Poker are available in abundance, and you can also find Three-Card and Hold'em variants.
Buy Bonus: Have you ever gotten so frustrated at the lack of a bonus feature that you wish you could just use your stakes to trigger it immediately? That's exactly what these slots offer, letting you buy the bonus when you want it.
Jackpot: Progressive jackpot slots and table games where you can win several Bitcoins and even several hundreds of Bitcoins with a single lucky spin.
Roulette: Dozens of different variants are available, the highlight of which are the French and European Roulette games, where the house edge is at its lowest.
3D Slots: This section is reserved for the casino's most attractive and spin-worthy creations, including Knockout Football, Super Gold, Platoon, The Golden Owl of Athens, and many more.
Keno and Bingo: These are actually two different sections, but the games are similar. Both are number games that give you a chance to win huge sums of money every time you play. With Keno you can even choose how big you want your maximum in to be, adjusting the odds in the process.
1xBit goes all-out to try and impress and to ensure that the needs of all players are catered for. In addition to the aforementioned games, and the many virtual sports and real sports, it also has lotteries, scratch cards, financial betting, and TV games.
It positions itself as a complete gambling site, giving you everything you need in one place and hoping that you won't be tempted to venture further afield. Because when you have so much going on under one virtual roof, why would you need to look elsewhere?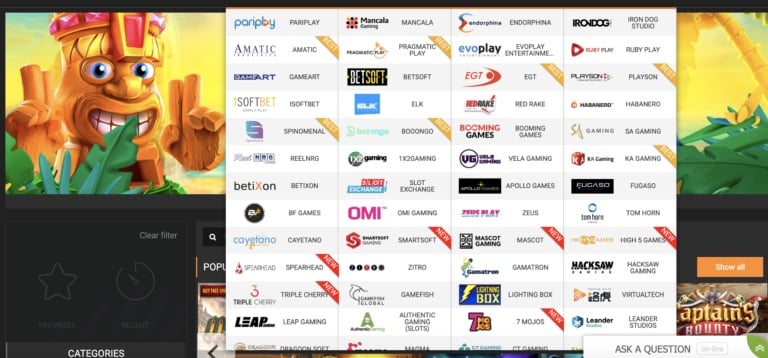 Sports Betting
1xBit has a sports book, as well as an online casino, and through here you can bet on a multitude of sports, from football to snooker, and more. You can even bet on cockfighting, although we certainly wouldn't recommend this and were a little surprised to see it included.
Cockfighting is legal in the Philippines, and it's from here that the fights are streamed. We understand that different cultures have their own preferences, and so we don't go into the reasons why we disagree with this sport, but needless to say, if you're approaching 1xBit from a country with many animal rights laws, as we are, you may be a little surprised and disgusted to see this included.
Don't let that deter you, however. If you don't want to support it, don't bet on it, don't watch it, and make your distaste known to the casino.
For something much less graphic and controversial, head over to the Virtual Sports section, where you can stake your bets on simulated games. There are simulated games of football, cycling, tennis, horse racing, and more. Many of these betting markets are structured just like they are in real life, only you don't need to wait hours or days for these events to begin.
Highlights
Vast Selection of Betting Options
Sports Betting and Casinos
Huge Welcome Bonuses
Lots of Features
Payment Options
When it comes to deposits and withdrawals, 1xBit uses a trick that we have seen on a handful of other cryptocurrency casinos, the best example of which is the hugely impressive MELbet casino. Instead of accepting payments through a few simple web wallets, credit cards, debit cards, and cryptocurrency wallets, it works with numerous cryptocurrency exchanges.
This makes it easier to transfer money into the casino, as you can move money through the exchange, getting any kind of currency you want, and then deposit your chosen currency into your 1xBit account. When you're ready to withdraw, you can go through the same process.
It's a process that will appeal to regular cryptocurrency users and investors, as this is something that they are very familiar with, something they do on an almost daily basis.
Other Stuff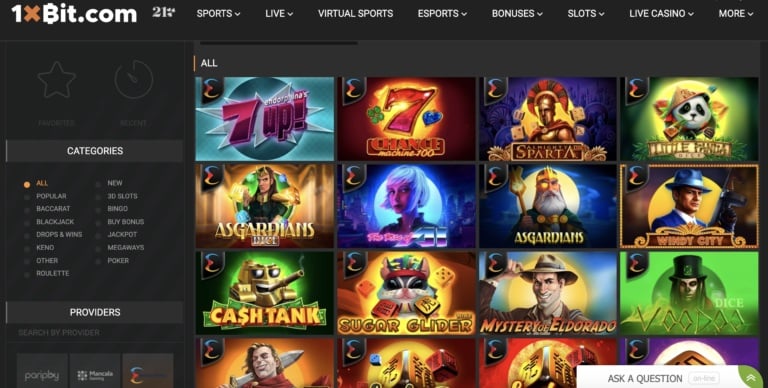 1xBit is often confused with 1xBet, a Russian-centric betting site that has no relation to this similarly named site. 1xBet doesn't have the best reputation (it is legit, but doesn't do a good job of appealing to players outside Russia) and this has no doubt caused many players to stay clear of 1xBit.
However, these two sites are very different.
Other things of note here include the many language options, including English, German, Swedish, Russian, French, and Italian, and the restricted countries, which include the UK, US, Israel, Italy, Spain, Sweden, and the Netherlands.
User Reviews
We have said it before and we will say it again: bad reviews are fine, if the casinos respond to them. That is the case with some of our favourite online casinos, including the brilliant BitStarz, the exceptional King Billy, and the unique BaoCasino. However, that is not the case with 1xBit.
We found numerous bad reviews that the casino seemingly ignored. Furthermore, many of these complaints revolved around the customer support staff, which was accused of being slow and unhelpful.
To confirm these claims, we tried contacting 1xBit support ourselves and we did this from multiple platforms while using a VPN to simulate three different locations. We had an issue with a slow team member on just one occasion and there seemed to be a big language barrier issue that made it hard to understand them. They also didn't seem to grasp what we were saying and repeated a lot of form responses. For half of the conversation, we were convinced that we were speaking with a bot!
It would be unfair to suggest that the customer support team was terrible, as we encountered some very helpful team members. However, it's clear that 1xBit needs to make some massive improvements in this area.
Firstly, the casino should look at hiring more staff who are capable of dealing directly with customer issues and can speak multiple languages. One of the most frustrating things as a player is to get through to someone who can't actually help you and only copy/pastes standard responses and then directs you elsewhere.
It's akin to a technical support department that asks you to turn the computer off and on again and then gives you another number to call when it fails.
Secondly, they should claim their Trustpilot page, actively seek reviews, and make an effort to respond to as many of these as they can. Not only will it please multiple aggrieved players, but it will also help to build the 1xBit brand a little more in Europe and North America.
Based on its inclusion of cockfighting as a "sport", something that will appal many European and American players, we're guessing that this is not the target market for 1xBit, but this is where all the action is and it has a growing memberbase here, so it needs to start addressing them more.
FAQs
Why is the Bonus so High at 1xBit?
It's not released in the same way as a traditional bonus and works more like a Loyalty Scheme.
Can I Use Bitcoin at 1xBit?
Yes, of course! In fact, Bitcoin is the main currency here and the reason the site launched in the first place.
What Games Can I Play at 1xBit?
1xBit has a wide number of games available, including slot machines, table games, and some virtual sports.
Why Can't I See All Games?
Some of the games are region-specific. If the developers don't have a license in that region, the games won't be available there.
Is 1xBit Available in the UK?
Without a UK Gambling License, a casino can't operate in the UK. You will need to take your money elsewhere.
Can I Play 1xBit in the US?
A Curacao gaming license doesn't allow a site to operate in the US. The rules are pretty strict there and very few online casinos operate legally.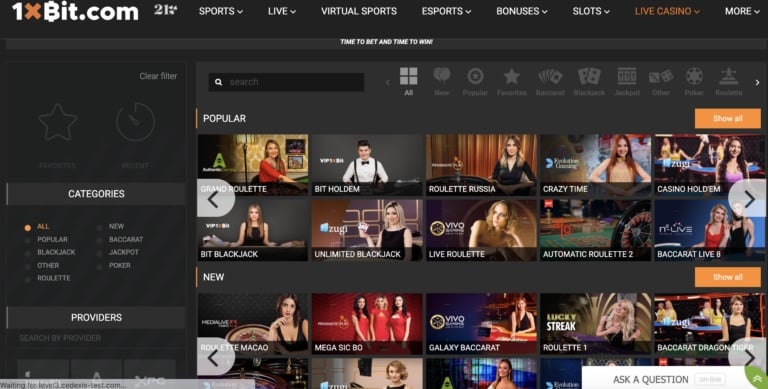 Conclusion
There are clearly a few areas in which 1xBit can and should improve, but these are not major and most of them revolve around customer support. This is not that big of an issue when you consider that the 1xBit support team is still very capable of helping you when you're in need and the average player won't even need to request that help.
These minor niggles aside, 1xBit is a cryptocurrency online casino with a lot of potential. If you're looking for some big bonuses, solid games, and a site that combines sports betting and virtual sports with a multitude of casino games, join 1xBit today.
1xBit Casino Review Details
Restricted Countries:
France
Italy
Spain
Sweden
Switzerland
Turkey
UK
Ukraine
US
Languages:
Arabic
Chinese
English
Finnish
French
German
Greek
Hebrew
Hindi
Indonesian
Italian
Japanese
Korean
Malaysian
Norwegian
Portuguese
Russian
Spanish
Thai
Turkish
Ukrainian