Habanero Systems has been around for over ten years, but it's only in the last few years that it seems to be making a name for itself, with its slots and table games finding their way into more and more online casinos.
We're spent a lot of time studying industry news and press releases and it seems that Habanero has featured on most of them, signing a wealth of contracts and partnerships to spread its games far and wide.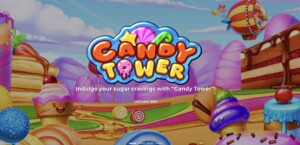 In this guide, we'll look at the best Habanero games out there right now.
We will also show you where you can find these games and highlight the best places to play them.
What is Habanero?
Habanero, or Habanero Systems to give it its full name, is an iGaming developers with over 120 games under its belt.
It is named after a chilli pepper of the same name and has been around since 2010, signing deals with some of the biggest online casinos in the world. Its games are not as widely available as titles from NetEnt and other well-known innovators, but they are becoming more common and receiving a greater marketing push as the development studio grows.
Habanero games are licensed and certified in 16 major markets:
Sweden
United Kingdom
Bulgaria
Croatia
Colombia
Gibraltar
Portugal
Isle of Man
Italy
Latvia
Estonia
Lithuania
Malta
Portugal
Spain
Romania
Habanero is adding new markets to all of the time, gradually increasing its exposure. Its games are also available in over 28 different languages and they are compatible with most currencies, including cryptocurrencies.
The Best Habanero Casinos
Every casino listed on this page hosts games from Habanero and they have all been reviewed extensively, covering everything from the Welcome Bonuses and Loyalty Bonuses to the payments and more. Scroll up, take a look, and you could be spinning Habanero slots before you know it!
Habanero Features
Habanero is one of the most diverse developers that we have come across.
iGaming studios tend to follow the same themes and trends. Take Rainbow Riches as an example, a Barcrest classic that is now owned by the brilliant SG Gaming. It adopted the Irish Leprechaun theme and while it wasn't the first to do so, it was certainly the biggest and remains one of the very best.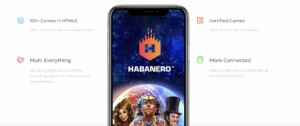 As soon as that game became popular, there was a slew of similarly themed titles and these days you can't move for Irish and Leprechaun slots.
In our guide to Playson, we noted that there are a surprisingly small number of slot games themed around ancient Rome, even though it's the biggest empire in history and eclipsed the Greeks and Egyptians, both of which seem to have new slots themed around them every single week.
It's not because people are not as interested in Rome as they are Egypt and Greece. It's because games like Cleopatra and Book of Dead were massively popular and ensured a seemingly endless succession of Egyptian-themed slots, while the Age of the Gods series has inspired others to create Greek-themed titles.
Habanero bucks the trend by creating slots with much more varied and unique themes. There are slots based on magicians, steampunk alternative histories, ancient China, medieval jesters, anthropomorphic creatures, fantasy, trucks, wizards, Halloween, and Christmas, to name just a few.
And that's just scratching the surface. Sure, there are slots that follow popular themes, but they don't dominate the Habanero games room.
We won't point fingers, but in the past we have found entire iGaming rosters that are limited to between 4 and 6 themes, which is quite poor when you consider that these themes often encompass between 50 and 150 games.
Best Habanero Games
Habanero has over 120 slot games, including many games that you will have played before. All of these are HTML5 compatible, which means they are instant play and work across a number of devices.
To help you get started with this creator, we have listed some of its biggest and best games below. Just remember, this is only a small selection and there are many more top titles out there.
Presto!
Presto! is a magic-themed slot game that puts you on the big stage and tasks you with working up to the big trick.
Keep your eyes on the "Illusion Countdown" in the top-right corner. It will reduce with every spin and when it gets to the end, the magician's hand will appear off-screen and perform an illusion.
The trick varies, but it typically includes some kind of Wild, Multiplier, or Respin. There are several different features to explore and the great thing about this mechanic is that you don't need to take an indeterminable number of spins to reach it.
If you're sick of bonus features that never appear and want a game with a little more consistency and guarantee, Presto! is perfect. Of course, those bonuses don't pay as much as a bonus that triggers very rarely, but they still offer sizeable payouts.
Presto! also has a more standard bonus feature, one that is triggered by the Scatter symbol. The wins are a little bigger during this feature but it doesn't appear as often.
The Dead Escape
If you're a big fan of The Walking Dead, World War Z, and other zombie-themed movies and TV shows, you'll love The Dead Escape. It is clearly influenced by these zombie classics and has a very dark, blood-splattered, and apocalyptic theme.
There are zombie hands, nuclear symbols, and blood-red letters. The pickup truck serves as the game's Scatter symbol and triggers the main bonus. There are also big wild symbols and a "Duel" feature, which gives you additional chances to win big in the base game and the Free Spin feature.
Gangsters
We have spoken a lot about Betsoft here at Coinbuzz and have praised the developer's unmatched style. One of the games we have praised the most is The Slotfather, which follows a gangster on his ascent through the mob, not unlike The Godfather trilogy.
It's a theme that hasn't really been copied by other developers, at least not effectively, but Habanero's Gangsters is the exception.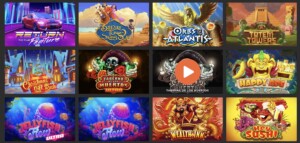 It drops you into the heart of 1930s Chicago and in a world bossed by organised criminals.
There are gambling dens with illegal card games, Tommy guns, cigars, and copious amounts of cash. Gangsters also gives you a few chances to win big. For instance, if you reveal at least three of the Scatter symbols, you'll be given a chance to win several big cash prizes and unlock a Free Spins feature.
If you are a big fan of Slotfather and Slotfather 2, take a look at this game. Personally, we don't think it is quite as good graphically, but we seem to have a little more luck with Gangsters and that's what it's all about.
Gold Rush
Gold Rush takes place in the middle of the, well…gold rush! You step into the shoes of a prospector as he goes in search of riches, but he's not alone. There are bandits and the way is fraught with danger.
The symbols include barrels, pickaxes, prospecting pans, mining carts, and dynamite. The wild symbol is a shiny gold nugget while the dynamite represents the Scatter symbol. In the feature, you can unlock anywhere from 10 to 15 Free Spins, and there are a couple of other features to make things more interesting and increase your odds of a big payout.
London Hunter
London Hunter is a steampunk slot with a time travel twist. It is somewhat reminiscent of the NetEnt classic Steamtower but it also possesses some of the quirkiness often seen in Quickspin games, albeit with more of an industrial style.
The symbols include binoculars, telescopes, and a cast of interesting characters that include humanised dogs and dinosaurs. It is as bizarre and brilliant as it sounds and all of that style and those features are backed by some interesting features, including a Wild Expansion, Multiplier, and a Free Spins round.
It's one of the most intricately detailed games in the Habanero catalog and it's proof of just how hard these guys world to stand out from the crowd.
What About Table Games?
Just like Betsoft and other top creators, Habanero focuses on slots more than anything else. This is what most players want to see and it's where all the money and fame is in the online gambling industry.
However, Habanero has also dabbled in table games and video poker, expanding its offering and giving casinos a little more variety.
Most slot-heavy developers tend to focus on basic table games (Roulette, Blackjack, Baccarat) when delving into the world of table games. Habanero, however, does things a little differently and it explores some titles that even big developers like Microgaming have yet to explore.
One of our personal favourites is War, which is a very straightforward game and is recommended for fans of simple Poker and Baccarat games.
Habanero has also created Sic Bo, Three Card Poker, and Caribbean Stud Poker. And if you're looking for the classics, we recommend checking out 3 Card Double Exposure, a great variant of Blackjack that has a very low house edge.

As for the video poker side of things, these games are a little more traditional and they include titles like Tens or Better, Joker Poker, Double Double Bonus Poker, Deuces Wild, and more. There are actually 10 video poker games in total, which is more than most creators offer in this category.
As with the slots, these games aren't automatically available on casinos that host Habanero games. They need to select them and host them in the first place and you also need to be in a region where Habanero games are licensed and certified.
FAQs
What is the Best Habanero Game?
There are many great games to choose from and our favourite probably won't be your favourite. That's why we have listed so many options for you above. These games are just a small selection of the many available at Habanero and should give you an idea about where to start.
Can I Play Habanero Games?
Just because you're playing at a casino that has Habanero games doesn't mean you can play them. The games need to be licensed in your region. If not, you may be able to play at the casino but you won't have access to Habanero. It's why you will often see developers being listed as available at certain casinos but you're unable to find the games yourself.
When Was Habanero Founded?
Habanero was founded back in 2010. That might come as a surprise to some players as it feels like a much more recent brand, one that just hasn't had the same exposure as Yggdrasil Gaming and other studios founded at the same time. However, we're talking about a creator with more than 120 games. They didn't spring up overnight!
How Often Does Habanero Release New Games?
Habanero releases new games every month, many of which are slots. It means that the Habanero roster is constantly growing and ensures that there are multiple new games to explore every year.
Are Habanero Games Available on Mobile?
Yes! You can play all Habanero games on mobile and that applies to both landscape and portrait mode. Habanero games are supported on iOS and Android and you can play on smartphones and tablets.
Play Habanero Casinos Now
Now that you know the basics about Habanero and have learned about the developer's great features, slots, and table games, it's time to get out there, find a Habanero casino, and start playing!
Fortunately, we've done most of the work for you as all of the online casinos listed on this page have Habanero slots, and some of them also host Habanero table games. Just take a look at the sites on the top of this page, follow the link to get the Welcome Bonus, and sign up.
Make sure you check the Terms and Conditions of that bonus if you're not sure.
For more information on these online casinos, just take a look at our reviews. We have extensive reviews written on all of our casinos and these cover everything that you need to know about the site, including other top developers (including the brilliant Blueprint Gaming) and the games that make them unique.