Playson is one of those developers that rarely takes the spotlight but makes an appearance every now and then. In football terms, they are the Southampton or West Ham to Playtech's Manchester United and Microgaming's Liverpool—they rarely top the table and win the silverware, but they manage to pull-off some headline-grabbing moments every now and then.
The average casino player can probably tell you what their favourite NetEnt game is. Most can also point to their favourite games from Playtech, Microgaming, Betsoft, and even Yggdrasil Gaming, but Playson…very rarely.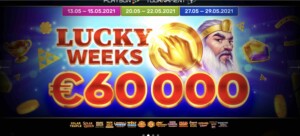 And that's a shame because while Playson is not the biggest, best, or most innovative creator out there, it has done more than enough to deserve its place at the top of the iGaming industry.
If you have played as many slot games as we have, you likely understand just what this creator has to offer and what makes them unique.
If not, keep reading to discover some quality Playson games that never fail to disappoint.
What is Playson?
Playson creates video slots that are mobile friendly and also look great on desktop. That's not all, either, as Playson has also incorporated a few unique features to help set it apart from the crowd, as well as a handful of table games.
All of Playson's games are fully licensed by some of the biggest regulators in the industry. They are also audited for fairness and guaranteed to be safe and secure. If you reside in a country where Playson is accepted, and it is available in your chosen online casino, you should be able to play.
Playson has licenses from the United Kingdom Gambling Commission, as well as the authorities of Malta and Romania, allowing it to offer its games to players from dozens of regions all over the world.
The Best Playson Casinos
Every time we review an online casino that hosts games from Playson, they will be added to this page and you can find them by scrolling up. You can learn more about these Playson casinos by clicking the links above.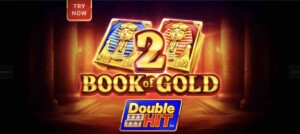 You can either visit the casino directly (you will be taken to the sign-up page with information on the latest Welcome Bonus) or you can read our extensive reviews.
These reviews are available on every single casino mentioned here at Coinbuzz, including all of those that host Playson games.
Playson Features
Playson has a few features that helps to make its games that little bit more interesting. These features include Jackpots, Free Spins, and a few different bonus rounds.
The developer also launches regular real money slot tournaments and we have professed our love of these tournaments many times at Coinbuzz. Players just need to deposit and play, and they will get points every time they play the games that are tied to the tournament. If they wager the most or win the most, they can place highly on the leaderboard and win prizes as well.
Playson also provides seamless play, with compatibility across most devices and platforms, including smartphones, tablets, and desktops.
As you may have noticed, these features aren't exactly game-changing. They are also what you would expect to see from an iGaming developer that has created as many games as Playson and has found its way onto many casinos. However, they are still worthy additions and while you don't always appreciate them when they are there, you certainly miss it when they are gone!
Best Playson Games
Playson isn't quite on the same level as the 3D-focused Betsoft. If you're looking for games with big graphics, detailed narratives, and a succession of exciting bonus features, Playson is probably not the right developer for you.
Instead, Playson games are very basic. They are not as dated and barebones as some of the old-school Microgaming and Playtech slot games that you might be used to, but they certainly prefer to keep things simple. There are a lot of fruit slots, retro slots, and basic arcade/video slots.
Whereas some developers explore many weird and wonderful themes and integrate features like Cascading Reels, Megaways, Sticky Wilds, Roaming Wilds, and Colossal Symbols, Playson tends to ignore these features in favour of a simple payline structure and some basic graphics.
These features do exist, they are just not as commonplace as they are on games created by other top slot developers.
It's not all basic and retro, though. That certainly accounts for the majority of Playson slot games but there have been a few bonus-heavy and 3D style slots over the years. These are outnumbered, but they still exist, and as this list of the best Playson slots shows, there are some gems among them.
Vikings Fortune
Vikings Fortune is easily one of the most advanced and modern slots in the Playson category, one that reminds us of the top games created by the excellent Yggdrasil Gaming.
As the name suggests, this Playson slot has a Viking theme, taking place in a mythical place steeped in Norse myth and filled with symbols that include golden coins and Vikings.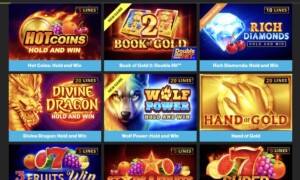 There are three jackpots and a few interesting features, including a big wild symbol, a Free Spins round, a Colossal symbol, and more.
If you are looking for a Playson game that offers several jackpots and bonus features, something that is a little different to the developer's average games, this could be just what you need.
Imperial Fruits
Imperial Fruits is a 100-payline slot game that launched in September 2019 and features an Expanding Wild that fills the whole reels. There isn't a lot going on here and if you're looking for bonus features you are going to be very disappointed. However, the three-figure paylines, along with the addition of the Expanding Wild symbol and the instant payout Scatter, makes for an interesting slot.
Although Imperial Fruits doesn't look like much on the surface, it is fun to play. If all that you care about is big wins and consistent returns, it's worth taking a spin. If you're more about 3D graphics and big features, you will need to look elsewhere.
Mighty Africa
We said that Playson doesn't really do Megaways and that it tends to keep its paylines on the short side. That certainly seems to be the case for the majority of the creator's games, but Mighty Africa is the exception and it's an impressive exception.
The slot takes place in the wilds of Africa, with long scorched grass stretching for miles beyond the reels and with lush green trees and clear blue skies in the background. The reels themselves are covered with simply but smartly designed wild animals, including rhinos, elephants, and buffalo.
The reels are what make this game unique, as they span a total of four rows and six reels. The sizeable game reels allow for a massive 4,096 ways to win. This "all pays" mechanic is backed by a strong wild symbol, and that's not all. If you make it through to the Free Spins feature, you will unlock up to 31,104 winning ways, adding more opportunities and creating a setup that would even put some Megaways slots to shame.
To top everything off, Mighty Africa has something known as a Wild Split feature. It's definitely one of the best slots in this creator's roster and one that will go down well with fans of games like Mega Moolah and Wild Gambler.
Chicago Gangsters
The Chicago Gangsters slot game was developed in 2018 and drops players into the heart of gangland Chicago, during the era of prohibition and of infamous villains like Al Capone. There are three jackpots, 20 paylines, and a combination of wild symbols and mystery symbols.
There is also a bonus game that is unlocked when 6 or more of the casino chip symbols appear anywhere on the reels. In the Chicago Gangsters bonus game, players are given a series of spins and respins and this is also where they have a chance of scooping one of the three jackpots.
Rome: Caesar's Glory
In Rome: Caesar's Glory, Playson takes players back to one of the great empires of the ancient world—a well-drilled and formidable machine that swept across large parts of Europe and North Africa.
Rome: Caesar's Glory launched toward the tail end of 2019 and features a unique reel set up. There are 64 paylines in total and these are spread out across an increasing number of rows. The first reel has just 2 rows, the second has 3, the third has four, and so on.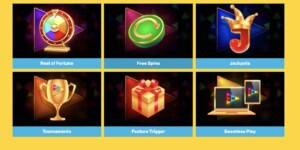 The distinctive reels make for a very unique experience and ensure that a spin of Rome: Caesar's Glory is unlike a spin on any other game. There are wild symbols, scatter symbols, and more. There is also a Free Spins feature, at which point the reels are flipped horizontally, putting the largest numbers of rows on the first reel.
There are many more Egyptian and Greek games out there than there are games based on ancient Rome, even though the Roman empire was considerably bigger. However, Playson has helped to create more of a balance with this slot and it's one of the best slots based on ancient Rome that we have seen.
FAQs
Can I Play Playson Games?
Just because you are in a region where Playson is licensed, doesn't mean you can play the games. The casino needs to have signed a deal with Playson to actually host its games. If no such deal is in place, you are out of luck! On the plus side, and as this guide shows, there is a huge number of online casinos that accept Playson games.
Are Playson Games Fair?
Playson games are very fair. They are licensed and audited by some of the biggest names in the gambling industry, including the strict UK Gambling Commission. These licenses allow Playson to operate in many major gambling regions around the world.
What is the Best Playson Casino?
There are too many to choose from, but we have made your choice easier by including all of our favourites at the top of this guide. Some of the casinos that stand out the most are 1xBet and LeoVegas.
What is the RTP of Playson Games?
Playson, like most modern creators, strives to maintain a high RTP and its slots are usually above 96%. Of course, it's not in the business of giving money away and the edge is still firmly in the casino's favour, but it's usually in line with the rest of the industry and tends to be a lot better than the RTPs found on much older slot games.
What is the Best Playson Game?
That is your decision to make! We have listed some of the best slots from this creator in our review above. As for our personal favourite, we tend to lean more toward Imperial Fruits and Rome: Caesar's Glory but we recommend taking a look at all of Playson's games and see which ones have what you are looking for.
Play Playson Casinos Now
If you like what you see here and are ready to start playing Playson slot games, now is the time to act! Just visit the sites listed on this page, find the ones that you like, and click the links. If you're ready to join, just find the Welcome Bonus, follow it through, and make sure you check the Terms and Conditions to ensure that you don't miss out. If you need a little more information on the site, including bonuses, payment options, and games, click onto our review.
We have covered many other top creators here at Coinbuzz and there is a wealth of guides out there, along with all corresponding casinos. Playson has a very old-school and fruit machine vibe, and it's a far cry from the 3D bonus slots that we have come to love, but it does bear somewhat of a resemblance to mobile-first developers like Thunderkick.
For more information, just visit our many category pages. These are linked in the main Coinbuzz menu above and you can also find clickable category pages at the bottom of all our online casino reviews.