Quickspin is an exciting, innovative developer that has produced some classic slots over the years and continues to churn out the classics. The Swedish-based creator has licenses from several of the industry's biggest regulators, including the Malta Gaming Authority. This allows it to operate across many major gambling regions and its titles are particularly popular in Europe.
If you're a fan of Quickspin slots, then this is the page for you. Scroll to the top of this page to find the best online casinos that host Quickspin games. Every single site listed here has games from Quickspin, and if you click the links, you can read our reviews on all of them, covering everything from bonuses and payment options to accessibility and more.
What is Quickspin?
Launched in 2011. Quickspin was founded by three guys with a passion for iGaming; three guys devoted to creating original and eye-catching slot machines. The company established itself as a promising young studio from the early days, operating out of Stockholm, Sweden, and creating games like the hugely successful Big Bad Wolf.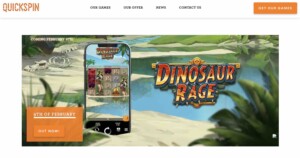 In 2016, Quickspin was acquired by Playtech, a brand that continues to drive the company's growth. Playtech is arguably the biggest brand in the iGaming industry and one that has multiple irons in the fire, including slot games, table games, Live Casino games, and even binary options trading.
Playtech has acquired many other promising studios over the years and while Quickspin is definitely not the biggest, it's one of the most innovative.
Quickspin continues to publish names under its own name and has produced several dozen titles over the years. It focuses more on quality than quantity, and there is no shortage of that.
The Best Quickspin Casinos
Quickspin is a popular developer and its games are hosted on some of the best Bitcoin casinos on the web. You can find a list of these at the top of this site.
But as popular as it is on Bitcoin casinos, it's even more popular on traditional payment casinos. Some of the most popular include PokerStars, 32Red, LeoVegas, and Unibet. Not only are these sites available in the United Kingdom and several other major gambling regions, but they have a wide selection of slots, bonuses, payment options, and more.
They also all have sportsbooks attached, so you can place a few bets on football, rugby, and cricket in-between games of Hall of the Mountain King and Big Bad Wolf.
Quickspin Features
Many of the best iGaming developers have created a single feature or mechanic that helps them to stand out from the crowd.
Microgaming, for instance, was the first to launch progressive jackpot slot machines. BetSoft created some beautiful 3D graphics and became known for producing better looking games than any other studio. Big Time Gaming created Megaways; Blueprint Gaming launched the Jackpot King series.
Unfortunately, Quickspin doesn't really have anything that sets itself apart from other creators. Or rather, it doesn't have a single unique feature, because it certainly tries to do things differently.
The great thing about Quickspin slots is that they are not simply generic re-skins of countless other slots. The Quickspin developers do their best to create slots that look great, play well, and are different to anything that has gone before.
iGaming studios are often lazy when it comes to creating new slots. They take a popular slot, change the graphics, and the release it under a different name.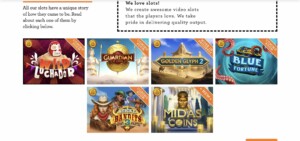 It's like if the video game industry took a popular adventure game, turned the characters into ones from a popular movie, added a unique soundtrack, and then slapped a license on it.
Players don't always notice this cheap trick, but when you've played a few games that have been given this treatment, you'll eventually get a feeling of "same-old same-old", and it gets very boring very quickly.
Thanks to Quickspin's dedicated approach to slot development, you don't get that feeling and you won't have that problem. The bigger developers can learn a lot from creators like this, which is ironic, considering that Quickspin is owned by one of those big developers.
Best Quickspin Games
Sticky Bandits
Sticky Bandits is one of the most popular slots that Quickspin has created, if not the most popular. It was so popular that it spawned two sequels.
Sticky Bandits adopts a Wild West theme and the "sticky" comes from the inclusion of a Sticky Wild feature. A lot of games in the Quickspin catalogue have a stylish aesthetic but don't really do anything special when it comes to features. Sticky Bandits is a little different and is truly fun to play.
Big Bad Wolf
Big Bad Wolf is a personal favourite of mine. It's not only my favourite slot game in the Quickspin catalogue, but it's one of my favourite overall. It's up there with some of the best slots from NetEnt and other big creators.
If it had been a little kinder to me in the past, I would like it even more, but its features and graphics make it a top slot regardless of how much it seems to hate me.
So, what makes it so special?
Firstly, let's focus on the graphics. It explores the story of the Three Little Pigs and the wolf that tries to blow their houses down. It's cute, it's stylish, and it's colourful. It's also very well illustrated and has a 3D feel to it.
The symbols are blocks of wood etched with the game's characters and playing card symbols. These symbols fall into place and build a wooden wall. Every time there is a winning payline, the symbols responsible for that victory will disappear, with new ones falling into their places from above.
When there are two successive wins, one of the pig symbols turns wild. If there are three successive wins, all three of them will be wild, but only for that spin. Once there is a non-winning spin, it will end and the next one will begin.
It is similar to the Avalanche feature employed by NetEnt on slots like Gonzo's Quest, as well as the one used by Microgaming on their Rolling Reels slots. It's this feature that makes Big Bad Wolf what it is.
Without it, Big Bad Wolf definitely wouldn't be one of my favourites. With it, you should definitely check it out.
Hall of the Mountain King
The Hall of the Mountain King slot has a massive jackpot and has produced some of the biggest winners in the history of Quickspin slot machines. It adopts a Nordic theme, which is one of the most popular in the online gambling industry.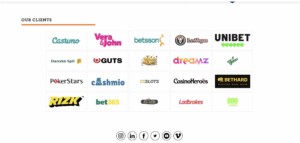 It's a theme that we have seen being used by the brilliant Yggdrasil Gaming, including in the Vikings Go Berzerk series. But it has also been used by NetEnt, Microgaming, and even the masterful Playtech.
I wouldn't go as far as to say that the Hall of the Mountain King slot was as impressive as the Age of the Gods Norse series published by Quickspin's owner, Playtech, but it's on par with the Vikings go Berzerk series. It's a solid little game that has fluid reels, big wins, and some interesting features.
If you are looking for a bonus-heavy slot machine with completely unique features, this is not the game for you and you'll be better off with Big Bad Wolf. If you're all about high RTPs and big jackpots, check it out!
Spinions Beach Party
The Minions were cute and amusing when they first appeared in Despicable Me. But then they stopped being sidekicks and the spotlight was shone firmly on the little yellow creatures. At that point, they stopped being cute and started being irritating. These days, the Minion craze has all-but died a death (thank god for small mercies), but you can relive the fad with Spinions Beach Party.
This slot is clearly based on the Minions, but they look a little different, it makes no mention of them, and they are not as in-your-face. As a result, it's a fun slot all-round and one that I would definitely recommend. The game takes place on a beach where, as you might have guessed, there is a party taking place.
It's full of cocktails, colour, and big wins. It's not completely unique and there aren't a great deal of features here, but there are some bonuses to unlock and a decent RTP. It also has the stylish and colourful graphics that Quickspin is known for.
Northern Sky
Northern Sky has a very unique aesthetic, unlike anything else in the Quickspin catalogue. In fact, it's unlike any other game aesthetic. Again, it's not the most unique when it comes to its features and you might be disappointed if you're expecting a game like the ones created by Betsoft, but it looks truly spectacular.
Kudos to Quickspin for trying something different and creating something original.
Durian Dynamite
The durian fruit is one of the most divisive fruits in the world. It is said to have a flavour akin to custard and is a very popular delicacy, but it also has a terrible smell and, as a result, some countries have banned people from opening it in public spaces.
It's a fruit that Quickspin has explored to the fullest in the Durian Dynamite slot, one that covers the "explosive" nature of this fruit. It is not as focused on the supposedly foul smell as you would think and is more like a simple fruit slot with a twist. Instead of cherries and lemons, you get a fruit that is supposed to be sweet and creamy, as well as disgusting.
FAQs
Can I Play Quickspin Casinos?
It depends on your location. Quickspin is licensed by a few major operators, including the Malta Gaming Authority and the UK Gambling Commission. This allows it to operate across most of Europe, as well as Canada, Australia, New Zealand, and more. But if its games are not licensed in your country then they won't be available in online casinos that are open to players in your country. It is why some online casinos claim to have certain games, only for them to not appear when you sign up and log in.
What is the Best Quickspin Game?
It depends on what you're looking for, as it's all down to personal preference. If you like Chain Reaction features and Wilds like me, then you're going to love Big Bad Wolf. If you're all about the big wins and want to spend all of your spins chasing them, take a look at Hall of the Mountain King instead. Quickspin has many great games for you to peruse. There really is a little something for everyone.
When Was Quickspin Founded?
Quickspin launched in 2011, which means it has had more than a decade to grow into the massively respected brand that it is today. The company was founded by three creators, all of whom had a passion for online gambling and gaming and wanted to bring something different to the industry.
Where is Quickspin Based?
Quickspin was founded in Stockholm, Sweden. The Nordic country is actually a popular base for the iGaming industry and has produced many great developers and casinos over the years. After all, it's the home of the massive Betsson, a brand that has dwarfed countless others and has also acquired several major companies.
Does Playtech Own Quickspin?
Playtech acquired Quickspin in 2016, adding this innovative development studio to its ever-expanding roster and maintaining its status as a behemoth of the gambling industry. Playtech creates a lot of games every single year but all games created by Quickspin are produced under its own name.
Is Quickspin Available on Mobile?
Yes, you can play Quickspin slots on your mobile device, with support for both iOS and Android. All of the company's slots are available on mobile and have been perfectly tailored to suit the smaller screens and touchscreen features.
Play Quickspin Casinos Now
You've learned about the best Quickspin slots, you've discovered everything that makes this brand unique—the only thing left to do is to play!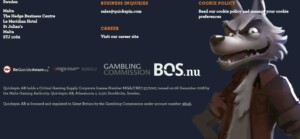 Visit the sites at the top of this page to discover the best Quickspin casinos and start playing.
All sites have been reviewed by our expert team of casino reviews and we have also highlighted all bonuses available right now, including Free Spins, No Deposit Bonuses, and Matched Deposit Bonuses.
Whether you're in the UK or Canada and whether you're a small stakes players or a high roller, you'll find a Quickspin casino for you!