Pros
Fast Withdrawals
Lots of Crypto Options
Great Games
Excellent Design
Sportsbook
Virtual Sports
Cons
Limited Welcome Bonuses
Live Chat for Members Only
SportsBet.io has been around since 2016, but in the last few years, it has taken off and is now one of the most competitive sports betting and online casino brands in the industry. You may have seen the logo of this crypto-friendly casino at the Emirates Stadium or plastered across the front of Southampton FC's kits, as it has worked closely with several football teams.
…one of the most competitive sports betting and online casino brands in the industry.
If you've been wondering what the site is, what sort of bonuses it offers, and whether or not it's worth your time, this is the page for you. Take a look at the following SportsBet.io review for more info on this promising gambling domain.
Basics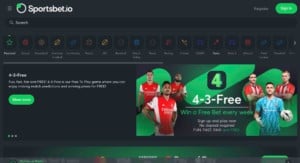 If you have read any of my previous reviews, you'll know that I can be very critical about casino themes and layouts. I often refer to Cadabrus Casino as the prime example of how it should be done, but I have also praised sites with much simpler and plainer layouts, providing they are easy to navigate.
It's something that you think would be universal considering how much money is spent on these sites and how much of that should be going to developers. But it's not. They often look generic and dull, and when they don't, they tend to be overly cluttered, messy, and inconsistent, as seen with sites like Space Lilly Casino.
With all of these disappointments fresh in my mind, I was half-expecting to experience the same issue with SportsBet.io, but I was pleasantly surprised to see that it was smartly designed and very cleanly laid out.
It adopts the classic black and white aesthetic, but it does so in a way that is not headache-inducing. The black has a slightly lighter shade, and the white text is actually closer to grey. The menus and texts are finished with occasional splashes of colour and these help to make everything stand out and ensure that it's not just a series of dull blocks of text.
It's something that you have to see for yourself to understand, but the takeaway is that SportsBet.io has clearly spent a lot of time and money on creating a site that looks and feels just right, and that's something that just can't be said for the majority of online casinos out there.
It even lets you switch the aesthetic from "PM" to "AM", with the latter turning everything white and making it a little clearer. However, while it's good to have this option and while there are players who may prefer it, the PM is so well considered that most people will be happy with the default.
Software and Games
Microgaming is one of the biggest developers providing games to the SportsBet.io games room, but there are many others to get excited about. It also hosts brilliant 3D titles from the masterful Betsoft, as well as innovative slots from Yggdrasil, Quickpin, NetEnt, and more. This is really just scratching the surface of what's available and you can find a full list of all available developers at the bottom of this SportsBet.io review.
In addition to the many slots and table games, there is a Live Casino, and you'll find a number of Evolution Gaming titles within. As the name suggests, SportsBet.io is also a sportsbook and while this section of the site is clearly a major focus, it doesn't detract from the great casino.
You don't need to be a sports bettor to join SportsBet.io and it's possible to sign up, collect a bonus, play some games, and never even both with the sports betting side of things.
If you do enjoy the occasional sports bet, you'll be happy to know that SportsBet.io has a wide selection of betting markets across numerous sports, including soccer, ice hockey, American football, basketball, Aussie Rules, boxing, rugby, golf, and handball.
Esports are very well represented here and you will find betting markets for all kinds of professional gaming leagues and events, including those related to battle arena games like League of Legends (LoL) and real-time strategy titles like StarCraft.
Many betting markets are available in-play and while it looks like there are no live steams, there is a link to a free radio station that broadcasts most major soccer games, including all fixtures from the English Premier League. It's not quite the same as indulging in the occasional live stream, but we're talking about a relatively modest Curacao casino here and not a rival for massive brands like bet365.
One of the sections I'd recommend checking out is the Bombay Club. Initially, I thought it was a VIP Club, and I was quite disappointed to learn otherwise, but it's still a decent section that's worth checking out. It's basically just a Live Casino with premium games set in an elegant studio. Of course, if you're not a fan of Live Casino games then there won't be much here for you. If that's your thing, give it a go!
Other sections to consider include Virtual Sports, which I always like to play when I review casinos and sportsbooks, and Video Bingo, which I'm less excited about. Generally speaking, SportsBet.io covers many bases when it comes to its gaming and betting sections, and just as importantly, it clearly lists all of its categories, making it easy to find what you're looking for.
Bonuses and Promotions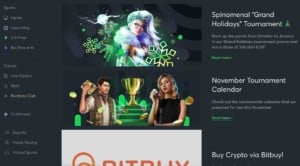 There are Free Bets, real money tournaments, and a VIP scheme on SportsBet.io. Unfortunately, however, they are not big on Welcome Bonuses and this is one of the few areas in which the site disappoints. It is a sportsbook before it's a casino, which might be one of the reasons why, but it's still disappointing.
On the plus side, the focus on reload offers and loyalty offers is great news for high rollers and for players looking for a long-term casino. If you're just here to grab a Welcome Bonus and then leave when it's over, you might be better off on a site like Oshi Casino, where there are more bonuses catered toward new players.
Payment Options
Usually, the payments section is one where I spend a lot of time ranting about withdrawal limits and unnecessarily slow transactions. There's not much to say about SportsBet.io because there's very little to complain about.
All withdrawals are processed in just an hour or so, there are no annoying limits, and players can choose from a huge range of payment methods, including multiple cryptocurrencies.
For a full list of all SportsBet.io payment options, check the table underneath this review.
Highlights
A Dedicated Online Gambling Destination
Design is Easy on the Eye
Sports Betting and Casino Gaming
Supports a Range of Cryptos
Fully Mobile-Friendly
User Reviews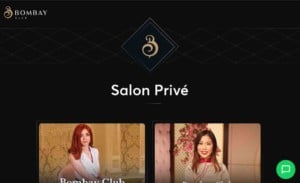 There are loads of great reviews out there for SportsBet.io, and they are kind of mindless in their praise. That might sound like a harsh comment, but I prefer to see reviews that have some form of criticism. Nothing is perfect. Nothing is 100/100. And a little criticism goes a long way in telling people about the realities of a brand.
However, after digging through dozens of reviews, I found a couple of minor complaints that seem to appear multiple times.
The main one is with the customer support side of things. Personally, I found the customer support to be excellent and very helpful, so I'm not sure if those customers just got a grumpy support team member or if the brand has made some significant improvements over the last few months.
One area that definitely needs improvement is the availability of Live Chat. As things stand, it's only available to active members and you need to log in before you can use it. I understand why a casino might place such limitations on their Live Chat feature, as it helps to reduce the time wasters and ensures they are only dealing with members, but I don't agree with it.
After all, Live Chat spam isn't very common as automated spam software tends to focus on email addresses and contact forms. As a result, it means that the only messages they are reducing are the bonus queries, payment queries, and other genuine concerns from potential players.
If you went to a supermarket and saw a sign that said, "Please buy something before asking for help", you'd be pretty annoyed. That's essentially what's happening here, and I just don't like it.
In addition, I noticed that the SportsBet.io support team doesn't respond to reviews placed on major casino review sites. This is another personal bugbear of mine, as responding to reviews shows that the casino is listening and gives the player an option if they can't get a response through the usual channels. It's an additional layer of support and security for when you feel like you're constantly coming up against a brick wall when you contact support.
I think that all casinos should openly respond to negative reviews and complaints, as noted in my review of the excellent Syndicate Online Casino.
FAQs
Can I Join SportsBet.io in the UK?
Usually, we answer this question with a resounding and disappointing "no". In this case, it's still a no…but there is an exception. As SportsBet.io is licensed by the authorities of Curacao and not the UK Gambling Commission, it is not available to players in the UK. However, if you visit the site from the UK, you'll be redirected to a version of the site that you can join and play. Sportsbetio.uk looks very similar and offers many of the same great features that you will find on SportsBet.io. The difference is that it has the license it needs to offer its services throughout the United Kingdom.
Can I Play SportsBet.io in the United States?
Although SportsBet.io has sites operating across the UK, Canada, Australia, and other key gambling regions around the world, it is not available in the United States. As discussed many times on this site, the US is very strict when it comes to online gambling and your options are limited if you live in the US.
Can I Play on Mobile?
Yes, like many reputable online casinos we have covered, you are free to play this online casino and sportsbook on your mobile device. It should be compatible with most devices, and you can play directly through your browser, with no need to download anything.
What is SportsBet.io?
SportsBet.io is owned and operated by mBet Solutions N.V., not to be confused with mBit Casino which is actually owned by DAMA. It launched back in 2016 and is a blend of online casino gaming and sports betting markets that is tailored to players all over the world.
Does It Accept Bitcoin?
Yes, you can use Bitcoin and a range of other cryptocurrencies at SportsBet.io. In addition, as noted in the above review, all withdrawals are processed in just an hour or two and this is true for cryptocurrencies as well.
Is SportsBet.io Licensed?
Yes, it operates under a Curacao eGaming License, which means it is allowed to offer its services to players across many major gambling regions worldwide, including Canada, Australia, Germany, and India.
Final Thoughts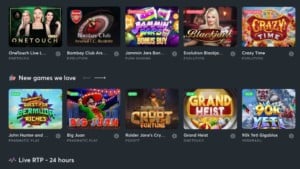 Online casinos get very "samey" after a while. Trust me, I have reviewed hundreds of them and have encountered countless others. It's no wonder, as they have the same games, payment options, and even bonuses. They work with many of the same white label providers and they provide turnkey solutions.
Searching for a new online casino can feel like buying a new house. You see loads of different options. Some are small; some are big. Some have an extra section, others are easier to access. But during all of those seemingly endless viewings, you can't shake the feeling that everything is the same.
It's a cookie-cutter approach that you'll find in many industries these days.
To be different, you need to get the basics right—just like everyone else—and then nail the small touches. It's the small things that many casinos struggle with.
They have big Welcome Bonuses, but no loyalty offers; packed gaming rosters, but terrible category and filter options; great mobile support, but a desktop site that looks like trash.
SportsBet.io doesn't have the same problem. It's a casino that has developed a lot of time to crafting a casino that looks great, feels great, and won't leave you with a sense that you've seen it hundreds of times before.
With the exception of brilliant casinos like Bitstarz, it's rare that I leave a review so impressed. It's not quite perfect, and I would have preferred to see them respond to reviews and open their Live Chat to non-members, but minor issues aside, this is a top site with a lot to offer its players.
SportsBet.IO Casino Review Details
Restricted Countries:
Estonia
Germany
Italy
Netherlands
Slovakia
Spain
Sweden
Switzerland
UK
US
Languages:
Chinese
English
French
German
Japanese
Russian
Turkish
Vietnamese
Currencies:
BRL
BTC
CAD
CNY
ETH
EUR
GBP
INR
JPY
TRY
USD