Pros
Massive Site
Established Brand
Long-Running
UK-Regulated
Sports Betting and Casino Games
Lots of Options
Big Limits
Cons
Slow Support
Slow Withdrawals
bet365 is a giant in the UK gambling industry. It has a massive sportsbook and is also the proud owner of one of the country's biggest online casinos. Whether you're playing slots or Live Dealer games; placing bets pre-game or in-play, bet365 is a good option to have.
the proud owner of one of the country's biggest online casinos.
In this bet365 Casino review, I'll take a closer look at the site and see how it compares to other top sportsbooks and casinos on the market, including the excellent but flawed Rabona.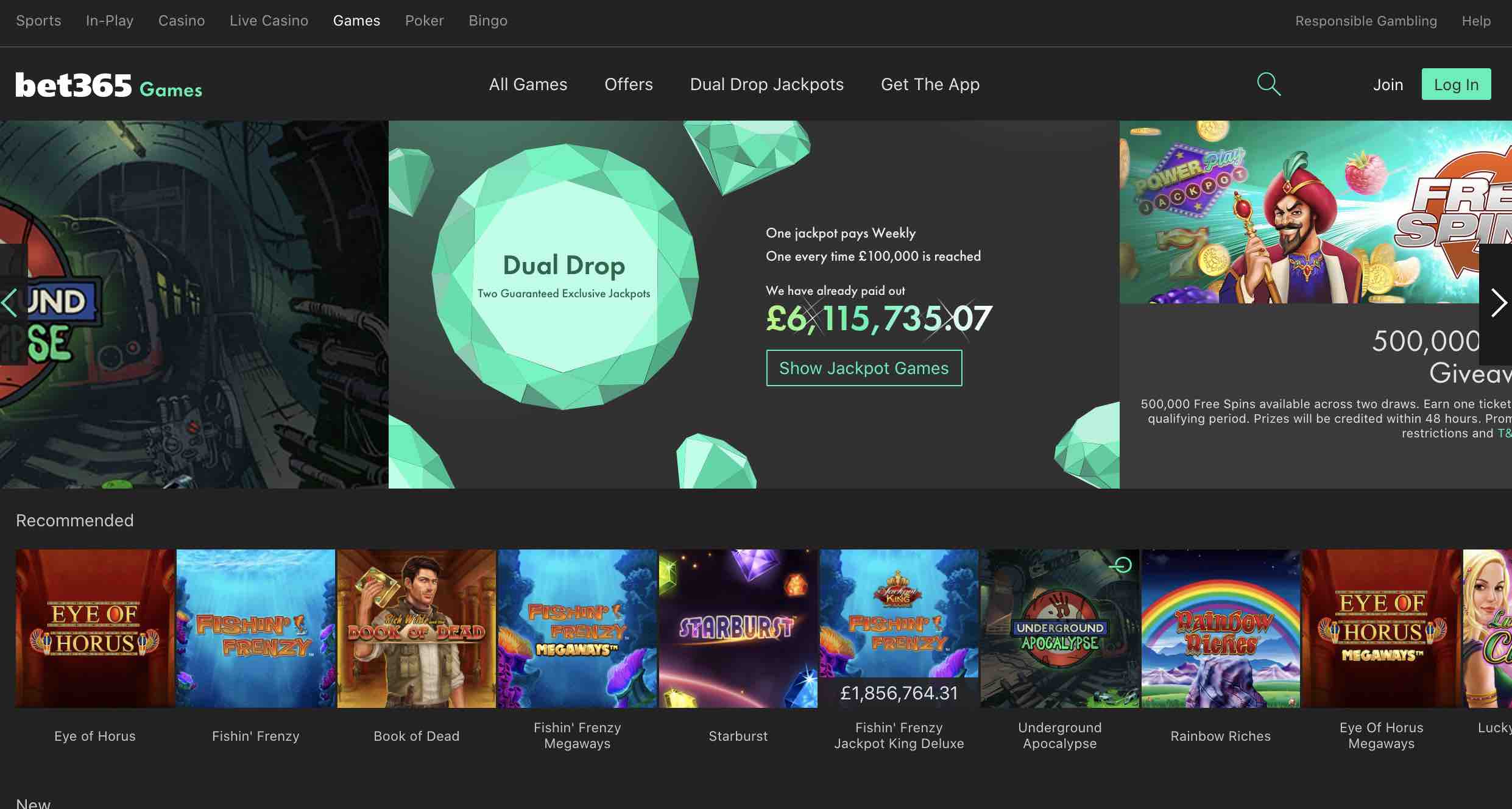 Basics
I have a few issues with bet365. It might seem like I am nit-picking, and it may even seem like I am being overly negative, but I want to make it clear that bet365 is a great site on the whole. So, before I start picking faults with the payments and the customer support, let's get some of the good stuff out of the way.
First up, the software that bet365 uses is one of the best I have seen. On the casino side of things, it is up there with the excellent 32Red in that it has a lot of games, promotions, and other features, but manages to create a clean aesthetic and makes sure that everything is navigable.
On the sportsbook side, it's even better. bet365 is probably the busiest site in the marketplace, with more betting opportunities, sports, live streams, and in-play bets than any other site. But despite all of this, it manages to condense everything into a neat and easy-to-use format. It's also very quick.
You could be forgiven for thinking that these things should come as standard. And I used to think the same, but then I encountered several sites that are as big as bet365, but are nowhere near as good. I won't point fingers (not yet, but I will get around to reviewing them) but these sites are so incredibly flawed. bet365 looks like a masterpiece next to them, but you don't need to have played at the worst to acknowledge the best, and even novices will appreciate how bet365 looks and feels.
Software and Games
As is the case with most UK-focused sites, bet365 keeps different aspects of its site separate from one another. You'll need to visit the "Casino" if you want table games and certain jackpot slots and "Games" if you want to find the majority of the site's slots. There is also a dedicated Live Casino section and a Bingo room, the latter of which contains a bunch of slots, as well.
Playtech is by far the biggest provider and is responsible for most of the site's games. I never used to be a big fan of Playtech as I felt that they were too focused on the Marvel Superhero Slots and on making sure these games attracted fans of the film franchises. But ever since they lost the Marvel license and were forced to switch to Greek and Norse gods, that has changed.
Many of the conversions were terrible, but most of the dedicated games released since then have been great. There is also a solid DC Super Heroes jackpot series and the magnificent Kingdoms Rise series. All of these games have jackpots attached and it's possible to win 6-figures with a single spin.
Blueprint Gaming is another big developer available here and it's also a personal favourite of mine, with stand out titles including The Goonies, Naked Gun, and Deal or No Deal Megaways.
NetEnt, Big Time Gaming, Pragmatic Play, Play'n Go, and a few others throw their hats into the ring and bet365 even has exclusive slots, which is always a good sign. These games are a little hit and miss, but they include some interesting titles like Diner Dough and Underground Apocalypse.
As noted in my Slotman Casino Review, exclusive games show that the site is willing to push the boat out. It also shows that they have the resources and the player numbers to make these games work, as it's not something you'll see on a small casino with very few players.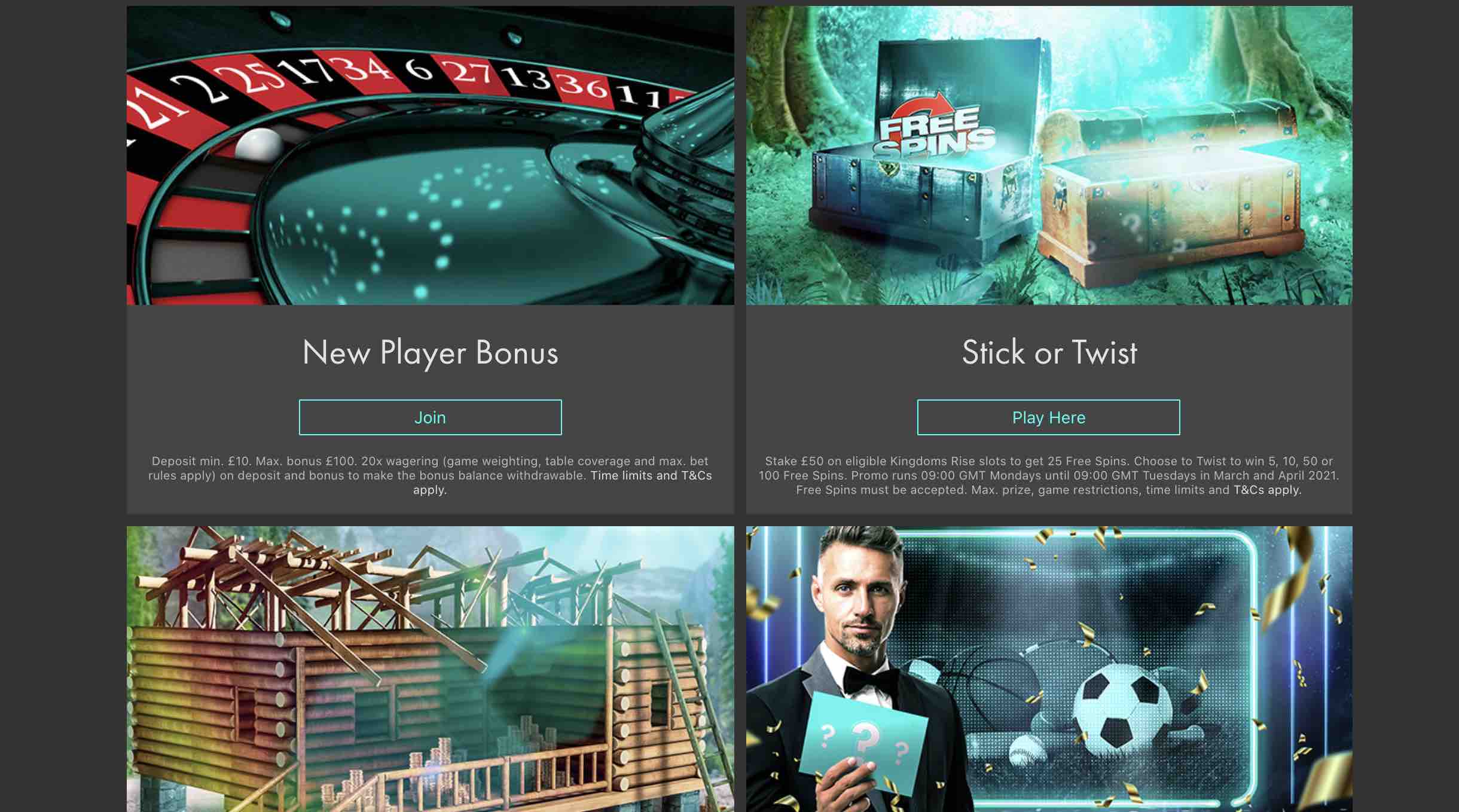 Bonuses and Promotions
bet365 has stacks of bonuses for new and loyal players. These include Accumulator Bonuses, Reload Bonuses, and a Sportsbetting Bonus for New Players. The biggest bonuses are available on the bet365 Casino, where all new players can get up to £100 when they deposit £10.
Once you sign up and collect, make sure you pay attention to the promotions page and remember that this differs for each area of the site, most notably for the sportsbook and the casino.
Payment Options
A number of years ago, it was perfectly normal for casinos and sportsbooks to hold onto your winnings for 1 to 3 days before releasing them. This began to change outside of the UK and it eventually made its way into the UK. Unfortunately, I missed that change, and I missed it because I was only using bet365 and Betfair at the time.
When the rest of the UK gambling industry was adapting quick payout methods, bet365 was still holding onto winnings for much longer than necessary. I spent a period of about 2 years where I only played at bet365, Betfair, and a couple of online casinos, and I remember the day when I eventually changed and moved over to PokerStars Casino.
I had been using the site to play poker at the time and it had just launched a sportsbook, so I was keen to check it out. After a couple of deposits, I won a large sum of money and then made a withdrawal. I expected to wait a couple of days, as that's what I had become accustomed to. In fact, I stupidly assumed that bet365 was quicker than others and that PokerStars would take up to a week as a result.
Imagine my surprise when my inbox pinged mere seconds later with a notice telling me that PokerStars had withdrawn money into my account.
It's not just PokerStars, either. In the years since then, most major sites have made the switch to superfast withdrawals, but bet365 has remained on the slow side.
At best, you will need to wait 24 hours for your payment to clear, but this is really only true for working days. If you're using debit cards, you will need to wait even longer.
I know what you're thinking, 24 hours is nothing, but when every other company is processing payments instantly, it can feel like a lifetime. There are also some slow bet settlements here and it can be infuriating. I have noticed it more with regards to MMA and boxing than anything else, but it has happened with other sports.
Basically, there have been many times when I have watched a boxing or MMA event and saw losing bets settle instantly (mostly on the Over/Under markets) while winning bets don't settle until after the entire event is over, often 5 to 6 hours later.
Again, it's minor, but it's another area in which bet365 is very slow. And that's kinda ironic, because the site itself is super quick and is one of the smoothest and most fluid sites I have played at.
Highlights
Massive UK Gambling Site
Variety of Playtech Games
Lots of Jackpot Titles
Slots from Blueprint Gaming
Big Live Casino
Customer Support
On the surface, bet365 has some very good customer support. Its Live Chat operates 24/7 from what seems to be a UK/Ireland base, it has an extensive FAQ, and it can also be contacted by email. The problem is, once you dig underneath the surface, you'll find something differently entirely.
I can say this for a fact as I have been a bet365 member for a number of years and have played casino games, placed bets, and even dabbled with bingo throughout that time. My most recent experience, which occurred just 2 weeks before writing this review, is a perfect example of why the support needs work. It's also the exact same experience that I had several months ago, a year before that, and even 2 years before that, suggesting that this issue is not temporary.
It began when my bet365 balance suddenly appeared as -£44. I had no idea why this had happened and nothing was showing in my transaction history or under "recent account changes". I was active on the account at the time this change occurred, so I knew it had happened within the last few seconds, and yet my account didn't show anything over the previous 2 days.
My first point of contact was the Live Chat. It was late in the evening, but for 24/7 Live Chat, that shouldn't be an issue. It said I was the first in the queue, and so I settled down for what I thought would be a short wait. Thirty minutes later, I was still the first in the queue. After 2 hours, it was well past my bedtime, and there was still one person ahead of me.
It was like waiting at the supermarket behind a little old lady who suddenly dumps 5 jars of pennies and half a dozen coupons on the till.
I gave up and emailed them. It has a feature that allows you to email from your account and automatically shows the customer support team member which customer is emailing them, so I figured this would be quick and easy.
Four days later, they finally replied to ask me for further details about my account. Not so they could help me, but so they could confirm who I was.
I reluctantly gave them the details and now, another 2/3 days later, I am waiting on their second email.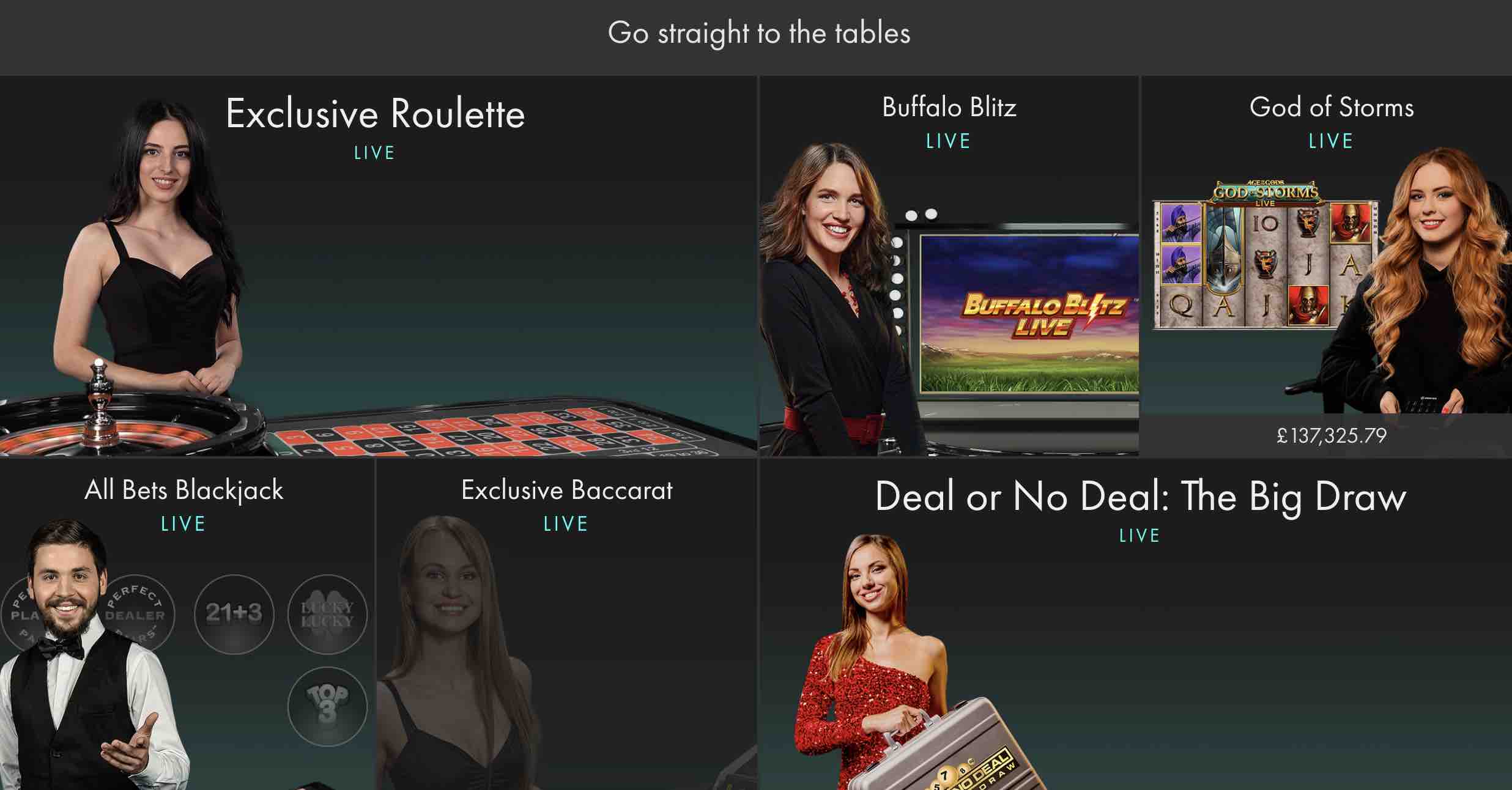 We're talking about a site that processes a lot of money and deals with anxious gamblers. It's important to respond in hours if you can and if not, you should at least aim for under 2 days. This is not 1995, it's not snail mail, and it shouldn't take this long!
With William Hill Casino, for instance, you can get a reply within a few hours. It's just as big and has just as many players, so size is not an excuse.
Don't get me wrong, bet365 support can be helpful when they reply, but it takes too long for that reply to arrive. Therein lies the issue here, because while the site has a lot to offer, if you ever encounter an issue that needs immediate attention, you better put the kettle on and call in sick, because you have a long wait ahead of you.
Oh, and if you're wondering what happened with the -£44…I have no idea. My best guess is that they settled a previous winning bet incorrectly and then decided to correct it out of the blue and without confirmation. I was initially very angry, but after several days of waiting, I lost interest.
FAQs
Does bet365 Accept Bitcoin?
You cannot deposit or withdraw using Bitcoins and the site doesn't accept any other cryptocurrencies, either.
How Long Does It Take to Get My Winnings?
It depends, but it is usually at least 24 hours, during which time your fundd will be available for reversal.
Can I Join bet365 in the US?
You cannot play here if you are based in the United States.
Is bet365 Regulated?
bet365 is regulated in the United Kingdom under the trading names Hillside UK Sports and Hillside UK Gaming.
Can I Watch Live Streams at bet365?
If you have an account and have deposited or wagered money, you can watch sports live. There are lots of live events to choose from and it is particularly good when it comes to snooker and South American football matches. If you're going to be watching a lot of these events, I recommend keeping a few quid in your account at all times, otherwise it will prevent you from watching.
Does bet365 Have Responsible Gaming?
Yes, you can use timeouts, deposit limits, self-exclusions, and other commonly used tools. There are also Reality Checks that warn you periodically when you have spent too long on the site.
Final Thoughts
bet365 needs work, there is no doubt about that. The customer support is outdated and far too slow. If I need help from PokerStars Casino, I email them and they reply within a couple of hours. The same is true for many other sites. In fact, the last three casinos I reviewed all replied to my emails within 5 minutes. In one case, it came so quickly that I assumed it was an auto responder and ignored it.
Even independent eBay stories operating out of peoples' garages and kitchens have faster and more efficient customer support, so there's just no excuse. And that's a shame, because if it fixed this sizeable issue, it would be one of the best casinos and sportsbooks that I have reviewed. In fact, even in the face of my bad personal experiences with the site, I still use it on an almost weekly basis and it is one of my go-to sites for sportsbetting and Blueprint games.
In terms of its games, bonuses, limits, and safety, you can't go much wrong. The variety is also immense, like a more polished and UK-focused version of the excellent MELbet casino and sportsbook. But despite all of that, the importance of customer support cannot be ignored, not when you could be giving these guys hundreds and even thousands of pounds and relying on everything to work.
The withdrawals are also far too slow and this is something else that is unforgivable for a major site. As noted already, many of bet365's competitors release withdrawals instantly, and if they can do it while working in the same market, with the same provider, and under the same regulator, then bet365 should be doing it as well.
bet365 Casino Review Details
Restricted Countries:
Africa
Asia
Bulgaria
France
Iran
Iraq
Israel
Italy
Switzerland
US
Languages:
Arabic
Chinese
Czech
Danish
English
French
Greek
Portuguese
Russian
Spanish