Pros
Lots of Great Games
Unique Slots
Cryptocurrencies and Fiat Currencies
Top Operator
Cons
Slow Withdrawals
Withdrawal Limits
He's big, he's strong, and he wears an S on his chest. We know what you're thinking, but this is not the Last Son of Krypton and we're not announcing a new Man of Steel or Batman vs Superman flick. This particular S-based superhero is a slot-obsessed gamer known as Slotman.
Slotman is the mascot for the casino that carries his name. If you read our GunsBet Casino Review you will know that we're fond of action-themed casinos that go all-out with their themes. The question is, does Slotman take things far enough? Is it faster than a speeding bullet or is it firing blanks?

Basics
Direx N.V. operates Slotman Casino and launched the site in 2020. It seems to target the European, Canadian, and Australian market, as noted by its focus on Euros and Rubles and the fact that its only languages are Russian and English (with options for Australian and Canadian English). Slotman is a cryptocurrency and fiat currency casino, and it lets players deposit and play in currencies like Bitcoin, Bitcoin Cash, Ethereum, Litecoin, Tether, and Dogecoin.
If you've read any of our other top Bitcoin casino reviews, you will have no doubt seen the name Direx appear a few times. That's because this Curacao-licensed operator owns some of the biggest Bitcoin casinos in the world right now, including pretty much half of our top-rated list.
One such casino is Wild Tornado. All of its casinos tend to offer something a little different and unique. Players will find over 1,000 table games at Wild Tornado, for instance, while some of its other casinos focus more on slots, unique themes, an array of banking options, or generous Loyalty Schemes.
Slotman doesn't really do anything this unique, but as we shall see, it does have some great promotions and offers. It also has an expansive games room with some titles you may not have played elsewhere.
…it does have some great promotions and offers.
Bonuses
Your first deposit with Slotman Casino could generate up to €150 in credits, along with 60 Free Spins. This is followed by two additional deposit bonuses, which means the whole offer looks like this:
100% up to €150 (and 60 Free Spins)
75% up to €250 (and 50 Free Spins)
50% up to €300 (and 40 Free Spins)
You need to deposit at least €20 to qualify (or the equivalent in your chosen currency) and there is a 25x wagering requirement that applies to both the deposit and bonus amount. Free Spins are released in daily batches of 20 and are fixed to specific games.
The casino has a small selection of reload bonuses in addition to this Welcome Offer and there is also a VIP Scheme. You can advance through 5 levels in this Loyalty Scheme, turning your Loyalty Points into bonus credits during the first few levels and swapping them for real cash during the latter two. You don't need to be a high roller to join and every player will be added to this Loyalty Club as soon as they join.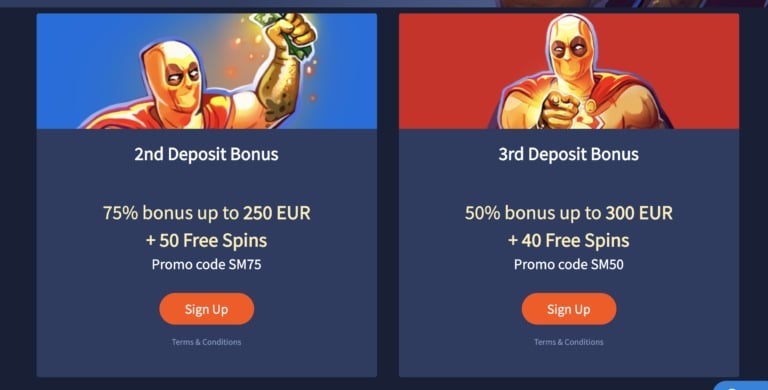 Software
Slotman Casino hasn't really gone all-out with the theme. As we've said many times before, if you're going to have a noticeably unique theme, try to make it standout.
It needs to go much deeper than a simple name and logo, as well as a few images thrown in every now and then. A great example is the medieval themed KingBilly casino. Not only does its theme feature throughout the website, including on its games, mobile software, and even its banking options, but it also plays a significant role in its Loyalty Scheme.
With Slotman, you get the Superman-style logo, an image of the titular hero, and that's about it. There is a Slotman game (developed by Spinomenal), which is a nice addition, even if the title itself is far from excellent, but that's about it.
It's worth noting that this casino has a number of Betsoft games, including one of our favourites: Spinfinity Man.
In case you didn't know, Spinfinity Man is about a slot-themed superhero who stands proudly over the reels and takes part in several features. If that slot wasn't tailormade for this game, then we don't know what is. There is also a glut of other top superhero slots they could have used and highlighted, from the DC Superheroes slots offered by Playtech to the titles owned by Microgaming.
We feel like Slotman Casino has missed a trick here, and we were a little disappointed when we opened the casino and saw the same-old boring and simple aesthetic, followed by the same-old series of games.
Games
Based on what we said above, you would be forgiven for thinking that we don't think a lot about the Slotman Casino selection of games. However, this is not entirely true, as the casino has a very good selection and there were even some titles that we had not seen before. The most unique games that we found are located in the "Other" section of the Slotman games room.
Some of these seemed very enticing, but were actually just incredibly confusing. Football Manager is a prime example of this. We hoped for a slot themed around the classic computer game of the same name, one that we have been obsessed with since it was known as Championship Manager. We expected to get a generic version, something that combined elements of football management with interactive slot features.
What we actually got had nothing to do with any of this and was simply a confusing betting game that we couldn't get to grips with.
There was also a Penalty Shootout game, which inexplicably features an animated girl in a short skirt who seems to be depicted as part-linesman and part-cheerleader. Maybe she's there to district the goalkeeper, maybe she's a fan, we're not sure, but when the game begins, it's actually really good. It makes for a nice change if you're used to playing slots and are a football fan.
Both of these games are provided by EvoPlay, which has some solid titles under its belt. But this is just one small developer in a games room surrounded by top creators. There are games from Betsoft, Quickspin, Yggdrasil, Play'n GO, Amatic, Endorphina, and over two dozen other big names. All of these combine to create a roster that spans hundreds of top real money titles.
In addition to its varied selection of slots, players can take their pick of table games. You will find all the usual suspects here, including Three-Card Poker, Blackjack. Baccarat, Roulette, and Craps. In addition, there are a few lesser-seen titles, including Teen Patti, Sic Bo, and much more.
Evolution Gaming, Ezugi, and Pragmatic Play provide Slotman with Live Casino titles and these are just as varied, including Power Blackjack, Auto Roulette, All-Stars Blackjack, and more. The gaming selection is not as vast as Cleopatra Casino, but there's more than enough to keep most players happy.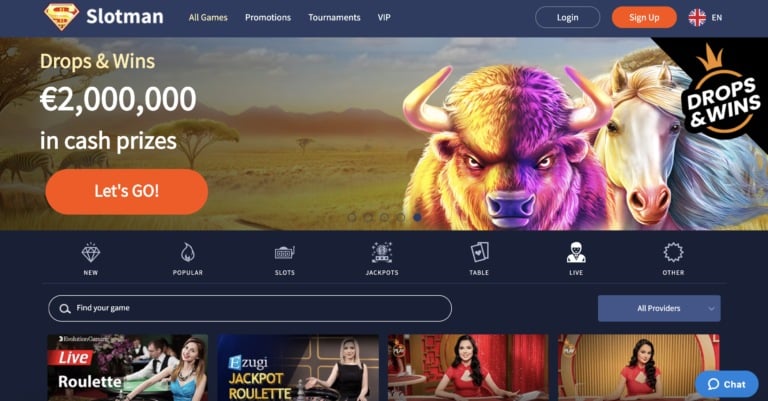 Payment Options
If you're using Bitcoins at Slotman Casino, you need to deposit a minimum of 0.003 BTC and there is no upper limit. It's a much better option than fiat currency methods, where the minimum is €5 and the maximum is €4,000.
According to the payment page, the maximum withdrawal for Bitcoin payments is 10 BTC, which is quite considerable, while the maximum for more other currencies is €4,000, which is not. However, if you look at the Terms and Conditions, you will see that the maximum withdrawal per transaction is just €2,000, and the maximum per month is €30,000.
This is true for all payment methods and for all currencies. The payment page is very misleading, and we can only assume that the maximums displayed relate to the amount that can be requested. For instance, if you withdraw 10 BTC, which is seemingly allowed, then according to the Ts & Cs, it will be withdrawn in amounts equivalent to €30,000 a month, with no more than €2,000 a day or €10,000 a week.
Furthermore, if you win more than €15,000 in a single transaction, the casino will split the sum into instalments of €15,000 and pay monthly.
This is not exactly conducive to high roller activity and while we understand that most readers of this site and most players at Slotman won't fall into that category, it still excludes a lot of players. It also means that any jackpot wins will be paid gradually, and not all at once.
The good news is that this should not apply to progressive jackpots, as these are released by the developer and not the casino.
Highlights
Great Games
Top Operator
Unique Theme
Big Bonuses
Huge Live Casino
User Reviews
The early reviews for Slotman Casinos were very positive. Players were quick to try Direx's new gambling destination and the reports were good. Of the bad reviews that exist for this casino, many revolve around the verification process, with players arguing that it took between 3 and 5 days and that they were asked for a lot of documents.
We've been using online gambling sites since the early 2000s and we've been asked to verify our information dozens of times since then. Some sites do this straight away, using automated systems to ensure everything is quick and painless. For others, it can take a day or two. The longest we've ever been asked to wait is over three weeks and in the end, they didn't resolve the issue, we just gave up, blew the money, and went elsewhere.
We get that it is frustrating to be asked to undertake this process, especially when they keep rejecting perfectly acceptable documents that have been accepted elsewhere. However, it's par for the course these days and unless it takes more than a week, it's not really worth getting angry about.
Sometimes, the members of staff reviewing your documents make a mistake. Maybe they are more diligent than their colleagues. Maybe they just want to be extra sure. It's just one of those things.
To avoid any frustration down the line, you can start the process early, although this really only works if you plan on using the casino for a while and many players don't know if they will remain from one day to the next.
What we would say, however, is that when an issue occurs, and you feel the anger rising, you should file a complaint or make your anger known in a review. Slotman goes out of its way to respond to all reviews, which is always nice to see, and if they are unable to resolve your issue directly through email or Live Chat, they may resolve it here.
Oftentimes, the support team tasked with dealing with bad reviews and complaints is different from the one you speak with when you use Live Chat or ask a question about email. They have more power, can make decisions with regards to goodwill gestures, and are usually more willing to help.
FAQs
How Long is the Welcome Bonus Active For?
These things usually last for a long time. We have been checking and updating this review a lot and if the bonus changes, it will change here as well, so the one you see is always the active one.
Does it Have a VIP Scheme?
What is the Withdrawal Limit?
You are limited to withdrawals of no more than £30,000 a month.
Is it Slotman Casino Licensed?
Yes, it has a license from the authorities of Curacao.
Can I Play Slotman from the UK?
You cannot join if you are in the United Kingdom.
Can I Play in the US?
You can't join or access from the United States.
Conclusion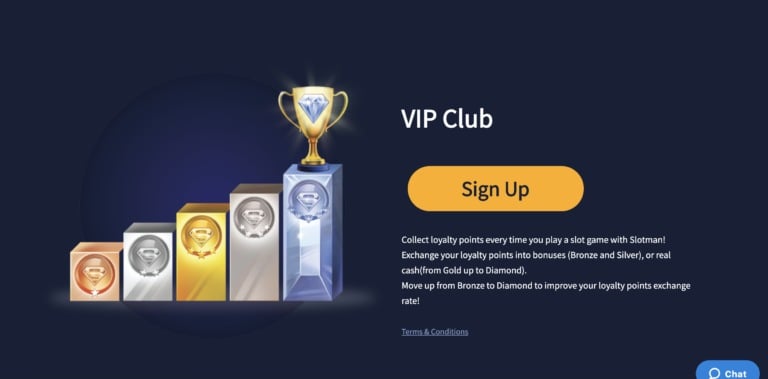 2020 was a crazy year. We're actually writing this review in the tail end of 2020, but we feel like maybe using the past tense will make it easier to forget about it and all the chaos it has wrought on the world. Despite all of this destruction, caused by the virus that shall not be named, the online casino industry thrived in 2020.
It makes sense. After all, more people found themselves trapped behind closed doors with nothing to do. They were desperate for a release, some entertainment. In addition, you had an entire sports betting industry that had been brought to its knees, leaving everyone from weekend casual gamblers to daily high rollers desperate to make a bet.
As a result of all this, 2020 became a relatively prosperous year for brands like Direx N.V., and Slotman is just a small part of that success. It is not as big or as impressive as Bitstarz or Oshi, which are owned by the same brand. In fact, Oshi offers up to 5 BTC for all new players, which makes the Slotman welcome offer look very poor by comparison.
However, it is a very good and respectable online casino in its own right. Slotman is definitely worth a look, and if you're a small or medium stakes player looking for a new casino, one with bonuses you haven't used, offers you haven't collected and games that you know and love, sign up today.
Slotman Casino Review Details
Restricted Countries:
Estonia
France
Israel
Italy
Lithuania
Netherlands
Spain
Sweden
Switzerland
UK
US
Currencies:
AUD
BTC
CAD
DOGE
ETH
JPY
LTE
NOK
NZD
RUB
USD
USDT