Paysafecard has been around since 2000 and is one of the most popular payment methods in the online gambling industry. It is owned by the Paysafe Group, the same company behind the equally popular Skrill and Neteller, but it works in a completely different way.
If you're new to Paysafecard, take a look at this guide to discover how it works and what the best Paysafecard casinos are.
The Best Paysafecard Casinos
Before we dive into the finer points of Paysafecard, asking questions like, "How does Paysafecard work?" and "what are the pros and cons of Paysafecard?", let's look at some of the best Paysafecard casinos.
You can find all of our top choices at the top of this page.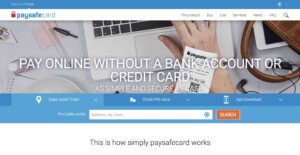 All of these sites have been vetted by myself and our other top reviewers, taking everything from bonuses to games and customer support into account.
We have linked to our reviews above and have also provided links to the latest Welcome Bonuses.
Follow these links to learn more and discover the best Paysafecard casinos out there right now!
What is Paysafecard?
Paysafecard is a voucher-based payment method. It works in a similar way to a prepaid card. You purchase a Paysafecard voucher from a local outlet and then use the code/PIN to make a deposit or purchase.
The service is available in over 40 countries around the world and it has absorbed a few other payment methods over the years, including Ukash, which was popular in its own right.
Not only is Paysafecard very popular in the online gambling industry but it has also proved to be a hit with gamers and can be used to purchase game codes and game disks.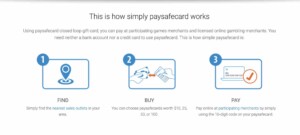 For instance, Paysafecard is used on the PlayStation network, as well as online gaming platforms like Steam and MMORPGs like Guild Wars and Second Life.
Paysafecard vouchers can be purchased in denominations of €10 and can go up to €1,000, or similar amounts in other currencies.
It's very easy to use, widely available, and offers a number of benefits, as seen in our list of pros and cons below.
[inline_
Pros of Using Paysafecard
As noted above, there are many benefits of using Paysafecard. Whether these are enough to offset the negatives or not is a different matter entirely, so let's take a quick look.
There are No Fees
Most online payment methods are free to use. You shouldn't be hit with any fees for using a Visa card, for instance, and the same is true for many instant banking options.
However, there are some major exceptions to the rule, including credit cards and even web wallets. One of the great benefits of Paysafecard is that it is nearly 100% fee-free.
You won't be charged a fee for purchasing a Paysafecard voucher (other than the cost of the voucher, of course) and it's also free to use it and even to check your balance. There are a couple of exceptions, but they are rare.
For instance, if you keep your voucher for more than 12 months, you will be charged an admin fee of €3 per month. In that sense, it's a lot like a gift card in that you need to use it fairly quickly lest you risk losing it. Because if you still don't use the card after that period has passed, the €3 fee will be taken from your balance every month and eventually there will be nothing left.
There is also a fee of 2% charged to customers who use a Paysafecard in a different currency than the one used to purchase the voucher. Such exchange fees are common on all payment methods, though, and 2% is actually very reasonable.
It's Widely Available
Paysafecard vouchers can be purchased from over 650,000 retailers around the world. It is also available on a huge number of online casinos, as proven by the extensive list at the top of this guide.
It's still not quite as accessible as PayPal, which is available to users from most countries and can be joined in a few seconds, but it still makes life easy for players.
It's Safe
Let's be honest, there is very little risk with most modern payment methods. As long as you abide by the most basic of safety standards, including only using secure sites and not giving your details to anyone, you'll be okay.
However, there is a large number of players that don't accept this. They worry that their details will be stolen or hacked, and these concerns seem to be rife within the gambling industry.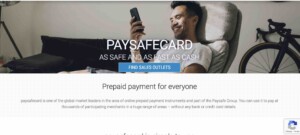 It likely stems from the sector's somewhat shaky past, as it wasn't always as tightly regulated, controlled, and secure as it is today. If you're one of these players and you're concerned about giving your details out, Paysafecard is the perfect payment method.
You can buy the Paysafecard voucher using cash and then give that code to the casino. The site will never have access to your bank account or other payment details.
It Can Help with Problem Gambling
If you have a gambling addiction, a method like Paysafecard can be very useful for keeping your gambling under control. You can use similar bankrolling methods with web wallets, but as they are connected to your bank account or debit card, you're still just a few clicks away from making more deposits. If you have a problem with gambling, that time and simplicity make all the difference and could lead to you gambling more than you can afford.
With Paysafecard, you just need to make a voucher purchase for an amount that you want to deposit that day, week, or month, and then deposit. If you ever feel the urge to deposit more, you'll need to visit your local retailer, buy another card, return home, and use the voucher. By that time, the anger and frustration that leads you to make rash decisions will have passed.
It's certainly not fool proof, but if you use deposit limits on all of the casinos that you join and back this by using payment systems like Paysafecard, you'll have a level of protection that wouldn't be afforded to you with other options.
[inline_
Cons of Using Paysafecard
Now that we've seen the positives, it's time to look at the negatives. As with all payment methods, there are several of these to watch out for and for some users, they will be a dealbreaker.
There are Payment Limitations
Paysafecard has a limit of €1,000 and this drops to €250 for classic Paysafecard. It's a lot of money and it's more than enough for the average user, but if you're a high roller, it's a very limiting amount. It's not viable to buy multiple cards for €1,000 each, and if you do, Paysafecard stops being a convenient and useful option.
Generally speaking, Paysafecard is best suited to small stakes players. They are the ones who tend to be most concerned about security issues and the ones most averse to use traditional payment methods. If you are a high roller, you will be much better off with debit cards, instant bank transfer services, or even a bank transfer.
You Can't Withdraw
Paysafecard was made for deposits and purchases. Unlike many other methods used in the gambling industry, it wasn't actually built with gambling in mind and seems to be more focused on the gaming sector, where it is used to purchase games, subscriptions, and in-game items. As a result, it basically overlooks withdrawals.
It is technically possible to receive money as a Paysafecard payment but it is not a service that online casinos and sportsbooks provide.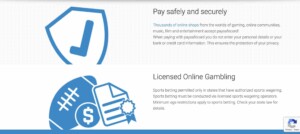 If you deposit using Paysafecard you will probably need to withdraw using a different method, and if the entire reason you used it in the first place is because you don't want to add debit cards, credit cards, or sign up for web wallets, that is a problem.
Some casinos will send you your winnings as a cheque, but they are the exception and cheque-paying casinos are few and far between these days. In most cases, you will need to add a bank account or sign up for a web wallet.
It's something that's worth considering before you make a deposit using Paysafecard.
There May be Some Verification Issues
If you live in the United Kingdom and are using Paysafecard as a way of avoiding giving casinos your payment details, you might be in for a shock, as they will probably request them anyway.
The regulators require them to verify that players are over the age of 18 and have a valid payment method, and the easiest way to do this is to ask them for a debit card/bank account and a photo ID. Even if the casino doesn't ask for a debit card or bank account, it's still going to ask for your passport/driver's license and a utility bill.
If you're worried about having your payment details stolen, you'll probably be even more worried about having your ID stolen, so it means you'll be stuck between a rock and a hard place.
FAQs
Where Can I Get a Paysafecard?
There are over 650,000 outlets selling Paysafecard around the world. You can find them in supermarkets, petrol stations, and more.
How Does Paysafecard Work?
You purchase a Paysafecard PIN in a shop and can then use this PIN at an online casino or sportsbook. Just select the Paysafecard option, enter the code, and the money should be in your account.
Can I Withdraw Using Paysafecard?
Paysafecard is basically a prepaid card and while the service has recently made it possible to withdraw funds, it's generally not a service offered by online casinos. It's basically deposit-only when you're using it at online casinos, so you will need to find an alternative withdrawal method.
Is Paysafecard Safe?
Paysafecard is very safe and legitimate. After all, it is owned by one of the biggest companies in the financial services industry, one that also owns Skrill
Where is Paysafecard Available?
You can use Paysafecard on hundreds of online casinos. It's up there with the likes of Neteller and Skrill in terms of popularity and accessibility, and the Paysafe Group has done a very good job of ensuring its service is available on a wide range of online casinos.
Alternatives to Paysafecard
There are obviously a lot of alternative payment methods out there, including web wallet options like Neteller. A web wallet, like Paysafecard, doesn't require you to give your bank account details to every casino that you join. You just need to fund your Neteller account and then use that money to deposit into as many casinos and sportsbooks as you want.
However, it's not quite the same as Paysafecard, as you will still need to use your details online and you still have an online payment account to deal with.
If you're looking for a way to use cash to play games or place bets, take a look at sites like William Hill or Paddy Power. Generally, major brands with an offline presence have some kind of system that allows you to walk into the betting shops or casinos, hand over some cash, and have it transferred to your account.
Some of them even work like Paysafecard, in that you will be given a code in exchange for your cash deposit and this code will transfer the same amount of money to your online gambling account.
[inline_
Play Paysafecard Casinos Now
Paysafecard is a pretty contentious payment method. It's the Marmite of deposit options, although the "hate" group tends to be more indifferent than anything. In fact, I am firmly in that group because while I don't use Paysafecard and don't really see the need for it, I fully understand why it exists and appreciate the benefits that it provides.
If you don't like using traditional payment methods, are worried about giving out your details online, or just need a waste to pay with cash, make sure you check out Paysafecard online casinos today.
Simply scroll to the top of this page, find the site that appeals to you the most, and start playing!