Play'n GO is a colourful and widely popular iGaming developer with a growing range of top slots and table games. It's a creator that is always looking to push the envelope and one that has gotten a massive boost of exposure over the last few years because of its Book of the Dead game.
In this guide, we'll take a closer look at Play'n GO and highlight some of the developer's best games and features, as well as the many casinos that host Play'n GO games.
About Play'n GO
Play'n GO is not up there with the likes of Playtech and other top developers. It doesn't have the reputation, the technology, or the roster behind it. But it's still one of the biggest fringe creators out there and one that you can find on a wide variety of top online casinos.
You can play Play'n GO games in many countries around the world. The games are very popular with casinos in the United Kingdom and Europe and have been equally well received by players.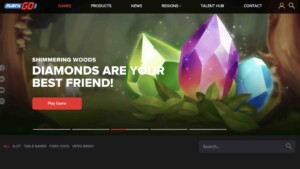 It also has a handful of licenses from other regions, including Romania, and it seems to be adding more to its list all of the time.
Many players know Play'n GO for its biggest game series, Rich Wilde. It's a character best known for the Book of Dead game, but there are a few other top titles in this series. Generally, Book of Dead is the epitome of everything that makes Play'n GO unique, including the original features, the slick graphics, and the fact that it tells an interesting story.
Best Play'n GO Casinos
All of the casinos listed at the top of this page have games from Play'n GO. The exact number of games varies, but as Play'n GO is a fringe developer with a relatively small selection (when compared to creators like Microgaming) you'll usually find that casinos with one Play'n GO have most or all of them.
And that's a great thing because as our list below shows, there is no shortage of great Play'n GO games out there!
Visit these casinos today to explore the best of Play'n GO.
Best Play'n GO Games
Great graphics, complete mobile compatibility, and a wealth of attractive themes—that's what makes Play'n GO unique. The company's roster is also growing all of the time, with several of them seemingly being released every single month.
If you're not sure where to start, we have listed some of our personal favourites below, as well as a handful of the developer's most popular creations.
Testament
Let's make one thing very clear: Testament are one of the greatest bands in the history of heavy metal. If you haven't heard the growling vocals of Chuck Billy and the melodic guitar of Alex Skolnick, you're missing out. They didn't always get the credit that they deserved and often sat in the shadow of bands like Metallica, Anthrax, and other thrash metal superstars, but as any diehard fan will tell you, they deserve to be ranked up there with the best of them.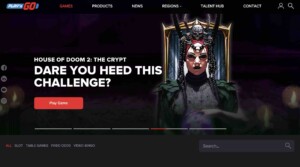 If you're one of those fans, then you will be delighted to know that Play'n GO has released an entire slot machine based on this hard-rocking US thrash metal band.
The only downside is that the slot is based on the band's 2012 album Dark Roots of Earth. Don't get me wrong, it was a great album, but it can't compare to The Gathering, Low, The Legacy. I would have loved to hear some DNR, Down for Life, Low, or Be Careful What You Wish For, but I'll take it!
The Testament slot has the honor of being my personal favourite Play'n GO slot, and not just because of its association with the masters of thrash.
The game has a 96.20% RTP, a host of icons and imagery taken from the aforementioned album, and is includes tracks such as Cold Embrace, Throne of Thorns, and the titular Dark Roots of Earth. There is a great Free Spins feature and the game has a very stylish and loud feel to it overall.
Testament has a very high volatility, so this is not the sort of slot that you play for the short-term. You need to prepare to play for the long haul, as that's when the RTP balances out with high volatility slots like this.
Golden Ticket
Golden Ticket is one of those games that you just hate to love. The first time I played it, I lost half of my balance, insisted that it was time to quit, convinced myself otherwise, and then lost the rest. A week later, I found myself being drawn to it again, because I really liked the set up and maybe if I played a few more times, that bonus feature would be mine!
This happened for several sessions, and I lost each time. Eventually, I won big, recovered a lot of those losses and eventually tired of the game, but it's still one of the best slots that Play'n GO has created.
It works on a series of vertical reels. If you get a "payline" across these reels, the symbols in that line will disappear. But unlike the Avalanche feature on NetEnt slots, new symbols won't fall down from above.
Instead, the symbols will just keep dropping until the reel is completely cleared. If the world "BONUS" appears on this line, then the feature will trigger. The feature itself is a little disappointing, if I'm honest. It has such a high volatility that I expected something better. It reminded me of the time I played Gonzo's Quest pretty much every week for over 3 months. I must have taken 20,000+ spins on that slot before I finally unlocked the feature, and when I did, my reaction was akin to, "Is this it?"
Golden Ticket is not quite that bad though, and I personally think that the base game is much better than Gonzo's Quest. It's a very fun slot overall and it is somewhat unique. It can be a little infuriating when you get down to just one square left and it's a Wild (and trust me, when it happens, you will know what I'm talking about) but overall, it's a fun game.
There is also a Golden Ticket 2. I recommend playing the first game in the series first and if you like it and have your fill of spins and wins, you can try the sequel out. I personally didn't like the sequel as much, but it definitely has its merits.
Rich Wilde and the Book of Dead
Rich Wilde and the Book of Dead is the slot that everyone associates with Play'n GO. It's not only the developer's biggest creation but it is one of the most popular slots ever created, and one that has been the subject of countless promotions and bonuses over the years.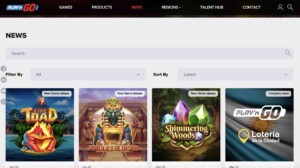 Book of the Dead utilizes some unique Wild features and also has a big jackpot. The whole idea behind the game is that an explorer named Rich Wilde is venturing through the world of ancient Egypt, one that is filled with mystery, wonder, and a number of ancient relics.
If you like this slot game, you should also check out other slots in the Rich Wilde series. This little adventurer has explored a wealth of worlds and themes, covering certain points in history as well as a few fictional universes.
Reactoonz 2
Reactoonz is one of Play'n GO's biggest slot games and the sequel expands on many of the things that players loved about this game. It was released toward the tail end of 2020 and features a 7×7 grid and a high volatility. You need to get 5 or more symbols in a single cluster to trigger a payline win. There are a few features thrown into the mix as well and it's these features that make Reactooz 2 such a popular slot game.
The maximum win on Play'n GO is over €500,000. The game can be played on a host of devices and platforms, including Android, iOS, and Windows.
If you like this slot, you should also check out the original Reactoonz, the one that started it all. Don't assume that the sequel is going to be much better or more advanced than the first game in the series.
Cops n Robbers
Cops n Robbers is one of the simplest slots in the Play'n GO range and by far the simplest on this list. But don't dismiss it just yet, because while it doesn't have the most paylines or reels, it does have a lot going for it, including a Gamble feature and a couple of interesting bonus features.
Play'n GO has an RTP of 96.46% and there is a maximum win in excess of €1.3 million, as well as support for a number of different platforms.
There are 9 paylines in total on this Play'n GO slot and the bonus feature is known as the Bonus Car Chase, which offers some big win potential. It's very easy to play, there is a lot on offer, and everything moves very fluidly. It tends to work best on mobile but it actually looks great on desktop as well.
If you are looking for something a little simpler than the other slots on this list then give Cops n Robbers a go.
FAQs
Is Play'n GO Fair?
Play'n GO is regulated by several authorities, including some of the strictest in the world. As a result, every spin is guaranteed to be completely safe and fair. You can check out the casino's many licenses by following the relevant links on the bottom of its homepage.
Are There Other Developers Like Play'n GO?
There are many more great developers out there, including ones that focus on colourful themes and rich graphics, just like Play'n GO. We have discussed Betsoft above and we have also mentioned Playtech, but the former tends to have better graphics and the latter is much more prolific. If we had to pick a developer that was most like Play'n GO, we would probably point to Pragmatic Play.
Is Play'n GO Available in the US?
As things stand, the US gambling market is still pretty tightly restricted and very few developers and casinos have moved there. However, there has been some movement from the likes of William Hill, and it might be a matter of time before US players can legally enjoy slots from creators like Play'n GO. In recent months, Play'n GO has actually moved into the Latin American market and seems to have its sights set on making a name for itself in that market.
I Don't Like Book of Dead, is Play'n GO For Me?
Book of Dead is a great game, but it has also been forced down our throats a lot over the last few years. It has been tied to a lot of promotions and if you spend a lot of time in the gambling industry, as we do, then you will have encountered it many times. In such cases, it's normal to get a little sick of it. The good news, however, is that Play'n GO has many other great games to explore and just because you don't like Book of Dead, doesn't mean you won't like these other titles.
How Often Does Play'n GO Release New Games?
Play'n GO has been very prolific over the last year or so. At the time of writing, it has been releasing slots at a rate of about 2 to 3 per month, which is a lot for a developer like this. That might slow down in the future, but it actually seems to be speeding up, and it's likely that we will be seeing a lot of great Play'n GO games in months and years to come.
Play the Best Play'n GO Casino
If you're eager to play Play'n GO games now that you know all about them, just visit the games listed on this page. All of them have Play'n GO games and they have also been reviewed by our expert team of reviewers.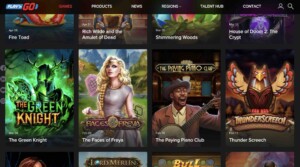 In addition to talk about the games, sports betting options, and more, we have also reviewed the casinos' Welcome Bonuses, Loyalty Bonuses, Slot Tournaments, payment options, and more.
Take a look, sign up, collect your Welcome Bonus, and have some fun!
When you have finished with Play'n GO casinos, you can venture over to our top Betsoft online casinos, which takes graphics and features to another level and offers something you can't get anywhere else.