Pros
Big Bonuses
Sports Betting Available
Cryptos and Fiat Currencies
Fast Withdrawals
Virtual Sports Betting
Cons
Limited Table Games
Limited Live Casino Games
Low Withdrawal Limits
A Rabona is one of the most impressive moves in football. Said to have been popularised during the 1970s, this trick involves wrapping one leg around the other to kick the ball. It's a great piece of misdirection and it's one that many of the world's best players have used to fool the opposing team, excite the fans, and create something for the highlight reels.
That leaves one question: is Rabona Casino and Sports Book as impressive and as stylish as its name sake? Is this site a Lionel Messi or a Titus Bramble? In this Rabona casino review, we aim to find out.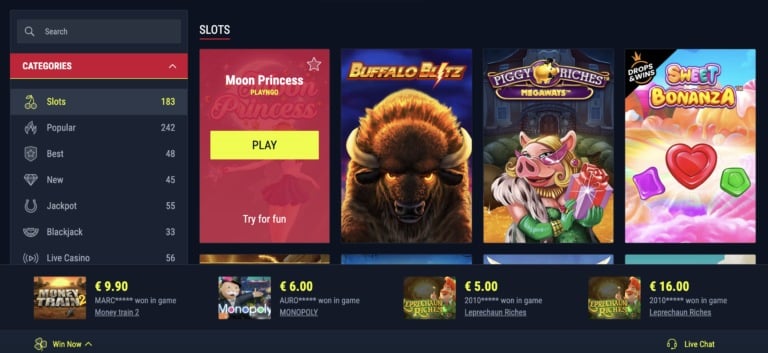 Basics
In many ways, Rabona is a lot like Fezbet, and that's not a coincidence. Rabona and Fezbet are owned by the same company, Araxio Development. It's a huge casino and sports book operator, and one that knows a thing or two about creating user-friendly, feature-rich Bitcoin betting sites.
Not only does these two sites have a similar aesthetic, as well as a slick style and smooth navigation, but they also have a similarly structured casino and sports book, as well as similar features and bonuses. Is that a bad thing? Not at all, as you can see from our Fezbet review, we had a lot of good things to say about the site and really enjoyed our time there.
The fact that Rabona has a similar vibe is a good thing and we recommend taking a look if you like Fezbet or you're just looking for a new bonus to collect and a new site to join.
Rabona, just like Fezbet, is licensed by the authorities of Curacao and uses a wealth of security features and protocols to keep players safe and secure at all times. It is powered by Soft2Bet, has a great responsible gaming program, and does its best to deal with customer complaints whenever they crop up.
…a wealth of security features and protocols to keep players safe and secure at all times.
Games
The football aesthetic is prominent throughout Rabona, even on the online casino and Live Casino side of things. That's not completely unexpected, however, as it's clearly going for a theme and it's a theme that works. In situations like this, the casino side of things is often neglected and it's clear that more attention has been paid to the sports book.
That's not the case here though and there are lots of great casino games to experience. We counted over three dozen developers and these include some of our personal favourites, including Betsoft, Evolution Gaming, Play 'n GO, Wazdan, Pragmatic Play, Playson, and NetEnt.
You can sort by developer and browse several hundred titles. Alternatively, you can use menu options like "Recommended", "Sport Game", "Blackjack", and "Roulette" to find what you're looking for.
Everything is nearly laid out and easy to navigate, with support for most platforms and devices.
If we had to pick fault with this section of the Rabona site, we'd say that the Live Casino was too small and the table games selection in general was lacking. We had the same issues with Fezbet and as this seems to be a carbon copy, that's not much of a surprise.
Sports
As you would expect for a betting site named after a football move, the Rabona sports book goes all-out when it comes to the world's favourite sport. There are dozens of leagues, hundreds of games, and thousands of betting markets. You can bet on the match winners, total goals, corners/cards, and more, with options for pre-game, in-play, accumulators, and more.
In addition to this vast selection of football markets, you can bet on Basketball, Tennis, Ice Hockey, Cricket, Boxing, eSports, American Football, and Volleyball, and this is just the tip of the iceberg.
We get the feeling that Rabona is tailored more towards European bettors, but there should be enough going on here to appease players everywhere from Australia to Canada.
If you scroll to the bottom of the sidebar, you'll see an option to change the odds, which comes in handy if you're not a big fan of the default decimal odds. You can switch between fractional, decimal, and American odds.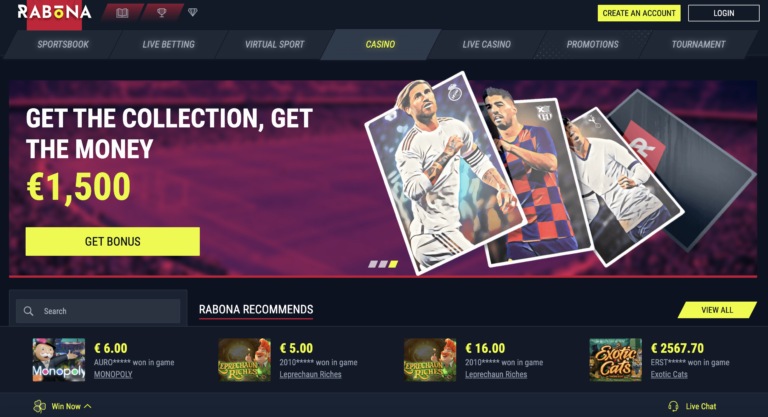 Virtual Sports
In our Fezbet review, as with our recent FortuneToWin review, we gushed about virtual sports betting and highlighted all of the reasons we love these markets. We won't go into that again, but needless to say, Rabona has many of the same betting markets and games, and they look just as impressive.
You can watch and wager on an entire simulation of the English Premier League, featuring a selection of real teams, as well as variations like Manchester Blue, London Guns, and Manchester Reds. The player names have also been tweaked, although in this case they sound like the real thing and have just been spelled differently.
The games look great, there are many betting markets to choose from, and if virtual football is not quite what you're looking for, you can try virtual basketball, greyhound racing, horse racing, baseball, motor racing, or tennis instead.
Tournaments
As noted in our La-Fiesta review, as well as countless other online casino reviews, we love a good real money slot tournament. As far as we're concerned, tournaments and Loyalty Schemes are just as important as Welcome Bonuses and it's great to see a casino that offers all of them.
The tournaments available at Rabona let you win your share of several thousand Euros. Just make your minimum bet, play the game, and you'll earn points. As you do, you'll scale the leaderboard and if you remain in the highest positions, you'll earn cash, credits, Free Spins, and other perks.
These tournaments are available every month and typically offer up to €2,000, although there are bigger ones available during key holidays and promotional periods.
The great thing about these tournaments is that you don't need to spend anything to join them and have absolutely nothing to lose if things don't go your way. You keep all of the money that you win spinning the reels and if you collect extra rewards through the tournament, it's a bonus! If not, it doesn't matter, as you won't lose any more than if you were to play those games outside of the tournament.
We recommend taking a look, seeing which games are part of the bonus, and joining in if you like the games on offer.
Bonuses
You can collect sports betting bonuses and casino bonuses at Rabona, and the latter of these are the biggest. At the time of writing, the casino Welcome Bonus offers up to €500 and 200 Free Spins, with a minimum deposit requirement of €20.
As always, however, there are a few exceptions worth noting.
Firstly, you can't collect this bonus if you use Skrill or Neteller to make your deposit. Secondly, there is a wagering requirement of 35x and this applies to the bonus credits and the deposit amount, which effectively turns it into a 70x requirement. This drops to 40x for all winnings accumulated using Free Spins.
Slots count for 100% of your bonus and there is a $5 maximum wager per game. Most table games account for just 10% of the wagering requirements and some of them offer 0%, so make sure you check the terms and conditions if you're going to be playing table games.
It's also worth noting that popular slots like Book of Dead and Jack and the Beanstalk don't count for any of the wagering requirements, but you can still play them. We imagine there will be a lot of players who spend a fortune on these slots trying to clear their wagering requirements, only to realise they haven't made a dent. Around 50 other slots don't count either, but these are excluded entirely, so there's no chance of being caught short after an extended session.
Reload bonuses are offered alongside the Welcome Bonus. In addition, there are Drop and Wins, Cashback offers, and more. Take a look at the site's Promotion page to learn more and see which offers are available right now. Alternatively, join the site via the links on this page and you'll be directed to the best Welcome Bonus available right now.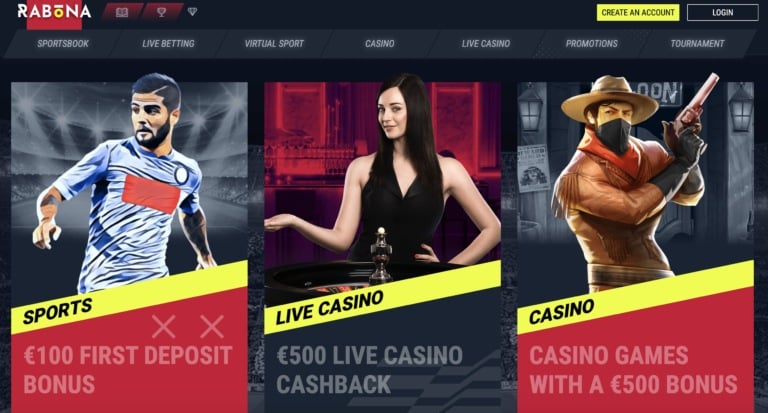 Payments
Choose from popular payment methods like Visa, Mastercard, Bitcoin, and Litecoin, with fast withdrawals across the board. Before you rush in, it's worth noting that Rabona has a withdrawal limit fixed at just €500 a day and this extends to just €10,000 a month.
As we have noted before, withdrawal limits are very welcome and are always incredibly frustrating. You won't have an issue if you typically deposit less than €500 a month, but for anyone used to depositing thousands of Euros a month and wagering hundreds of Euros at a time, this will be a dealbreaker.
To put it into perspective, let's imagine that you deposit just €500 with the intention of wagering that over the month in two gaming sessions. You spin the slots for €5 each and get lucky with a 10,000x win.
You now have €50,000+ in your account, so you decide to bet the money you already had and withdraw the €50,000. It's the kind of big win that most players spin for and it's not even that rare, as you don't need to win a progressive jackpot to get there.
The problem is, you now need to wait 5 months to get your money.
It gets worse. Let's say that you decide to chance it and risk €10,000, knowing you will still have a €40,000 profit. You bet €100 a spin and win a 2,000x payout, something that all experienced players have claimed at one point. You now have €240,000+ in your account, and will need to wait a whole two years to get your money.
Of course, there are a lot of ifs and buts here, but these are very real possibilities for medium and high-stake players.
Highlights
Good Bonuses
VIP Scheme
Sports Betting
Lots of Slots
Big Jackpots
Real Money Tournaments
Conclusion
Rabona launched in 2019 and it has had a lot of reviews in that time, including both positive and negative. Most of the reviews are positive, but it's not quite on par with highly-rated casinos like Bitstarz.
A few of the issues that players have are easily dismissed and include many of the things that you'll find on all casino reviews, including complaints about not winning enough money and issues that stem from not reading the Terms and Conditions.
There are two repeating issues that are actually worth paying attention. The first of these is an issue we have highlighted ourselves: the withdrawal limit. Players really don't like this, and we can't blame them. After all, it's fixed at €500 a day, which rules out the majority of medium stake players and high rollers.
Secondly, there are reports of issues regarding slots and table games, stating that that they crash a lot and don't always load properly. We didn't encounter any of these issues ourselves, but the issues seem quite prevalent on Rabona reviews, so we have to assume that these are more than isolated incidents.
On the plus side, the Rabona customer support team responds to all reviews, good and bad. It goes out of its way to resolve customer complaints and issues and to thank those who take the time to praise their services. This is always a welcome sight and it's a feature that we don't see as often as we would like.
For instance, we recently reviewed Red Ping Win Casino, which also responds to casino reviews and offers excellent customer support as well.
What does this mean for players? Well, if you have an issue with the casino and, for some reason, you can't get a response using email or Live Chat, you can leave your grievances in a review. A specialist team will then respond to your review and expedite your complaint, ensuring that it is dealt with quickly.
More importantly, it shows that the casino is dedicated to meeting its players needs and will go out of its way to ensure that all players are happy. Bigger casinos, as well as many newer casinos, don't do this, and nothing infuriates us more!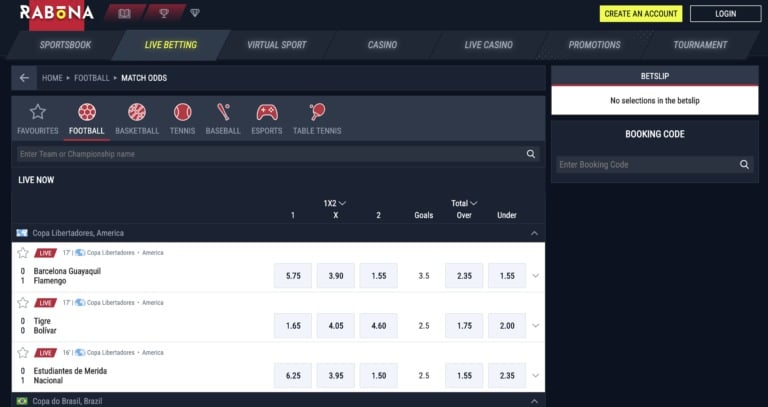 Rabona is a site that we were desperate to like but ultimately, the withdrawal limit gets in the way. We understand that these are common on Araxio casinos and we have brushed over them in the past, but they keep tainting otherwise great casinos with these limits and it's getting very frustrating.
If you're a small stakes player, it's all good and this issue won't mean much, if you're a medium stakes player, we recommend taking your deposit to King Billy Casino instead.
What is the Withdrawal Limit at Rabona?
You are limited to withdrawals of no more than €500 at a time and yes, that is very low!
What Happens if I Go Over the Limit?
If you withdraw more than €500 and exceed the limit, the remaining amount should just roll over to the next period.
Can I Increase the Withdrawal Limit?
If you are a high roller and have a valid need to increase the limit, you can contact the casino directly, speak candidly, and see what they can do for you. If you're hitting that limit every time you withdraw, you may be better off elsewhere.
Can I Join from the UK?
Rabona is not offered to players in the UK but we have covered many other sites that are, including BetVictor Casino.
Why Didn't I Get the Bonus?
You may have missed one of the terms. Maybe the bonus was only available for sports betting and you tried to use it on casino games. In fact, many players mistakenly collect bonuses for casino games and try to use them on sportsbooks, when this just doesn't work. If you're not sure, speak with the support team, as they are usually very helpful.
What Happens if I Have an Issue?
You should speak with the casino first and try to get it resolved. If that doesn't work, try to file a complaint through the site and/or leave a review to call their attention to the issue.
Rabona Casino Review Details
Restricted Countries:
Australia
Belarus
Bulgaria
Cyprus
Denmark
Iran
Iraq
Israel
Italy
Malta
Moldova
Netherlands
Portugal
Romania
Spain
Sweden
Switzerland
UK
Ukraine
US
Languages:
English
Finnish
French
Hungarian
Norwegian
Portuguese