Pros
Attractive Site
Virtual Sports
Good Bonuses
Sports Book
Bitcoins and Fiat Currencies
Cons
Low Withdrawal Limits
Limited Gaming Selection
With a license from Curacao, Fezbet launched in 2020 and has been making steady ground since. However, there are still many players who have yet to discover this casino.
Fezbet is a sports betting website and online casino operated by Araxio Development N.V., one of the biggest names in the cryptocurrency betting industry, and the creator behind the recently reviewed Cadoola Casino.
A "fez" is a little red Moroccan hat once worn by the legendary Tommy Cooper. We're not sure how that applies to an online casino and, at the time of writing, there are no hats or Moroccan themes in sight, but when have casino names and themes ever made sense?
The aesthetic on Fezbet looks great. It is black, grey, and white, but there are maroon tones in the background that help to take away the starkness so often associated with black-and-white casino aesthetics. It's an issue we have complained about many times, because when you play for several hours during the evening, that aesthetic can mess with your eyes and cause all kinds of problems.
The red accents help to alleviate this issue somewhat. However, they could have been implemented better. If you open the games page and select "Providers", for instance, you'll see this background in full and notice that it's just an awkwardly repeated image that has been poorly blended. We would expect a mistake like that on a site made by non tech-savvy bloggers, but it really shouldn't be present on a major online betting site.
Still, we're nit-picking, and it's a minor issue at best. It's also one that doesn't really impact your experience of the casino, and this is true whether you're playing on a desktop or mobile platform.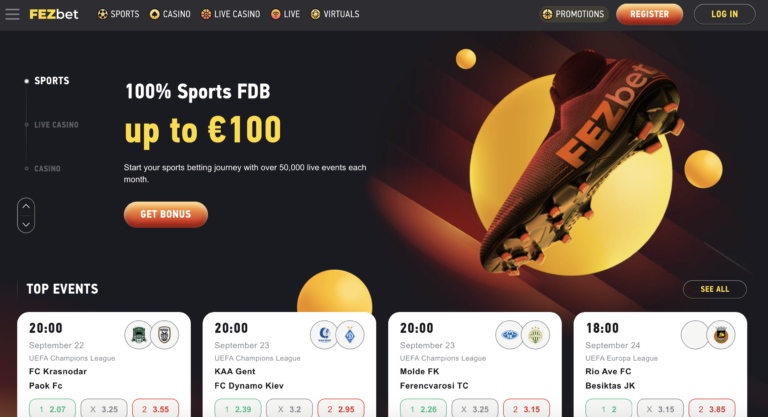 Games
Fezbet does two things that we really like and two things that we don't see as much as we would like. The first is that it lists all of its developers and lets you search by developer. If you're experienced in this industry like we are, you'll have your favourite developers and this feature makes it easy to find them.
Secondly, it highlights how many games are available from each of these developers. This is useful not only for this review, but also for general gaming, as it lets you focus on the creators that offer the most games. For instance, Spinomenal games are available on many online casinos but more often than not, just a handful are available and there's not enough to tempt us. On Fezbet casino, however, there are 175, which means we're much more likely to click onto that search feature and see what's available.
…it highlights how many games are available from each of these developers.
And that's something we're very happy to do, as Spinomenal has done some amazing things in recent years, including creating an original game for Slotman.
Unsurprisingly, the bulk of the games at Fezbet are created by Microgaming. This top developer has provided over 570 titles for the casino and these include classics like Game of Thrones, Rugby Star, Playboy, Thunderstruck II, and Immortal Romance, as well as a bunch of newer titles.
Betsoft has over 100 titles here and you'll also find over 100 games from creators like EGT, 1×2 Gaming, and iSoftBet, as well as many games from Relax, Playson, Habanero, bGaming, Red Rake Gaming, and GameArt. We're sad to say that Yggdrasil and Playtech are not included here, but other top innovators are and there are plenty of games to choose from.
The Live Casino is provided by Ezugi and Evolution Gaming—two big developers with lots of gaming options. However, at the time of writing, there are fewer than 30 titles available, which is a pretty limited selection when you compare Fezbet to large casinos like Wild Tornado.
On the plus side, there are some good games to choose from, including Deal or No Deal Live, Dreamcatcher, and Three Card Poker.
Sports
Fezbet seems to be a sports book first and an online casino second. For the bulk of this review, we have focused on the casino side of things, but the sports book deserves a mention as well.
It has a wide selection of sports and these seems to be tailored toward Northern European players. In fact, if we had to guess, we'd say it was UK and Ireland focused, based on the fact that it has many Rugby League, Snooker, and Gaelic sports betting but doesn't have handball. However, it's not available in these regions.
As you would expect, the largest selection of sports betting markets are for football, with huge coverage of major European leagues like the Premier League, La Liga, Ligue 1, Serie A, and more. There are also lots of tennis and eSports betting markets, as well as a good choice of American leagues like NFL, NBA, and MLB.
You can bet pre-game and in-play, with support for desktop and mobile.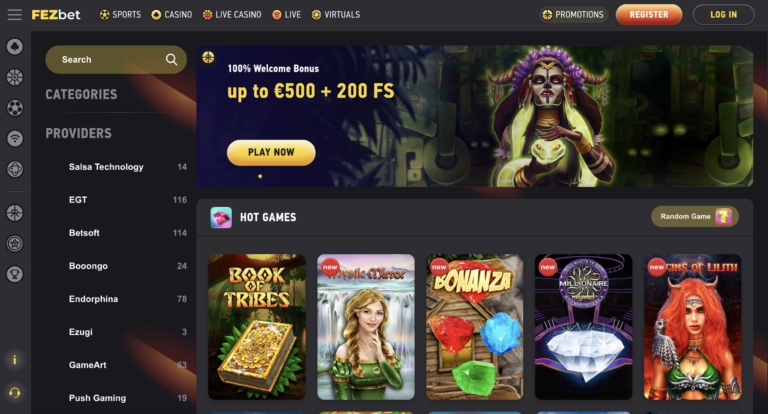 Virtual Sports
We have been aware of virtual sports betting games for years. We played on some of the very first online casinos and remember how limited and repetitive these games were. Back then, we never really paid much attention to them, but our attitude has changed over the years as the technology has improved significantly.
The virtual sports betting on Fezbet, and the football in particular, is a great example of this. It's not quite like the latest iteration of a AAA football game, but it's on par with games of Pro Evo and FIFA played on the Playstation 3 and Xbox 360, which is not bad for a simulated game that you place bets on.
You can choose outright bets and single bets and there are a host of games and tournaments to choose from. Once you have made your selection, you can watch your game, with highlights shown of all the key moments, include near misses, offside goals, yellow cards, red cards, and more.
These matches run at fixed times throughout the day, so you need to get your bets in before those kick-off times, just like you would with a real game. There are fixed match days during which all the teams participate and depending on the results, those teams will earn points that see them climb up the leaderboard or advance through the knockout stages.
Choose from leagues modelled on the English Premier League, place your bets, and watch the games. Most real teams are here, but there are a few "Pro Evolution" oddities, such as Arsenal becoming London Guns, Man City becoming Manchester Blue, and Man Utd becoming Manchester Red. The player names have also been tweaked, so you'll see Wylien instead of Willian, for example.
In addition to these football games, you can bet on simulated versions of Basketball, Horse Racing, Greyhound Racing, and Baseball, to name just a few.
Bonuses
When you join Fezbet for the first time and make a qualifying deposit, you can collect up to €500 plus 200 Free Spins, putting this offer in line with the offer available from Zet Casino.
In addition to this fairly generous online casino bonus, players can collect reload offers and other promotions, including weekly cashback offering up to 15%. It has a Loyalty Scheme, and players can also take part in regular drops and wins.
Araxio online casinos can be disappointing when it comes to online casino bonuses, but more often than not, they are generous and Fezbet definitely falls into this latter category. It's not quite like the massive Bitcoin bonuses you can get at casinos like 1xBit, but the offers are definitely worth your time.
You will find offers relating to the sports book as well. These are not as big or as generous, but they still exist, and are a great way to collect some free cash or place some free bets. You can't argue with that.
Take a look at the site's promotions page to learn more or click the links on this page to be directed to the best casino bonus being offered right now.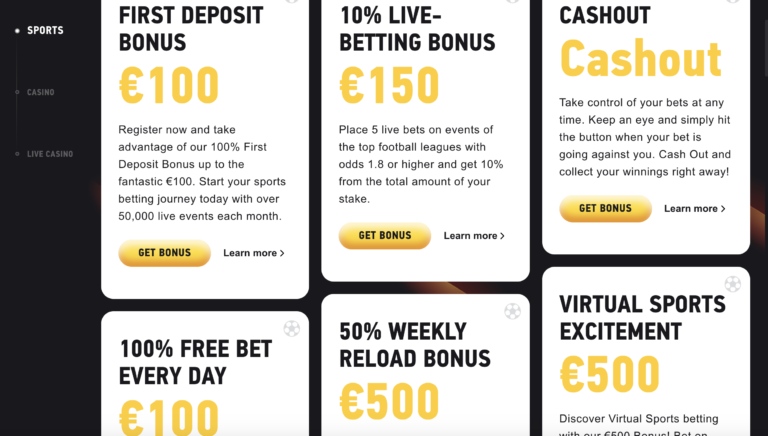 Payments
Bitcoin, Litecoin, Ripple, and Ethereum can all be used at Fezbet and these are available alongside traditional currency methods like Visa, Mastercard, Paysafecard, Neteller, and Skrill. For a full list, scroll to the bottom of this Fezbet review.
Payments are processed quickly and, in most cases, the money will hit your account within 24 hours. Of course, if you are using slower payment methods like credit cards, debit cards, and bank transfers, it may take a little longer.
All of these things are very positive and it's top marks for Fezbet Casino and Sports Book so far. If you have any experience with our reviews, however, you probably know what's coming next, as we found a major issue with this site.
That issue is the withdrawal limit, which restricts players to just €500 per transaction and no more than €10,000 a month. As we often mention, this is more than enough for players who don't deposit or bet big, but it's going to frustrate a lot of players who deposit and bet in the hundreds of Euros.
The same limit applies to all Araxio casinos, which is why you'll find that "Withdrawal Limit" con on all of our Araxio reviews, including the otherwise brilliant Nomini Casino.
Highlights
Sports Betting Section
Large Virtual Sports Offering
Good Bonuses
Over 1,000 Games
Live Casino
Fiat and Crypto Options
User Reviews
While we usually make a point of talking about user reviews and using these to teach you more about the inner workings of an online casino, this is not possible with Fezbet Casino. It just hasn't been around long enough and has yet to accumulate lots of reviews, good or bad.
We searched through a few user review sites and found that the reviews that do exist, are mostly positive. Our experiences of this online sports book and casino have also been positive, and while our experience spans day as opposed to months, we're sure you'll have a good time over the long term.
In the unlikely event that you have an issue with the casino, contact them directly. In our experience, they are very happy to deal with unhappy customers and to find a solution that works. If not, and if they ignore you for some reason, you can go through the complaints procedure or leave a review describing your experiences.
In some ways, it can help you when casinos don't have a lot of reviews, as it means that your review will have more of an impact. You can guarantee that if your review is the only negative one out there, everyone in that casinos' customer support team and marketing team will see it and try their best to help.
That doesn't mean you should leave these reviews because of the slightest issue, and it definitely doesn't mean you should use it to get bonuses and free gifts, as that definitely won't work, readers will see right through you, and the casino won't care as a result. However, if you have a genuine issue and they are not giving you the time of day, it's a good outlet.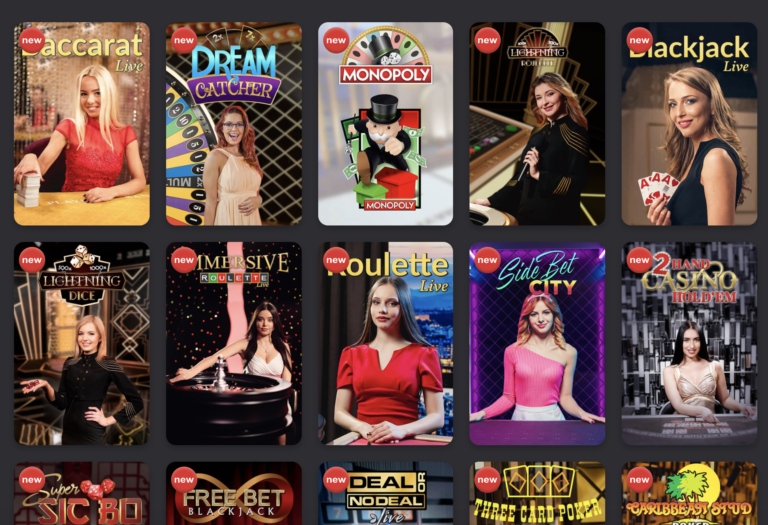 Conclusion
One of the things that we didn't mention above is that Fezbet has a very dedicated support section, with phone numbers from multiple different regions. Seeing so many phone numbers is unusual for a brand-new online casino, but it is always a welcome sight. Once you take this into consideration, and add the fact that Fezbet has some very good bonuses, a VIP scheme, and the backing of a major online casino operator, you can't go much wrong.
If you're looking for a new casino and a new bonus, one where you can also place some sports bets and play virtual games, look no further than Fezbet. It's not perfect, and the inclusion of a withdrawal limit is a huge disappointment, but it provides a great online gambling experience, nonetheless.
For more information, take a look at the details below this Fezbet review, where you can learn about all the payment options, languages, currencies, and more. To join the site, collect your bonus, and start playing, click the "Play Now" links on this page. This will ensure you are directed to the latest and largest casino bonus.
How Old is Fezbet?
What Other Sites Are Like Fezbet?
Can I Join from the UK?
You can't play here if you're in the UK as it doesn't have a license from the UK Gambling Commission.
Is There a Withdrawal Limit?
You are restricted to withdrawals of no more than €500 at a time and €10,000 a month. It's on the low side, but it should be should for most players.
What if I Exceed the Withdrawal Limit?
If you exceed it with one withdrawal, the casino will simply withdraw what they can for now and then roll the rest over until later.
What Happens if I Keep Hitting the Limit?
If you are a VIP and are exceeding it regularly, you can try to speak with the support staff and see if they can relax the rules a little. If not, you should consider taking your money elsewhere as there are many great high-roller casinos out there.
Fezbet Casino Review Details
Restricted Countries:
Australia
Belarus
Bulgaria
Cyprus
Denmark
France
Iran
Iraq
Israel
Italy
Lithuania
Malta
Moldova
Netherlands
Portugal
Spain
Sweden
Switzerland
UK
Ukraine
US
Languages:
English
German
Hungarian
Norwegian
Polish
Portuguese
Russian