Pros
Attractive Theme and Layout
Lots of Tournaments
Selection of Welcome Offers
VIP Scheme
Reload Offers and Free Spins
Top Developers
Cons
Small Selection of Games
Low Withdrawal Limits
Slow Payments
Araxio is at it again, this time with an all-guns-blazing super colourful online casino that is packed with features. It's not flawless and it has some of the issues that have plagued other Araxio casinos in the past, but there is a lot to like here.
Nomini is somewhat reminiscent of its sister site, the quirky BaoBao Casino, but it has a style of its own and makes an effort to stand out. Whether it succeeds or not is up for you to decide.
…it has a style of its own and makes an effort to stand out.
In this Nomini review, we'll highlight this casino's best games, bonuses, payment options and more, telling you what you need to know about this site.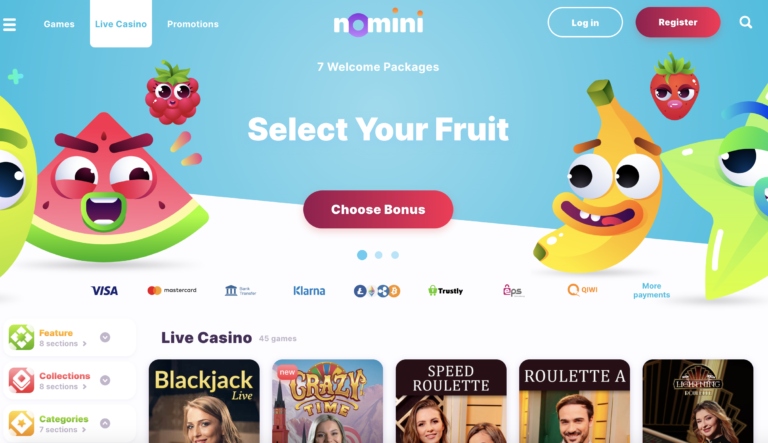 Basics
We love horror films, listen to listen metal, and wear black like it's going out of style. But when it comes to online casino themes, that obsession for darkness and the murkier side of life goes out of the window. We like a bit of colour, and a lot of brightness. Sure, we still edge toward Halloween themed promotions and love the recent spate of slot machines inspired by rock gods like Ozzy Osbourne, Axl Rose, and Jimi Hendrix, but give us some talking fruits, lots of bright colours, and a summery theme, and we're just as happy.
That's exactly what Nomini has to offer. It reminds us of avatar-focused online casinos that offer a series of promotions and challenges to gamify the usual process of deposit-play-repeat. It doesn't have the same challenges, but the vibe is there, it's packed with promotions, and it looks fantastic.
Araxio Developer is a leading casino brand that operates under license from the authorities of Curacao. As noted above, it owns casinos such as BoaBoa Casino, but that's not the only one. Araxio has many irons in the fire and also owns the stylish yet flawed Zet Casino, along with over a dozen other sites.
Games
The Nomini Casino layout is incredibly attractive and easy on the eye. When we discovered that the casino worked with developers like Playtech and Betsoft, we were excited to see what we discovered. However, while these developers are there and everything is clearly displayed, neat, and tidy, there are a disappointingly low number of games.
We actually thought that we were looking in the wrong place initially and then had to change our VPN address a few times to make sure it wasn't location specific. As it turns out, Nomini just has a very small selection of games, totalling around 250 slots and around 50 table games and other interactive games.
Of course, you could argue that there's no need for thousands of slots. After all, you can only play so many games. But we would disagree.
Take Wild Tornado's many games as an example. That casino has over 3,000 slots and 1,000 table games. When we search for games, we're looking for something very specific. It has to have interesting features, such as Megaways or Cascading Reels. It has to look good, have Free Spins and a Bonus feature, and be mobile ready.
We probably just discounted half of all a casino's slots. But then we look for slots with good payouts and slots that we either like and are not bored of or slots that we haven't played before.
With Nomini, 250 becomes 125, then 100, and then less than 50. After a few weeks of play, we've seen all there is to see and we're ready to move on. With Wild Tornado, those 3,000 slots are whittled down to around 750, and it will take many months to play through those!
It's the same with table games, but to an even greater extent. 50 table games are great to a player who is happy to play whatever games are in front of them. It's more than enough to keep them busy. But what happens if they only like Roulette, believe that American Roulette odds are too high, and don't like Live Casinos? That 50 becomes 1 or 2.
Players need to have variety these days because the average casino player has played dozens of games, dismissed hundreds more, and is always drawn to titles they have never seen before.
We don't want to be completely negative, as Nomini does have a good selection of games and these are provided by great developers, there is just not enough of them.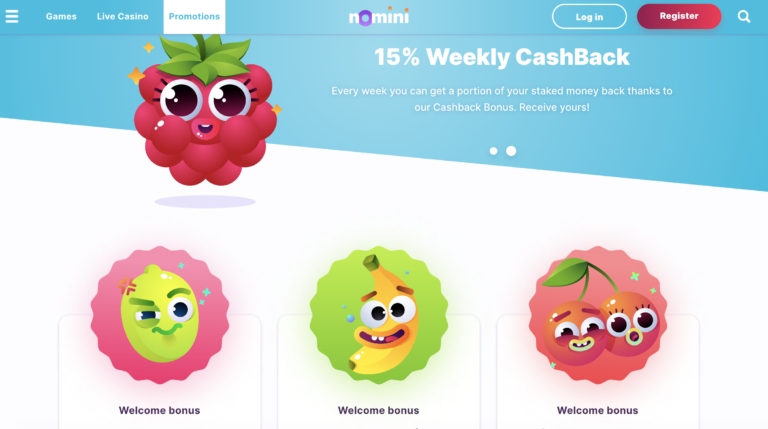 Bonuses
The Nomini promotions section is one of the best things about this online casino but it is also one of the most contentious aspect of the site and one that needs a little explanation.
Players have complained that the bonus terms weren't clear and they feel cheated about how the bonus played out. Some players have made deposits that fall under the minimum required amount, but have done so believing otherwise, only to be disappointed when they discover the truth. Some new players have missed out on bonuses entirely after getting confused about how the bonuses are structured.
So, what's going on? Well, Nomini doesn't operate like a traditional online casino in that it doesn't have a single one-size-fits-all Welcome Bonus. When you join the casino, you can choose from one of seven different bonuses, each represented by a specific piece of fruit. It seems that some players have joined on the belief they can collect all of these bonuses, while others have assumed all bonuses have the same terms.
Neither of these things are true. You can collect one Welcome Bonus only and they all have their own Terms and Conditions. Is that a bad thing? No. Is it complicated? Not really. But we know that many players join without thinking and do so under assumptions that are simply not true. This is where the problems reside.
To help clarify this issue, here is a list of all available Welcome Bonuses at Nomini and the main features to lookout for:
Lime: 50% up to €1,000.
Banana: Up to €1,000 Spread Across 3 Deposit Bonuses.
Cherries: 100% up to €500 + 100 Free Spins.
Watermelon: 1 Free Spin for every €1 deposited up to €500.
Strawberry: 15% Cashback on all Live Casino games.
Raspberry: 10% Cashback up to €200 on all games.
Starfruit: 200% Bonus up to €50.
The minimum deposit amounts range from €10 to €20. Most wagering requirements are fixed at 35x for the deposit and the bonus and 40x for Free Spin winnings.
Make no mistake about it, this system is great and we really like it. We would have preferred it if these bonuses had a little more variety, such as the addition of a couple of high roller Free Spin and Matched Deposit Bonuses, but it's good to have so much variety.
For all the complaints that players have made, we feel like they are overlooking the only valid one, and that concerns the wagering requirements. While 35x may seem like a respectable amount, it covers the full amount—deposit and bonus.
To put this into perspective, if you opt for the Lime bonus and you deposit €2,000 to get an additional €1,000, you will then have to clear €105,000. That's a huge sum of money in anyone's book. If you were wondering why you would reject these bonuses in favour of the Free Spin offers, now you know why. We'd still recommend the Matched Deposit offers, particularly Lime, Banana, and Cherries, but the lower wagering requirements for the Free Spins make them more viable for some players.
VIP Scheme
The Nomini VIP Scheme is simple but worthwhile nonetheless, putting it on par with the Cadoola Casino VIP Scheme and other similar Cashback-centric Loyalty Schemes.
There are five levels to this scheme. The first two levels are pretty useless, as far as we can tell, but things begin to get exciting at the third level. At this point, your maximum withdrawal increases by 20% and you get 5% Cashback.
Advance to the fourth level, and you'll be given your very own account manager, with a total Cashback of 10% and a maximum monthly withdrawal that increases by 50% from the original amount. At the final level, the Cashback increases to 15% and your monthly requirements are doubled compared to the first level.
VIPs and other regular players also have access to a number of Reload offers, with bundles of Free Spins, lots of Matched Deposit bonuses, and more. Take a look at the Nomini Casino Promotions page to learn more about these offers.
Tournaments
Tournaments are becoming increasingly common these days and we couldn't be happier. We love a good real money tournament and think it's one of the best ways you can spend your time at an online casino. You're essentially increasing your chances of getting a payout without increasing your chances of losing, and you can't ask for more than that as a gambler!
These tournaments work just like the tournaments at Syndicate Casino and other top online casinos. You opt-in, play the game, make sure you stake the minimum amount each time, and then climb the leaderboard. If you finish in the top positions, you'll get extra prizes, including Free Spins, Bonuses Credits, and more.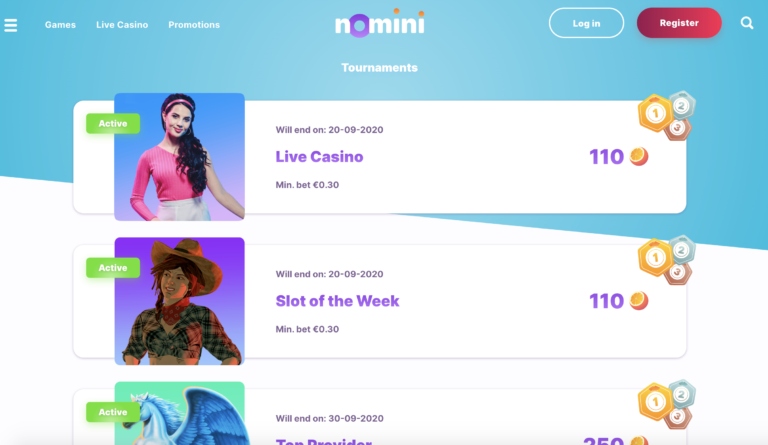 Payment Options
As is the case with all Araxio Development online casinos, Nomini has a withdrawal limit fixed at just €500 a day and €10,000 a month. This can increase to €20,000 a month if you make it to the latter stages of the VIP Scheme, but that's a big ask and it's also not a sufficient reward. Anyone who makes it that far needs to deposit and wager huge sums of money and why would they choose to do that in face of such restrictive limits?
Withdrawals can also be very slow here. They are processed in 2 or 3 days on average but this can double if you are asked to submit verification documents. On the plus side, there are very few issues with this process and it typically goes very smoothly. This is how it should happen, but more often than not, we encounter online casinos that insist on rejecting every image submission, even though the same images and the same documents have been accepted by many other casinos and meet all of their terms.
We have to commend Nomini for not doing this and for making the process as pain-free and fast as possible.
In addition, you are not charged for any withdrawals and you have a number of payment options at your disposal. You can choose multiple cryptocurrencies and fiat currencies, including Bitcoin, Litecoin, Neteller, Skrill, and more.
Highlights
Great Theme
Backed by a Major Operator
Great Tournaments
Great Welcome Bonuses
Loyalty Scheme
Cryptocurrencies and Fiat Currencies
User Reviews
We have already noted just how many negative reviews there are of Nomini and how most of these concern its bonuses and the confusion surrounding them. Once you remove these issues from the equation, there is very little to worry about and we haven't seen any major complaints or concerns from players.
Some reviewers have highlighted the same issues that we have, including the low withdrawal limits and the limited gaming selection, but no one is outwardly claiming that the casino did something wrong and no one is complaining about customer support.
In fact, we found the customer support team to be very helpful every time that we contacted them. In addition, they made an effort to respond to all customer reviews, including the positive and negative ones. It's great when casinos do this as it stands as proof that they are willing to address the issues that appear and deal with them accordingly.
Conclusion
Our experience with Nomini was positive, for the most part. It may seem like we hated our time here as we have been complaining a lot, but that's only because we had so much hope for the casino and believe it had the potential to be great. Maybe it wouldn't be as impressive as Bitstarz Online Casino, which is one of the best out there, but it could have been in our top five.
With the inclusion of a low withdrawal limit and a small selection of games, however, it lags behind those major online casinos. Still, it was established fairly recently, so maybe that will change. Maybe the operators will see the error of their ways, expand their selection, and get rid of that annoying withdrawal limit.
We can only hope!
Which Nomini Bonus is Best?
That's up to you to decide. Take a look at the Bonuses section above, consider the terms, and find the bonus that works best for your play style and stake level.
Can I Play in the UK?
Nomini is not available in the United Kingdom. We have reviewed many other casinos that are, though, including the excellent BetVictor Casino
Can I Play in the US?
You cannot play in the United States. Nomini is a licensed and regulated online casino and avoids the US market as you would expect from such a site.
Does it Accept Bitcoins?
Yes! You can use Bitcoin and Bitcoin Cash.
Is Nomini Legit?
Of course! There are some people suggesting otherwise, but as discussed above, a lot of the issues result from misunderstandings.
Nomini Casino Review Details
Restricted Countries:
Australia
Bulgaria
Cyprus
Denmark
Iran
Iraq
Israel
Italy
Malta
Moldova
Netherlands
Portugal
Spain
Sweden
UK
Ukraine
US
Languages:
English
Finnish
French
German
Hungarian
Polish
Portuguese
Russian