Pros
Massive Brand
Big Promotions
Playtech and NetEnt Games
VIP Rewards
Relaxed Transaction Limits
Sportsbook and Poker Room
Cons
Minor Site Issues
Lots of Country Restrictions
PokerStars is one of the biggest gambling brands in the world. It began as a poker site and earned a reputation for being the best place to play Texas Hold'em, as well as the only place to play games of online Badugi, Omaha, and other hard-to-find titles. After Black Friday, when US-players were banned from poker sites, the owners of PokerStars acquired Full Tilt Poker, its main competitor, and it has been growing ever since.
one of the biggest gambling brands in the world.
PokerStars added a sportsbook (initially known as BetStars) and an online casino (PokerStars Casino) to its portfolio, and in 2020, it was acquired by Flutter Entertainment, which also owns the immense Betfair and Paddy Power brands, as well as FanDuel, SkyBet, and many more.
PokerStars is licensed by the UK Gambling Commission and can be accessed by players from all over the world.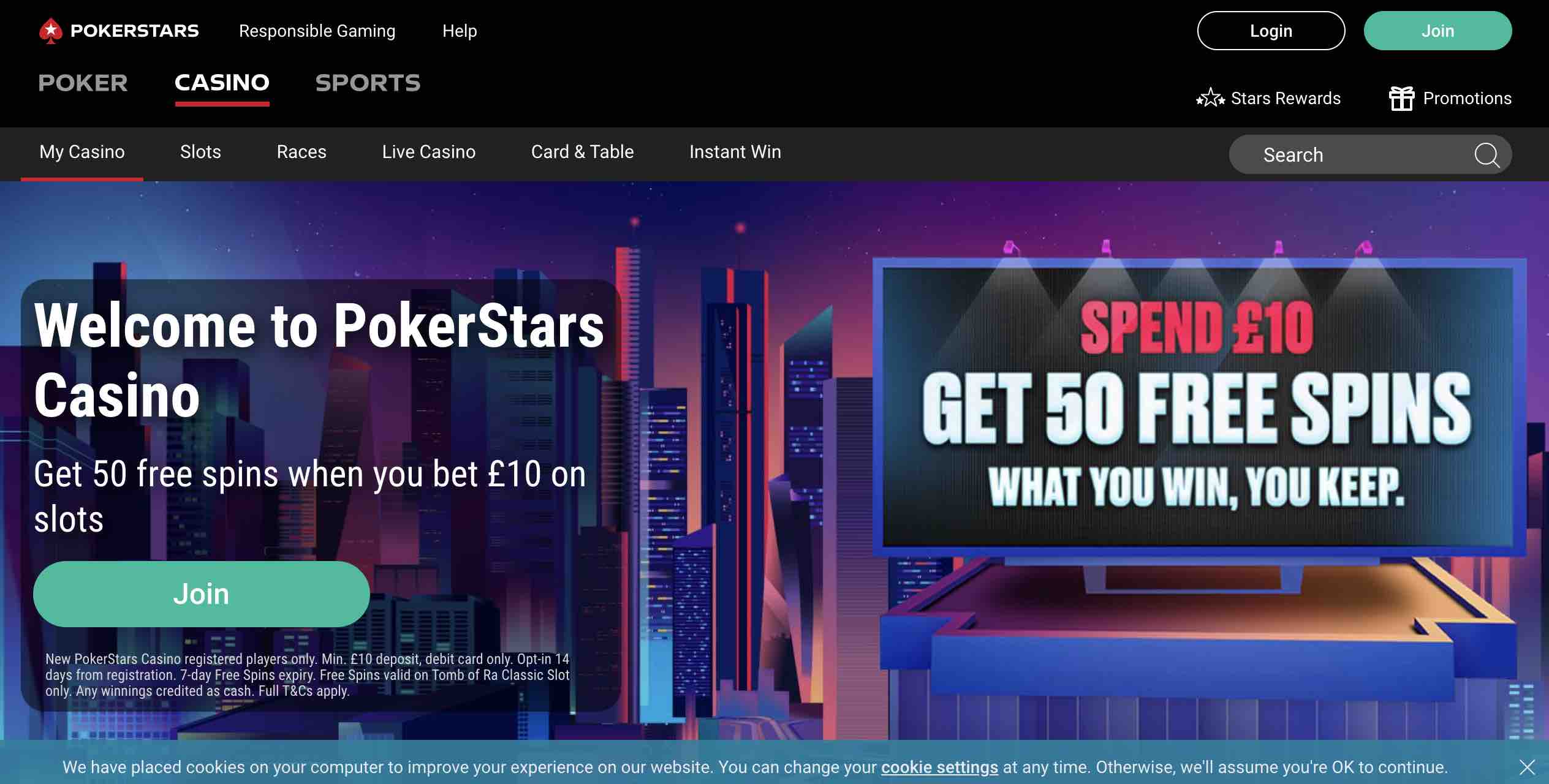 Basics
The PokerStars website used to be very messy. A few years ago, you could play casino games by clicking a link added to the PokerStars Poker application, but it never really worked for me and there always seemed to be an issue. Around the same time, they launched BetStars, a sports betting site. Again, there were issues with this, because while I was able to access with my PokerStars information, the two never really seemed to be in sync.
Those problems are a thing of the past, thankfully. BetStars seems to have been replaced by PokerStars Sports and all of the site's sections (Casino, Sports, and Poker) work together seamlessly now. One account will give you access to all of them. If you want to play poker, you will need to download the application, but you can play the casino games and place sports bets directly through the website.
Problems
There are a few things that I don't like about this site and the way it operates. One of the issues is the customer support, and I'll talk about that later, but the content is also poor. For such a massive online gambling site, you would expect a little more time and money to have been invested in its copy and website content.
It's something I have complained about in the past, pointing to the many typos and blatant overlay/formatting and translation issues on sites like WCasino. PokerStars doesn't quite make that mistake, but it also forgoes helpful guides and eye-catching copywriting in favour of keyword-stuffed SEO nonsense.
As a prime example, take a look at the image below, taken from the bottom of the casino homepage. It's prime real estate, and while it's useful for SEO purposes, it should also be interesting to read. After all, nonsense aside, that's the ultimate end goal for Google and, therefore, should be the goal of all SEO writing.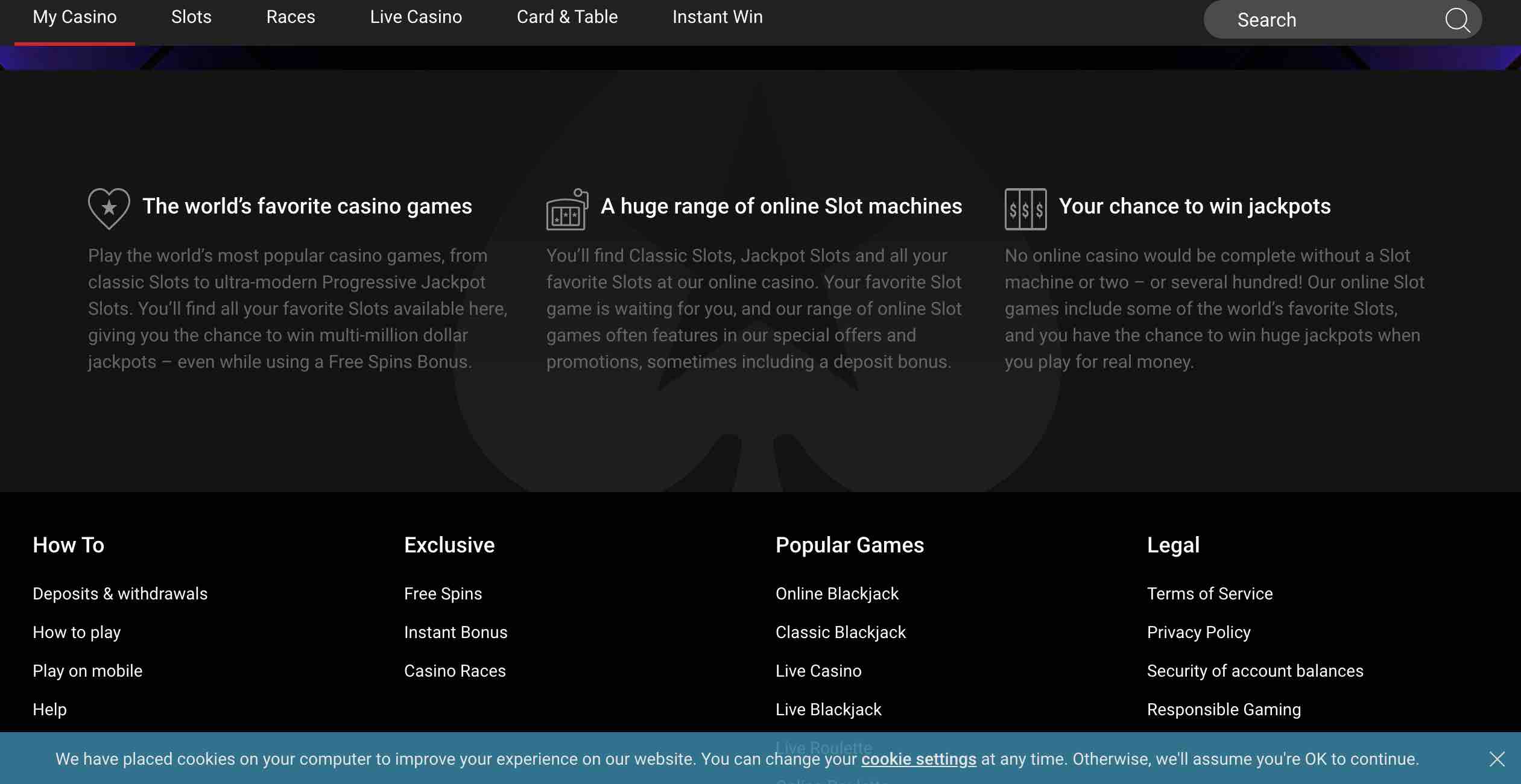 Now, take a look at the following two paragraphs and tell me that this wasn't written for Google:
You'll find Classic Slots, Jackpot Slots and all your favorite Slots at our online casino. Your favorite Slot game is waiting for you, and our range of online Slot games…No online casino would be complete without a Slot machine or two – or several hundred! Our online Slot games include some of the world's favorite Slots…
Slots, slots, slots—we get it, you have bloody slot machines!
Now, don't get me wrong, this is not necessarily the fault of the copywriter. I've been in this business for 10+ years and have written for many major casinos. I know how content editors operate, and I wouldn't be surprised if this terrible text was the result of a content manager sending a writer the following missive:
I want you to write three paragraphs of up to 50 words each, and I want the words, "Slots", "Online Slots", etc., to be used at least 10 times.
The person who commissioned this and okayed it is the one to blame, and it's a major oversight for such a big brand.
Do better, PokerStars!
Software and Games
PokerStars works with developers like NetEnt, Blueprint Gaming, Big Time Gaming, and Pragmatic Play, but the bulk of its games are provided by Playtech. There are hundreds of real money slots from this creator, including many of its biggest progressive jackpot games, such as the Age of the Gods series.
It would have been nicer to see more categories, because they are all listed by "New", "Popular", "Exclusive", and "Megaways", and with the exception of the latter, there are hundreds of options for each and it makes for some endless scrolling.
The Exclusives section is one that I always like to see but one that doesn't appear very often. In the past, I have reviewed Slotman Casino and noted how it had a single exclusive slot. It wasn't great, but that single slot is still more than the vast majority of online casinos have. At PokerStars Casino, you'll find a few dozen exclusive slots and many of these have a jackpot attached.
I'm not convinced that all of these slots are actually exclusive, as Wild Ride is listed under this section and I know it is available elsewhere. However, many of the games do seem to be unique, or at the very least rare.
Mobile play has never been an issue for PokerStars. In fact, the brand's poker room was one of the very first mobile gambling experiences I had, and I know that the same is true for many other gamblers. They were quick to take PokerStars Casino online and it has always provided a solid and straightforward experience, with support for Android and iOS.
As noted above, PokerStars also has a sportsbook. It is not the biggest sportsbook that you will find, but it does cover a wide range of sports and has some decent odds. I have personally used it to bet on a number of football/soccer games, and regularly drop by to place snooker, rugby, and boxing bets, all of which it handles very well. You'll find a good assortment of Totals bets and Prop bets, as well as many Handicaps.
One of the unique features on this sportsbook is something known as Spin & Bet. It follows on from a feature that was available in the poker room and allows you to play a game of chance to collect your betting odds. You could get slightly worse odds or much better odds. It's the risk that you take, and it's always worth taking a punt if you have a few quid left after placing your main bets.
Bonuses and Promotions
The main PokerStars Casino bonus offers 50 Free Spins when you spend £10 on casino games. That's not all, either, as you get to keep every penny that you win and don't need to worry about wagering requirements. There are lots of other bonuses as well.
One of the great things about PokerStars is the VIP Reward system, which is connected through all areas of the site. Whether you're placing a bet, spending big on a slot machine, or playing a guaranteed poker tournament, you will earn Loyalty Points. These points are displayed at the top of the website at all times and appear as a slowly-filling meter alongside a coloured box.
Once the meter reaches the end, you will get 1 box to open. Just click the box to trigger a pop-up animation. This will reveal coins, cash, free bets, free spins, and other rewards. The more than you collect, the more valuable the box will become and the bigger these prizes will be. There is also a major element of luck at play.
To give you an example, my account is at Level 1, which appears with Blue Boxes. Typically, I will get around 60 coins per box (these can be used to play a poker hand that gives you a chance to win a jackpot) as well as either 5 to 10 Free Spins or a $0.50 to $1 Free Bet. It's not huge, but these things add up over time. What's more, I have also won a free $5 Poker Ticket and a free $10 Poker Ticket in the past, and these are certainly more useful.
If you're very active, whether you're playing poker every day or dropping a few hundred quid on slots, you'll move through these levels quite quickly, at which point the value of the rewards will increase substantially.
PokerStars promotions differ depending on which part of the site that you access. If you want the biggest offers, and ones that are available on slots and table games, you'll need to make sure you join through the PokerStars Casino (click the links on this page).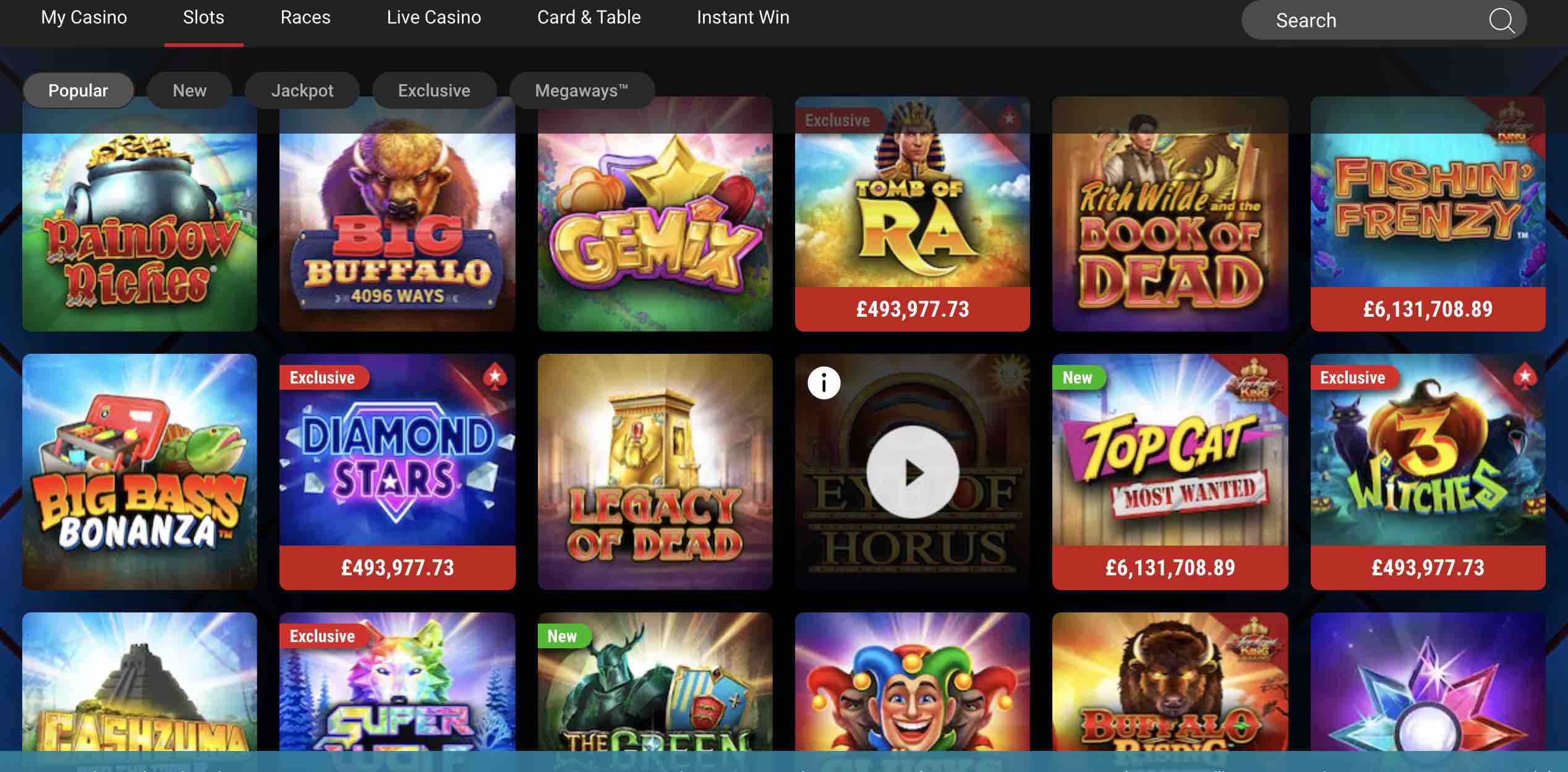 Payment Options
PokerStars accepts PayPal, debit cards, and a few other popular payment methods. PayPal tends to be the best option to use as it creates a rapid and straightforward process for both the deposits and withdrawals.
A few minutes before writing this review, I processed a withdrawal through PokerStars Casino using PayPal. I confirmed the transaction, closed down the cashier pop-up, and took a few seconds to check the latest scores in the Live Betting section. Mere seconds later, my email inbox pinged and the withdrawal was there!
It's incredibly quick, and I also love the fact that the subject header of the notification email is "MONEY!!!!". It comes from PayPal, so I'm not sure how much say PokerStars has in that subject line, but I've processed payments from dozens of casinos and sportsbooks and I have never seen it anywhere else.
Trust me, after a big win, not only is it great to get an immediate withdrawal, but it puts a smile on your face when the subject line literally reads your mind.
There doesn't seem to be a withdrawal limit on PokerStars and if there is, I have yet to encounter one. After all, while the casino part of the site isn't as experienced as some of its competitors, the rest of the site is. We're talking about a poker room that processes millions every single day, including cash prizes in 6-figures and 7-figures. It's not afraid of paying out big money and doesn't restrict its players in the same way as Araxio casinos like Rabona.
Cryptocurrencies
At the time of writing, PokerStars doesn't accept Bitcoins or any other cryptocurrencies. It certainly seems like a brand that will embrace this technology at some point, but that has yet to happen. We will keep an eye on things, though, and will adapt this review accordingly if they ever change.
If you're looking for a cryptocurrency casino in the meantime, take a look at our guide to the best Bitcoin casinos in the world. It covers hundreds of top casinos, all of which accept Bitcoins, with many also using Litecoins, Ethereum, and other digital currencies.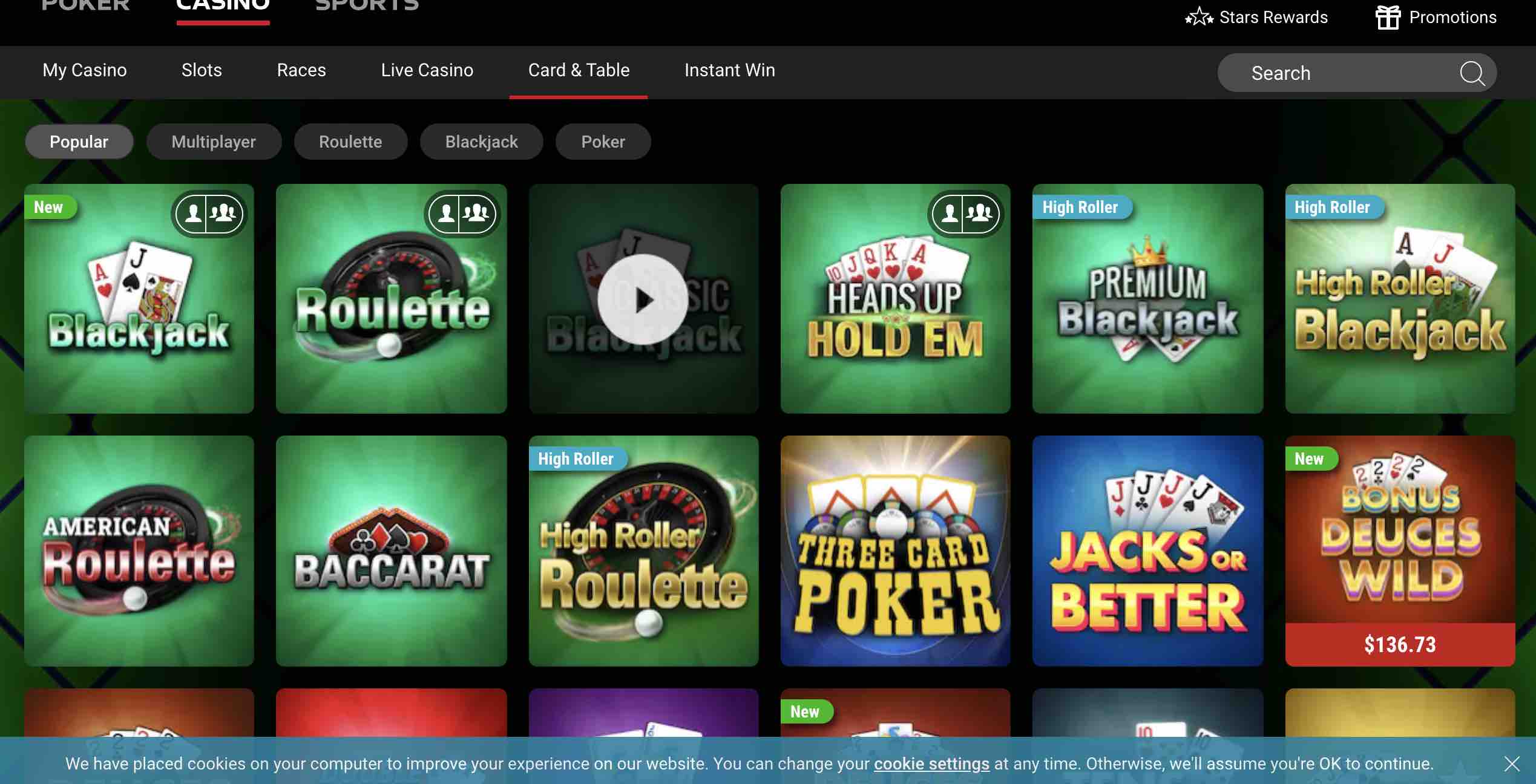 Highlights
Massively Respected Brand
Huge Online Casinos
Sportsbook and Poker Room Attached
Multiple Promotions
VIP Schemes
FAQs
Is PokerStars Casino Available in the UK?
Yes! You can access PokerStars Casino in the United Kingdom and it has a license from the local authorities.
Why is My PokerStars Casino Balance in USD?
If you have been a member for a long time and began on the PokerStars Poker Room, it's likely that your default currency was set to USD. This is also true for my own account. If you want to change, simply visit the Cashier, click on the "Manage Currencies" tab, and select from one of the four options (USD, EUR, CAD, GBP). You will need to activate your chosen currencies and then make the main one your "preferred" currency.
Can I Access PokerStars in the United States?
There was a time when US players were part of the poker room, but that changed in 2011, when the three largest poker rooms were indicted and essentially blocked in the United States. US Players are currently unable to access any part of the site.
Why Aren't my Loyalty Points Showing?
Your Loyalty Points will only be added to your account after a bet or game has been settled. If you bet £100 in the sportsbook, for instance, you won't see the points accumulate immediately, but should notice them within minutes of the bet settling as a loss or draw.
Is PokerStars Casino an Afterthought?
It's easy to dismiss casinos like this as an afterthought. After all, the poker room is clearly the main focus and you could even argue that the sportsbook is second, so how good can the casino be? In actual fact, PokerStars Casino uses similar software that you will find on many of the biggest online casinos and it also processes huge sums of money. I wouldn't be surprised if PokerStars Casino was the brand's biggest earner.
Can I Use Bitcoins at PokerStars Casino?
You cannot use Bitcoins right now, but that might change in the future as they become more accepted on major UK gambling sites. If you want to play BTC casinos in the meantime, take a look at the excellent Bitstarz Casino.
Final Thoughts
The PokerStars website is massive and it's a site that I keep returning to time and time again. I will happily say that it has the best poker room in the world, although there isn't much competition these days. However, I don't think that it is the best casino, nor do I think that it has the best sportsbook. But it is better than sites like Fezbet and when you put all of these things together, you have a fantastic site that is definitely worth checking out.
Not only does it bring so many worlds together, but it does so with one of the best Loyalty Programs that I have encountered. At CoinBuzz, we have made a pretty big deal about these programs in the past and have noted that they are often excluded on major sportsbetting sites and UK gambling sites in general, but the BTC gambling sector has helped to change that.
PokerStars is not only one of the few non-BTC gambling sites with a major VIP Rewards Scheme, but it's one of the best sites in general to have this program. Sign up today to see what the site can offer you and make sure you join via the links above to collect your PokerStars Welcome Bonus.
PokerStars Casino Review Details
Restricted Countries:
Asia
Australia
Belgium
Czech Republic
Estonia
France
Germany
Iran
Iraq
Israel
Italy
Latvia
Netherlands
New Zealand
Slovenia
Spain
Sweden
Switzerland
US
Languages:
Chinese
Dutch
English
French
German
Italian
Japanese
Norwegian
Portuguese
Spanish