Pros
Mobile-Friendly
Live Chat
Lots of Top Developers
Lots of Payment Options
Crypto and Fiat Currencies
Cons
Issues with the Site
Horrible Colour Scheme
Dated Casino
Slow to Resolve Complaints
WCasino Online was launched back in 2015. It is a Curacao-licensed online casino operated by Mirage Corporation N.V. and in this WCasino Online review, we'll pick apart its theme, layout, games, promotions, and more. There are lots of positives to discuss here, but there are also some negatives that need to be highlighted, including a few things that really shouldn't exist.
WCasino Online is not quite on par with the likes of Oshi Casino and some of the other Bitcoin-friendly casinos we have covered. There's no chance of it topping our list, and that was evident from the beginning. The question, however, is whether or not it's worth your time and money. Is it good, is it mediocre; should you join or should you ignore?
Keep reading our WCasino Online review to learn more.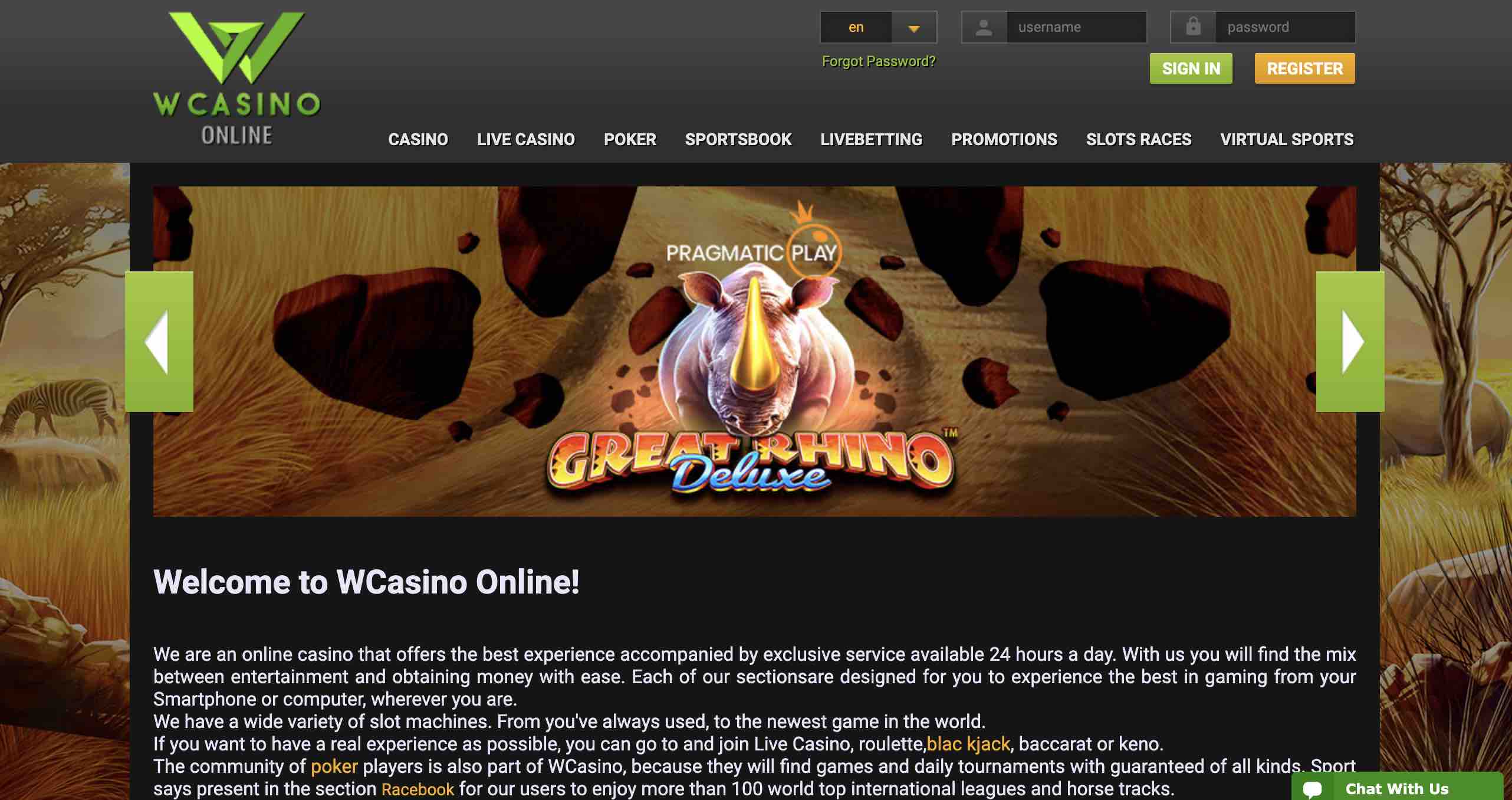 Aesthetics
There are a few things that we like about the WCasino Online layout, so let's begin with those.
Firstly, the slider implementation is brilliant. You click the arrows to switch left and right between gaming images and promotional images, and the entire background switches to match. It's a small touch, but it makes a huge difference to the aesthetic, and that's important, as there isn't much else that we like about the aesthetic.
Firstly, whose idea was it to go with dark grey and bright green? We've seen some strange choices and usually, with the right inflections, they work. This one, however, just doesn't work. And the reason it doesn't work is because that horrendous green is much more than a simple accent.
To make matters worse, the site isn't always as quick as it could be. We also noticed some very odd mistakes and word choices on the home screen. The block of text that welcomes players to the casino is poorly spaced, with a mixture of line spacing options that means everything looks out of place. More worryingly, it welcomes players to "join Live Casino, roulette,blac kjack, baccarat or keno" and that mistake is not ours.
We also noticed some very odd mistakes and word choices on the home screen.
Our word processor had a fit when we tried to replicate that mistake, and it's something that is usually fixed automatically. We understand how errors like this can slip through the net, and if we were looking at a brand-new blog written by a friend or even a new affiliate site, it would be understandable. But we're talking about a professional, regulated online casino that is asking players to deposit money, trust them with their credit card details, and stay for the long haul.
Maybe we're being picky, but if we notice typos on retail products, we don't buy them. If we see mistakes on e-commerce sites, we don't shop there. And while we understand that many online casinos don't have the best copywriters, they should at least hire a proofreader, use a spellcheck, or just have someone else look at it!
Although small, issues like this suggest that the owners aren't paying enough attention or don't have the resources needed to do so. A site that received regular security checks, audits, and reviews would never have such issues. That's why they are so telling.
And if you still think we're nit-picking, consider this: this mistake has been there since 2017, two years after the site launched and three years before this review (we don't have a great memory, we just used the Wayback Machine).
Games
WCasino Online has hundreds of games from more than two dozen top developers. If you can face the bright green menu on the games page, you can search by developer, choosing from options like Betsoft, Big Time Gaming, Thunderkick, Red Tiger Gaming, Booming Games, Blueprint Gaming, Quickspin, Yggdrasil, and many others.
If you don't know which developers to highlight, use the menu above instead. This allows you to search by game types, including all of the following:
All: An unfiltered list of all of the games available at WCasino Online. We wouldn't recommend using this menu option as there are a huge list of titles to browse through and you could spend all of your time scrolling and very little time playing.
New: All of the games here have recently been added to WCasino Online. If you're someone who spends a lot of time at online casinos and feel like you have played every game going, this could be the section for you. You are guaranteed to see at least a few new games.
Video Slots: Most of the games at WCasino Online are slot machines, and they are all included here. Just like the "All" section, there are a lot of games to peruse.
Table Games: Try your hand at card games, dice games, and wheel-based titles, including Baccarat, Blackjack, Poker, Roulette, and more.
Scratch Cards: Virtual scratch cards are often underrated and under-appreciated, but we have always enjoyed the occasional game. They work just like their real-world counterparts, offering instant results and the potential for big payouts, but there is a little more style and a lot less mess!
Jackpot: One spin is all it takes to win big—that's the beauty of jackpot games. These titles include fixed and progressive jackpots, many of which have 5 and 6-figure payouts.
Virtual Games: These games are uniquely interactive titles that offer a little something different from table games and slots. They include dice games like Crown and Anchor, as well as sports titles like Football Manager. But before all you FM fans get excited, this game is not quite what it seems!
Video Poker: Play some games of Draw Poker against the AI. Choose from a host of different titles, all offering something different. It is not the largest selection of Video Poker games we have seen, but there should be enough to keep poker fans busy.
Video Bingo: Another popular game in virtual form, Video Bingo titles are basically lottery games with instant results. If you like Keno and similar games, we recommend taking a look.
WCasino Online has a sports betting menu listed on its homepage, but no matter where we set our VPN, every time we clicked the link we were told that it was restricted. We did compile this review during the latter stages of 2020 and the chaos of the pandemic, so maybe it was temporarily suspended, but our guess is that this is just another unfinished and dated aspect of the casino.
The reason we think that is because the sports book link only shows on certain pages. It's not there on the Homepage or the Casino page, but if you visit the Live Casino, it appears. Just another oversight on behalf of the WCasino Online development team.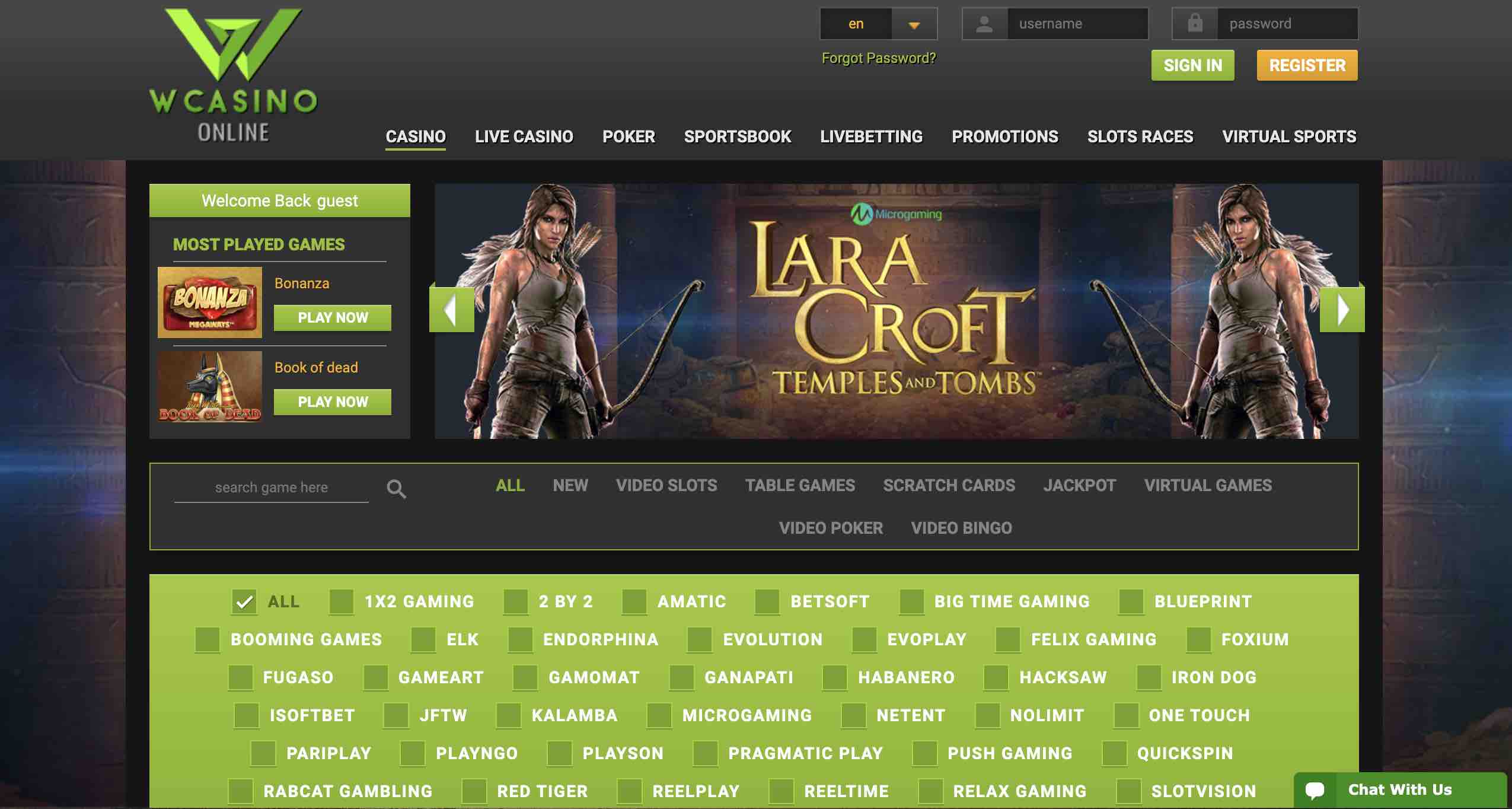 Bonuses
If WCasino Online had poor bonuses, there would be no saving grace and no reason for us to recommend it. Sure, it has good games, but when you can find many of the same titles at top casinos like Bet It All, why focus your attentions here? However, WCasino Online redeems itself somewhat with some very respectable bonuses.
The Welcome Bonus offers up to €1,000 over three deposits (100%, 50%, 50%), along with hundreds of Free Spins. You need to deposit a minimum of €25 each time and have 15 days to clear wagering requirements of 40x.
The Welcome Bonus also provides 300 Free Spins to be used on a single game. At the time of writing, that game was Planet Habanero—not one we're familiar with, but one that was created by a very respected developer.
Other things to look out for include some very generous real money slot tournaments. These tournaments allow you to win your share of massive prize pools, including one offering up to €2,000. There are several of these tournaments active at any time. Initially, we thought that the casino's relatively small size and limited playerbase would help us and make it easier to climb to the top of the rankings.
We're sure that many other players will have the same idea, but that's simply not the case. As far as we can tell, the site runs two types of tournament. The first are active across all of the casino's sister sites, of which there are many (and most are more popular). The second are run by developers, and so they seem to be active on many casinos across the web.
In other words, there is no shortcut to success here.
Banking Options
You need to deposit at least €20 at WCasino Online and you can increase this to as much as €1,000 per transaction. This covers most payment options but the limits are a little higher for Bitcoins, beginning at 0.001 BTC and extending to 0.5BTC. Similar limits apply to deposits made using Litecoins, Ethereum, and Ripple.
All withdrawals are processed within 24 hours and the only exception is for credit cards, debit cards, and wire transfers, which can take a few days. Verification checks are common, so expect to be asked for your utility bill, identification, and other basic information when you make your first withdrawal. Fortunately, this process is usually very quick and typically takes just a few days.
Canadian players will be happy to see that Interac is listed as an option here and Neosurf is also listed, which allows players to make payments through their mobile devices. Other options include Paysafe Card and Flexepin, both of which are prepaid cards.
Limits
WCasino Online limits all players to withdrawals of no more than €5,000 a week and €15,000 a month. It's not the lowest we have seen and looks pretty substantial next to Araxio Development websites like Nomini Casino, but it still rules out high rollers and makes life difficult for medium stake players as well.
€5,000 is a lot of money for small stake players and it's much more than they will ever need. It might cause problems if they win a large sum in one of the casino's many tournaments and scoop a jackpot, but even then, it will take just a few weeks for them to get their money.
Features
Top Developers
Live Casino
Live Chat
Mobile-Friendly
Multiple Payment Options
Bitcoins and Traditional Currencies
FAQs
What Languages Can I Use?
The site can be accessed in German, English, and Spanish. For more information on the accessibility options and more, take a look at the tables below this review.
Can I Play in the UK?
You cannot, which is a shame, but there are many other great sites for players in the UK. For more information on one such site, take a look at our review of 32Red.
Can I Play in the US?
If you are in the United States then you will need to look elsewhere. It is a legal and regulated casino, so US players can't join.
Is it Licensed?
Yes, of course it is. It is licensed by the authorities of Curacao. They are not the most diligent, but they are still an authority that oversees casinos like this one and keeps all players safe.
What Currencies Can I Use?
You can use Canadian Dollars, Euros, and United States Dollars. You can deposit with cryptocurrencies but are unable to switch the site currency to BTC.
Customer Reviews
It has been claimed that WCasino Online has 24/7 Live Chat, but it only seems to be active for half of the day. To be fair, the casino hasn't made that claim itself and the staff are very helpful. What's more, there are other support options available as well, and you can typically get the answer you need very quickly and without fuss.
Some of the WCasino Online user reviews we have seen have highlighted this issue. Many of them have also pointed to the casino's design and spoken of the same issues that we addressed above. Speaking of user reviews, WCasino Online doesn't seem to do a great job of responding to complaints made on third-party websites, nor does it respond to negative reviews.
Again, these are minor issues but they are suggestive of something much bigger and more important. A company that cares about its customers will fall over itself to resolve complaints and find solutions for players who leave bad reviews. It shows that they have a dedicated support team and high standards, and more importantly, it gives players a recourse for action if they encounter an issue.
Casino refusing to payout? Account been suspended for no reason? When the casino responds to complaints and negative reviews, you can make your discontent known and find a solution. With that option, your only course of action is to go through the regulator, and that rarely gets anywhere. Even when it does, it may take several weeks to get the most basic response.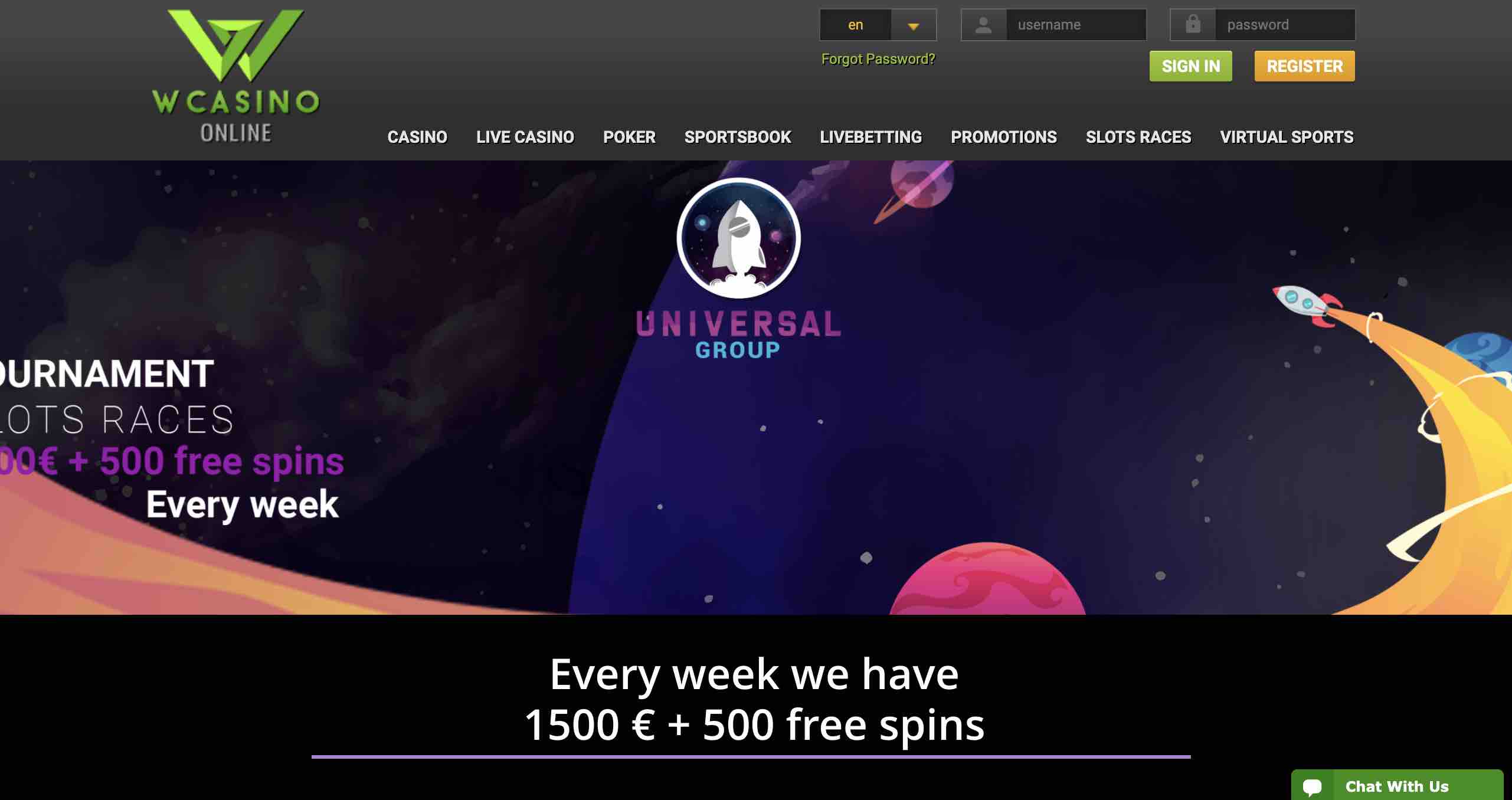 Final Word
WCasino Online has the feel of a neglected online casino. It has a few mistakes, a dated design, and is desperate for a complete overhaul. If this was an active, profitable, and flourishing online casino, we feel like the owners would have updated it.
And we're not just talking about complete overhauls, which are not that easy or simple. We're talking about the simplest of things. Even if they were to give a designer and editor a couple of hours on the site—the improvements would be minor but noticeable.
It's not terrible, but the fact that it lacks attention to detail is a concern and suggests there could be bigger issues underneath the surface. It's still a legitimate online casino and we would still recommend joining if you're looking for some new bonuses, Bitcoin payments, and a change of scenery, but don't expect it to rival the biggest and best sites out there.
For that, you'll need to focus on sites like Bitstarz instead, which has been sitting at the top of our list for some time.
WCasino Online Review Details
Restricted Countries:
Afghanistan
Albania
Algeria
Cambodia
Czech Republic
France
Hungary
Iran
Israel
Italy
Netherlands
Singapore
Slovakia
Spain
Sweden
Switzerland
UK
US