Pros
Established Brand
Microgaming Casino
Exclusive Slots
Good Customer Support
Sportsbook Attached
Cons
Not the Biggest Bonuses
Limited Slots
32Red Casino is an online casino that is licensed in both the United Kingdom and Gibraltar. It's part of the massive Kindred Group, one of the richest gambling organisations in the world and one that covers some of the biggest sites and best-loved brands. It's a site that has a lot to offer its players but it's not without its problems, and in this 32Red Casino review, I'll delve into the pros and cons and see what it has to offer.
It's part of the massive Kindred Group, one of the richest gambling organisations in the world
32Red Casino's regulation allows it to operate in dozens of countries around the world, including the United Kingdom, where it seems to do most of its business, and Canada, where it has a growing following. The site was launched back in 2002 and, in addition to its casino, which we'll cover below, it also has an expansive sportsbook.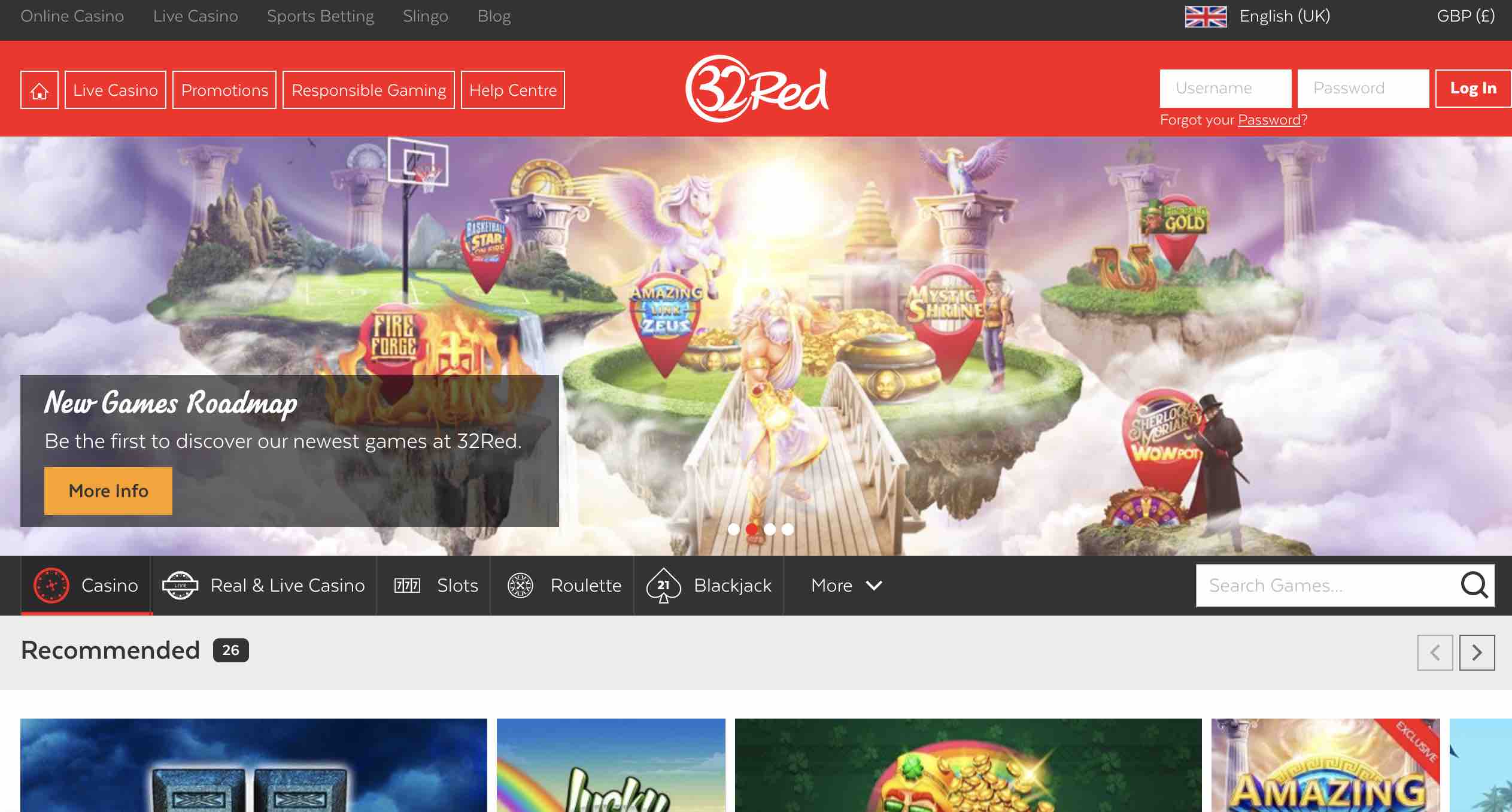 Basics
32Red Casino has a very simple layout. It utilises a red, black, and white colour scheme and is very easy to navigate. If you have spent any length of time in the online gambling industry, you may be familiar with the theme as it has been used elsewhere, including on the brand's sister site, Unibet. And that's not a bad thing, as it looks good, works well, and despite having a lot of games, promotions, and bets to cram into a small space, everything is easy to find.
If you live inside the United Kingdom, you will likely recognise the 32Red Casino brand. This is true even if you don't have much experience with the gambling industry directly, as 32Red Casino has spent a lot of money on advertising and endorsements over the years.
Its adverts have featured UK celebs like Patsy Kensit, Keith Lemon, and Ant & Dec and it has also sponsored football teams like Derby County, Preston North End, Leeds United, and Crawley.
Software and Games
32Red Casino is a complete gambling destination and comes with a sportsbook, casino, and a few bingo games. There used to be a dedicated bingo room, but this closed down a few months before writing this review and it was replaced by a handful of Slingo titles.
The casino is neatly laid out and although I often complain about the way that games are listed, there are no such issues here. However, 32Red Casino makes the mistake that many complete gambling destinations make, including the otherwise brilliant BetVictor.
Rather than going all-out to create a casino with 2,000+ games, one that can contend with the biggest and best casinos out there, it keeps things simple. It has around 500 games and the bulk of these are provided by Microgaming.
500 is still a big number, and in 2010 it would have been more than enough, but in 2021, it looks a little on the short side. It's even worse when you consider that the bulk of the games are ones that you will have likely played a million times already, including Thunderstruck II and Mega Moolah.
Don't get me wrong, I enjoy a little Microgaming every now and then and 32Red Casino is actually my preferred place to play Mega Moolah, but I also like Playtech, Betsoft, Yggdrasil, and other talented creators and they are missing here.
On the plus side, 32Red Casino creates some decent exclusives. I love a casino that is willing to create exclusive games, especially when they have several of them to offer, as is the case with William Hill Casino.
32Red Casino's exclusive games tend to revolve around gameshows. They made a big deal out of a Britain's Got Talent slot in the past and there is also a slot based on Tipping Point, The Cube, and I'm a Celebrity.
Add a Live Casino on top of this and you have a lot the elements for a fun online casino, if you like Microgaming. If you're not a fan of the industry's oldest creator, then this site probably isn't for you.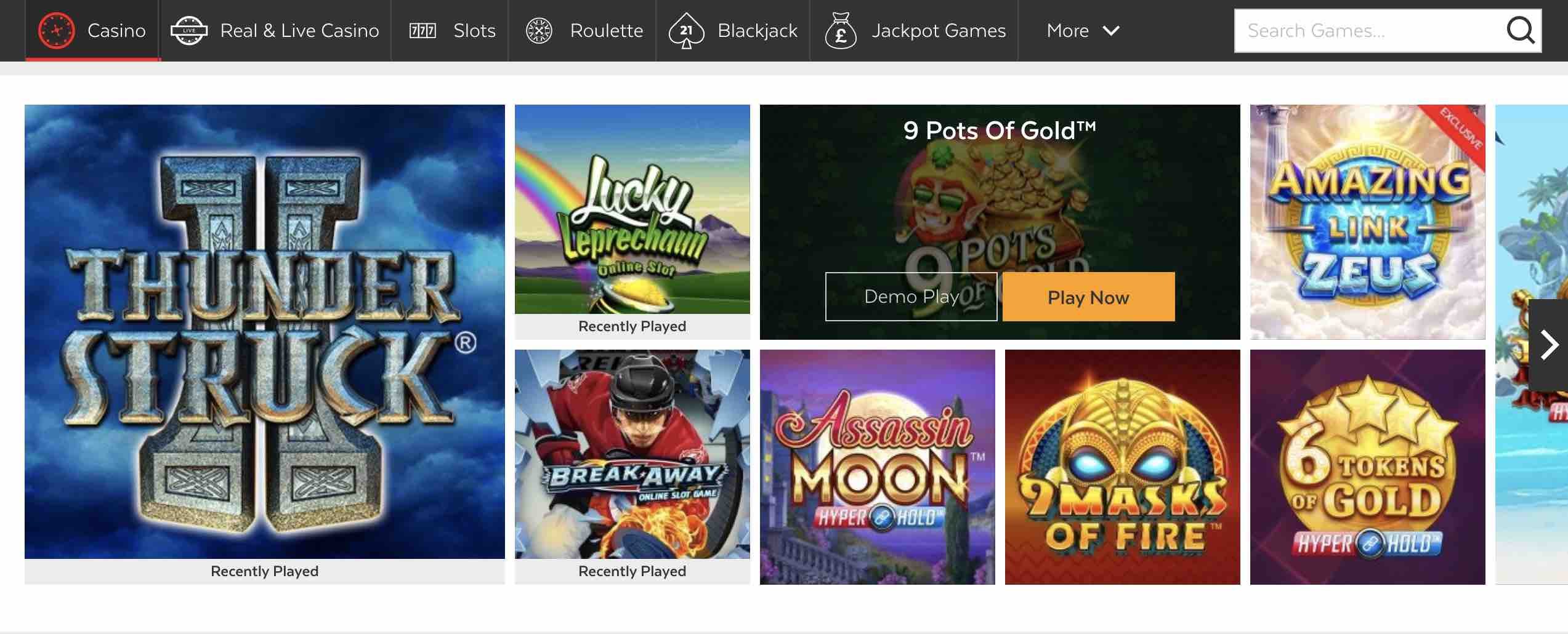 Bonuses and Promotions
If we're judging 32Red Casino's Welcome Bonus based on other UK online casinos, it's average and edges toward the low side. If we compare it to Oshi Casino and other Curacao sites, it's tiny. It offers 150% up to £150, which is decent and will be more than enough for most players, but it can't compare to the casinos offering handfuls of Bitcoins.
The upside of this bonus is the fact that it has a generous 150% match, which means you'll get £15 for every £10 that you deposit. The downside is that it only applies to players who deposit using a debit card, which means PayPal, Skrill, Neteller and pretty much everything else is out of the question.
32Red Casino has other bonuses available, but there isn't much on the way of a grand VIP scheme. In many ways, the bonuses are perfect for casual players but may not be sufficient for high rollers. After all, a casual player gets more use out of a 150% bonus up to £150 than one that offers 100% up to £1,000. If you deposit just £20, the first is always going to give you more cash, and unless you go above and beyond what you are comfortable with and familiar with (never recommended) you won't benefit from those more generous offers.
Payment Options
32Red Casino accepts a broad selection of payment methods and these are available to players in most regions where 32Red Casino is active. In the UK, for instance, players can use Visa, Mastercard, Paysafecard, PayPal, Trustly, Skrill, Neteller, ecoPayz, Citadel instant payments, and bank transfers.
You can't use Bitcoin, or any other cryptos, but that might change in the future.
Many of the accepted methods are also available for withdrawals and these payments are usually processed after a pending period of just a day. Many sites in the UK will reduce this pending period after you have been a member for a long time. At PokerStars Casino, for instance, most withdrawals take just a few seconds. This is not true for 32Red Casino, though, and the pending period remains even though I have been a member for many years.
Still, 1 day isn't bad, especially when you consider that some sites will sit on your payment for 3 days before releasing it to you.
The UK Gambling Commission is very strict when it comes to potential problem gambling issues. At the same time, however, sites like 32Red Casino are much bigger than their Curacao counterparts and so they don't place withdrawal limits on players, nor do they place low caps on their deposits. You are generally free to deposit and withdraw more with 32Red Casino than you are with Curacao licensed sites like Fezbet, but that doesn't mean that you can move massive sums of money without issue.
The UK Gambling Commission often enforces a rule known as Source of Funds, whereby players are asked to prove that they have the money needed to place their bets if they are placing a lot of them. It's rare, but it's worth keeping an eye out for. I have personally been gambling in the UK for close to 20 years and the amount I wager has increased a lot since those early days, and yet I have never been asked to submit a Source of Funds.
It's still something that you need to be aware of, but it's generally much less restricting than a withdrawal limit and it's also there for your benefit.
To understand why such a request is important, you only need to look back to the summer of 2018, when 32Red Casino was fined £2 million by the UK regulator after failing to check a customer's earnings. The player in question had a gambling issue and had deposited over £750,000 in the space of two years despite earning just £2,150 per month. If a Source of Funds check had been made early on, that customer could have been saved a lot of money and misery. As a result of this ruling, it's likely that 32Red Casino will have clamped down on the issue and will be taking things a lot more seriously.

Highlights
Lots of Payment Options
PayPal Accepted
Over 500 Casino Games
Sportsbook and Bingo Games
Very Good Customer Support
Customer Support
I am usually very limited with regard to how I can test a company's customer support options. I can email them and speak with them on Live Chat, and I always try to do those things, but as I'm just testing their speed and efficiency while asking questions that actual customers would have, I'm not able to get a proper read on them. After all, I can pretend not to understand a bonus, but I can't pretend to have won a game that didn't pay out, as they will ask for information I can't provide.
It's a different story with brands like 32Red Casino, though, and it's also different for other UK sites like William Hill, as I have personal experience with them.
Most of these experiences have been frustrating but with 32Red Casino, it was nothing but pleasant.
The first time I joined, there was a bonus that was only available following an opt-in. I didn't realise it at the time and so when I activated my account and made a deposit, I didn't get the bonus.
We've all been in that position and more often than not, the casino just directs you to the Terms and Conditions and essentially gives you a "tough luck" response. In fact, I have made this exact mistake at least half a dozen times (I've been around this industry for a long time) and I got that response all but one of those times.
32Red Casino was the exception. The support team member was very understanding. Not only did she give me the bonus in full, but she added a little extra to apologise for the inconvenience. It's worth noting that it wasn't their fault and their Ts & Cs covered them and gave them a chance to reject me and move on, but they chose to help and they ultimately did the right thing.
I have spoken with the support team a few times since then and have found them to be nothing but helpful on all occasions. You will find some reviews suggesting otherwise, and it's a big company, so it's natural that some user experiences will be different to others, but I can only report what I saw that that was a very dedicated and helpful company.
FAQs
Does 32Red Casino Accept Bitcoin?
At the time of writing, you can't use BTC or other cryptocurrencies at 32Red Casino. That might change in the future, but UK sites are a little more restricted in this department due to the regulations.
Does 32Red Casino Accept PayPal?
Yes! You can use everyone's favourite web wallet for both deposits and withdrawals.
Does 32Red Casino Have a Withdrawal Limit?
Technically, yes, but it's so high that you shouldn't have an issue. You may be asked to prove that you can afford to gamble with so much money, though.
Does 32Red Casino Have a Loyalty Scheme?
There are certainly reasons to stick around and a few bonuses and rewards to collect, but it's not like the big and generous schemes that you get from sites like Kingdom Casino.
Is 32Red Casino Safe?
It is very safe and is backed by the latest encryption technology and one of the strictest regulators in the world.
Final Thoughts
32Red Casino is an excellent betting site that gets a lot of things right, but it is lacking in some areas. It's a big site with a great sportsbook attached, some top customer support, and the backing of one of the world's biggest brands in the Kindred Group. At the same time, however, the games roster is limited, the Welcome Bonus won't appeal to high rollers, and it lacks the originality that you get with sites like Cadabrus Casino.
Of course, high rollers will be better off here than at sites like Mr. Bet, where they will be restricted by withdrawal limits.
There is certainly a lot to like here and I personally have a lot of respect for 32Red Casino, but unless I'm in the mood to play some Microgaming games, or make some sports bets, I usually take my gambling elsewhere.
It's a tough one, but there is certainly a lot of pros and if you're looking for a new gambling destination, one that comes with both a sportsbook and a casino, and one where you can win a jackpot without worrying if they are going to pay it immediately (or at all) then it's worth taking a look.
32Red Casino Review Details
Restricted Countries:
Afghanistan
Africa
Albania
Bulgaria
China
Denmark
Iran
Iraq
Israel
Italy
Netherlands
Switzerland
US
Languages:
Chinese
English
German
Italian