Pros
Lots of Games
Great Developers
Super Stylish Casino
Betsoft and NetEnt Games
Loyalty Bonuses
Three Different Welcome Bonuses
Cons
Low Withdrawal Limit
Slow Withdrawals
The purple curtain peels open and reveals a stage. There's a rabbit, looking distinctly like something out of an animated blockbuster, and an assortment of gaming paraphernalia, including skittles, gold bars, and a wheel of fortune. You'll also see a carrot, because you can't have a cartoon bunny without at least one carrot!
This is how you are introduced to Cadabrus, and we're not being hyperbolic when we say it's one of the most stylish introductions we have seen. It doesn't end there, either.
…one of the most stylish introductions we have seen.
Cadabrus maintains this wonderful theme throughout the site, blending a mix of warming purples and striking whites, and throwing plenty of anthropomorphic animals into the mix. The rabbit looks a lot like Snowball, a hilarious and surprisingly vicious bunny narrated by Kevin Hart, but we're not complaining!
Cadabrus launched in 2020 and is owned and operated by Romix Ltd. If that name doesn't mean much to you, don't worry, as it was relatively new to us as well. In the Bitcoin gambling industry, you tend to see the same names time and time again, including the likes of DAMA, Direx, and Araxio, but these brands don't have a monopoly on crypto-gambling and there are many more great operators out there.
At the time of writing, we don't have a great deal of experience with Romix's other online casinos, but if Cadabrus is anything to go by, we can't wait to play them.
For more information, and to discover what we thought of this site, keep reading this Cadabrus review.

About
Over the last decade or so, we have reviewed hundreds of casinos. If it has won an award, been blacklisted, or accepts Bitcoins, we know about it and we have reviewed it.
Where the best casinos are concerned, we've reviewed them several times.
We've seen sites that look terrible and need a lot of work (of which WCasino is a great example) and we've seen sites that are smartly designed. Cadabrus is definitely in the latter category, and where aesthetics is concerned, it surpasses some of the highest-rated casinos on our list.
Many of the casinos we have covered are regulated in Curacao, which seems to be a popular choice for cryptocurrency sites, but Cadabrus is licensed by the Malta Gaming Authority (MGA).
The MGA is one of the best authorities and one that oversees operations for countless casinos and sports books. It has a great mediation service and is generally considered to be Europe's most trustworthy regulator. That's great news for Cadabrus and for all you prospective players.
Games
An uber-stylish online casino like Cadabrus has to work with NetEnt, Yggdrasil, Quickspin, and Betsoft. These developers were made for Cadabrus. It's the perfect combination, and we were delighted to see all of them listed in the casino's games room.
The only notable omission is Blueprint Gaming, a British-based developer that is quickly becoming one of our favourites and is just as brilliant as the aforementioned creators. Still, you're definitely not short of options.
You'll find classic slots, table games, jackpot games, and a great deal more. The casino is filled to the brim with hundreds of different titles and they explore a multitude of features, mechanics, and payouts, including Megaways, Progressive Jackpots, and Cascading Reels.
Use the icons at the top of the page to filter the games by type and category, including Top List, Slots, Jackpots, Popular, Roulette, and Video Poker.
Cadabrus can be accessed on mobile and desktop and it looks just as good on both. One of the things we like about this site is that the desktop version doesn't look like it was made for mobile and the mobile version doesn't look like an afterthought.
It's an issue that even the best casinos suffer from, including Tsars Casino, which we recently reviewed here on Coinbuzz.
To top things off, Cadabrus has a Live Casino that is provided by Evolution Gaming. This player-favourite has created some of the industry's best-loved games and has won numerous awards for its efforts. You'll find the bulk of these games at Cadabrus, including the brilliant wheel-of-fortune-based Dreamcatcher, the exciting Lightning Roulette, and the classic Caribbean Stud Poker.
If it's next-level immersion that you're looking for you can't go much wrong with the Cadabrus Live Casino.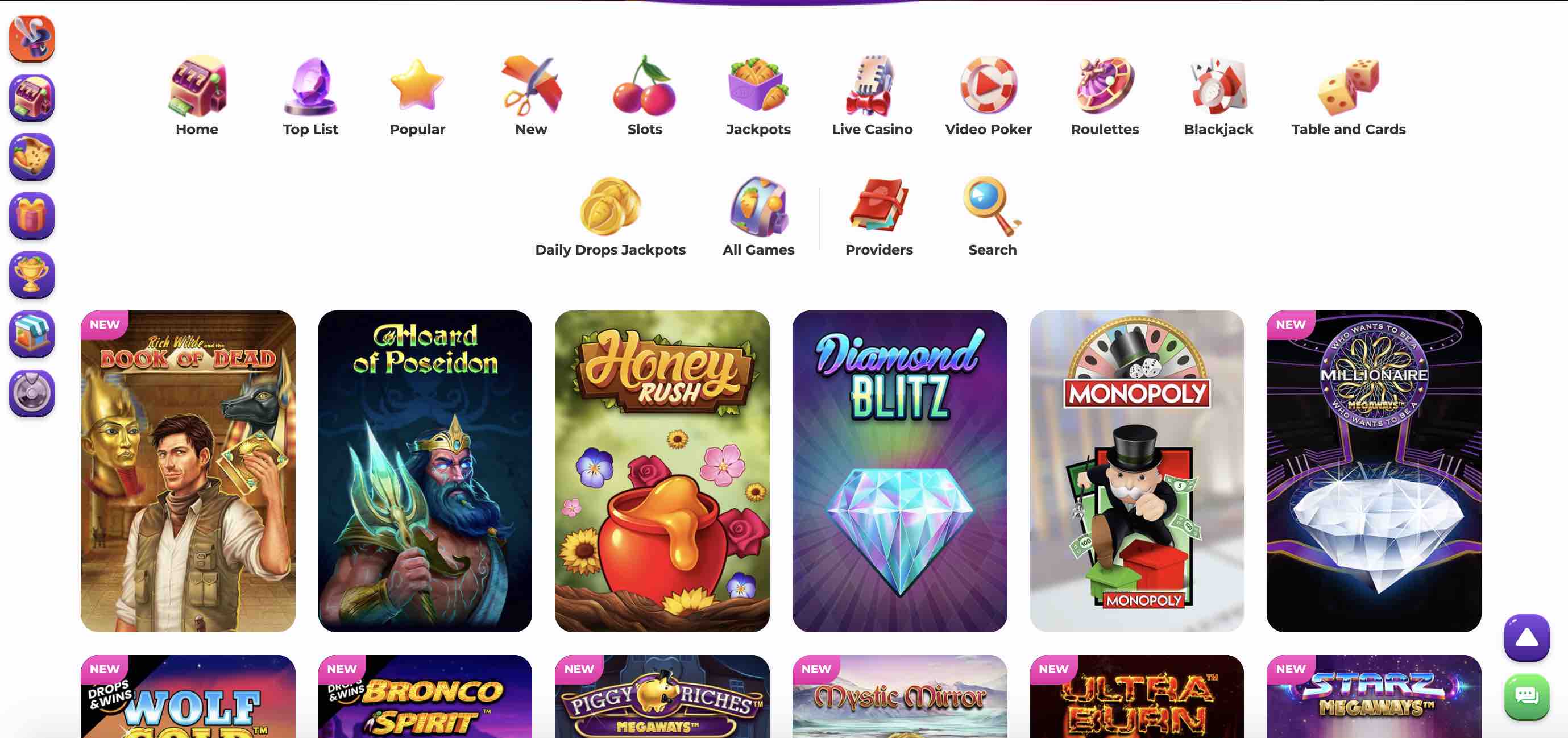 Bonuses
Cadabrus doesn't have just one Welcome Bonus; it has three. As a new player, you can choose which one you want, with your choice typically dependent on how much you deposit and what sort of player you are.
The first bonus offers €200 Cashback. You will get 10% Cashback to a maximum of €200, which means this is a good option for players looking to deposit €2,000 or more.
The second is a 200% Matched Deposit Bonus that is capped at €100. It's generous, but it is also limiting and is best suited to players depositing €50 or less.
Finally, the third bonus offers up to €500 and 100 Free Spins, putting it somewhere in the middle of the two options outlined above.
Now for the bad news.
You will not qualify for any of these bonuses if you use Skrill or Neteller. It's something that you will see in many Terms and Conditions. It's infuriating, but it's common, and most Skrill/Neteller players have learned to adapt.
You either opt for a cryptocurrency or an alternative method, or you take your customer elsewhere.
This restriction applies to other Cadabrus Casino bonuses as well, and there are many of these to choose from. As an active player, you can benefit from a great Loyalty Scheme and lots of Reload Bonuses, Free Spins, and Cashback offers. Skrill and Neteller customers still have to look elsewhere, but everyone else can take their pick of the spoils.
Banking Options
Cadabrus is not like BetandYou. It doesn't have a seemingly endless selection of banking options and currencies. However, most of the big ones are covered and the majority of players have been catered for. Bitcoin is the only cryptocurrency, but most major credit and debit cards are accepted and you'll also see options like Skrill, Neteller, Trustly, and Interac, showing just how diverse the casino's customerbase is.
If this review stopped there, it would get 5 out of 5 stars from us and would sit at the very top of our list, up there with the likes of BitStarz Casino and other Bitcoin-friendly classics. But there are a couple of things that precent it from ranking so highly.
The first of these is the speed of the withdrawals. Cadabrus has a pending time of up to 3 days. For credit card and debit card uses, this means it could take over a week to get your winnings.
In an age where most casinos process payments instantly, this relatively short period can feel like an eternity.
And then there is the biggest issue of all, the withdrawal limit…
Limits
We have been let down by withdrawal limits in the past, including the super-restrictive limits on Araxio Casinos like Cadoola. We had hoped for something a little different with Cadabrus, but our hopes were dashed.
The site limits you to withdrawals of no more than €500 a day and this extends to an equally disappointing €10,000 a month. If you're depositing and betting in the hundreds of thousands, this simply isn't enough and it means you will forever be waiting for your withdrawals to trigger and your money to clear.
If you have more than €500 to withdraw, we recommend doing it anyway. The casino will simply process the remainder of your funds at the next available opportunity. This ensures that you don't have to keep making those withdrawals. More importantly, it prevents that money from tempting you.
Every gambler has a story about the time they won big, had an issue with withdrawals, and eventually wagered and lost all of their hard-won cash.
In fact, some players are of the belief that withdrawal limits exist for the sole purpose of getting you to wager your winnings, as casinos know that the more you gamble, the more likely the odds are to tip in their favour.
This could be true for some casinos, but in most cases, withdrawal limits are there for regulatory and banking reasons. They help the casino to keep payouts under control and to ensure that all necessary fraud and anti-money laundering checks have been completed.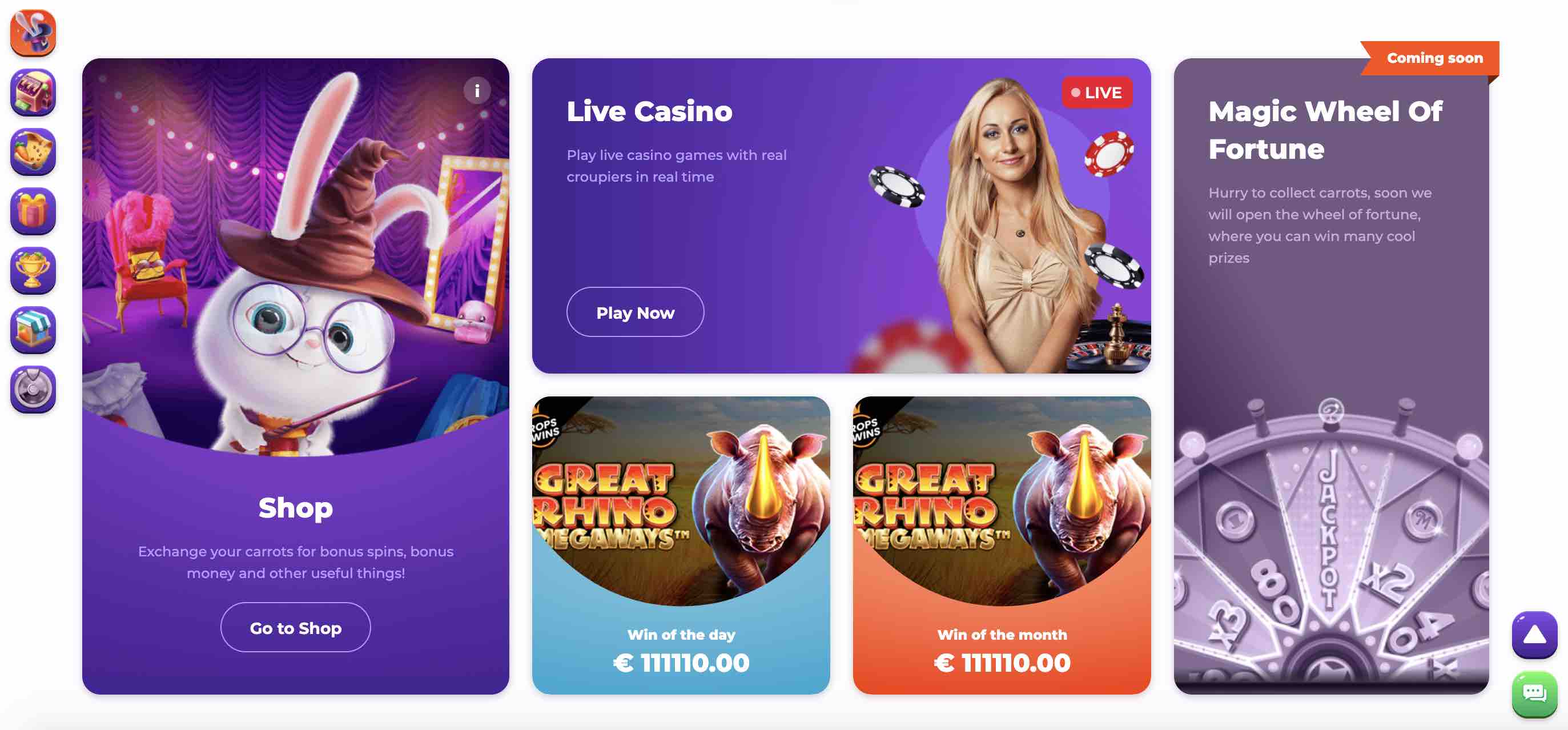 Highlights
Top Gaming Selection
Bitcoins and E-Wallets
Fantastic Design
Easy Navigation
Safe and Secure
Great Customer Support
Reviews and Support
Cadabrus has 24/7 Live Chat and this is easily the best way to contact the Cadabrus support team. It ensures the fastest response every time and the team is skilled at dealing with many account, technical, and billing enquiries.
Of course, as is so often the case, there will be times when they can't help directly and instead refer you to a phone number or forward a message to another department. But this is to be expected—you can't expect a customer support rep to be a trader, accountant, and technical wizard at the same time!
On the plus side, this process is much quicker and easier than it is with other sites. Many times, we get the impression that we're talking to a copy-paste robot whose only job is to frustrate, irritate, and cause us to give up and try another method. With Cadabrus, we didn't feel those same frustrations.
As always, we finished our Cadabrus review by seeing what other users had to say about this online casino. However, reviews were few and far between as the site had only just been launched when we conducted our review.
On the plus side, the reviews that do exist are fairly positive and all signs suggest that this is a top casino beloved by players and reviewers alike.
FAQs
If you have a few questions about Cadabrus Casino that our review didn't answer, take a look below.
Is Cadabrus Safe?
By working with a major European regulator, Cadabrus is able to offer safe and secure gambling services to players in many countries worldwide.
Can I Play Cadabrus in the UK?
In short, no, you cannot join Cadabrus from the UK.
For a casino to be legal in the United Kingdom, it needs to abide by the strict rules and regulations of this nation. These include unfavourable tax laws and KYC rules. It's a country that many major brands have turned their backs on because of these laws and that includes the owners of Cadabrus.
Does Cadabrus Accept Bitcoin?
Of course! All of the casinos and sports books we review accept Bitcoins and other cryptocurrencies.
Can I Play Cadabrus in the US?
Some US players have used Bitcoin casinos to get around US gambling laws. With a VPS and an anonymous payment service, no government can stop you. Or so they believe. However, this is not recommended.
Eventually, you'll need to verify your name and address and if you're in the US, your account will be suspended. This is especially true for sites regulated by the MGA, as verification requests are more common.
Final Word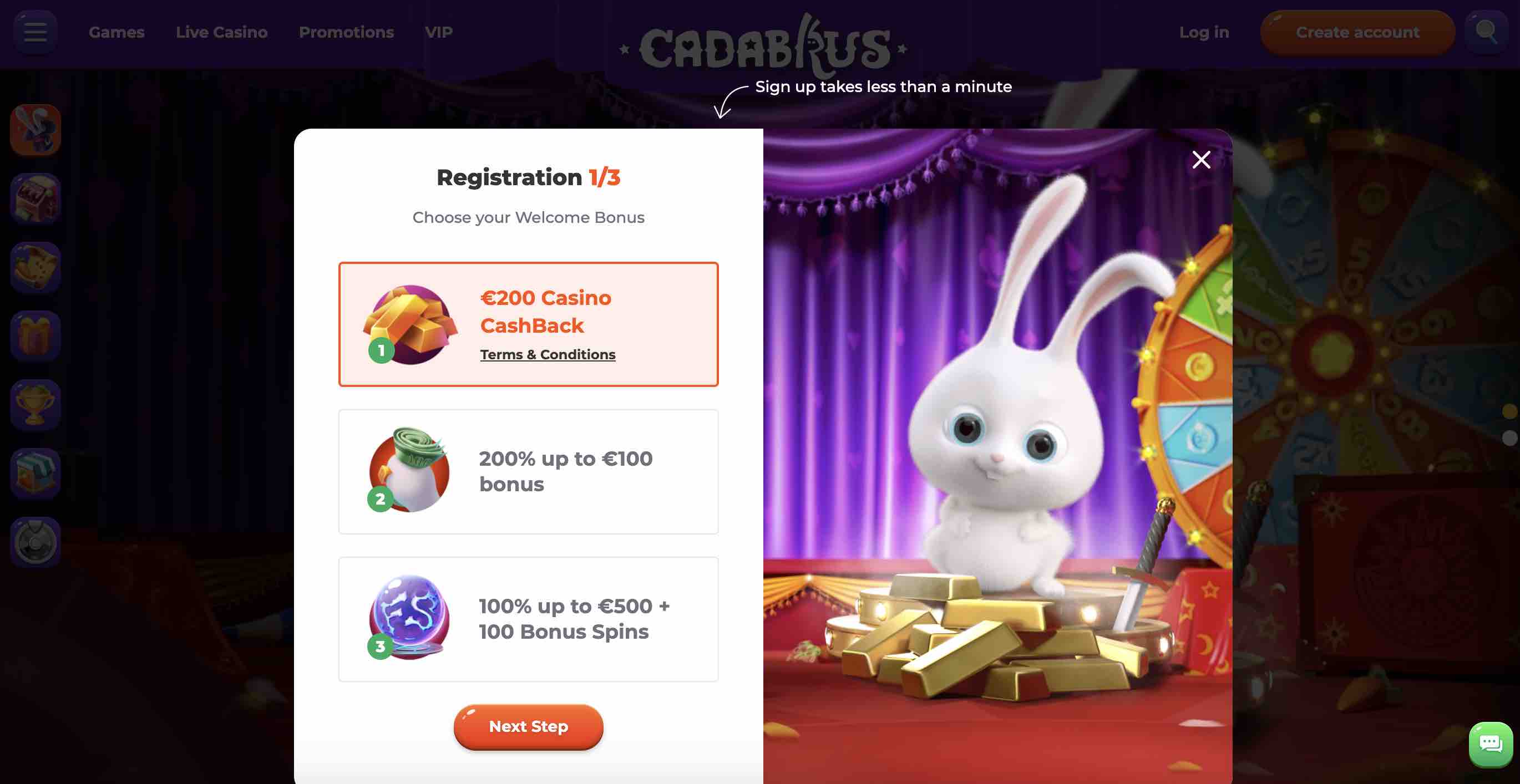 Cadabrus is an extraordinarily beautiful online casino, one that many other sites could learn from. A few weeks before we reviewed this site, we completed a review of Nomini and commented how great the design was and how much better it was than other online casinos.
But Cadabrus puts that site to shame. It is so much better than anything else on the market. Many casinos are guilty of oversimplifying or overcomplicating things. They either become a mass of clutter and unnecessary features or they look barren.
Not only does Cadabrus strike a great balance but it backs it up with great games, support and more. If not for the withdrawal limit, slow withdrawals, and the limited bonus support for Skrill and Neteller, this site would be perfect.
As it is, Cadabrus is still pretty damn impressive.
Cadabrus Casino Review Details
Restricted Countries:
Afghanistan
Albania
Algeria
Australia
Austria
Belarus
Belgium
Bulgaria
Cyprus
Czech Republic
Denmark
Estonia
France
Greece
Iran
Iraq
Israel
Italy
Latvia
Lithuania
Moldova
Netherlands
Poland
Portugal
Romania
Slovakia
Slovenia
Spain
Sweden
Switzerland
Turkey
UK
US
Languages:
English
Finnish
German
Norwegian
Russian