Pros
Lots of Accessibility Options
Huge Number of Games
Lots of Banking Options
Stacks of Possibilities
Big Bonuses
Sports Book and Virtual Sports
Cons
A Little Cluttered
No Loyalty Scheme
Customer Service Issues
BetandYou Casino was launched way back in 2010 by Pelican Entertainment, an operator that is licensed in Curacao. Its selection of games, accessibility options, payment options and currencies are huge. In fact, they're bordering on excessive, and we love them for it!
Whenever we find online casinos that have a lot of player options, we often mention our MELbet Casino review, as MELbet was one of the first sites we reviewed that had such a wide selection of options. And MELbet will get plenty of mentions here, as well, as it's the sister site to BetandYou Casino.
These sites are very similar. They are just as expansive and generous, and we were just as impressed. BetandYou Casino actually launched two years before MELbet and while we feel like it hasn't achieved the same acclaim, it certain deserves more attention than it has received.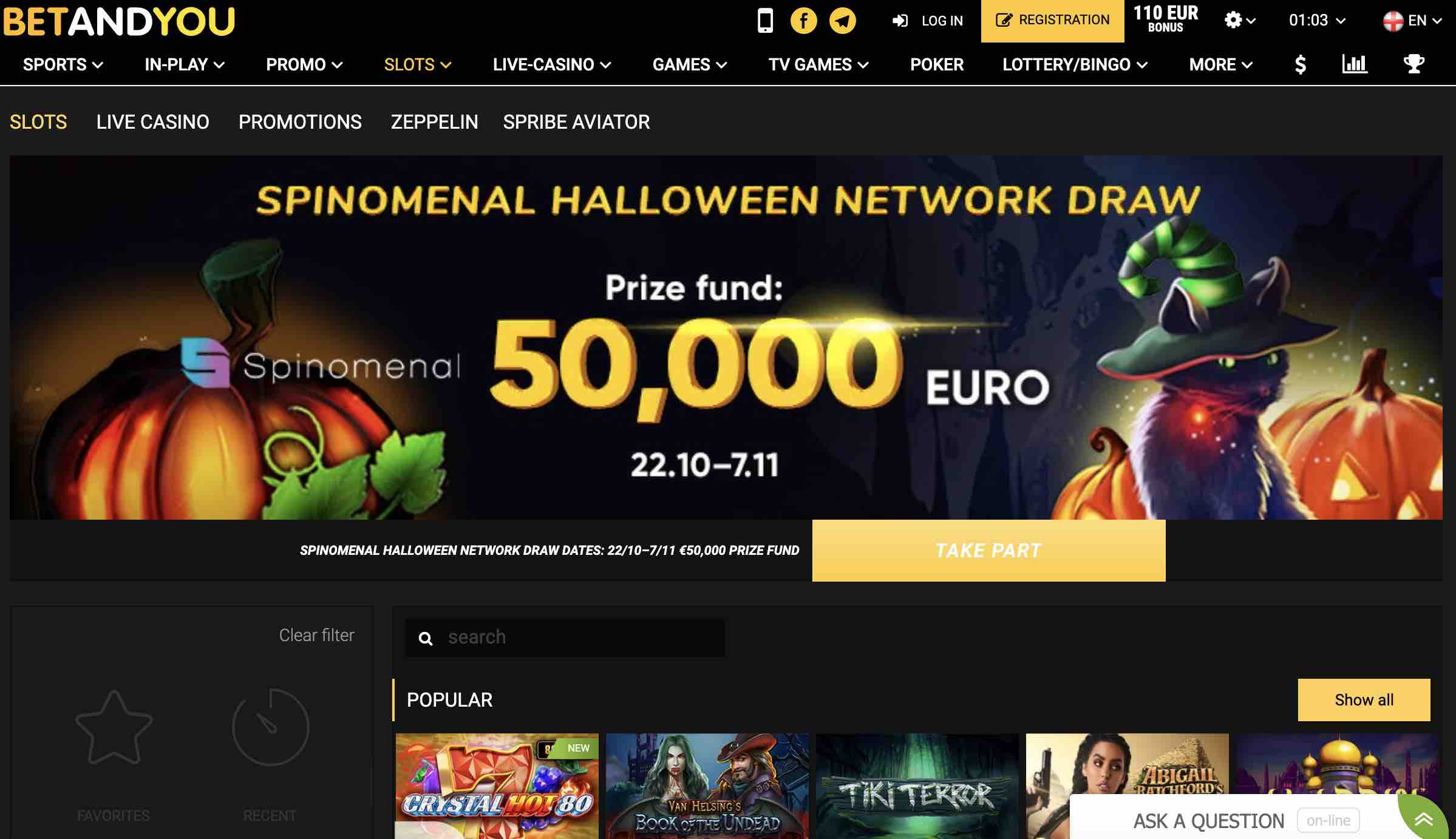 Welcome Offers
Pelican Entertainment casinos have a very unique aesthetic. It's organised chaos. On the one hand, it's very messy and it's easy to get lost if you don't know what you're looking for. At the same time, however, once you get to grips with the site the clutter begins to make sense.
Think of it like a hoarder's house. It's messy, nothing seems to be in the right place, and when you enter as an outsider, it's easy to get lost and feel overwhelmed. But to the hoarder, the person who is familiar with that chaos, they know exactly where everything else.
Maybe we're doing BetandYou Casino a disservice by comparing them to a filthy house full of crap, but the truth is, there's no other way of doing it. You can't accept over 50 payment options, currencies, and languages, as well as thousands of games, sports betting options, virtual sports, and more, without causing a little chaos.
So, if you feel a little confused and lost, just bide your time, stick with it, and you'll figure things out before long.
This is especially true for players who are used to European, Canadian, and Australian-focused casinos, where the developers adopt a completely different approach. If you're used to Asian casinos, ones that focus on markets in Malaysia and nearby countries, it will look a little more familiar and comfortable.
Slots and More
BetandYou Casino is home to over 100 online casino developers. The majority of these are developers you probably won't recognise, developers that have just a few lesser-known games. But they add some extra variety and they are available alongside some creators that you definitely will know, including Microgaming, Big Time Gaming, Quickspin, Pragmatic Play, Red Rake Gaming, Thunderkick, and Tom Horn Gaming.
BetandYou Casino is home to over 100 online casino developers.
The only downside is that it can be difficult to find the games you're looking for, especially if you have specific tastes. But that's where the casino's filters come in. The first thing you should do is choose whether you want to play Slots, Live Casino Games, Table Games, TV Games, Poker, or Lottery and Bingo Games. Select your option from the menu at the top of the page and you'll be taken to that section of the casino.
Once there, you'll see all available games and are one click away from playing them. The Slots section is by far the largest, as you would expect, and it also has some of the most expansive filter options, breaking everything down into the following sections, some of which have nothing to do with slots:
All: Visit this section to find all of the casino's games. No filters. No separation, just thousands of online casino games for you to peruse at your leisure. As with this casino's sister site and casinos like Wild Tornado, it can be a pain to browse through so many slots and we wouldn't recommend it.
New: All of the casino's newest games are listed here. If you feel like you've seen and played most of the other titles available at BetandYou Casino, this is probably the section for you.
Popular: The most popular games include titles like Solar Queen, Tiki Terror, and dozens more. These games seem to change all of the time but as with all "Popular" sections, it contains the games the casino wants to highlight as well as the ones that everyone is playing. In other words, don't assume that these games are the best ones available.
3D Slots: If you like big graphics and impressive animations, click onto this section. These are some of the best-looking games in the industry and while they don't always have the best features or the biggest wins, they are fun to play, nonetheless.
Baccarat: Although these games are definitely not slots, they are all virtual and the outcomes are determined in much the same way.
Bingo: Includes 90-ball, 80-ball, and 75-ball games, as well as a selection of uniquely themed and styled games, such as Bingo Soccer and Golden Egg.
Blackjack: Just like Baccarat, these card games are 100% virtual. You play against the house and are reliant on a random number generator determining every outcome. There are a few different variants to choose from, each offering something a little different, including side bets.
Buy Bonus: A personal favourite of ours, Buy Bonus games let you skip the build up and move straight to the bonus. You will pay for the pleasure, but if you're all about the bonus rounds and get bored with everything else, it's a good option to have.
Jackpot: We couldn't find many progressive jackpot slots at BetandYou Casino but there are many fixed jackpot titles. The idea is the same—spin, cross your fingers, and hope for a massive payout.
Keno: A fun numbers game that gives you a chance to win huge sums of money with a single game. It's easy to play and there are a few different games to choose from. Nothing particularly eye-catching or unique, but keno fans generally aren't looking for unique!
Megaways: One of the most unique features in the online casino industry, Megaways randomises the payline total of every spin, adding over 100,000 potential paylines. Some of the games include Gonzo's Quest Megaways, Piggy Riches Megaways, and Megaways Jack.
Other: These games are great if you're looking for something different and unusual. The titles here include Football Manager, Thimbles, Four Aces, Dice Pairs, and Book of Keno.
Poker: Video poker games are a must on all online casinos as far as we are concerned. These games are a great way to kill a few hours, especially if you're a big fan of low house edge card games.
Roulette: Spin the virtual wheel in these classic games, including European Roulette, Wheel of Africa, Realistic Roulette, American Roulette, and more.
And this is just the tip of a substantial iceberg. You also have a sports book, Live Casino games, TV games, virtual hunting, virtual fishing, and even a betting exchange.
While most online casinos cherry pick their games and software, BetandYou Casino has just taken everything that was offered to it.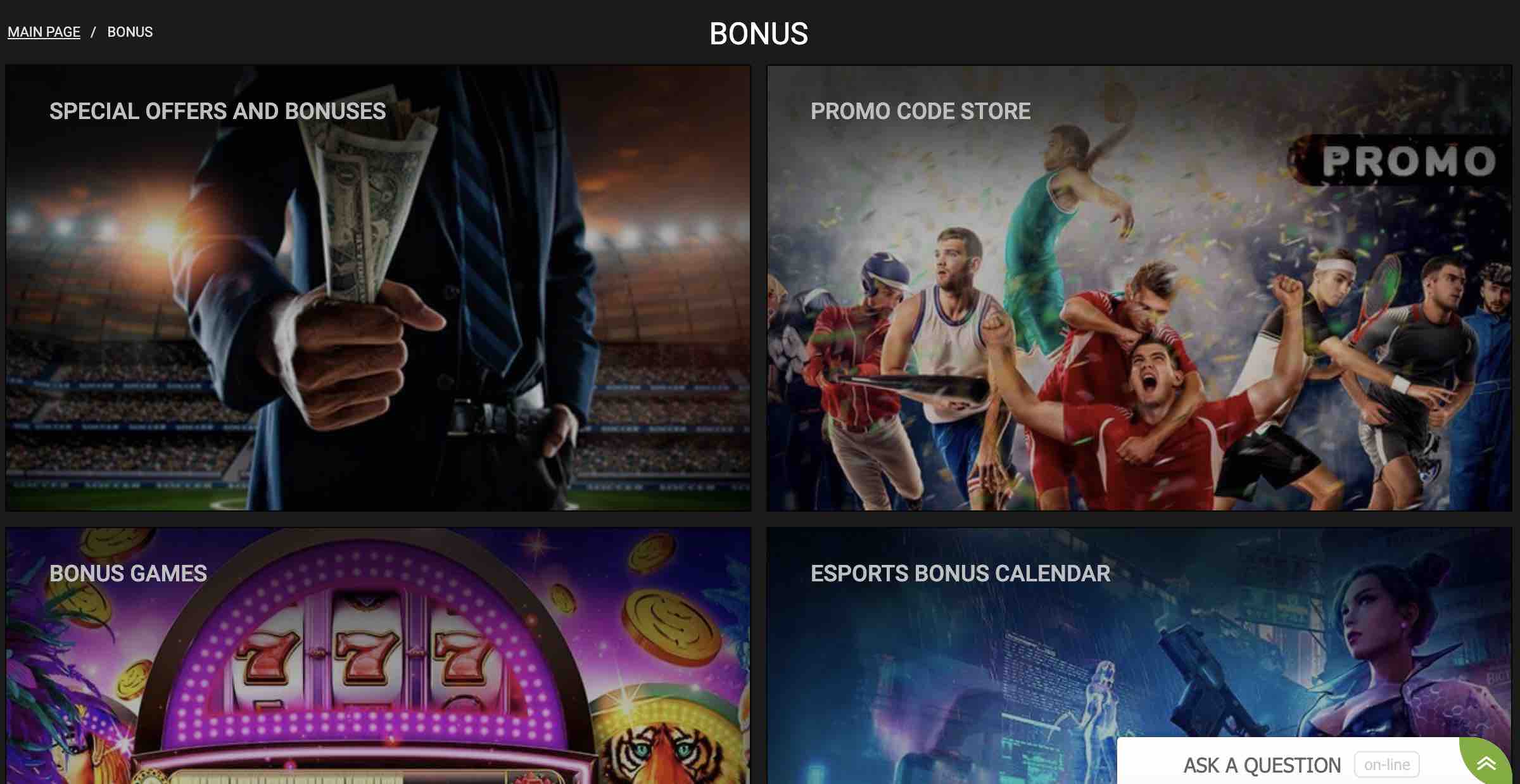 Bonuses
You have two Welcome Bonuses to choose from at BetandYou: One for the casino and the other for the sportsbook. We haven't spoken much about the sportsbook yet, and that's because there's so much to discuss about the casino. If we added sports betting markets to the mix, this review would turn into an epic.
Needless to say, if you want to place sports bets you can collect a Welcome Bonus of up to €110. It's small for a casino but big for a sportsbook. Bear in mind, however, that if you collect this bet you will miss out on the casino Welcome Offer, which is capped at €1,500 and 150 Free Spins.
One of the few downsides is that BetandYou Casino doesn't have a Loyalty Program. Or at least, we don't think it does. The truth is, it's hard to know. We spent several hours on the site and feel like we could have easily missed half of it, as there is so much going on. It actually seems like this is one of the few areas where BetandYou Casino is much smaller than its sister site.
For a good Loyalty Scheme, you will need to look elsewhere, including the generous SlotsHeaven VIP Program. Of course, the problem is, many sites that do have Loyalty Programs also have withdrawal limits. It's all about finding a balance and making sure you're not going to be limited and you can collect plenty of bonuses.
Banking Options
BetandYou Casino has 50 deposit methods and 68 withdrawal methods. It's unusual to see an online casino that has more withdrawal methods than deposit methods but we're certainly not complaining. And we're sure that the majority of players will be delighted with the selection, as it covers all popular and up-and-coming methods, including Visa, Mastercard, Skrill, QIWI, PaysafeCard, Bitcoin, Litecoin, Dash, Ethereum, Monero, and ZCash.
For a full list of all payment methods available at BetandYou Casino, take a look at the table on the bottom of this page. The payment page states that there is a minimum deposit of just $1 for Visa and Mastercard and equally low limits elsewhere. That doesn't seem to actually be the case, but as far as we can tell, the limits differ from country to country.
As for withdrawals, there are no withdrawal limits stated and everything is processed within a couple of days. It's rare for online casinos to be completely void of withdrawal limits but that certainly seems to be the case here. If so, it's a big plus in our book and it means that BetandYou Casino is one of the best casinos and sports books for high rollers.
When you compare it to sites like Rabona Casino and Sportsbook, where the limit is just €500 a day and €10,000 a month, you understand just how impressive BetandYou Casino's limits (or lack thereof) are. If it was to add a Loyalty Scheme to the mix, we'd confidently say that BetandYou Casino was one of the best high roller casinos we have reviewed.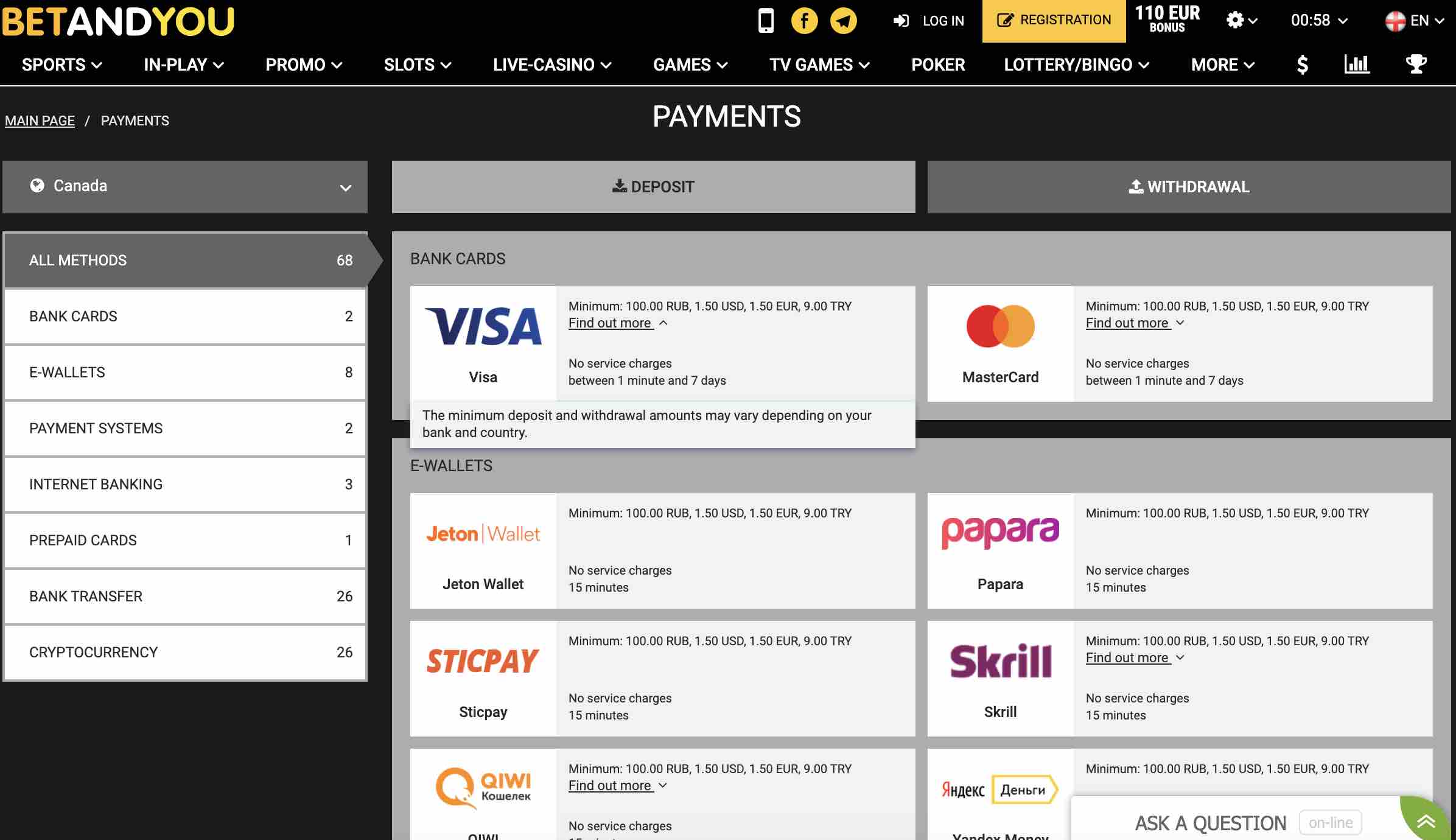 Highlights
Thousands of Games
Endless Accessibility Options
Over 60 Payment Methods
Massive Online Casino
Jackpot Games
Megaways Games
FAQs
Is BetandYou Casino the Same as MELbet?
The sites are owned and operated by the same company, which is why they are very similar.
How Many Games Are There?
There are several thousand top titles provided by more than 100 developers.
Can I Use Bitcoins?
You can use over 60 different payment methods, BTC included.
Why Aren't UK Players Allowed?
UK players are unable to join BetandYou Casino because the site is not licensed in the United Kingdom. If you are looking for a UK casino, take a look at our review of Unibet.
Where is it Regulated?
The site is regulated by the authorities of Curacao.
Customer Reviews and Support
For all of the obvious benefits of BetandYou Casino, there are some notable downsides as well. One of the biggest issues we have is with the customer service. It's not as quick or as responsible as it should be, and while the professionalism is certainly there, we had some issues with clarity and efficiency.
We would have ignored this issue if we hadn't seen many other reviewers mention it. After scouring through multiple BetandYou Casino reviews, it seems that customer support issues is one of the biggest bugbears. The same was true for MELbet, a site that also received many reviews complaining about customer support.
More importantly, BetandYou Casino doesn't respond to customer reviews placed on third-party websites. This might seem like a relatively minor issue, but as noted in many of our other online casino reviews, including our recent review of CosmosWins Casino, it hints at much bigger and more important things.
A casino that responds to negative reviews and tries to appease customers is one that has a dedicated support team and will do everything it can to keep its players happen. When they don't respond, it suggests that they don't care as much as they should.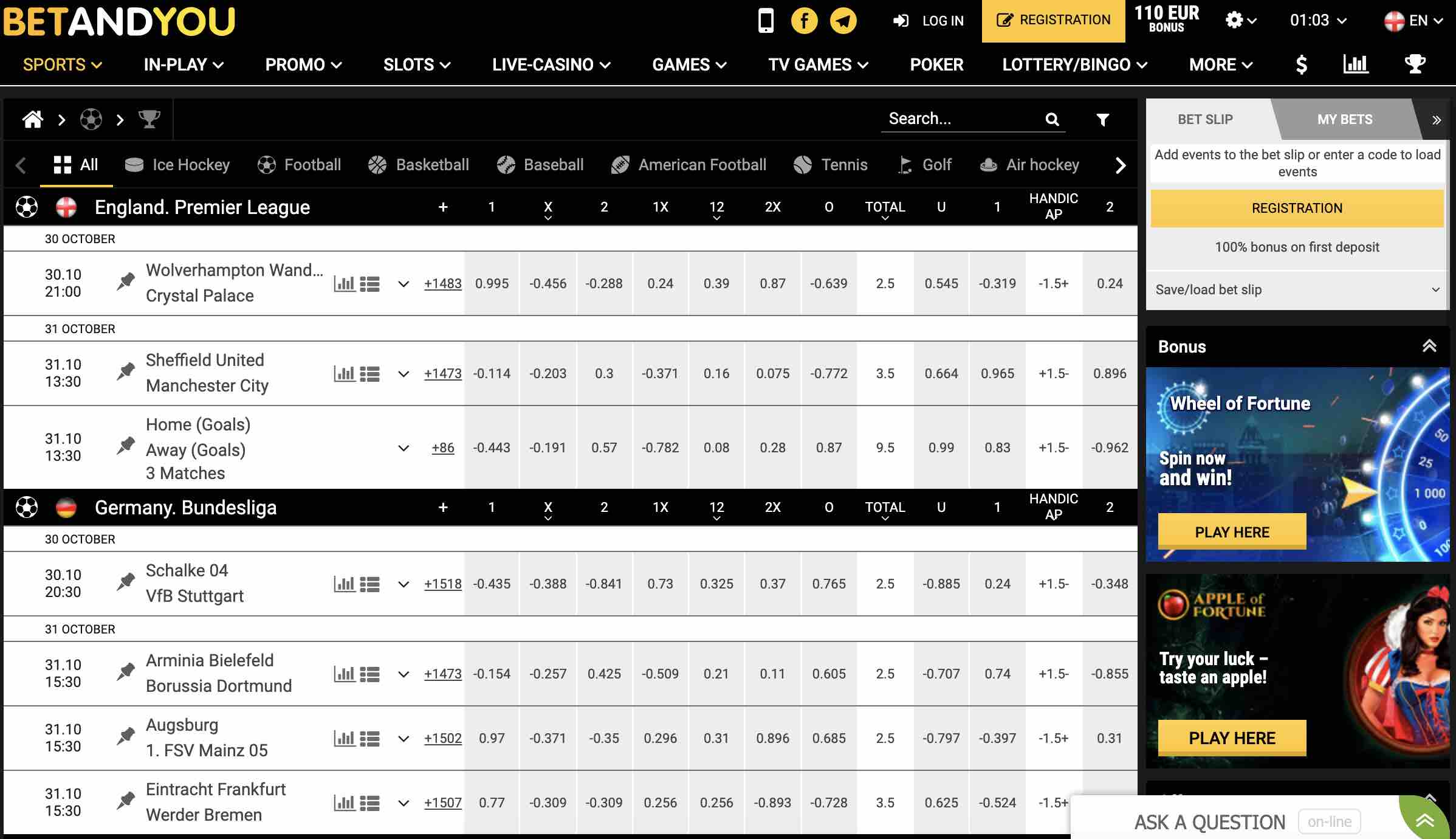 Final Verdict
BetandYou Casino has a lot to offer its players. We feel like we say that a lot about the casinos that we review, but with this one, we really mean it. It's incredibly rare to find a site that offers such an abundance of options. You'll literally be spoilt for choice and if you want a language or currency that BetandYou Casino doesn't accept, or you're looking for a payment method that isn't available, the online gambling industry is probably not for you.
After all, we're talking about a casino that has over 100 developers, thousands of games, and more than 200 deposit methods, withdrawal methods, currencies, and languages combined. The only word for it is: Immense, and unless you hate choice and prefer casinos that keep everything simple and streamlined, BetandYou Casino is the site for you.
BetandYou Casino Review Details
Restricted Countries:
Belgium
Cyprus
France
Israel
Italy
Lithuania
Netherlands
Poland
Russia
Spain
Sweden
Switzerland
UK
US
Languages:
Albanian
Arabic
Bulgarian
Chinese
Croatia
Croatian
Czech
Danish
Dutch
English
Estonian
Finnish
French
Georgian
German
Greek
Hebrew
Hindi
Hungarian
Icelandic
Indonesian
Italian
Japanese
Korean
Macedonian
Malaysian
Norwegian
Polish
Portuguese
Romanian
Russian
Serbian
Slovak
Slovenian
Spanish
Thai
Turkish
Ukrainian
Vietnamese
Currencies:
ALL
AUD
AZN
BGN
BRL
BTC
CAD
CNY
CZK
DKK
DOGE
DZD
ETH
EUR
GBP
HKD
INR
JPY
KWD
LTE
MXN
MYR
NOK
NZD
RON
RUB
SGD
USD
USDT
XRP