Pros
Over 1,300 Games
Big Live Casino
Mobile Support
Massive Gaming Brand
Poker and Sportsbook
Real Money Tournaments
Cons
Different Sites for EU/UK
Not the Biggest Welcome Offer
Unibet is a massive casino that is backed by the Kindred Group. It launched back in 1997 and initially operated out of the founder's home, before acquiring a gambling license a year later.
In the early days, it operated solely as a sportsbook and took bets over the phone, but eventually it expanded online, began offering betting solutions to customers worldwide, and then added a casino and poker room to its website. By 2004, it had over 300,000 players on its books across more than a dozen countries and today, it's even bigger, with millions of players, a huge selection of casino games, and one of the biggest names in the gambling sector.
more than 300,000 players on its books
Unibet is based in Malta and operates under license from the authorities of the United Kingdom, Gibraltar, and Malta. As with many sites based in the United Kingdom, it has separate sites for its UK and international customers, and while there are many similarities across the two, there are also some key differences. In this Unibet review, I'll cover both of these sites, but it's worth noting that many of my personal experiences with Unibet occurred on the UK website.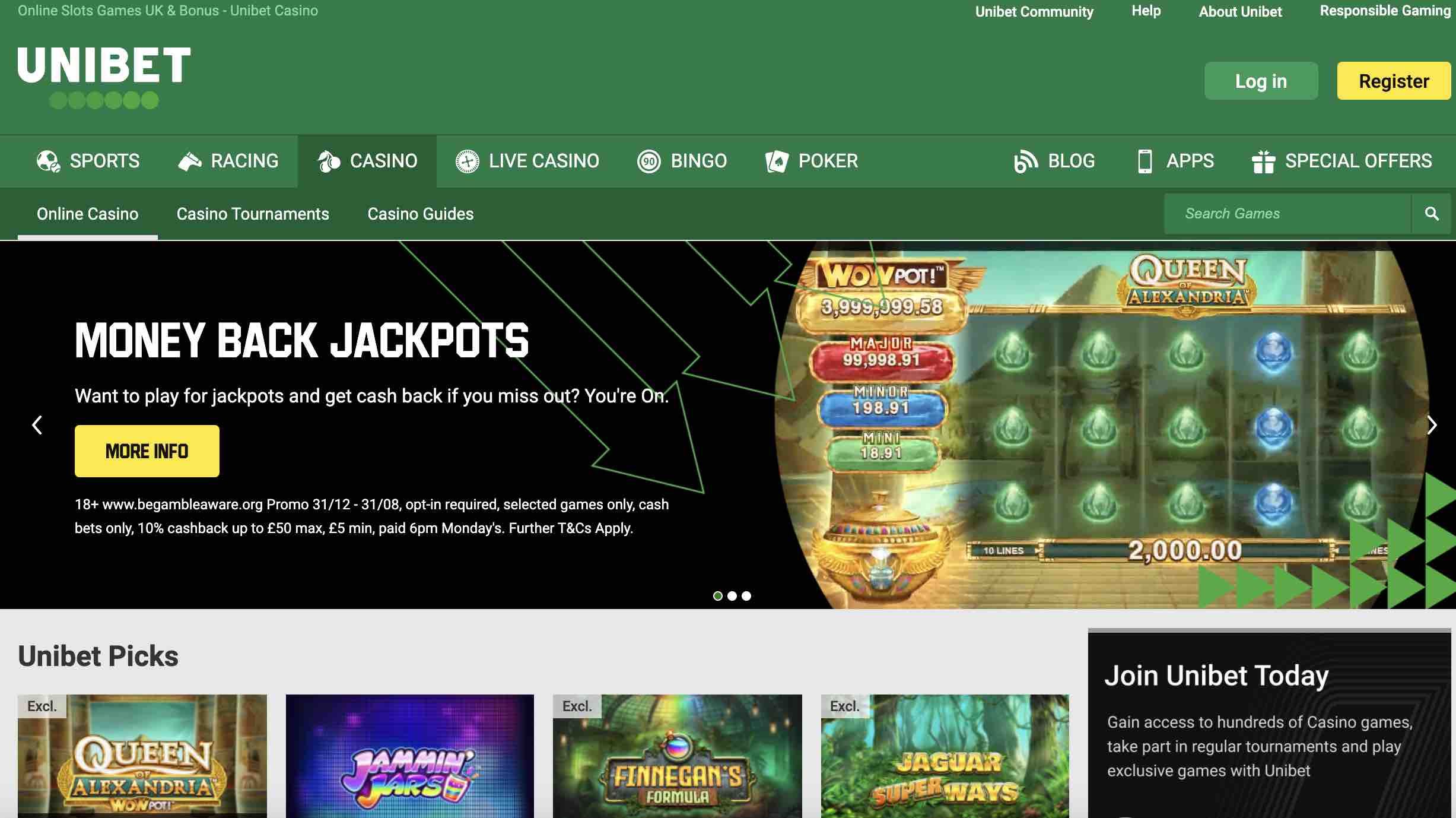 Basics
If the Unibet website looks familiar, then there's a good chance that you've played 32Red. Not only are these two sites owned by the same parent company, but they use the same aesthetic. The only difference is that Unibet is green and white while 32Red is red and white.
I had a lot of positive things to say about the 32Red aesthetic so it goes without saying that Unibet appeals to me just as much. It's very easy to use, offers super-fluid navigation, and I can safely say that I have been using it for years without issue.
Software and Games
One of the strange things about Unibet is that the UK casino seems to focus more on Microgaming slots, albeit with the addition of NetEnt and a few other fringe developers, while the EU casino focuses on Playtech.
In a recent review of Ladbrokes Casino, I noted how many UK players turned against the site when it switched from Microgaming to Playtech. It seems that UK players are big on the former and took great offence when it changed. For me, it's always been about Playtech. Don' get me wrong, I really like Microgaming, but I wouldn't put it ahead of Playtech as I am always drawn to games like Age of the Gods more than Mega Moolah.
If you're thinking that you can just pick and choose, think again. If you're in the United Kingdom then you need to play through the UK site. It is regulated by the UK Gambling Commission and is designed specifically with UK players in mind. The same goes for players in the EU, although this time it's all about the Malta Gaming Authority.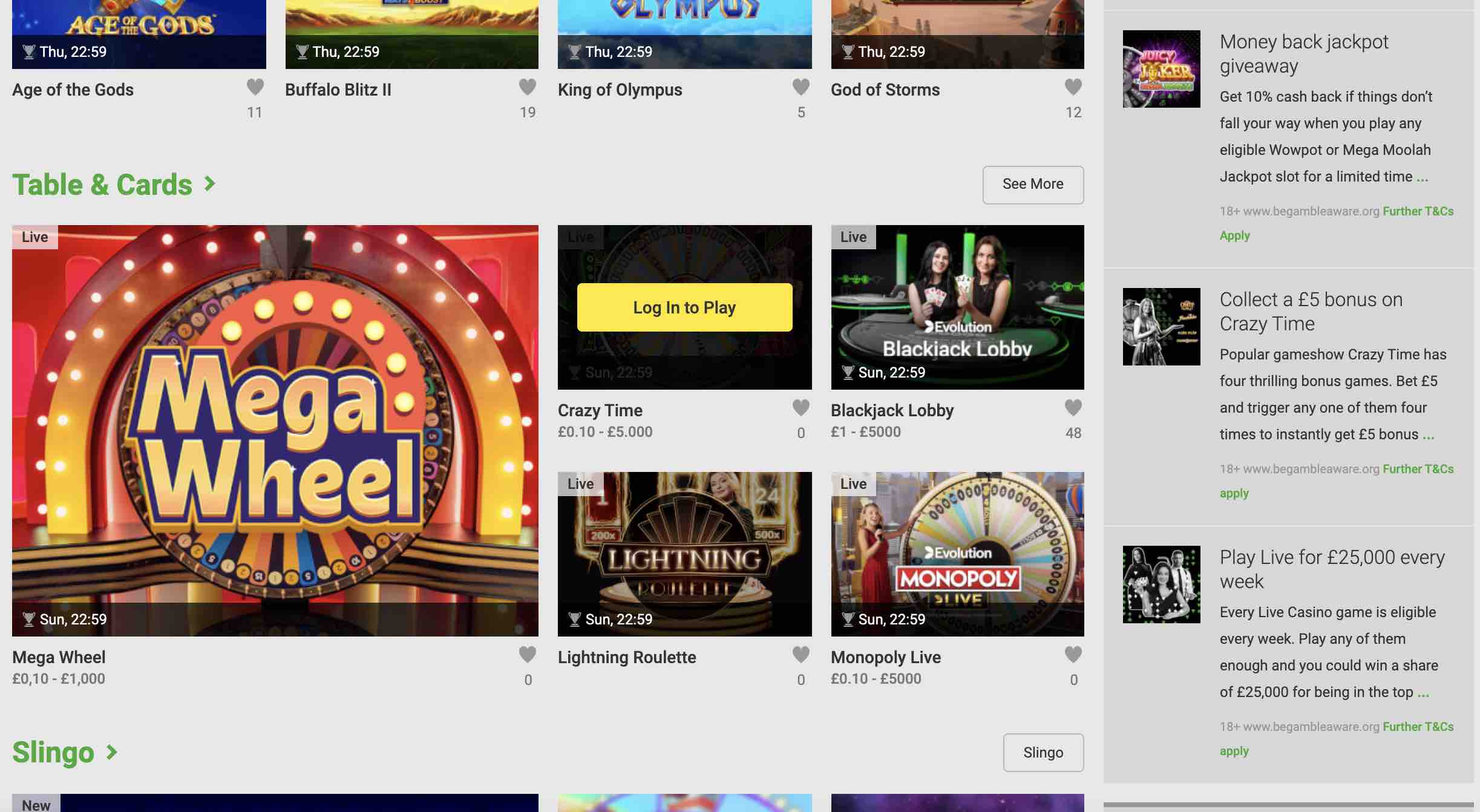 I tried accessing the EU site using my UK details and while it did let me in, it immediately directed me to the UK site.
Whether you're in the UK or not, you will always have a wide selection of slots to choose from. The site advertises more than 1,300 slots on both sides and these include dozens of top jackpot slots, as well a a glut of bonus games, classic table games, video poker titles, and more.
You will also find a Live Casino on both sites and, in both cases, it is provided by Evolution Gaming, which means you will find games like Lightning Roulette, Live Roulette, Crazy Time, Live Blackjack, and more. Evolution Gaming is the Live Dealer equivalent of Playtech and there are always some great games to peruse.
Sportsbetting
Unibet was a sportsbook before it was a casino and the sportsbook remains one of the biggest aspects of the Unibet domain. You can bet on thousands of different events every single day and while there is definitely an emphasis on football, you will also find a huge number of other events.
I personally love the boxing and rugby betting on Unibet and it also has a surprisingly good snooker selection. I wouldn't go as far as to put it on the same level as bet365, as it's hard to find a sportsbook that offers as many live streams, live bets, or pre-game markets, but that doesn't mean it doesn't have its benefits.
One of the problems with bet365 is that it can be a little overwhelming for new players. I personally find the aesthetic to be fantastic and well-structured, certainly much more so than sites like Ladbrokes, but if you're completely new, it can be overwhelming to see all those streams, bets, and other info. In such cases, you may be better off with Unibet.
Bonuses and Promotions
Unibet is one of those frustrating sites that doesn't advertise the Welcome Bonus in the main promotions page and requires you to go through specific links and offers. On the surface, it looks like there is no Welcome Bonus available, but there is. In fact, there is a bonus for each of the three main areas of the site: the casino, the sportsbook, and the poker room.
The casino offers a 100% deposit bonus up to €100 and has a wagering requirement of just 25x, although this extends to 35x if you play Live Casino games. The bonus is available to players from many countries and in a variety of currencies. If you prefer the sportsbook, you can get a 100% bonus up to €25 while the poker room offers €200.
It's worth noting that these bonuses can't be used across the different sections, which means that you can't claim the €200 poker bonus and then use it to play slots. However, when the money has been wagered and the requirements have been met, it can be transferred to different parts of the site and used as you see fit.
And if you're wondering why the poker bonus is so generous when compared to the other sections, it's because it's a playthrough bonus and not a Welcome Bonus. In other words, it unlocks steadily as you play and is more like a loyalty bonus than a Welcome Bonus.
Speaking of reload bonuses and loyalty offers, there are a variety of these to choose from and you can also play real money slot tournaments. These tournaments are free to play and are a great way to earn some extra cash as you play games you were going to play anyway.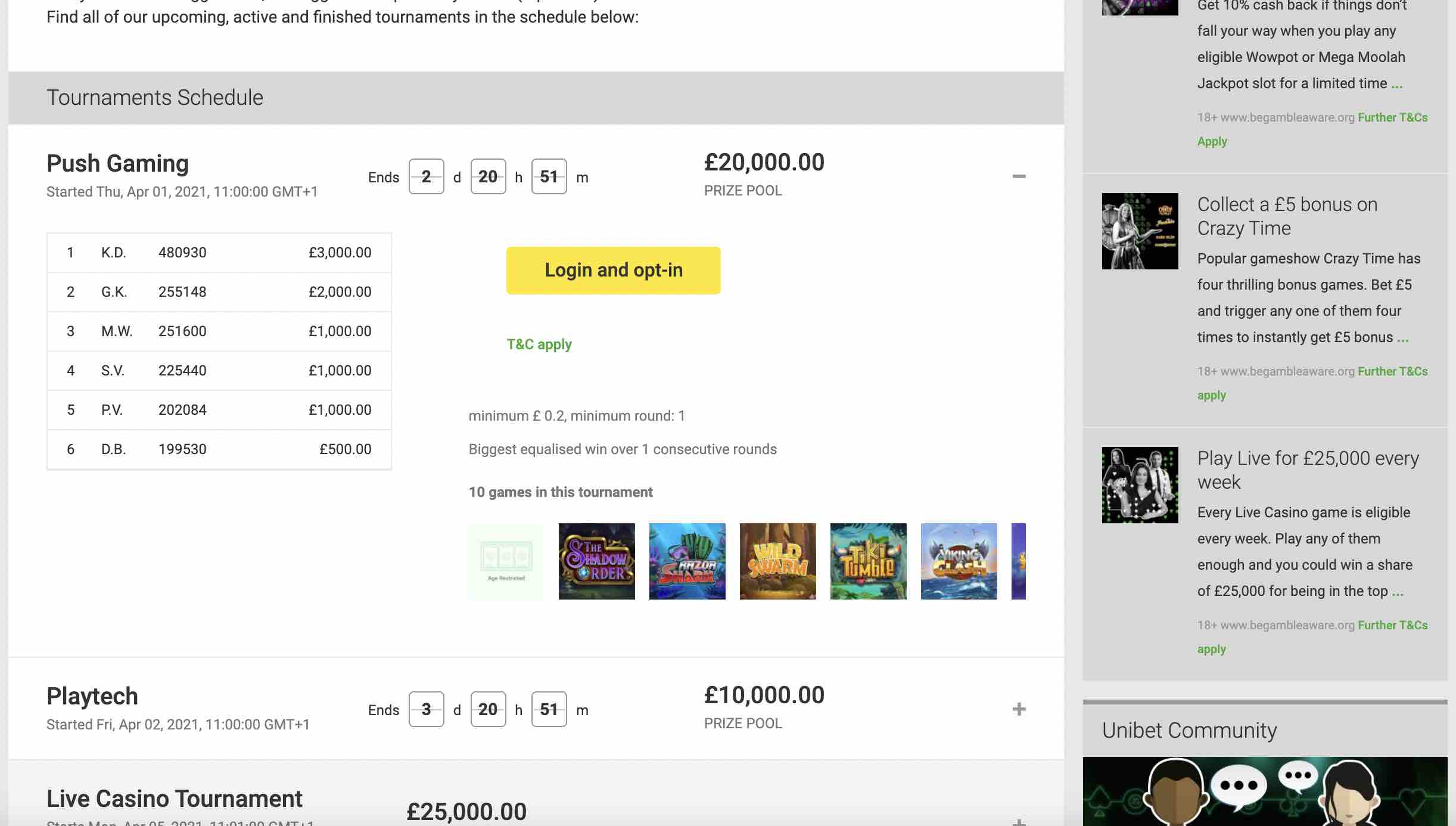 Payment Options
Unibet tends to hold onto your funds for a short-time, but it's rarely more than a day. I have been playing here for years and have used PayPal throughout that time. I don't win as much or as often as I would like, but when I do, the money is usually in my account the following day. It's definitely not as quick as PokerStars Casino, which pays instantly and is one of the best in that department, but it is far from the slowest.
If you use the UK site, you shouldn't have to worry about a withdrawal limit. This is not unusual, as the same is true for most major UK gambling brands, but it's nice to know, nonetheless. After all, last year I reviewed over 100 casinos with withdrawal limits of less than €10,000 a month and while I will never get anywhere near that amount personally, it's still frustrating to see.
After all, it rules high rollers out and leads to anxiety when those rare big wins come about. Thankfully, there are no such concerns with Unibet and you are free to play here even if you're depositing tens of thousands at a time!
Highlights
Part of the Massive Kindred Group
A Great Sportsbook and Casino
Poker Games Also Available
Great Mobile App
User-Friendly Interface
User Reviews
Unibet has accumulated quite a few bad reviews over the last few years, which is strange, because it seems that just as I thought the site was getting better, others think it's getting worse. However, if you dig deep into these reviews, there's actually very little to worry about.
A couple of the negative reviews complain that the site has removed its "free play" option, whereby customers could spin the slots for free. It was a great way to try the games before committing to a real money wager, and it was removed. But it was also removed from all UK online casinos and the order came from the regulator and not from Unibet.
There are also complaints from Stan James customers who made the switch over to Unibet and don't seem to like it as much. Personally, I hate Stan James. I have been gambling online for over 20 years and I have joined most casinos and sportsbooks in that time (gotta get those bonuses!). There have been hundreds of sites, dozens of which I still use, and in all of that time, Stan James is one of the three that stands out as being the absolute worst.
If you're seen my BetFair review, you will know that I can be quite forgiving when it comes to bad customer support, so it gives you an idea of just how negative my experience was with Stan James. I was delighted when the site closed and even happier that Unibet took over, as Unibet has always been near the top of my list.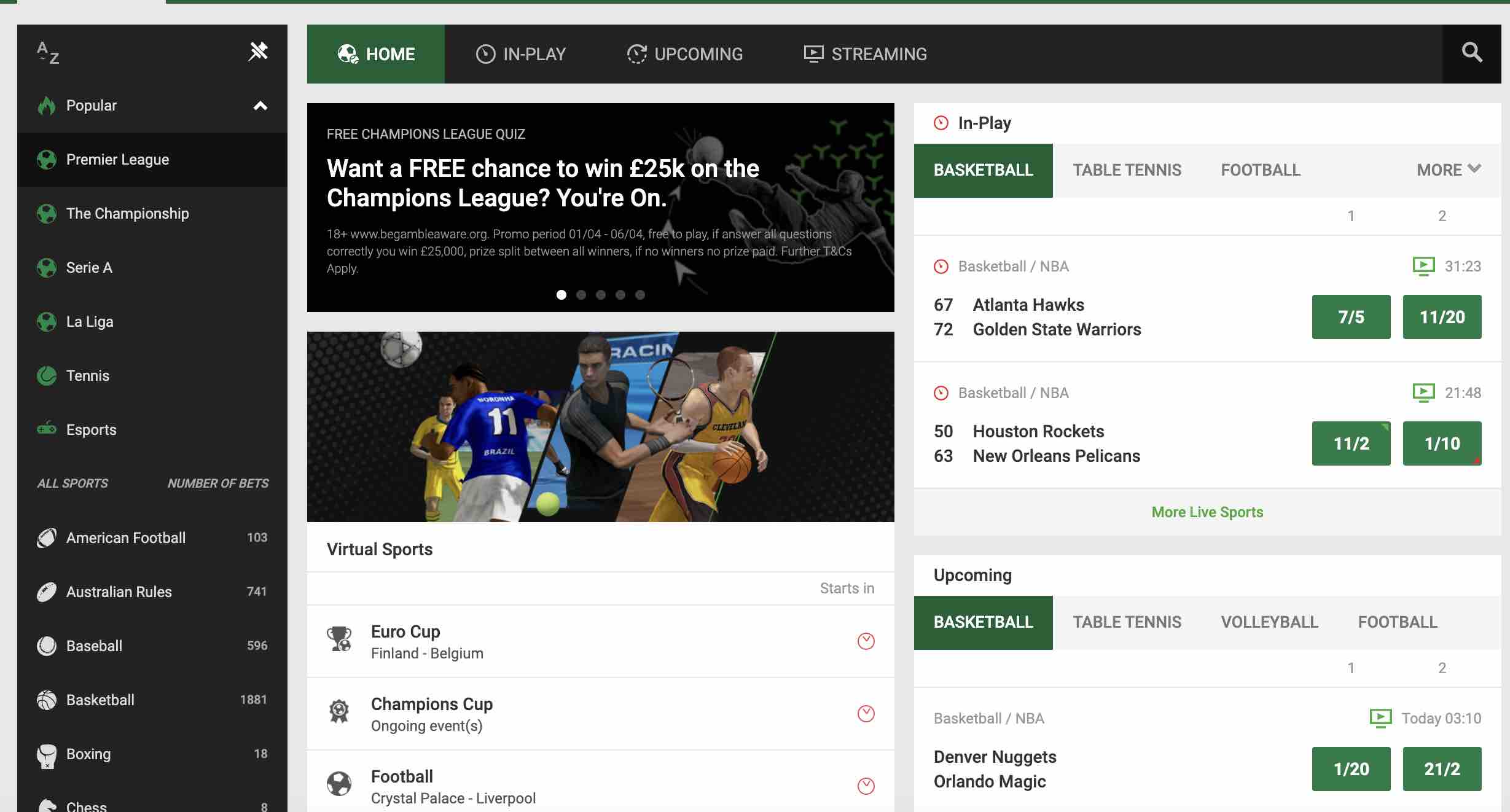 Of the other negative reviews, some players complain about bonuses and others argue that the site is not as fair as it should be. Although these can seem a little worrying at first glance, you will find these complaints on every single casino and sportsbook. Players have a bad run and they immediately cry foul. There are also players who misunderstand the bonus terms, don't get the money they hoped for, and then get angry.
The fairness thing is not the casino's fault, as they're all fair and tightly regulated. They don't set the RTPs, and they use regular audits to ensure they remain legit. The bonus thing is definitely their fault, as casinos are guilty of not being transparent enough or generous enough, but it's not something I've noticed with Unibet. In fact, Unibet has always been very good where bonuses are concerned.
FAQs
Is Unibet Available in the United States?
The Kindred Group is one of the major European gambling brands to have expanded into the US in recent years. It moved into the American market in 2019 and began offering services (under the Unibet name) in the state of Pennsylvania. However, this doesn't mean that you can play if you are in the United States, only that you might be able to play if you're in PA. Other companies that have entered the US market include William Hill.
Does Unibet Accept Bitcoin?
You can't use Bitcoin or other cryptocurrencies at Unibet. That might change in the future, and if it does, it will probably happen on the EU site first. For now, though, it just accepts traditional payment methods.
Can I Play Unibet on the UK?
As a UK player, you will be directed to the .co.uk website, which operates under the authority of the UK Gambling Authority.
Does Unibet Have Deposit Limits?
Yes, you can set limits on a daily, weekly, or monthly basis and there are a number of other responsible gambling tools as well.
Can I Use PayPal?
You can use PayPal on both the UK and the EU websites.
Final Thoughts
Unibet is a massive gambling brand, one of the biggest in the world. It has licenses from the biggest authorities, works with the best software developers, and features some great bonuses and payment options, as well. There is a lot to like here, and I definitely think that Unibet should be on your radar if you're looking for a good sports/casino combination.
As noted already, I have joined dozens of casinos and sportsbooks for my own personal use and I have joined hundreds more to conduct reviews. Of all those sites, there are just 11 that I have in my bookmark and return to on a regular basis. Some are there because they have specific betting markets I like, others have poker games, and then there are those that excel with certain casino games.
Unibet is one of those sites, and it has been on that list since the beginning. I have yet to have a major issue here and that's rare. So, if you're looking for a new site, one that could potentially become your favourite, give it a go.
Unibet Casino Review Details
Restricted Countries:
Africa
Asia
Belgium
France
Greece
Iran
Iraq
Israel
Romania
Spain
Sweden
Switzerland
US
Languages:
Danish
English
Estonian
Finnish
French
German
Greek
Hungarian
Italian
Polish
Portuguese
Romanian