Pros
Playtech Games
Big Sportsbook
Mobile App
Live Casino
Many Support Options
Multiple Payment Options
UK Players Allowed
Cons
Some Niggling Issues
No Live Chat
Many Restricted Regions
The Ladbrokes name has been around since the early 1900s and it is one of the biggest gambling companies in the United Kingdom. It runs betting shops across the United Kingdom and is one of the UK's most recognisable names. These days, Ladbrokes is part of Entain plc, which was formerly known as GVC Holdings. Its website is home to a massive sportsbook, bingo room, and poker room, but it also has an expansive online casino with hundreds of games.
It runs betting shops across the United Kingdom and is one of the UK's most recognisable names.
Ladbrokes doesn't accept Bitcoins or other cryptocurrencies, not yet. It is regulated by the UK Gambling Commission and the authorities of Gibraltar, making it an incredibly safe and fair site. Ladbrokes Casino will be the subject of this review, but I will also dive into the sports betting side of things.
For sites that do accept this currency, take a look at our BTC casino review list.
Basics
I have a massive problem with the Ladbrokes website. I don't mean that in a "I hate red and white" kind of way, although as a Newcastle United fan, it's not exactly my favourite colour scheme. My issue is much more technical than that, because I'm pretty sure that the site hates me. Or rather, it hates my setup, which has always been Google Chrome on a MacBook Pro.
Let me take you back a few years to the first time that I signed up to the website. I was trying to activate a bonus at the time, but every time I entered a username, it told me that there was an issue. Don't get me wrong, I fully understand the need for usernames and passwords of a specific length and type, but if you're going to keep popping up messages like, "You didn't include a special character" and "it's one character too short" and "you need to sign a deal with the devil first", you have to understand that you're going to anger a lot of people and scare them away.
I was so angry with Ladbrokes that I used an obscenity as my username and password and then clicked "confirm" just for the hell of it. To my utter shock, this was the time that it finally decided everything was okay, and so for the next 10 years (up to now) my username is basically a giant middle finger to the site.
That's important, because it basically means that I'm too embarrassed to contact Ladbrokes when I have a technical issue.
"Can you confirm your username please?"
"…"
"Excuse me? I should do what to my mother?"
As per Murphy's Law, Ladbrokes has been the only site that consistently creates problems for me. The games are slow, there is far too much lag, and when the "deposit" window pops up, it does so off to the side of the screen, where I can't see it, let alone touch it.
Take a look at the image below as an example. It shows the border of the web browser where the deposit pop-up ends. To the right of this, you can see the second window, which shows a word document. I can't even see enough of the payment dropdown menu to change from Visa to PayPal, and at times, it's not enough to even see the section where I need to enter the amount or security code!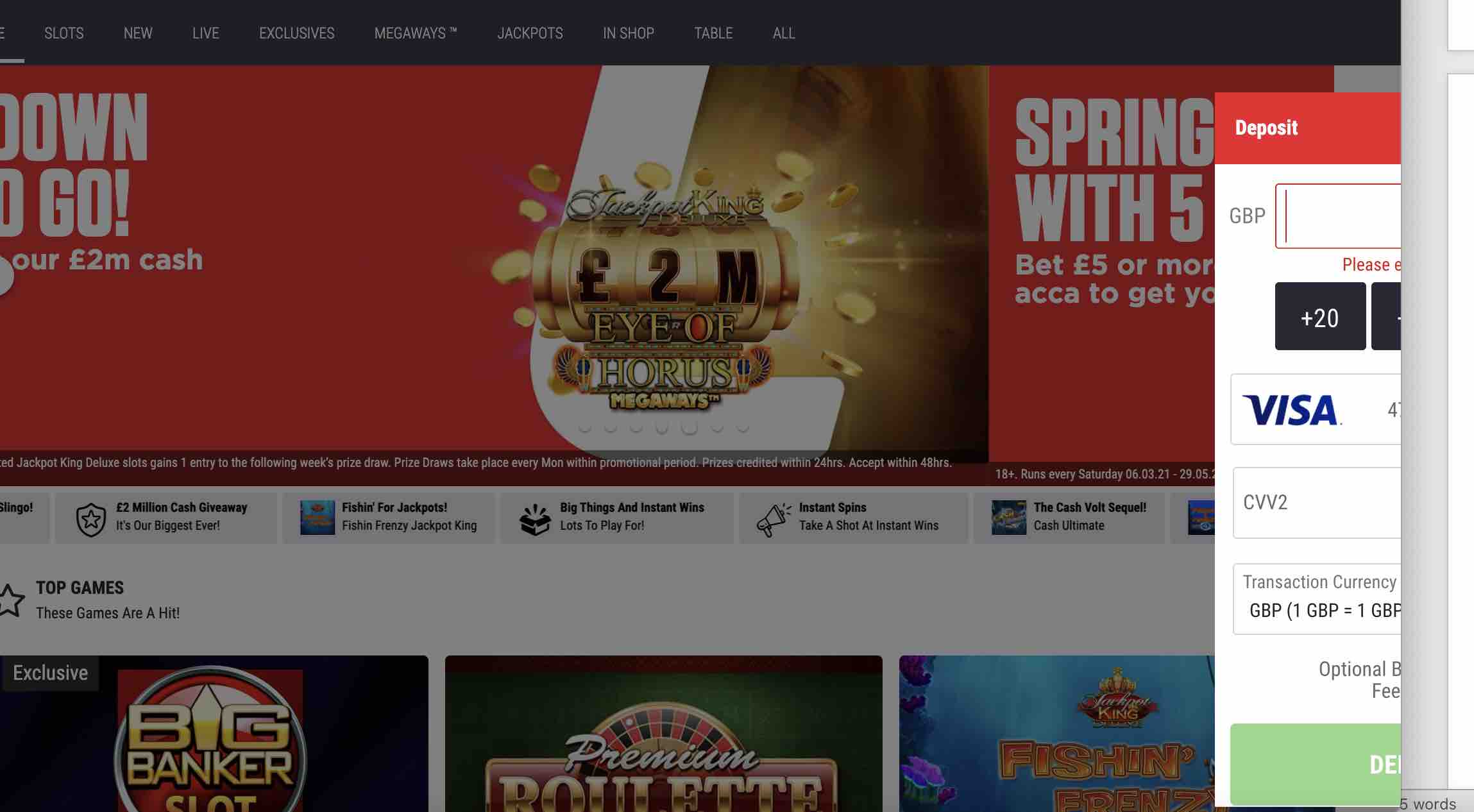 There are ways around this. I can wait a little longer. I can use a different browser. I can make my windows big to fit everything in. I get that, and you could say that I am just nit-picking. But I have been playing and reviewing online casinos and gambling sites for over 20 years and I have never needed to do any of that, why should I need to do it on one of the biggest websites in the world?
The problem with Ladbrokes is that there are lots of minor issues like this and they just keep piling on top of one another.
Imagine that you're buried in your work and you suddenly realise that the boxing is on. The first round has ended, the fighters are having their faces ironed and greased, and you have 60 seconds to sign in, fund your account, and place a live bet. On literally any other site, that would be easy. In fact, I do it all the time on bet365 and it takes 10 to 20 seconds.
On Ladbrokes, the first issue is that it won't log me in immediately, the second is that I need to expand the window, the third is that there is a lag to open PayPal, and then I have to deal with the actual live betting software. By the time I do all of that, the next round has begun.
It has improved a lot over the years, I must admit, and the mobile app is also flawless. It should also be noted that I haven't experienced these issues using a mobile browser or Windows machine. Again, I'm nit-picking, but when there are so many great sites out there and the competition is so fierce, it's things like this that make all the difference.
Software and Games
Ladbrokes Casino used to be a Microgaming casino. I have a lot of respect for Microgaming and have always been a big fan of games like Mega Moolah and the Star series, but I also find Microgaming to be a little boring and personally prefer Playtech, NetEnt, Betsoft, Blueprint, and Yggdrasil. I was happy, therefore, when Ladbrokes Casino announced that it would be switching from Microgaming to Playtech, a switch that remains in place.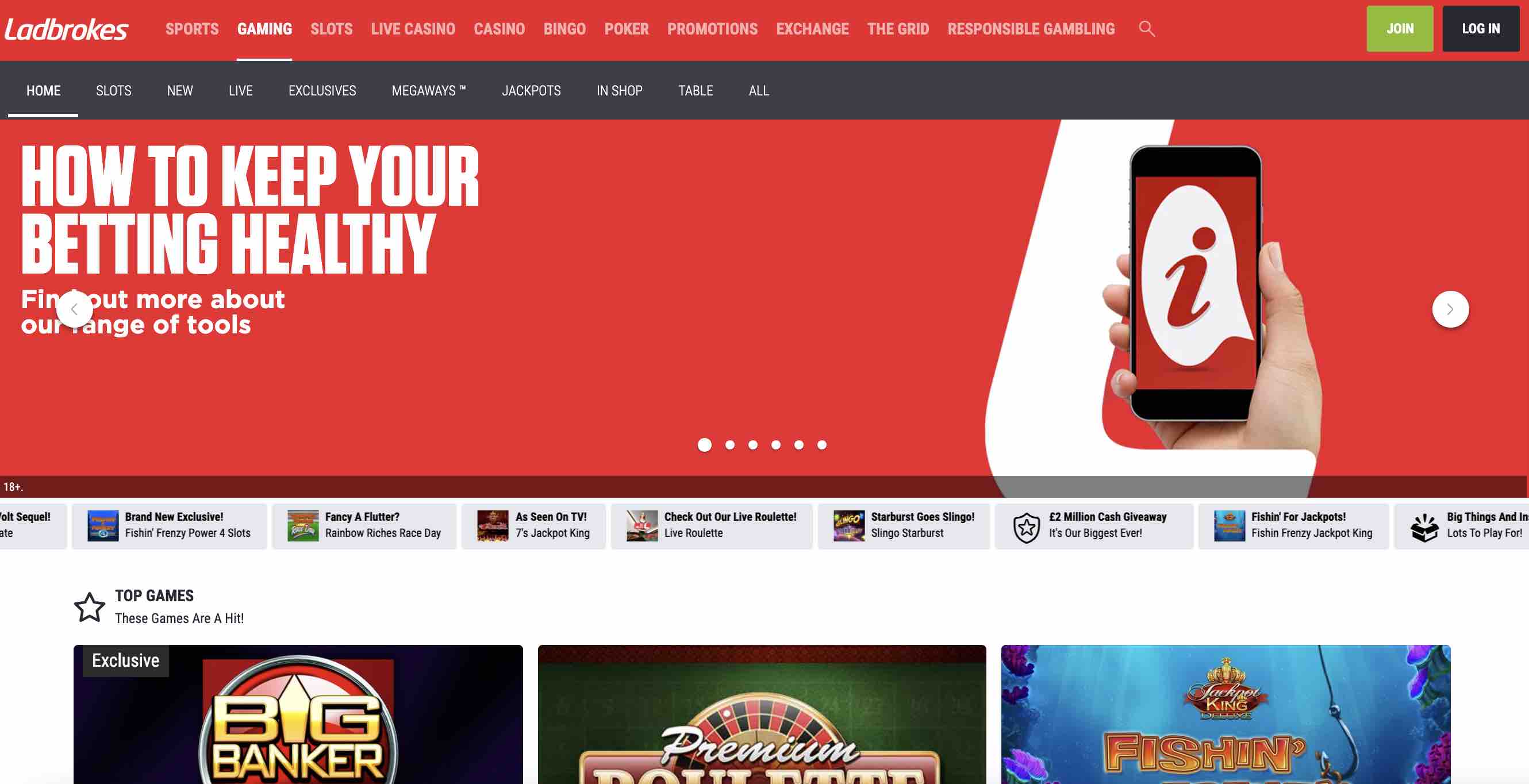 Many players weren't as happy as I was, but whether you like Playtech or not, there is still a lot to like in the Ladbrokes games room. You can explore top slots and table games from a wide spectrum of casino developers. In addition to the monster progressive jackpots offered by Playtech, it also has Quickspin and SG Interactive. It is a little on the short side and it would have been much more preferable to see some other big names on that list, but if you like Playtech and are attracted by everything else that Ladbrokes has to offer, it's a solid casino.
Bonuses and Promotions
The Ladbrokes Casino Welcome Bonus isn't as big as the one you can get from BitStarz, but it's impressive for a UK-licensed site and it also works really well for casual gamblers. As a player from the UK and several other regions, you can get a bonus of £50 when you deposit and wager £10. You need to play qualifying slots and table games to wager the money and when you do, you will get a £50 bonus to spend as you choose.
The bonus must be accepted within 14 days and needs to be cleared within 30 days. The wagering requirements are fixed at 40x, which means that you need to wager a total of £2,000 before the money can be converted into cash and withdrawn.
It's a fairly generous bonus on the surface, but it is not without its issues. For instance, you cannot collect the bonus if you use PayPal to deposit and you will also be excluded if you use prepaid cards and other e-wallets.
Moving away from the Welcome Bonus, Ladbrokes offers a lot of Reload bonuses and Giveaways as well. These keep you interested as an active player and offer something generous every now and then. You can also collect the Bingo Welcome Bonus and Poker Welcome Bonus, even if you have already joined the casino and scooped the new player bonus.
Payment Options
Ladbrokes accepts a variety of payment methods, including Visa, Mastercard, Maestro, PayPal, Luxon, Trustly, and Paysafecard. These payments are processed without fees and there are very small minimum requirements. As for the maximum, Ladbrokes is a UK-licensed casino and if you are based in the UK, you don't need to worry about withdrawal limits.
There is technically a limit of £250,000 a day, but that doesn't include progressive jackpots and unless you're gambling with millions of pounds a month, you won't get anywhere near this amount. It certainly makes for a refreshing change when compared to Zev Casino and other such sites.
Withdrawals are usually processed following a short pending period. It typically takes a day for this to finalise, after which it all comes down to your chosen payment method. If you're using Trustly or PayPal, the money should be in your account the following day. If you're using a Visa or Mastercard debit card, you will need to wait for between 3 and 5 days.
Ladbrokes has multiple sections to its site, including the casino and sportsbook. If you deposit money onto one of these sections, you can use it there. But if you want to use that money elsewhere, you will need to transfer it across. It's a quick and painless process, though, and it's one that is also required of you on sites like BetFair.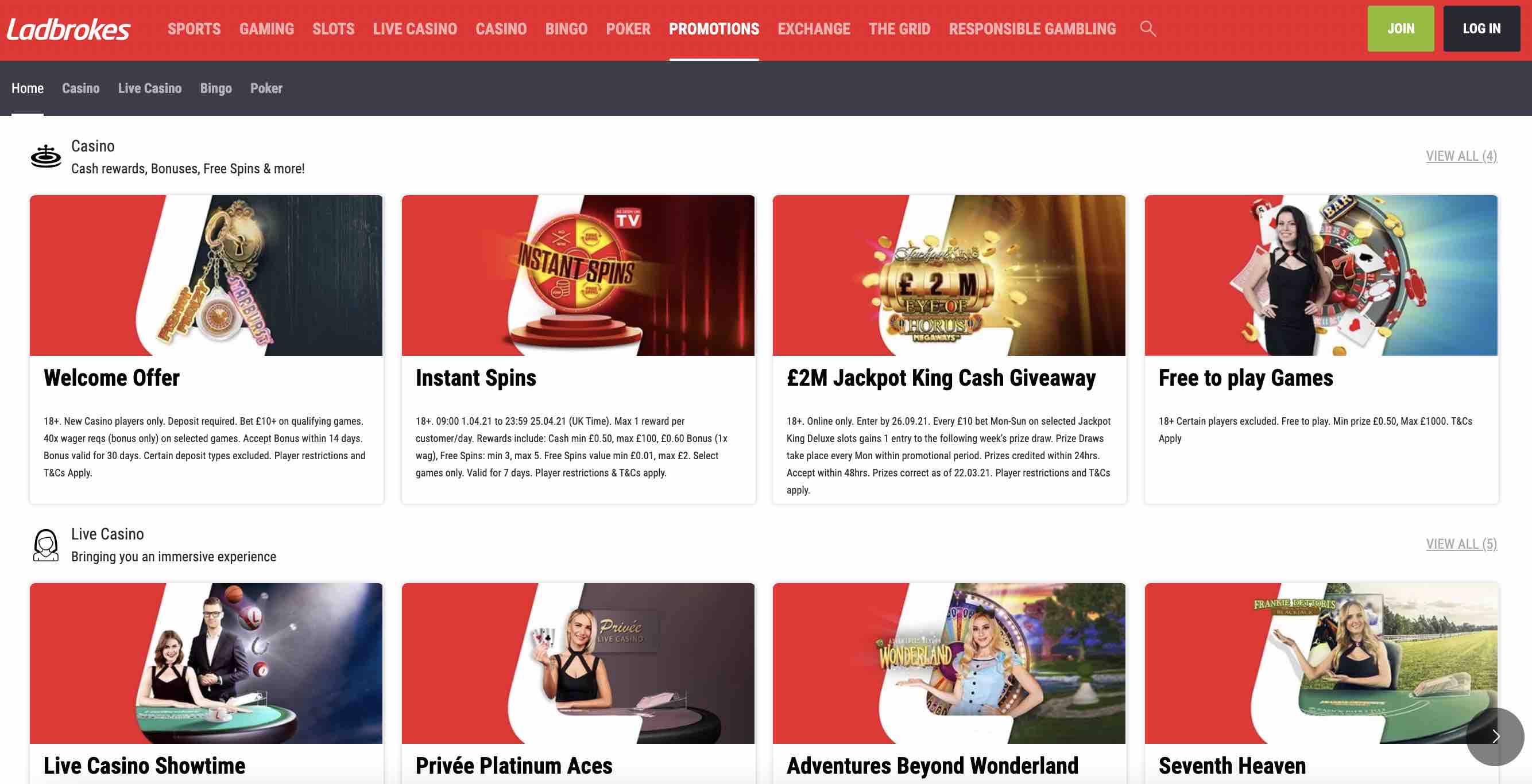 Highlights
Massively Popular Brand
Hugely Respected Name
Playtech Slots and Table Games
Sports Betting Opportunities
Great Mobile App
User Reviews
Ladbrokes Casino has received a lot of complaints and bad reviews in recent years and they all seem to be talking about its switch from a Microgaming site to a Playtech site. As noted above, I actually prefer them after the switch, but I understand where these frustrations are coming from as it's a pretty big move to make.
Some have called it a "fall from grace" and many have said that they have given up on the site altogether. It's just one of those things—maybe you'll like it, maybe you'll hate it. If you're looking for a top Microgaming casino in the UK, this is not it, but there are still plenty of options out there. If you want a Playtech site that ticks a lot of boxes, is completely safe and regulated, and has some big offers for casual players, it's ideal.
The good news is that there aren't many complaints about Ladbrokes' customer service, bonuses, or fairness. Sure, these complaints exist, but the same could be said for all sites, and the majority of customer experiences have been positive.
FAQs
Is Ladbrokes Casino Fair?
Ladbrokes Casino is very fair. It works with some of the strictest regulators in the world and they ensure that everything is as safe and as fair as it should be. If you can't trust a site like Ladbrokes Casino, then you probably won't trust anyone in the gambling industry.
How Big is Ladbrokes?
The parent brand of Ladbrokes, Entain, is one of the richest in the gambling industry. It owns several major casino, bingo, and betting brands and has an operating income in excess of half a billion GBP.
When Was Ladbrokes Founded?
The company dates back to 1886 but it changed its name to Ladbrokes in 1902.
Can I Set Deposit Limited at Ladbrokes Casino?
Yes, and Ladbrokes is actually very good in this regard. You can set daily, weekly, and monthly limits. Any increases that you make will take effect after 24 hours while decreases will activate immediately.
Do I Need Different Accounts for Different Parts of the Site?
A single Ladbrokes account will give you access to all of the Ladbrokes sections, including the sportsbook, bingo room, and poker room.
Are There Other Sites like Ladbrokes?
There are many great sites out there that are licensed in the United Kingdom and have a big reputation. If you like Ladbrokes, I recommend taking a look at 32Red Casino.
Final Thoughts
Ladbrokes Casino has improved a lot over the years, but there are still some niggling issues. My biggest frustration with this site is that it really shouldn't have those problems. I don't have the same issues with William Hill Casino, its competitor, and I've played the same games on other sites without issue. Still, if you can get over these frustrations and don't let them tarnish your opinion on the site, there is a lot to like here.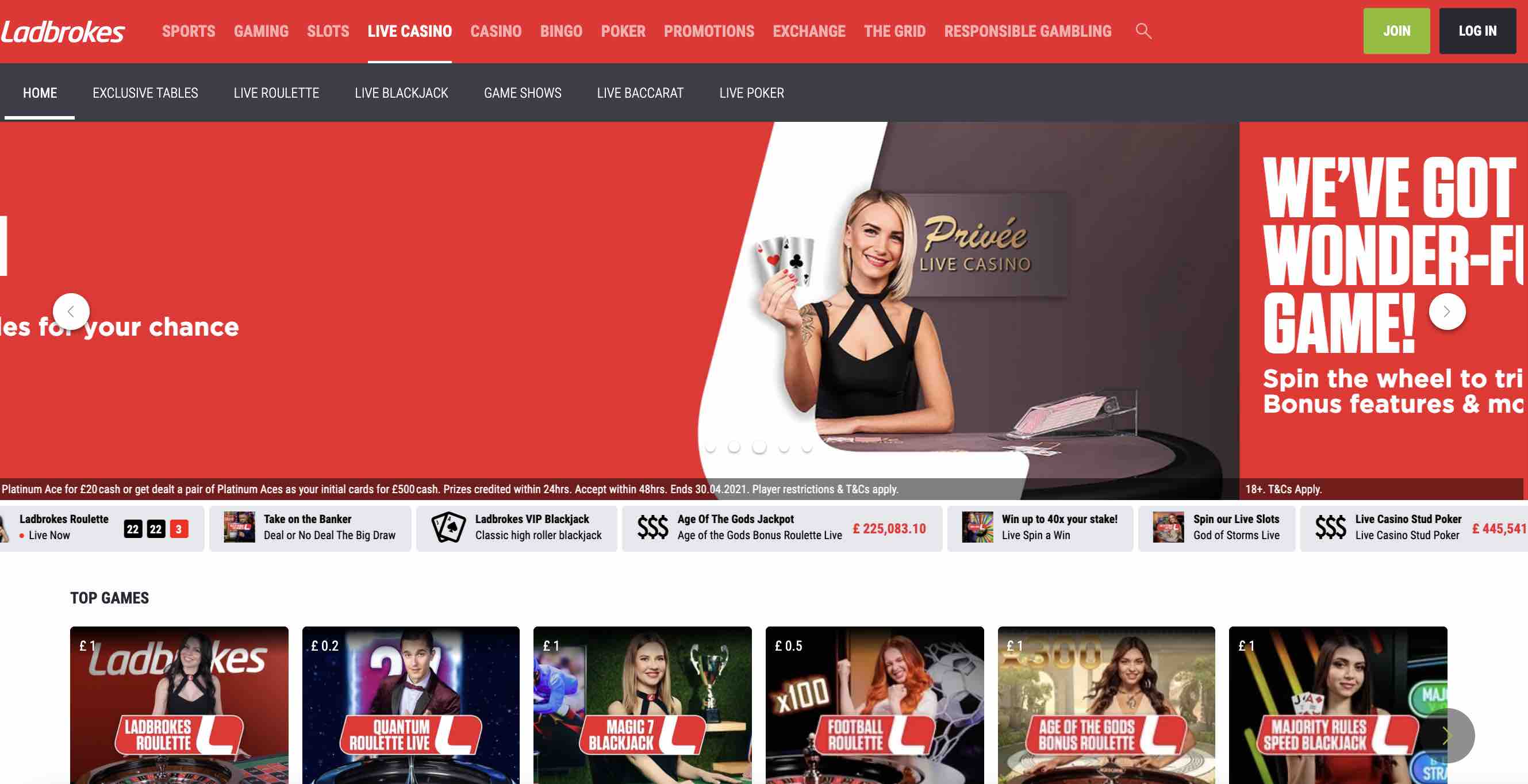 Ladbrokes doesn't have the most generous bonuses, but they are very good when compared to other UK-based casinos and sportsbooks. It offers a selection of payment methods, has massive limits, and the fact that it is regulated in the UK and Gibraltar also means that it is one of the safest sites out there.
The biggest downside is that not everyone can join. As with many sites that target players in the United Kingdom, Ladbrokes has many country restrictions. If you can join then you definitely should, because minor issues aside, Ladbrokes Casino really does have a lot to offer its players.
Ladbrokes Casino Review Details
Restricted Countries:
Albania
Armenia
Asia
Belarus
Belgium
Bulgaria
Canada
China
Croatia
Cyprus
Czech Republic
Estonia
Finland
France
Hungary
Israel
Italy
Japan
Lithuania
Norway
Romania
Russia
Singapore
Slovakia
Spain
Sweden
Switzerland
Ukraine
US
Languages:
Chinese
Czech
English
Norwegian
Portuguese
Russian
Slovenian
Spanish
Thai
Currencies:
AUD
CAD
CNY
DKK
EUR
GBP
NOK
USD