Pros
Decent Bonuses
Bitcoin-Friendly
Mobile-Friendly
Betsoft Games
Cons
Small Selection of Games
Limited Table Games
Dated Design
CosmosWin Casino launched in 2019 and has been growing slowly and steadily ever since then. Licensed by the authorities of Curacao, it is a relatively small online casino that works with several iGaming developers and payment providers, while offering a number of beneficial features.
…a relatively small online casino that works with several iGaming developers and payment providers…
In this CosmosWin Casino review, we'll take a deep dive into the casino to see how it operates, what it has to offer, and how it compares to some of the other top Bitcoin casinos we have reviewed.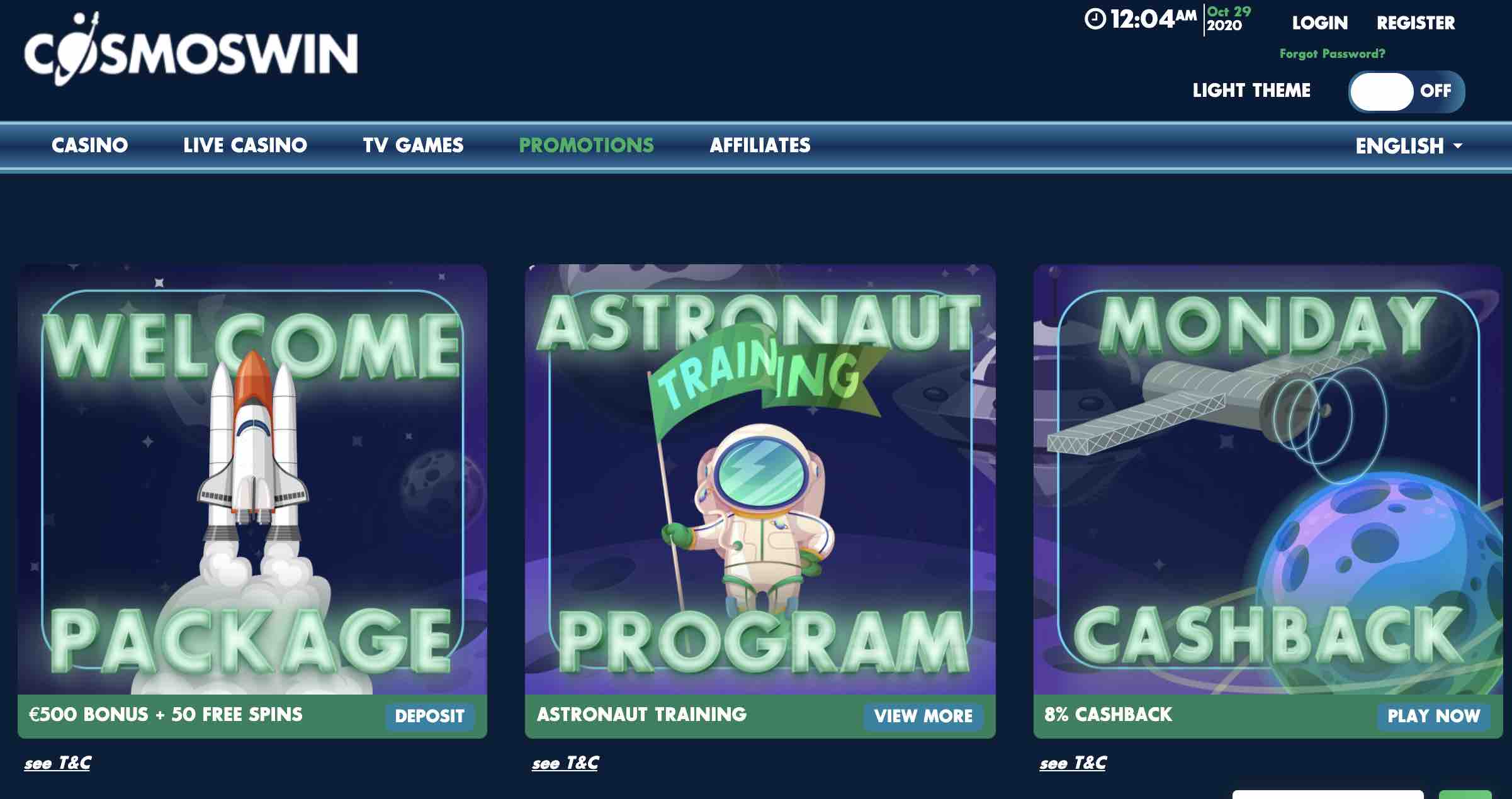 About
According to the CosmosWin Casino About Us page, the site hit the market in 2019 and is owned and operated by a Malta-based company known as Final Enterprises N.V. We can't find a great deal of info on this company, but it definitely seems legit and it owns at least one other online casino. We won't mention the name of the other site as we haven't reviewed it yet, but it is older than CosmosWin Casino and seems to be a little bigger as well.
The layout jumps out at you when you visit CosmosWin Casino, and not in a good way.
We recently reviewed WCasino, which we pretty much tore to pieces. It still got a decent score, but only because it had some good bonuses and games, and these made up for the terrible aesthetic. Where CosmosWin Casino is concerned, the aesthetic is not quite as bad, but it's still a little odd and dated.
We can see what the developers were going for, and in places, they nailed it. But everywhere else…they failed. We hate the magnified effect that appears every time you hover over a tab or game, as if you can't see what you're doing and need a helpful pop-up.
This is 2020. People know how links work. If they see a gaming thumbnail, they know to click it and don't need a popup that says "For Money" every time they hover over it.
We get why it's there. It's there because some games have the "For Money" and "For Fun" options. But there are better ways of doing this. At the very least, the option needs to be removed from Live Casino games that don't have a fun play option, otherwise it looks silly!
In addition, we feel like they badly need a copywriter. There is so much empty space here. Sure, casino content can seem like overkill at times. If you've been around this industry for any length of time, you'll notice that most top online casinos have a wealth of casino content hidden under the fold, with minimal tag-lines and helpful headlines placed more prominently.
That's because the content is partly there for the 1% of people who actually scroll and read, and mainly for SEO purposes. We don't expect CosmosWin Casino to follow suit, but we do expect at least a few paragraphs. Even a sentence would do!
It's not all bad. Some of the graphics are cool and we somewhat appreciate the quirky and simplified graphics. We just feel that it needed a little more effort, a lot more consistency, and some major layout fixes.
Software and Slots
We have spent a lot of time trashing the design of CosmosWin Casino, but it's not that bad. It's not the best, far from it, but we have definitely seen worse. So, let's leave that behind and move onto the games.
For the most part, there is a good selection here. CosmosWin Casino works with a couple of our favourite developers, including the brilliant Betsoft. However, there is no NetEnt, Microgaming, Playtech, or Yggdrasil Gaming. You won't see Wazdan, Quickspin, or Play'n GO either. What we're trying to say is that there aren't a lot of games here.
As regular readers and players will know, the aforementioned developers are not only some of the best, but they also have the largest selections of games. Casinos like 4KingSlots rely on these creators to offer an expansive selection of real money titles and without them, your options are limited.
So, while some casinos have 1,000 games and others offer in excess of 4,000, CosmosWin Casino has just a few hundred.
All of these games are tiled in the games room, with tiny thumbnails stacked next to each other. You can use a selection of filters as well, all of which make it easier to find the games that you're looking for.
If you look to the green menu at the top, you'll see a list of providers, including Pragmatic Play, Betixon, Spinomenal, and Betsoft. Click on one of these to only see games by that provider.
On the menu below, there are options like "New", "Table Games", "Video Poker", "Video Bingo", "Video Slots", and "Crypto Games". Under the Crypto Games section, there are fewer than 20 titles, including Penalty Shootout, Thimbles, Red Queen, Crown & Anchor, Roll the Dice, and Scratch Match.
The table games selection is very limited, to say the least, but they have a good selection, nonetheless. You'll see games of Blackjack, Roulette, Sic Bo, Baccarat, and Poker, as well as a game known as War.
CosmosWin Casino has a Live Casino and it works with Ezugi and Evolution Gaming to provide games for this section. When we first saw that, we expected to see a host of games, as its relationship with these developers means it has access to those games. But that's not the case and there were a little over a dozen Live Casino games in total.
These games include Dream Catcher, Roulette Live, Blackjack Live, Keno HD, Dragon Tiger, and Bet on Numbers HD. Just don't expect games like the Lightning series, Crazy Time, Football Studio, and other top titles from Evolution Gaming.
For those, you will need to play at one of the other casinos we have reviewed, including star sites like Oshi Casino.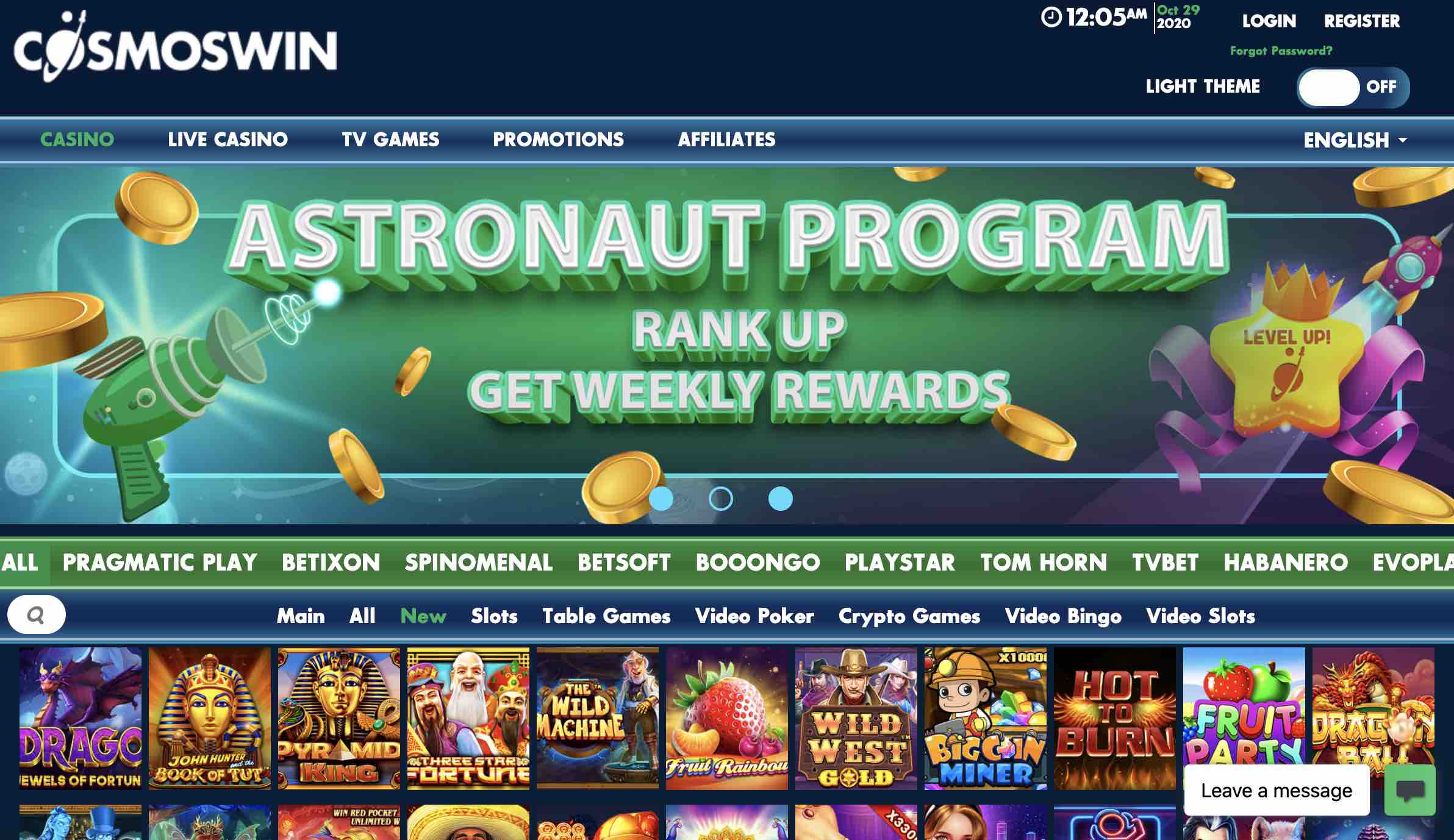 Casino Promos
The CosmosWin Casino Welcome Package Bonus offers up to €500, along with 50 Free Spins. This bonus is spread across three deposits, offering 150%, 100%, and 50% respectively. You need to deposit a minimum of €20 each time to qualify and there is a wagering requirement of 35x that applies to the deposit and the withdrawal.
Those wagering requirements may seem respectable at first glance but they are actually very high. We disagree with casinos structuring wagering requirements in this manner. They do it because it looks much better to say 35x for a deposit/bonus than 50x for a deposit, even though the latter is considerably better.
To put that into perspective, let's say that you deposit €100 and get €150. To clear that money and prepare for withdrawal, you will need to wager a total of €5,250. That's a lot of money in anyone's book and it's simply staggering for someone depositing €100!
Still, the bonus is saved by the fact that the first deposit comes with a 150% match.
Other bonuses are available as well, including Reload bonuses, Cashback offers, and more
Payment Details
Another area that CosmosWins Casino really needs to expand upon is the payment options. Sure, they accept a few different methods, including cryptocurrencies like Bitcoin and traditional payment methods like Visa, Neteller, and Skrill, but the only way of knowing this as a non-member is to look for the logos at the bottom of the screen.
There is no FAQ or Payment Options screen. This is something that all casinos need. It is something that we always look for in online casinos.
You could argue that players will simply get their info from review sites, and to an extent, that is true. But that's not always reliable.
One of the biggest casino review sites, and the one that most players use, lists Bitcoin as being available on about 200 casinos where it's simply not offered. It lists some casinos as being banned in regions where they are not and available in regions where they are banned. One of the reasons we launched Coinbuzz was to provide more accurate, reliable, and insightful information, but not everyone knows we exist and casinos shouldn't rely on us to do all the work.
You need to give your customers information before they commit to joining and depositing. If that info isn't there, they will run a mile.
On the plus side, CosmosWins Casino has high withdrawal limits, fast payments, and when you join, all of the info you need is available.
Highlights
TV Games
Video Poker
Betsoft Games
Bitcoins Accepted
Crypto Games Available
Some Good Ideas
Could Improve in the Future
FAQs
When Was CosmosWin Founded?
The site launched back in 2019.
Can I Join from the UK?
As CosmosWin is not regulated by the UK Gambling Commission, players from the UK are unable to join. Don't worry though, as we have reviewed many other sites that will take you, including Unibet.
Is There a Withdrawal Limit?
There is a withdrawal limit, but it's fixed at a rather high $30,000 a day, so it's generally not one that you will need to worry about.
Is it Good for High Rollers?
The withdrawal limit would certainly suggest so, and there are other benefits as well. However, it really all comes down to how much you are gambling and whether you are looking for additional features like a packed sportsbook.
Can I Play from the US?
The US gambling industry still operates in somewhat of a grey area and there are no official regulators for sites based outside of the country. As a result, you are unable to join or play legally.
Reviews and Support
We feel like we have trashed this casino quite a lot, and we feel bad about that. It's not a major casino operation like SlotsHeaven and it doesn't have the backing of a brand like Mansion, Direx, or Araxio. Sure, it has made a lot of mistakes and missteps, but it's still growing, it's still improving, and maybe they will be rectified in time.
Although, we have our doubts about that, because at the time of writing, CosmosWins Casino has been active for over a year. Of the many issues we highlighted above, most were found in just a few minutes. If we can find them in a few minutes, they can surely find them in a year, and the lack of improvements suggests they have no intention of upgrading.
On the plus side, the customer support is very helpful. We have seen some user reviews suggesting that it is a little slow, but many of these were posted during the middle of 2020, when every company in the world had a very valid excuse to be a little slow. More importantly, the CosmosWins Casino support team took the time to respond to all customer reviews, which is always good to see.
Just like the casino's design and layout, this is something that we often fixate on. It's minor, but it's essential, as it hints at something much bigger.
A poor and dated design suggests that the casino was rushed and that it doesn't have a knowledgeable and skilled development team behind it. After all, if such a team existed, they would have fixed the issues and initiated an overhaul. Responding to customer reviews, on the other hand, suggests that the customer support team actually cares about its members and is willing to go out of its way to appease them.
It's something you don't always see and something that irritates us immensely when it doesn't happen. We have to give CosmosWins Casino some props for that and we hope it continues.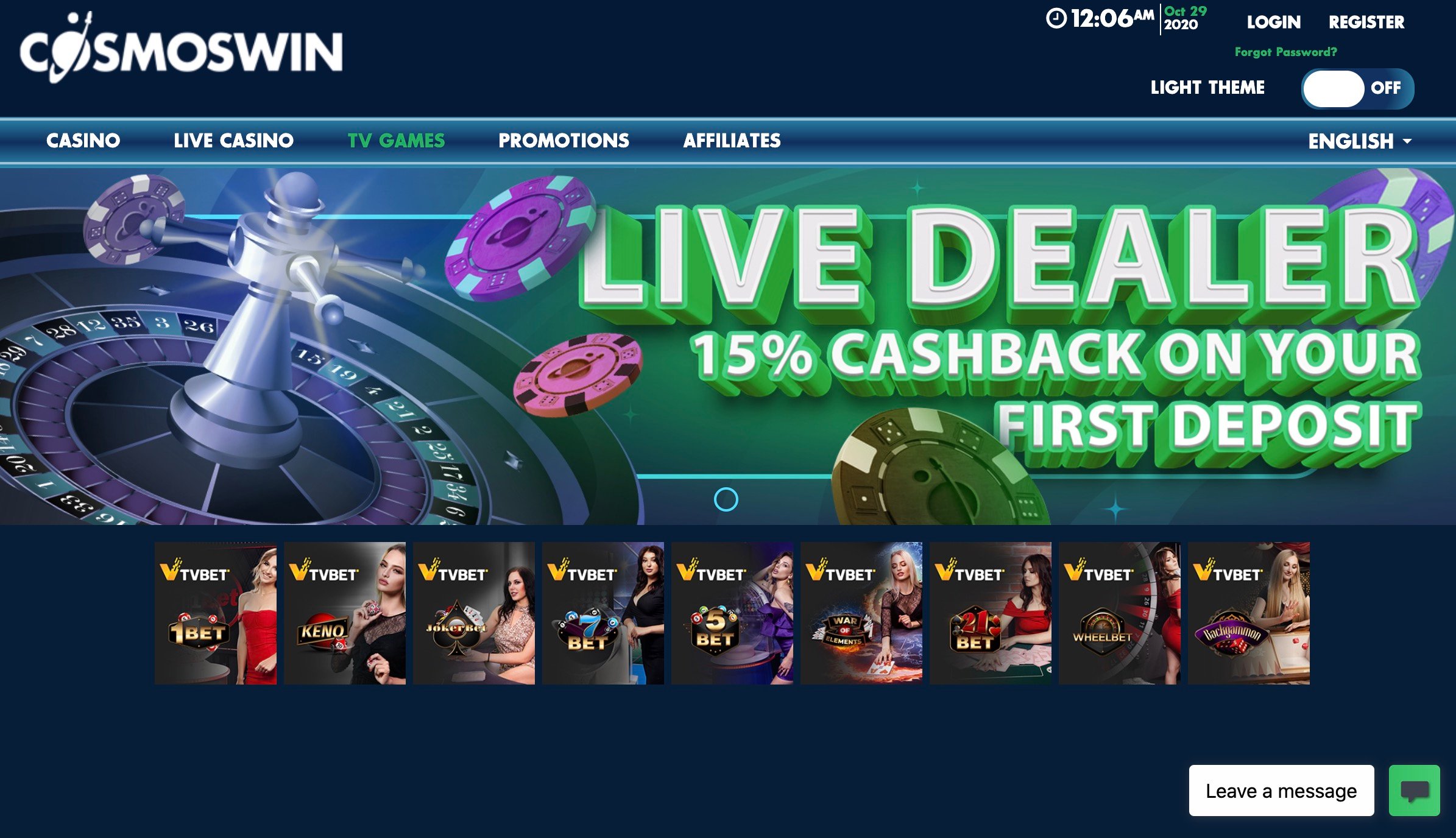 Final Word
There are lots of elements that we like about CosmosWins Casino. We're huge fans of casinos that go above and beyond, ones that offer a vast collection of games, just like MELbet. However, we're also happy with smaller casinos if they get the design right and incentivise players to stay loyal. CosmosWins Casino doesn't really do any of that.
We can't help but feel that they missed a trick here. In fact, they missed several. Take the "Light/Dark" option as an example. It's a little button you tap to go from light mode to dark mode, not unlike the one on YouTube, or so we thought. With a name like CosmosWins, you could be forgiven for expecting the dark mode to be one filled with night stars and the mystery of space, while the light mode pops up like a sunrise.
It would work really well and add a unique element. As it happens, the light mode just bleaches everything. It is uninspired and suggests that the casino was made in a few hours by an inexperienced developer, as opposed to a few weeks by a talented team.
That might not be the case. Maybe they just didn't have the money or time. Maybe the developer was not paid enough or was asked to do too much. As freelancers, we can certainly understand that.
In fact, based on some of the images and ideas, we are more inclined to believe that the developer or development team did know what they were doing but just didn't have the means to get it right.
In any case, the casino is the one to blame, not the developer/designer. If not for these issues, and if they added a few extra iGaming creates, a Loyalty Scheme, and something unique and unusual, CosmosWins Casino would be near the top of our list.
Without those features, it's closer to the bottom. It's still deserving of your time and money and we still recommend taking a look, but don't expect anything award winning or memorable.
CosmosWin Casino Review Details
Restricted Countries:
Australia
Belgium
Bulgaria
China
Cyprus
Czech Republic
Denmark
France
Greece
Hungary
Israel
Italy
Latvia
Netherlands
New Zealand
Poland
Portugal
Romania
Singapore
Slovakia
Spain
Sweden
Switzerland
UK
US
Languages:
Arabic
English
Finnish
French
German
Russian
Turkish
Currencies:
CAD
DKK
EUR
GBP
NOK
RUB
USD