Pros
Many Developers
Great Games
Mobile-Friendly
Live Dealer Options
Multiple Payment Options
Cons
Generic Design
Cookie-Cutter Site
Withdrawal Limits
Ovitoons Casino is an online casino that's owned and operated by the Mirage Corporation. I have reviewed many casinos operated by this brand and my opinion on most of them has been akin to a very disappointed teacher scribbling, "Needs work. Can do better" in red pen. Ovitoons Casino is a solid casino that has a decent bonus and some good payment options, but as you will discover in this review, I had to dig out the red pen several times and was very disappointed with what I found.
Basics
I spend a lot of time complaining about bad copywriting. As I have noted many times, including my recent review of Universal Slots Casinos, it's commonplace throughout the online casino sector. The industry is full of skilled and informed writers. The problem is that most of these seem to be reviewers and affiliates, and there's very little left for the actual online casinos.
I can forgive mistakes on blogs and reviews. I am sure I have made them many times myself. But on a site that is asking for your money and trust? There are no excuses.
Where Ovitoons Casino is concerned, I feel like the issue is even lazier, which is the only reason I am bringing it up again (and because I love to moan).
If you drop by the casino's About Us page, you will find a very generic offering. There is nothing here that tells you what makes the casino unique—nothing about the theme or the name.
What you will find, however, is poorly-written, typo-riddled nonsense that clearly wasn't edited or even doubled-checked. In fact, I would be very surprised if they had even activated the spellcheck function.
"Which" is spelled "wich", "license" becomes "livens", and they seem to think that "Live Casino" is all one word.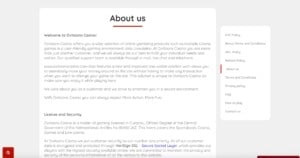 I was willing to forgive all of that because while it's quite bad, it's far from the worst I have seen and there are moments of sanity within the mess. However, as I was checking those typos, something sounded familiar.
I'd seen those mistakes before.
After a little sleuthing (by which I mean "using the Coinbuzz search function") I discovered that the same About Us page is used on Wolfy Casino.
I understand that Privacy Policies and Terms and Conditions are often copied, but the About Us? It's supposed to be "about the casino", also known as the thing that makes it unique. You can't simply rip it from one of your other sites and swap the casino name.
As if that wasn't bad enough, I ran a Copyscape check and discovered that the same About Us was being used on several other sites, including the disappointing WCasino. In fact, Copyscape found 45 matches.
It's worth noting that we're talking about 250 words of text here. A very skilled and highly-experienced copywriter will charge you $25 to $50 to write original, eye-catching, and worthy content of that length. A proficient and very good writer could charge you anywhere from $5 to $15. It's not a lot of money and the fact that they didn't make the effort is very disappointing for potential players.
Why should I give you $1,000 of my money every month when you can't be arsed to pay a writer $5 to create something unique?
Maybe I'm being harsh, because as you will discover in this review, Ovitoons Casino is a solid site built on a winning formula. But it's just not acceptable to do that kind of thing.
Software and Games
The design of Ovitoons Casino is very bland. It's mostly white and grey, with the odd splash of colour and animation. The animations are actually cool when they are used, but they are few and far between and there is no cohesive theme here.
On the plus side, Ovitoons Casino works with a huge number of iGaming providers, including Blueprint Gaming, Elk Studios, Evolution Gaming, Pragmatic Play, GameArt, Habanero, Playson, Thunderkick, Wazdan, Yggdrasil, Red Tiger Gaming, and Microgaming.
For a full list of developers, scroll to the bottom of this review and take a look at the table listed underneath.
The varied selection of creators provides Ovitoons Casino with an eclectic mix of slot games, table games, and Live Casino games, the latter of which are provided by Evolution Gaming and Pragmatic Play, among others.
Bonuses and Promotions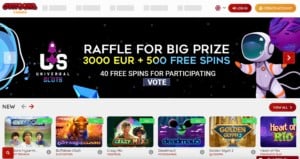 At the time of writing, one of the biggest promotions on Ovitoons Casino is actually themed around its sister site, Universal Slots Casino. The whole idea of the promotion is that you will get some credits and Free Spins if you enter the raffle, and to enter the raffle, you need to go to a third-party award website and vote for Universal Slots in the Best Online Casino category.
That sounds dodgy as hell to me, but I don't know the rules of the promotion so I'm not sure if that's allowed or not. I would imagine that it's okay, but still…it kinda dampens the award if everyone only voted because they thought they were getting something out of it.
"I've been asked to vote for the Best Film category at the Academy Awards. Do I give it to Tarantino for his epic action film; do I give it to the summer blockbuster that I loved? Nah, I know, I'll give it to that film I've never seen as they promised me a pack of Skittles."
Yes, I know, I'm complaining again, but they're making it so easy for me.
Moving away from this raffle, Ovitoons Casino also has a Welcome Bonus that offers up to €350 and 300 Free Spins spread across three deposits. There is a minimum deposit requirement of €25 for each of these bonuses, and in true Mirage style, it's listed as a "Minimun" deposit. I should note that the same mistake was made on Universal Slots and in the same place, suggesting more copy and pasting.
The wagering requirements are fixed at 40x for the first deposit (100%) and 30x for the second and third (both 50%). It applies to the deposit and bonus amount and so it means that a deposit of €100 and a bonus of €100 (for a total of €200) will require a playthrough rate of €8,000.
You don't need to be a maths wizard to know that's an epic amount.
There are a few other interesting bonuses available here, but really it's lacking in the promotions department. If you want something a little more generous and less demanding, take a look at my review of Kingdom Casino.
Payment Options
One of the areas in which Ovitoons Casino excels is its payment options. Or rather, the variety of payment options, as it's not without its issues.
You can choose from a selection of cryptocurrencies and traditional options, including Ethereum, Litecoin, Bitcoin (see here for more Bitcoin casinos), Skrill, Neteller, Visa, Paysafecard, and Ripple. Interac is available for players from Canada and some players will also be able to use Neosurf.
Withdrawals seem to be a little quicker here than they are with other Mirage casinos, as the pending time is limited to just 24 hours. It means that if you're using Skrill, Neteller, or any of the cryptocurrencies, you should receive your funds sometime during the next working day. Of course, if you're using debit cards, credit cards, or bank transfers, you will need to wait for at least a few more days until you see your funds.
As for the withdrawal limit, there isn't one listed on the site or in the Terms and Conditions. However, it does state that the site will set limits "from time to time" and it's also worth noting that most (if not all) other Mirage sites have withdrawal limits. Based on the fact that Ovitoons Casino doesn't even have its own About Us page, it would be safe to assume that it has copied the limits from its sister sites as well.
For that reason, we can assume that the limit is around €5,000 per week.
Highlights
Lots of Games
Everything is Neatly Ordered
Easy to Navigate
Mobile and Desktop Availability
Welcome Bonus and Reload Offers
User Reviews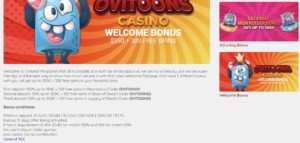 There is only one review listed for Ovitoons Casino on a major third-party review site. It's definitely not enough to judge user opinions of the site, and so if you have any experiences of Ovitoons Casino or multiple Mirage sites, please let us know in the comments below.
Ironically, the review for Ovitoons Casino actually seems to refer to another site run by Mirage. It seems that the player is confused by the similarities of the many Mirage sites and has gotten two of them mixed up. Considering the content of this review, and the many complaints I have made about the generic layout and recycled content, it's understandable.
Usually, I make a big song and dance about casinos that respond to customer complaints and reviews. As noted in reviews for Fezbet and countless other sites, it's a pretty important feature. It shows that the casino cares about its players and actually has a system in place to deal with their complaints and to appease them when they leave bad reviews.
Ovitoons Casino doesn't seem to respond to reviews, and that's not a surprise when you consider that its sister sites adopt a similar lax approach to customer complaints and negativity. However, there are far too few reviews to actually draw a concrete conclusion on this. If they had such a team or process in place, I would have expected them to respond to the confused reviewer, offering their apologies and drawing attention to their mistake, but I'm not going to criticise them as it's just one review.
FAQs
Who Owns Ovitoons Casino?
Ovitoons Casino is owned by the Mirage Corporation. They are a major operator. They are fair, safe, and secure, but they also make a lot of mistakes when it comes to launching online casinos and Ovitoons Casino is a prime example of that.
Can I Play in the UK?
Ovitoons Casino does not have a license from the authorities of the United Kingdom. It takes a lot to get a UK gambling license and it's not very open to the use of cryptocurrencies, either.
When Was it Founded?
Ovitoons Casino launched in 2020. In fact, it was one of many sites to be launched by Mirage during 2020 and as the above review suggests, they were focusing more on quantity than quality.
Can I Play on Mobile?
Yes, you are free to play Ovitoons Casino on mobile and can do so directly through your mobile browser.
How Long Do Withdrawals Take?
It depends on the method that you use, but it takes around 24 hours for the withdrawals to finish "pending", at which point they will be processed.
Are There Any Better Sites?
Yes, many—in my opinion. If you're looking for something a little more original; something that doesn't use a cookie-cutter approach to casino creation, take a look at Oshi Casino,
Final Thoughts
I feel like I have given the Mirage Corporation a pass on a few of its poorly-made casinos in the past. I was happy to overlook the bad writing, the cookie-cutter approach to online casinos, and the half-assed design due to the solid payment structures and bonuses.
I saw them much like I see a computer game that has mediocre graphics, terrible acting, and a shocking dialogue, but is very cheap and has great gameplay. However, if I keep giving them a pass then I'm just feeding the beast and giving them an excuse to keep doing what they are doing.
In this day and age, it's important to be unique and to have an identity. And if you're going to be generic, at least be original in your dullness. Don't just copy and paste everything from the dozen other generic sites that you have.
If anyone from Mirage or Ovitoons Casino is reading this, do better! Hire a writer and/or editor and do something original!
Ovitoons Casino Review Details
Restricted Countries:
Asia
Bulgaria
France
Iran
Iraq
Israel
Italy
Netherlands
Portugal
Spain
Sweden
Switzerland
UK
Ukraine
US