Pros
Good Gaming Developers
Lots of Payment Options
Easy to Use
Mobile-Friendly
Crypto and Traditional
Cons
Poor Design
Limited Customer Support
Low Withdrawal Limit
Slow Withdrawals
Universal Slots Casino launched back in 2018 and seems to have had a slow start since then. It does have a lot to offer, though, and it's 100% Bitcoin-friendly, with a host of other cryptocurrencies also accepted.
it's 100% Bitcoin-friendly
As it is owned by the Mirage Corporation, Universal Slots Casino is backed by a very strong and successful operator and one that has produced some great casinos and sportsbooks in the past. They might not be as well-known as DAMA and Direx, the brands behind massively popular sites like BitStarz, but they are a brand on the rise and they have some quality sites in their roster.
Basics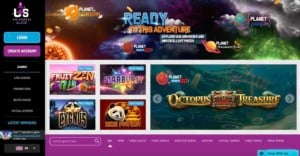 The theme and the style of Universal Slots is a bit of a damp squib. It reminds me of the equally poorly designed Space Lilly Casino. Not only are the visuals half-assed and non-committal (as if they just threw a few clipart spaceships at the design board and said "that's it") but the writing needs a lot of improvement, as well.
The About Us consists of four short paragraphs and the only attempt at a creative hook is the following, "All our ships travel at the speed of light, and our processes, you will count with fast payments and account verification without long delays."
Casino copywriting is somewhat of a low-hanging fruit when it comes to highlighting faults. These companies often hire the cheapest agencies they can find and get something that was outsourced to someone who was given very little info about the site and doesn't have any knowledge about the industry. It's not checked, it's not edited, and that's why we have issues like this, along with the casino's blogs, which welcome us with typo-titles like "How Does Music Casino Games More Appealing" and the very odd "Being an Online Casino Player Can Make you a Businessperson", which reeks of a title conceived by an SEO expert who had no idea how it would actually be written.
I make mistakes. I am sure there are several on this site and maybe even in this article. You don't need to point them out to me…I know. But I'm a casino reviewer providing free content and this is my 20th review of the week. Universal Slots is an online casino backed by huge sums of money, expensive marketing, and players who willingly hand over credit cards, debit cards, and cryptocurrencies to play for real money.
In other words, it's apples and oranges—blogs and massive e-commerce sites. They need to do better.
Software and Games
The Universal Slots Casino games room is well laid out and easy to navigate. I also like the fact that the "All" section seems to be arranged by relevancy, as opposed to just listing slots in alphabetical order. For instance, the Euros and Copa America are underway at the time of writing and the first dozen slots or so are based on sport and football in particular.
You can also search by provider, which I always like to see, and there are plenty of providers to choose from. Some of the most notable names on the Universal Slots Casino list include NetEnt, Quickspin, Betsoft, Big Time Gaming, Red Tiger Gaming, IGT, Microgaming, Wazdan, and Evolution Gaming.
As you would expect from a site that works with Evolution Gaming, Universal Slots Casino has a pretty extensive Live Casino and there are a number of live classics and gameshow titles to explore.
Universal Slots Casino has a respectable variety of video poker games, which are so often overlooked these days, and it also has Virtual Sports, which are provided by developers like Kiron Interactive.
As noted in my review for Roobet Casino and Sportsbook, I have a lot of respect for Virtual Sports, even though I always seem to lose every time I sit down to play. It's always an option I like to see and Universal Slots Casino has some pretty impressive titles to choose from, including several football variants, darts, and horse racing.
Bonuses and Promotions
Universal Slots Casino doesn't throw around the cash like MELbet and other casinos that have a habit of going all-out in every department. There are a few modest reload offers and you can also participate in slot races/tournaments. That's about it, but that's really all you need.
Of course, it also has a Welcome Bonus and it's capped at $650 and 300 Free Spins, so it's pretty generous. The bonus is spread across your first three deposits, giving you 100%, 50%, and 50% respectively.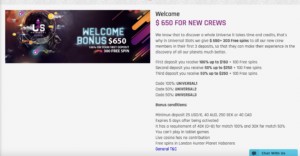 You need to deposit a minimum of $25 to qualify (as you can see from the image, the casino calls this a "minimun", which is further proof that it is in dire need of an editor…or spellcheck) and the wagering requirements are 40x for the first and 30x for the second and third.
The wagering requirements cover the full amount, as well, so while they seem respectable at first glance, they're actually huge. Basically, if you deposit $100 and get an additional $100 to play with (as provided by the first bonus) you will need to clear a sum of $8,000 before you can do anything with those winnings.
Assuming you have any winnings left after all of that.
Payment Options
There are good and bad points to discuss regarding the payment options at Universal Slots Casino. Unfortunately, that's often the way of things with modern Curacao-backed casinos.
The good news is that you can use a variety of popular payment methods, including Bitcoin, EcoPayz, Visa, Neteller, and Litecoin. It's an impressive offering and it means that crypto and fiat players have something to look forward to.
Now for the bad news…
There is a cap of $5,000 per week placed on all withdrawals. That's a lot of money and it will be more than enough for most players, but it's definitely not enough for high rollers and if you bet with the big bucks, you will need to take your services elsewhere. I recommend looking at sites like Paddy Power, assuming you are in a region where it is available.
The second issue is that Universal Slots Casino has a pending time of 48 hours. It means that your payment won't be processed for up to 48 hours after you initiated a withdrawal. That was standard practice 2 decades ago, but in the age of instant gratification and rapid-payments, it's no longer acceptable.
There are so many sites out there that offer instant withdrawals, as well as many others that take just a few hours. Why are sites like Universal Slots Casino still holding onto your funds for two days before finally releasing them?
Highlights
Use Both Cryptocurrencies and Traditional Methods
Lots of Gaming Developers to Choose From
Mobile and Desktop Gaming
Owned by an Established Operator
Licensed by the Authorities of Curacao
User Reviews
Most of the Universal Slots Casino reviews are positive, which is definitely a good thing. However, the casino launched in 2018 and most of the reviews I found seem to have been placed during a two-week period in May 2021.
There are reasons why that can actually happen, and I'm not being facetious. I don't know how the site in question works, but I know that Trustpilot reviews are few and far between until you actually sign up for an account, implement the widget/app, and start sending review requests. It's possible, therefore, for a business to have 1 or 2 reviews every month and then to suddenly get a dump truck load of them in a single week.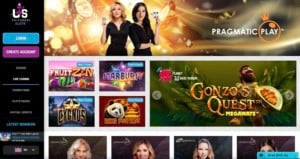 It's also technically possibly for those reviews to land during a single week and then stop, such as if the casino deletes the widget or is no longer promoting their services as heavily.
In any case, I'm not here to make excuses for the site, I'm just saying that the review profile doesn't paint a complete picture and it would have been nice to see a few more middling reviews, as well as some that were more spaced out.
Perhaps more importantly is the fact that Universal Slots Casino doesn't respond to customer reviews. I'm not going to get into that again as I have discussed it many times. Needless to say, it's important; it shows that the casino cares and it gives players an outlet if they have an issue that the casino can't or won't address.
I know what you're thinking—just go through the customer support team, right? If you're saying that, you either work for one of them (you traitor!) or you have not used as many online casinos and retailers as I have.
Sometimes (a lot of times, actually) they just don't listen. Most customer support teams are outsourced and told to follow a simple form. If they can't deal with your query following a simple copy and paste, they are completely at a loss. I've been in many situations where I've been stuck in an idiot-loop because the person at the other end doesn't know how to address the issue.
"Your street has been invaded by aliens and they have stolen your casino account and killed your pet parrot?"
"…."
"Have you tried turning it off and on again?"
The only way to stop the nonsense and end the loop is to go through a complaints procedure or to leave a review. Reviews catch their attention. Terrible casinos get away with doing what they do because they know that they can anger 1,000 people and only experience repercussions from 1 of them. If they see the review, they will react and ask a skilled and specialised team to deal with it.
They get things done and you can stop banging your head against the wall!
When there is no such process, it takes that avenue out of the equation and if you ever find yourself in the same position, you just need to keep banging your head against that wall.
FAQs
Who Owns Universal Slots Casino?
Universal Slots Casino is owned by Mirage Corporation, a brand that operates several other major online casinos.
Is it Regulated?
Universal Slots Casino is regulated by the authorities of Curacao, which oversees some of the biggest and best Bitcoin casinos in the industry.
When Was Universal Slots Casino Founded?
Universal Slots Casino launched in 2018, although it seems to have been quiet during the early years and didn't really push things until 2020/21.
What Languages are Available?
You can use English, German, and Spanish on Universal Slots Casino. Take a look below this review for other basic information on the casino, including currencies.
Can I Play in the United Kingdom?
Universal Slots Casino does not have a license from the UK Gambling Commission, and so you are not able to join from there. Check out [PokerStars Casino instead](https://www.coinbuzz.com/casino-reviews/pokerstars-casino/]
Final Thoughts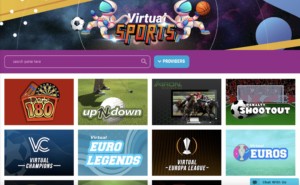 As you can see from my seemingly endless moaning, Universal Slots Casino is not without its issues. But the thing that annoys me the most about this casino is that those issues are minor and easily fixed. It's not like the site has terrible bonuses, ridiculous terms, and awful games. Its software is also solid, and it has a good variety of payment methods.
Those are the most important things and it gets all of those things right. The issue is that it struggles with the small things, the finishing touches that make a good casino great. Cadabrus Casino is a great example of a casino that could have been good but was upgraded to excellent due to its flawless design.
In Universal Slots Casino's case, not only did it fail to get these things right, but it failed so spectacular bad that it actually moved back a step, turning from a good casino into a mediocre one.
A good designer, a complete overhaul, and some solid copywriting would help it to get back up there. If it were to add some better customer support options and a few other little tweaks (including withdrawal options), it could be great.
Universal Slots Casino Review Details
Restricted Countries:
Asia
Cambodia
Czech Republic
Estonia
Hungary
Iran
Iraq
Israel
Italy
Netherlands
Poland
Singapore
Slovakia
Spain
Sweden
Switzerland
UK
Ukraine
US