Pros
Massive Brand
Safe and Secure
UK Gamblers Allowed
Mobile-Friendly
Sports Betting Site
Lotteries and Virtual Games
Cons
Lots of Restrictions
Several Bonuses
Everyone has heard of Paddy Power. The brand is everywhere. It has done an incredible job of promoting itself over the years and is now part of a massive multi-billion-pound gambling brand. Regardless of what you think about Paddy Power's approach to advertising, it's hard to argue with the sheer size of its online casino and sportsbook, and that's what we will cover in this review.
It has done an incredible job of promoting itself over the years
Before we go any further, it's worth noting that Paddy Power doesn't accept Bitcoin or other cryptocurrencies. We're including it because it's widely respected, incredibly well known, and has a lot to offer players who want to spin slots and place bets.
If you're looking for a site that accepts Bitcoin, click onto our review of Fezbet, which also combines the worlds of sportsbetting and online casino games.
Basics
Paddy Power is one of those brands that feels like it has been around forever, but it's not quite as old as William Hill and other major UK betting chains. It launched in 1988 in Dublin, Ireland, and soon established itself as a leading player in the Ireland sports betting market. In fact, before Paddy Power became an industry-leader in online betting, it had the largest phone betting operation in Ireland.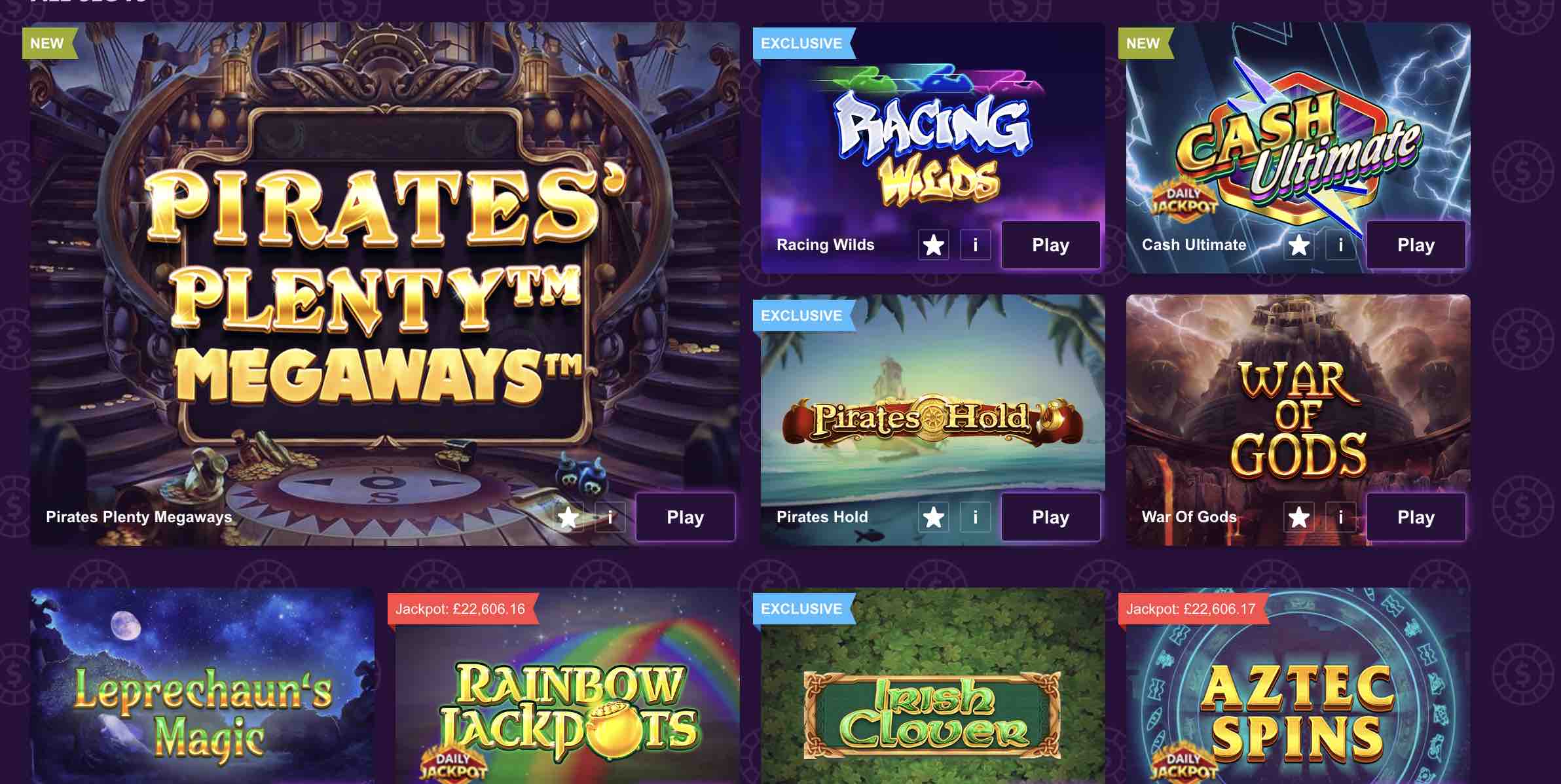 That may not sound like much considering the size of the country, but it had a lot of major brands to contend with, including the aforementioned William Hill. Needless to say, by the time Paddy Power moved online, it was already a hugely respected betting business and was primed to take the web by storm.
In 2015, Paddy Power merged with Betfair to form a massive company that controlled a huge share of the online gambling market in the United Kingdom and Ireland. A year later, Paddy Power Betfair, as it was then named, became Flutter Entertainment.
Software and Games
There are several sections to Paddy Power Casino. These are listed as "Vegas", "Games", and "Live Casino", as well as a few non-casino related sections. You don't need to join multiple different sections to use all of these different parts—one account will do. However, they all have a little something different to offer and your gaming preference will dictate where you spend most of your time.
If you're looking for classic bonus slots and other slot machine games, click onto the Vegas section. You will find games from some of the biggest names in the iGaming industry, including the excellent NetEnt and a few other respected creators. There are lots of video slots and a few jackpots, as well.
Usually, the Vegas section is my personal favourite. Such is the case with Sky Vegas on Sky Casino, for instance. In this case, however, I think the Paddy Power Games section has a little more to offer.
The Paddy Power Games section is dominated by slots from the masterful Playtech, the developer responsible for brilliant iGaming series such as Age of the Gods and Kingdoms Rise, all of which have massive jackpots connected to them. They're not for everyone, but if you're looking for games with lots of different themes, Free Spin features, and life-changing jackpot sums, you can't go wrong with these sections.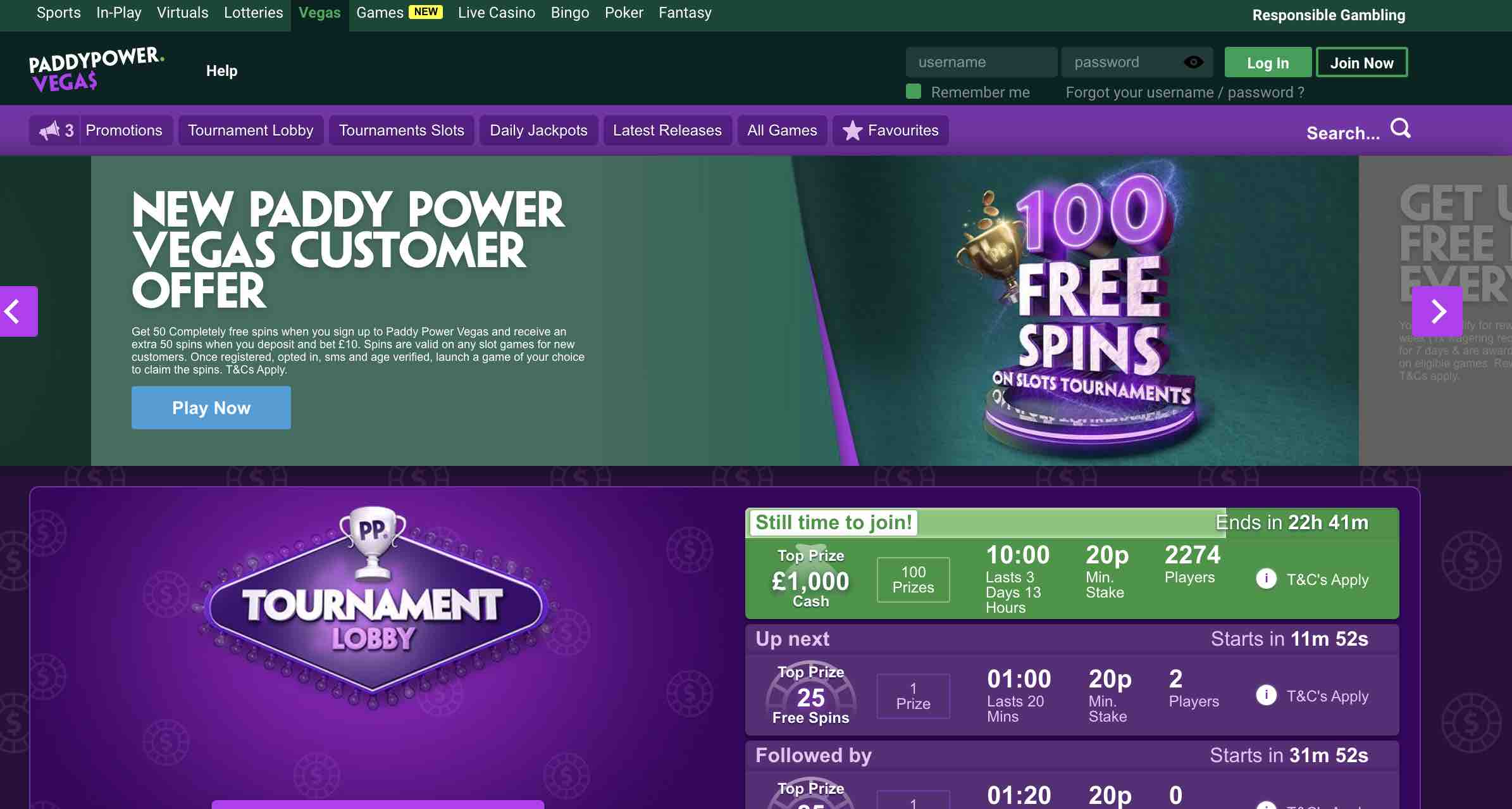 The Games section also includes titles from Big Time Gaming and Blueprint Gaming, which means you'll find games from the Jackpot King series as well as multiple titles with the Megaways mechanic.
Bonuses and Promotions
Paddy Power's bonuses aren't the biggest and best. They pale in comparison to the bonuses you will find at BetAndYou and other major Bitcoin-friendly sites, but when you stack them up against fellow UK brands, they're quite similar.
As a new player to Paddy Power Casino, you can get 50 Free Spins as soon as you sign up, and there is no deposit needed. Once you deposit £10, you will get another 50 Free Spins.
Paddy Power also has Reload Offers and the main one offers £5 in bonus credits when you deposit £20 throughout the week. There are other Free Spin and Free Bet offers as well, and if you regularly cycle between the casino and the sportsbook, as many Paddy Power members do, you'll benefit for multiple bonuses every month.
One of the biggest of these promotions comes in the form of real money slot tournaments. You will be tasked with playing specific slots and can earn points that help you advance up a leaderboard. The more you play and win, the higher you will climb and if you make it to the top, there will be some big prizes waiting for you.
It's also worth noting that there are different bonuses available for all different parts of the Paddy Power website, including Paddy Power Games, Paddy Power Sports, and Paddy Power Vegas. Make sure you check the promotions pages of all these sections to see what's on offer and ensure that you don't miss out.
Payment Options
There are no withdrawal limits on Paddy Power. That's a massive plus point. It's actually quite common on sites that are based in the United Kingdom, but it's rarely seen on sites that operate under license from the authorities of Curacao.
Withdrawals are processed fairly quickly and there is a pending period of just a few hours. In most cases, your withdrawal will be processed instantly, and if you're using a payment method like PayPal, it will land in your account straight away.
Paddy Power also accepts payments using Visa, Mastercard, Skrill, Neteller, and Apple Pay. You may also be given access to a few other payment methods if you reside outside of the United Kingdom, assuming you are in a country where Paddy Power is available.
You can't use cryptocurrencies on Paddy Power, and while that might change at some point, it's unlikely to happen any time soon. The site also works predominantly in Euros and Great British Pounds.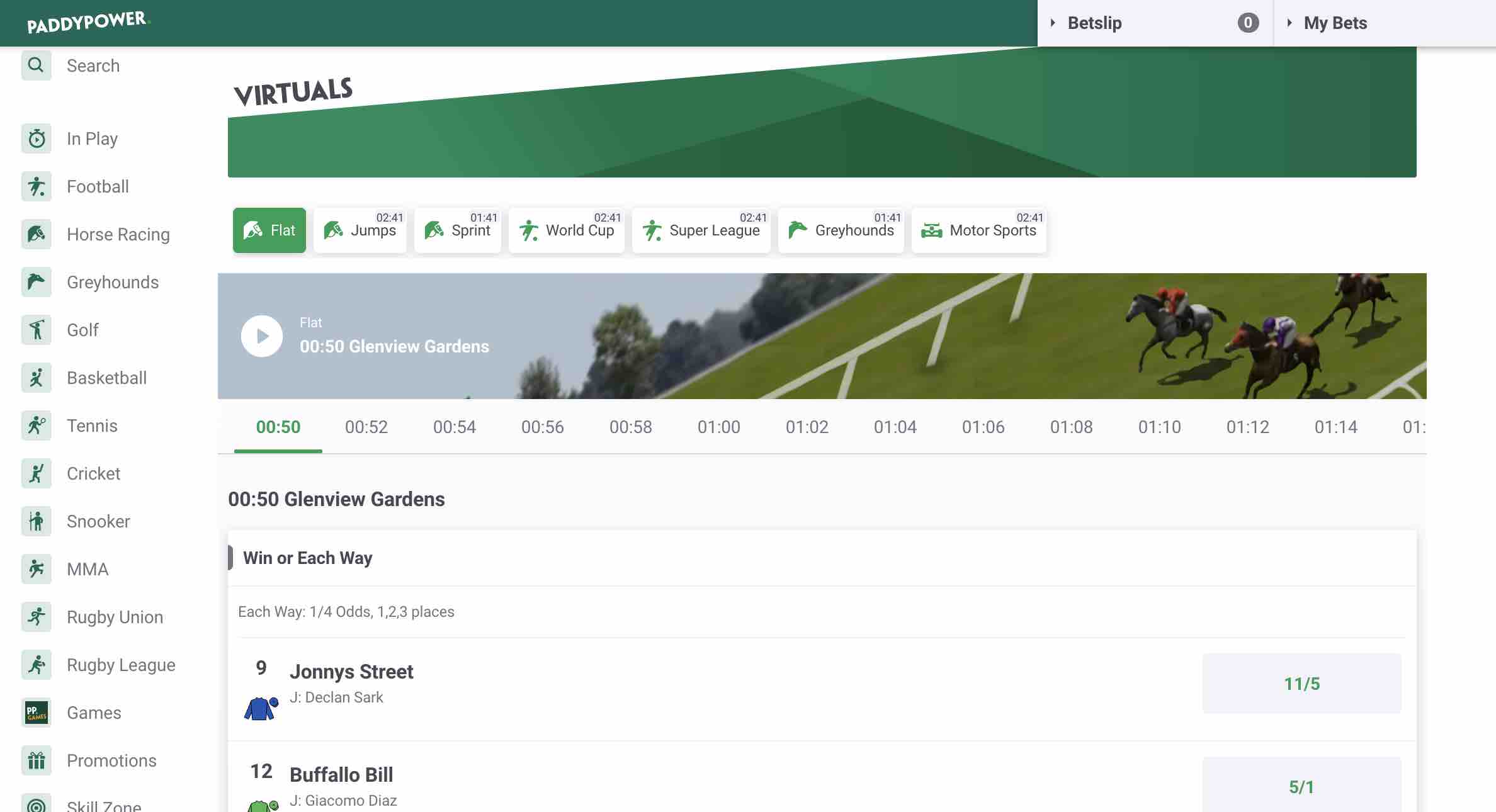 Highlights
A Massively Popular Betting Brand
Available in the UK and Ireland
Great Games and Exclusives
Jackpot Titles
Live Casino Games
Lots of Sports Betting Options
User Reviews and Customer Support
Paddy Power has been very controversial over the years. It has thrived on this controversy, in fact, and it has used it to generate huge publicity for the brand. It tests the idea that "no publicity is bad publicity", as I'm fairly sure that some of the backlash has been wholly negative, but if nothing else, it makes for a few eyebrow raising moments.
When talking Paddy Power controversies, many cite the time that Paddy Power seemingly emblazoned a message onto the rainforest by burning down large parts of it. But it was an obvious Photoshop job and while some people did fall for it, you really can't legislate for that kind of naivety. Then again, maybe it's because they expected such behaviour from a brand that once took odds on Barack Obama being assassinated, the extinction of certain animal species, and a deceased footballer becoming a manager.
The good news is that the customer support team is a little more sensible and much more professional. If you're contacting them expecting an irreverent reply from a laddish operator, then you're going to be very disappointed (or delighted). In fact, Paddy Power customer support is very helpful. It's not always the quickest and there are times when you may feel like you're banging your head against a brick wall, as is the case with many other companies, but it's usually all good in the long run.
If you do find yourself coming up against resistance and constant copy and pasted replies that don't address the issue, just file a complaint with the company, leave a review/complaint on a third-party site, or contact them on their social media pages.
These messages usually reach a different support team, one that is able to deal with your request and won't be stumped when you ask a question that isn't on the form they have in front of them.
Take a look at our review of BetVictor Casino for more information on how these frustrating requests are dealt with by the biggest betting chains.
FAQs
What is Paddy Power's Relation to Betfair?
Paddy Power and Betfair are owned by the same company, known as Flutter Entertainment. It used to go by Paddy Power Betfair, but thankfully that long-winded name didn't last for long. To learn more about Paddy Power's sister site, take a look at our review of Betfair.
Is Paddy Power Safe?
Paddy Power is very safe. It uses advanced security protocols to ensure that is the case, and there are no issues in that regard.
Is Paddy Power Available in the UK?
You can join Paddy Power Casino and place bets on the sportsbook throughout the United Kingdom and Ireland. It is also available in other countries but the UK and Ireland seems to be where it does most of its business.
Does Paddy Power Accept Bitcoin?
You cannot use Bitcoin or other cryptocurrencies on Paddy Power Casino. That might change soon, but it seems unlikely. It's more likely that we'll see a big change occurring with European-based casinos before these UK big hitters follow suit. It's not that Paddy Power doesn't see the benefits of using Bitcoin, but that the regulator isn't prepared to deal with it and needs some more assurances before it takes the first step.
Is Paddy Power Legit?
Paddy Power is very legit and works closely with the UK Gambling Commission to make sure that remains the case. If you ever have an issue with the site that the customer support team won't deal with, you can just go through the regulator and they will act as mediators.
Is Paddy Power Available in the United States?
You cannot play legal UK online casinos in the United States. There are some individuals who insist that if you use a VPN you can get around it, but that's rarely the case. Even if you convince the site that you're not in the US, it will eventually ask for verification, and that's when your account will be banned. Unless you're in a state like New Jersey or Pennsylvania, you just have to wait and see what the future holds as far as US online gambling is concerned.
Final Thoughts
What makes Paddy Power special? Is it just incredibly innovative branding and the backing of one of the world's biggest gambling companies? Not quite. Sure, that has played a role in propelling the brand into the upper echelons of the online gambling sector, but once it got to the top, it implemented strategies to ensure it stayed there.
If you're a sports bettor, you will notice that Paddy Power offers many betting markets that you can't find elsewhere. On a personal level, I have always turned to Paddy Power when looking for obscure prop bets and for bets relating to a large number of Corners, Goals, or Booking Points, as many other sites just offer the basics. It's also great for Handicap bets on snooker, something that I have previously praised BoyleSports for doing.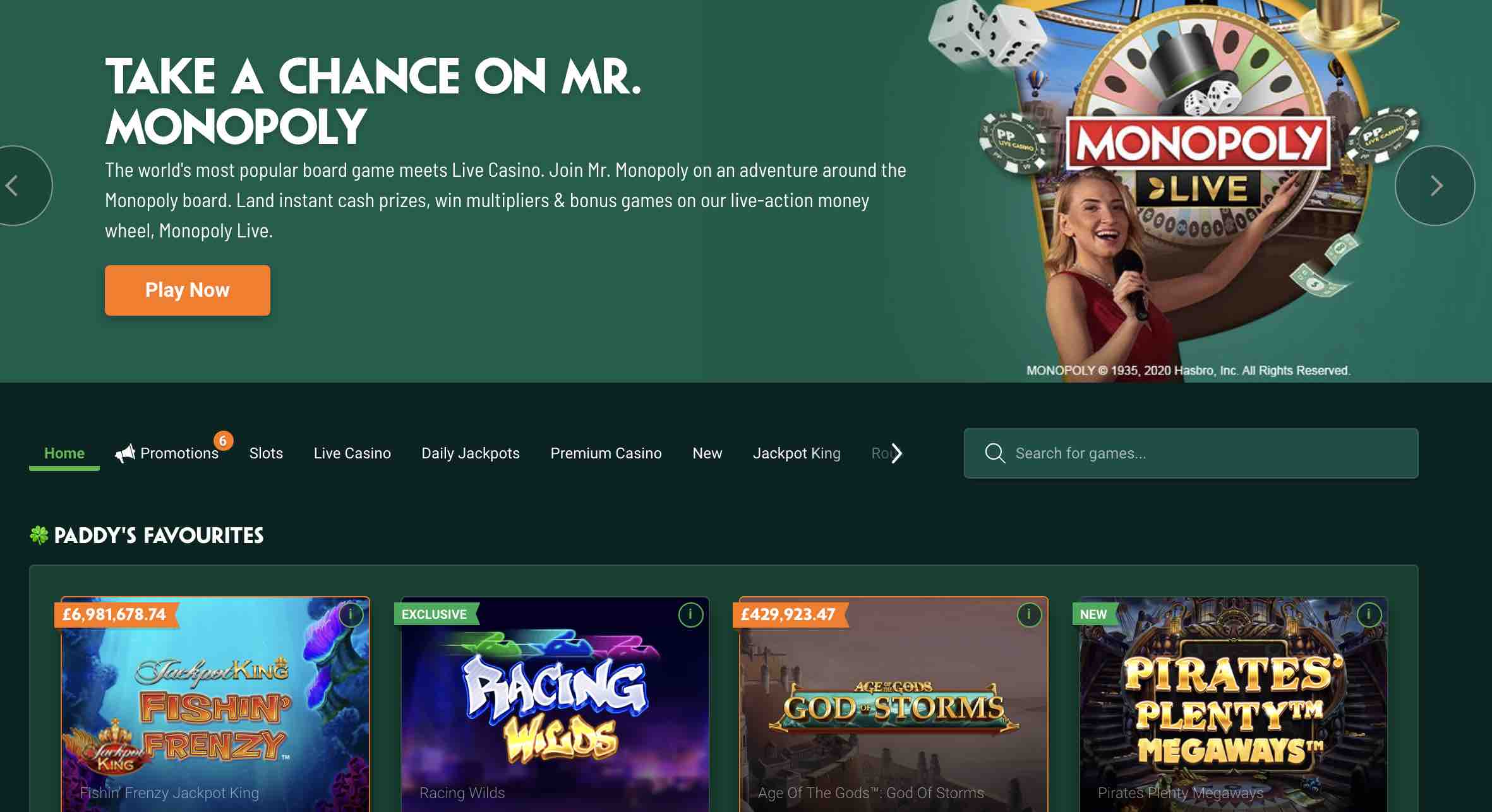 On the casino side of things, not only does Paddy Power work with multiple operators but it also has many exclusive games. And these are not exclusive in the sense that they are only used on a few other casinos or are used here first and are then made available elsewhere. They are 100% exclusive to Paddy Power and they're also pretty impressive.
One of my favourite slots circa-2015 was actually a Paddy Power exclusive football-themed slot, and I usually find exclusive games to be substandard, so that's an impressive achievement.
Once you combine these things with the sheer volume of bonuses, promotions, jackpots, and gambling options that Paddy Power provides, it's easy to see why it's such a dominant brand in such a competitive industry.
Even if you have no interest in sports betting, have no desire to play virtual games, lotteries, or poker, and simply want an online casino, Paddy Power is worth checking out. Usually, sites that combine multiple different sections tend to focus on one and neglect the others, but Paddy Power excels in all areas and won't disappoint.
If you are one of the few players who has yet to join Paddy Power and experience its many benefits, sign up today using the link above, collect your bonus, and start your journey with one of the web's best-loved betting brands!
Paddy Power Casino Review Details
Restricted Countries:
Non-UK Countries (Few Exceptions)