Pros
No Deposit Bonus
Playtech and Blueprint Slots
Live Casino
Sports, Poker, and Bingo
Established Brand
Massive Website
Cons
Small Welcome Bonus
Many Restricted Regions
The Sky name is hugely respected in the United Kingdom. It is the country's biggest media brand and one that has expanded into many other regions as well. As a result, the Sky Bet gambling site, which includes Sky Casino and Sky Vegas, has an unmatched reputation and the backing of a media giant. It is endorsed by several big names, promoted throughout Sky Sports and other Sky TV channels, and has a massively following throughout the UK.
an unmatched reputation and the backing of a media giant.
It operates under license from the authorities of the United Kingdom and Alderney, and while it doesn't seem to be available in many non-UK countries, it does have a German-specific site and its association with regulators in Alderney means it can offer its services outside of the UK.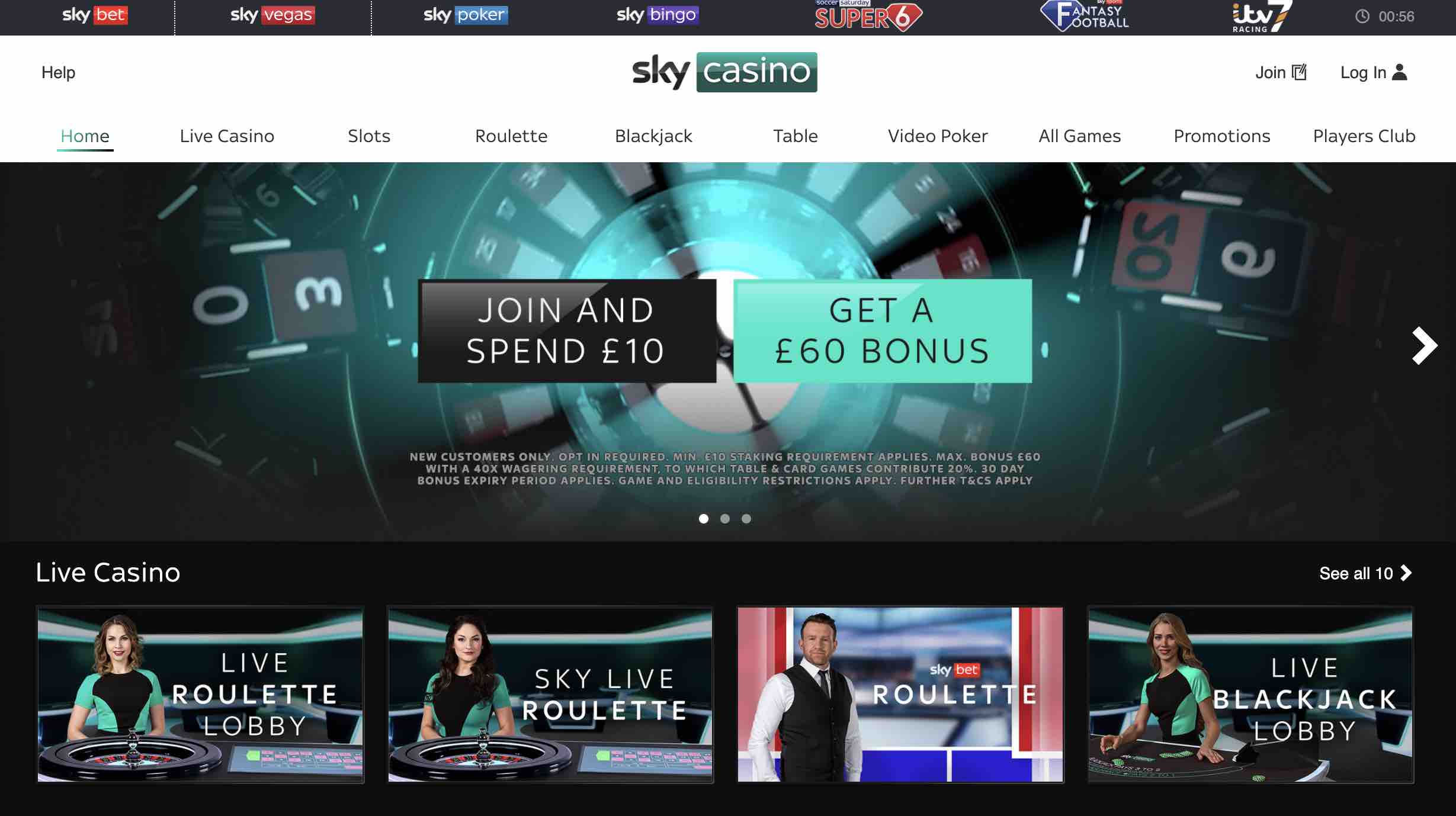 History of Sky Casino
Sky Casino, and the Sky betting brand in general, has had a strange and interesting history.
It all began in 2000, when BSkyB (now known simply as Sky), the parent company of Sky Broadcasting, purchased a relatively small company known as the Sports Internet Group.
The deal included a company known as Surrey Sports, which operated an online and telephone betting system at the time, as well as Opta Index and Planet Football.
It gave Sky access to the burgeoning remote betting industry and within a couple of years, Surrey Sports had rebranded into Sky Bet and the foundations were set. At the same time, online brands like bet365 were establishing themselves while major national chains were moving into the online marketplace.
Four years later, Sky Bet had purchased a media group that allowed it to expand, adding dozens of employees and a wealth of new tech to its operation.
The casino side of things was first launched through Sky Vegas, which appeared in 2003 as "Sky Bet Vegas" and offered just a handful of games. Before long, the site had launched several other brands (discussed below) and in 2007 it also acquired Oddschecker, which many consumers use to search for the best odds on the biggest sports betting websites.
Over the last few years, the Sky betting brand has undergone a few major changes and ones that might surprise those not in the know. Firstly, a sizeable share of the business was sold to CVC Capital Partners in 2015. In 2018 it was sold to The Stars Group for £3.4 billion, and shortly thereafter The Stars Group became Flutter Entertainment.
If those names don't mean anything to you, CVC Partners is a major investment corporation that owns everything from a share in Formula One to the watch maker Breitling.
As for Flutter Entertainment, it owns brands like Betfair and Paddy Power, as well as several other giants of the UK gambling scene. That means that Sky Bet, Sky Casino, and other Sky brands are technically sister sites of several other major UK brands.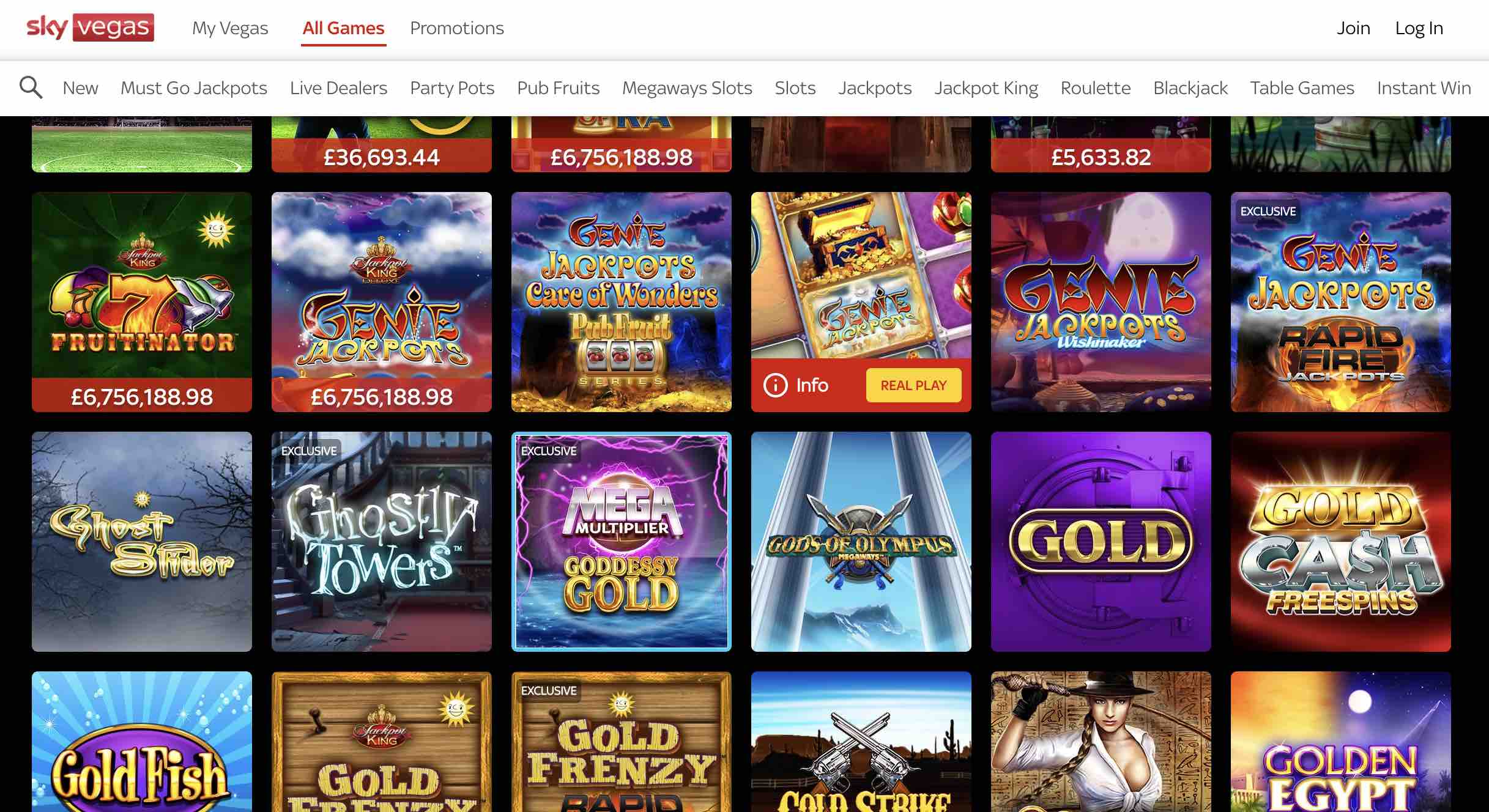 Other Sky Betting Brands
As is the case with all major UK betting brands, including Betfair, Sky Casino has multiple sections to its website and all of these are structured a little differently. In fact, Sky goes one step further and doesn't even use subdomains—all sections have a different domain.
It makes things a little awkward when you are navigating through the site and it also means you're probably going to have several tabs open at once (but then again, who doesn't?). On the plus side, you only need one account to access all of these websites and there are a lot of great sections to explore.
Let's start with Sky Bet. It's one of the biggest sportsbooks available to players in the United Kingdom and is actually very well structured. I have been a member of Sky Bet for a long time and have been a fan throughout that time.
One of the things I like about Sky Bet is that is looks great on both desktop and mobile but these two versions don't look like half-assed copies of one another.
In fact, the desktop version is one of the easiest sportsbooks to navigate and other sites could learn a lot from it. I often drop by here to check the schedule for upcoming games, even when I plan on betting elsewhere, as it's much more straightforward to find the games that are being played today and tomorrow.
What makes Sky Bet really stand out, for UK players at least, is that it shows you all of the main televised games and tells you which channel they're on. I like to start my Saturdays by dropping by Sky Bet, checking the upcoming football, rugby, snooker, and NFL games, and seeing which ones will be on TV (it shows most channels, including Sky, BT, Amazon Prime, YouTube, Box Office, DAZN, and specific racing channels).
Sky Bet also has some great live streams which showcase a particularly impressive selection of basketball games.
Moving away from the betting side of things, you have Sky Poker. I used to play here several years ago and really enjoyed it. There was always a good selection of tournaments, the skill level was relatively low, and it was a great place to place Bounty Hunter/Knockout games.
It's not as good as PokerStars, but nothing is. On the plus side, if you're trying to spend as little as possible, there are lots of freerolls, small stake tournaments, and bonuses. The software has also improved a lot over the years, even though it was relatively solid to begin with.
Sky Bingo is worth checking out as well. It's up there with some of the best bingo sites in the UK. If you're here solely to play bingo, it's probably not the best site around and there are a few dedicated bingo sites that have a little more to offer. But if you're a slots fan or a sports bettor that just likes to play a few bingo games every now and then, it's definitely worth checking out.
The three other aspects of the Sky betting brand are Sky Casino, Sky Vegas, and Sky Live Casino. As you might expect, all of these fall under the umbrella of what we define as an online casino and so they are all covered in this Sky Casino review. If I had to pick any one of them, I would lean more toward Sky Vegas, as that's where I spend 95% of my time (when I'm not using the sportsbook). It is much more slot-focused and that's what I tend to play the most. However, the other areas of the site have a lot to offer as well.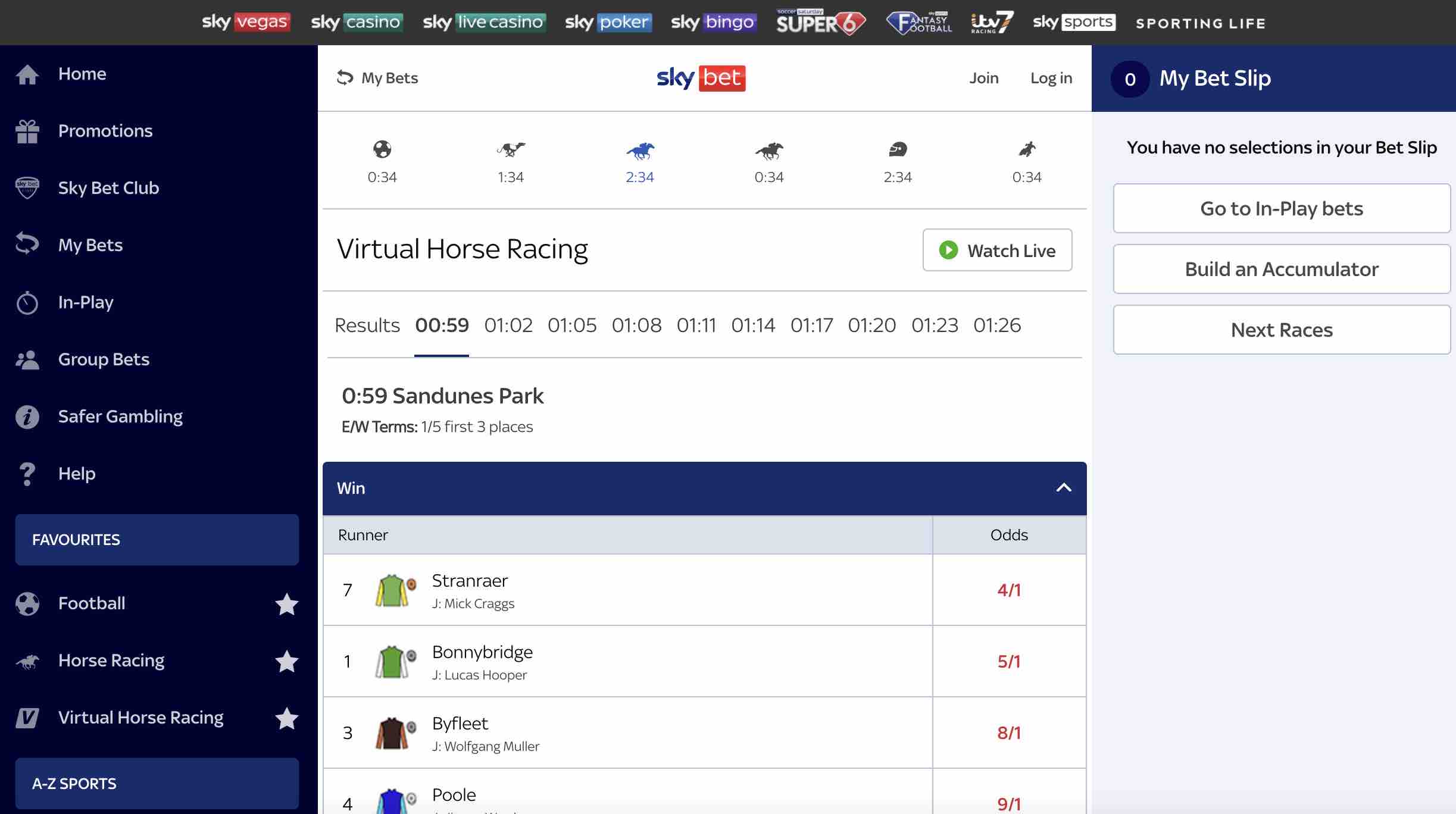 Slots and Table Games
There's so much to talk about with the Sky brands that I'm only just now getting to the actual gaming side of things!
First up, let's start with Sky Vegas, as that's where most of the action is.
This section of the Sky betting site is home to a host of classic slots, including the likes of Rainbow Riches. It hosts games from Blueprint, SG, Pragmatic Play, Big Time Gaming, NetEnt, IGT, and a few other classics.
You will find a few unique slots that are exclusive to Sky Vegas as well. As a snooker fan, the one that stands out the most to me is Dennis Taylor's Pocket Money, but it's definitely not the only one and there is a great variety to choose from.
There is nothing amazing here, nothing that you won't find at countless other top online casinos.
It lacks the innovation of the masterful Cadabrus Casino but in truth, it doesn't pretend to be anything else. It bills itself as a simple site that focuses on arcade classics and it does a pretty good job of that.
As I have said before, I am also a huge fan of Blueprint Gaming and love any site that has an eclectic selection of Blueprint games, especially when they throw a few unique titles and big jackpots into the mix.
If you're not happy with the selection of slots here, venture over to the Sky Casino side of things where you will also find a slots section. Most of these games are provided by Playtech, one of the biggest iGaming brands in the world and one that always has a great variety of games to choose from.
It's the same top provider found at a host of other online casinos, including the newly renovated Ladbrokes, which switched over from Microgaming to Playtech not too long ago.
Playtech is home to the Kingdoms Rise series and the Age of the Gods series, both of which have a unique progressive jackpot system, with several jackpots to win on each game. You can win 6-figure sums with a single spin and some of the smaller ones, offering just a few hundred quid, are triggered every few hours or so.
Not everyone is a fan of Playtech and some lean more toward Microgaming, but I've always preferred Playtech between the two.
If it's Live Casino games that you're looking for, head over to Sky Live Casino. All of these games can be played on mobile and desktop and there are hundreds of slots, table games, arcade games, video poker titles, and Live Casino titles to choose from. It's really hard to get bored with the variety on offer here.
Welcome Bonus
The best bonus is available through Sky Vegas, which offers 250 Free Spins to all players who deposit for the first time. The minimum deposit is just £10 but this is only needed for 200 of those spins, as the first 50 are given as soon as you sign up.
Let's be honest, it is nowhere near as big or as impressive as some of the other bonuses that I have covered and it even pales in comparison to sites like Cadoola Casino, which I have criticised for not being very generous. If you're a medium or high stakes player, there isn't much for you here, at least not as far as the Welcome Bonus is concerned. But if you're a small stakes player, that initial no deposit bonus will be huge and 200 additional spins for a £10 deposit is not bad either.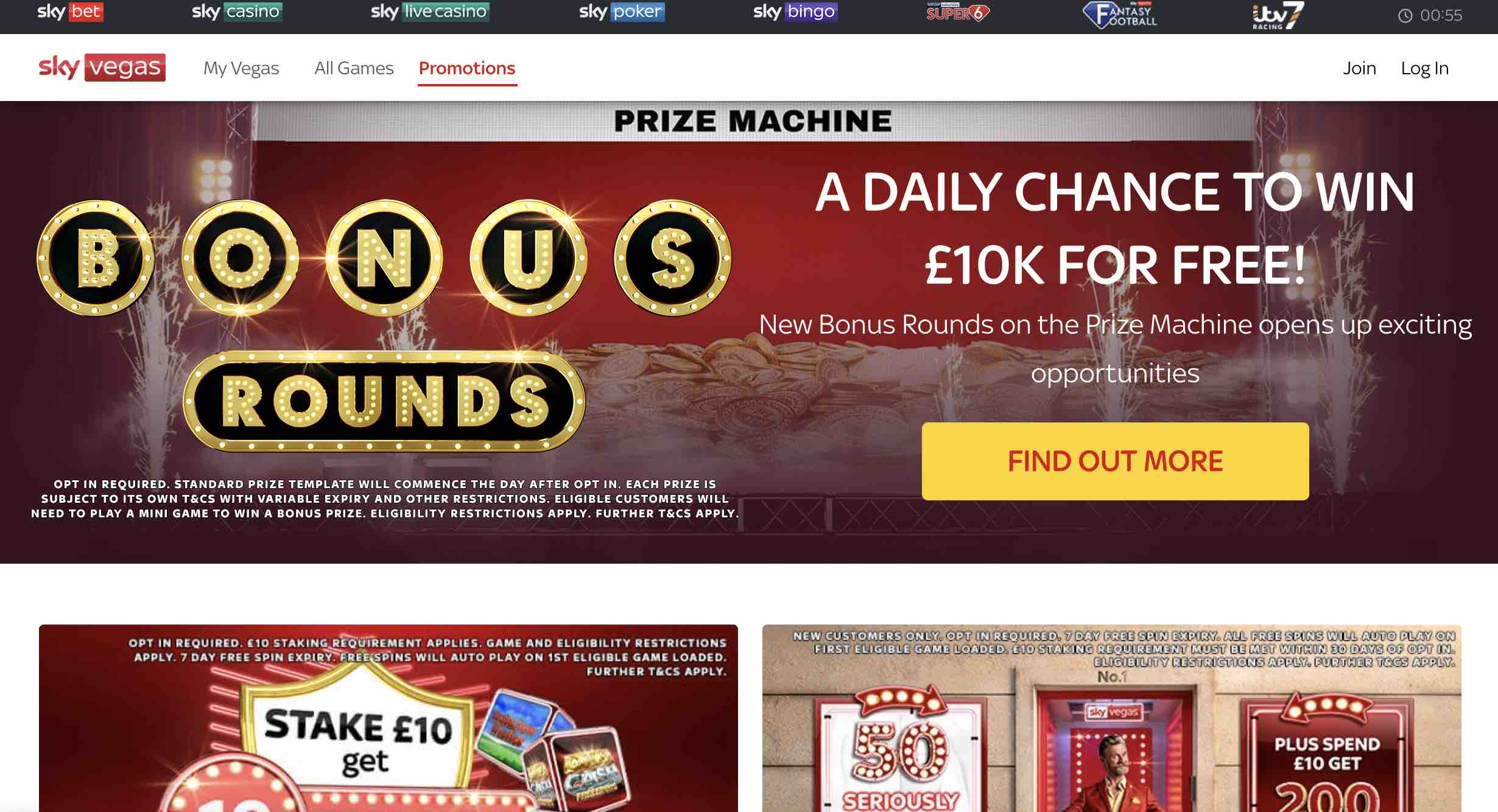 Deposits and Withdrawals
Sky Casino has a withdrawal limit, but it's massive and extends to a huge £50,000 per day. Withdrawals are processed quickly and you should get your winnings the same day if you're using PayPal, although it will take a little longer with Visa or MasterCard.
Sky Casino doesn't have the largest selection of banking options, but it's a good offering nonetheless, and it's always nice to see a site that accepts PayPal. Unfortunately, Sky Casino is not a Bitcoin-friendly casino, not yet, and no other cryptocurrencies are accepted here either.
FAQs
Do I Need Accounts for All Sections of the Site?
No, one account will be enough to give you access to all parts of the site. However, you may need to choose additional nicknames when entering the poker room and the bingo room.
Can I Play Sky Casino in the UK?
Yes. Sky Casino mainly focuses on players in the UK and is definitely tailored toward UK players using GBP.
Can I Play Sky Casino in the US?
No, and it's unlikely that will change anytime soon. If you are interested in casinos that might be available to players in the US, take a look at our review of Bovada. We should note, however, that we don't actually recommend these sites as they are completely unregulated. If you are in the US, you are better off sticking with local casinos and mobile betting brands, including William Hill, which is now available in a handful of states and is completely legal.
Is Bitcoin Available at Sky Casino?
You can't use Bitcoin or other cryptocurrencies at Sky Casino. That might change in the future, but there have been no signs of it just yet. The UK Gambling Commission seems to be pretty strict when it comes to cryptocurrencies and if they do make a move to allow it and regulate it, they'll probably be the last ones to do so.
What's the Difference Between Sky Casino and Sky Vegas?
Sky Casino is built on the Playtech platform and hosts hundreds of games from this developer. Sky Vegas hosts arcade and bonus slots from several other creators, including Blueprint Gaming and Big Time Gaming.
Review Summary
Sky Casino has a lot to offer. You can place sports bet, play slots and table games, take your pick of Live Dealer titles, and even play some poker or bingo. The software is great, the site looks fantastic, and there are even some exclusive games to enjoy.
One of the few downsides is the Welcome Bonus, which is very big at all. It's going to create somewhat of a dilemma for high rollers. On the one hand, your money can stretch very far when you consider all of the games and you also won't be limited by low withdrawal limits either. But at the same time, you won't be welcomed by a big Deposit Bonus.
Still, there are other bonuses to collect and there are definitely a lot more positives than negatives.
Sky Casino Review Details
Restricted Countries:
Non-UK Countries (Few Exceptions)