Pros
Open to US-Based Players
Sports Betting and Casino Games
Poker Room
Big Welcome Bonus
Cons
Not Regulated
Not a Good Option for Non-US Players
Dual Lines Feature
Expensive Transactions
Limited Payment Methods
Limited Games
It's time to take the plunge and do something that we have been avoiding for a long time; it's time to review Bovada. It's a name that most casino gamblers recognise and one that crops up on every list of the best US online casinos, as well as the best Bitcoin online casinos. But despite all of that, there is one glaring omission that concerns us, an omission that has, until now, placed Bovada right down near the bottom of our priority list.
there is one glaring omission that concerns us
We've reviewed hundreds of top BTC online casinos here at Coinbuzz. We have covered many unique themes, bonuses, and more. We've seen casinos based on nonsensical space-based warrior mascots, casinos that were seemingly written by a 10-year-old using Google Translate, and casinos with designs that are so good they could rival Pixar.
So, what makes Bovada so different?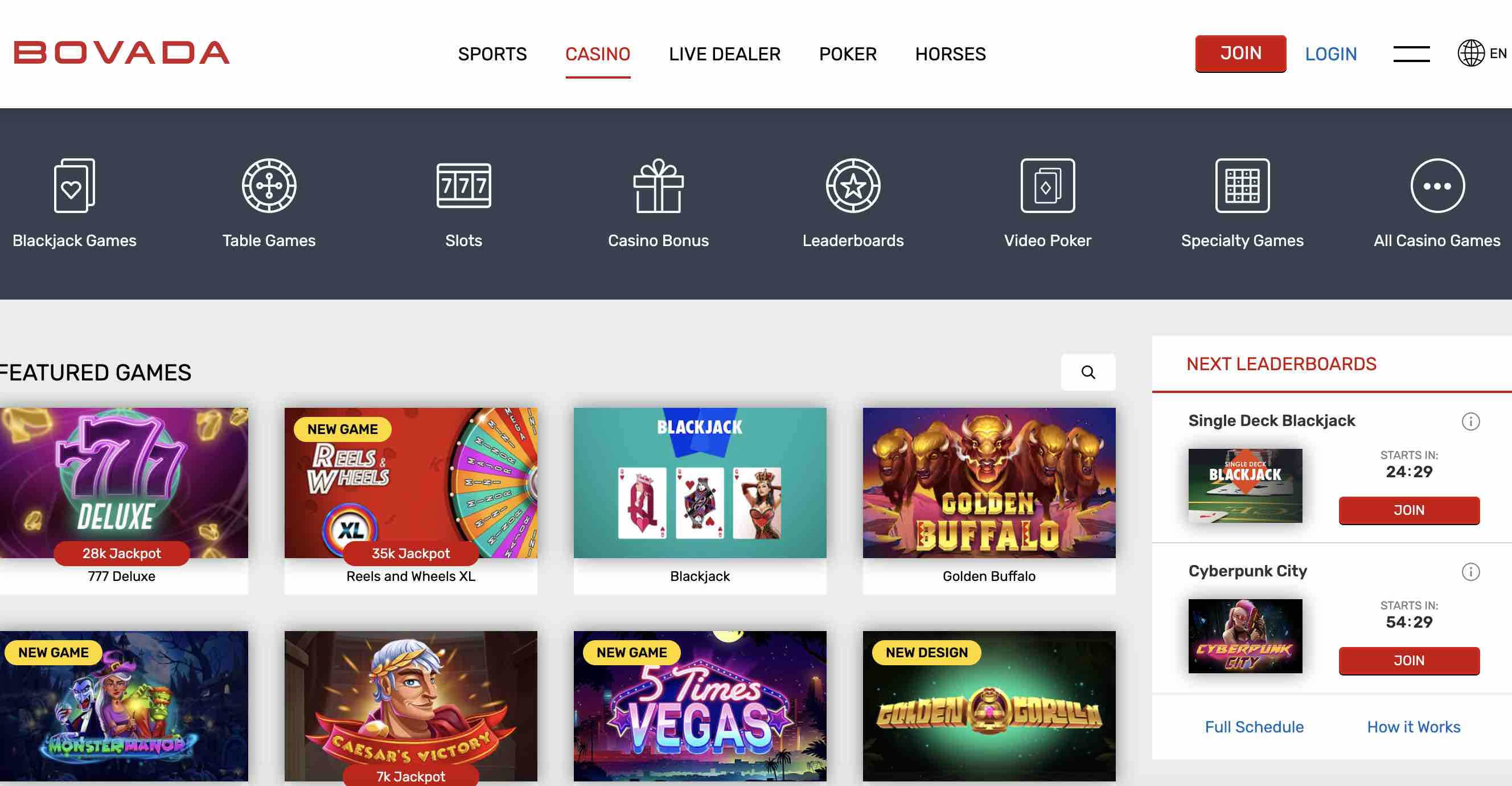 Basics
Bovada doesn't have a casino license.
No, that was not a typo. We have encountered a few unlicensed online casinos in our time and have dismissed every single one of them, unwilling to add such a risky prospect to our list. Bovada is a little different though, because it's not a scam site, it's not unsafe, and if you're in the United States, it could be one of the best options that you have at your disposal.
In the past, Bovada had a license from the Kahnawake Gambling Commission, but it didn't renew its license in 2016 and it has operated without one ever since.'
That's the bad news, and as far as bad news goes, it's pretty substantial.
On the plus side, it means that Bovada is open to players from the United States. There is no gambling authority that operates across the US and offers licenses in the same way as authorities in the UK or Curacao, and Bovada seems to exist in a grey area of sorts, but if you're a US player desperate for some real money gambling action, it's definitely better than nothing.
And while Bovada doesn't have the backing of a major regulator, it is still a big company and it has been around for a long time. In fact, Bovada first opened its virtual doors in 2011 and its traffic exceeds 3 million a month, making it the largest gambling site in the USA by a country mile. It is also very secure and is committed to keeping its players safe throughout their time here.
Software and Games
Regular readers will know that we absolutely adore NetEnt, Blueprint Gaming, and Yggdrasil Games. In our opinion, a good online casino should work with at least one of these developers and if not, they better have a pretty good excuse!
The fact that Bovada is not regulated means that it doesn't have the same extensive list of top-tier developers that you would find at Joo Casino and other big sites. In fact, not only are all of those creators omitted from the Bovada roster, but you won't find Microgaming or Playtech either.
The only big developer here is RealTime Gaming, and while it has over 2 decades of experience behind it, RTG also has a fairly dubious reputation when compared to others. It's certainly not a scam in itself, but it tends to give its casinos more freedom when it comes to adjusting odds and payouts and it has also been associated with many scam casinos in the past.
We tend to think of it as the Western Union of iGaming developers. Western Union was a legitimate service that was accessible to everyone and made it easy to move payments, but because of those features, it became popular with scammers, and so it earned a bad reputation. RTG, for whatever reason, seems to be the software provider of choice for many dodgy sites and that will make some players wary.
Personally, we're not that bothered, as we know that both Bovada and RTG are legitimate services, but what we are concerned about is that we're very picky when it comes to slot machines and there's very little in the RTG range that excites us.
Bovada also has a sportsbook attached and many players flock to the site for this reason alone. It offers a variety of sports betting markets across a number of sports, but it cannot compare to major European or Asian sportsbooks like Fezbet.
There are a few reasons for this, but it all comes down to the fact that Bovada doesn't face a great deal of competition and doesn't have a regulator breathing down its neck, so it doesn't need to be as generous as a major sportsbook in the UK.
It also adopts a policy known as Dual Lines, which essentially means that it will give you lesser odds if it determines that you're a skilled bettor. In other words, if you start winning big, you'll find your odds dropping as the site tries to accommodate for those big wins and tip the odds back in its favor.
Imagine you're playing a game of Blackjack that pays a 3:2 for a Blackjack and has a house edge of 0.3%. You're on a roll, hitting Blackjack after Blackjack, and using a solid system to get the edge over the casino. But as soon as you're in the green, they drop the payment to 6:5 and add another deck to the shoe. After dipping into the red and then finding your way back into the green again, you're suddenly told that a Blackjack will now pay even money and the shoe is maxed-out with decks.
This is essentially what this feature boils down to.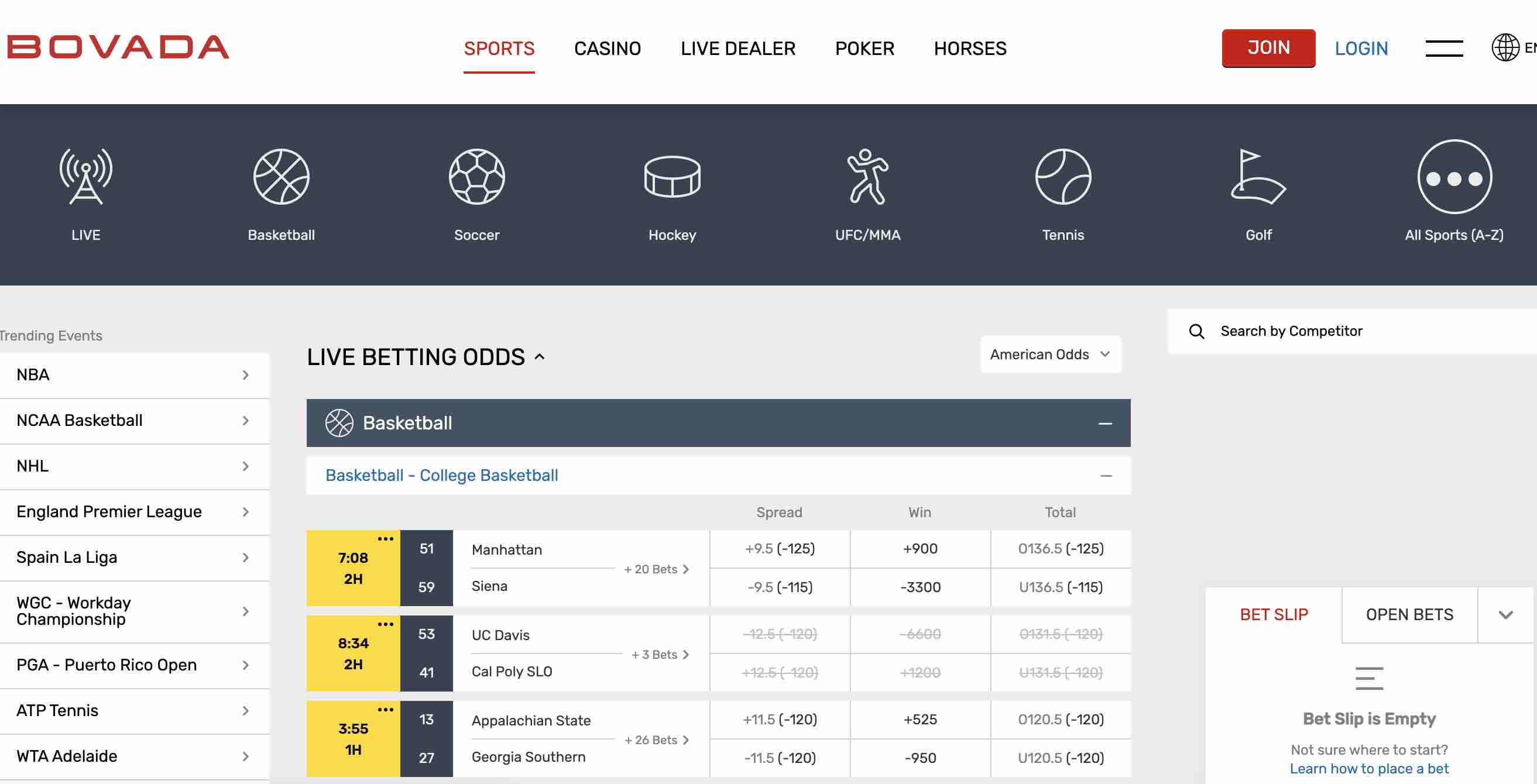 Bonuses and Promotions
Bovada offers all new players up to $3,750 in Bitcoins when they first join. To say that there isn't a great deal of information on this bonus would be an understatement, but it seems to be structured more like an old-school poker bonus, in that you have to wager a certain number of times before you unlock parts of the bonus. Still, we're not complaining, because in an industry where there isn't much competition (US online gambling) it's a surprise that Bovada has any kind of promotion.
It even has a Loyalty Club, whereby players are given access to faster transactions and looser limits, along with exclusive bonuses. It's not quite on par with the Kingdom Casino loyalty bonus, but we'll take it, and we're sure many US-based players will as well.
Payment Options
Bovada accepts payments using credit cards, as well as Bitcoin. The problem is, while the first credit card deposit is free you will be charged anywhere from 5% to 9.9% thereafter. That's a huge sum of money and it's even worse when you consider that your credit card provider will add a cash transaction fee on top of that.
If you're going to use Bovada, you need to dig out those Bitcoins, as this is really the only viable option. You don't need to pay for a deposit or a withdrawal with Bitcoins and you can also collect the biggest and best bonuses that the site has to offer.
On the withdrawal side of things, Bitcoin payments are processed instantly but other options, including Wire Transfer and Check, can take up to three weeks and come with a $50 flat fee. You need to withdraw a minimum of $20 for Bitcoin and you can only withdraw through this method if you previously used it to deposit.
Highlights
One of the Few US Casinos
Also Has a Large Sportsbook
Live Casino Games
A Big Bitcoin Welcome Bonus
A Loyalty Scheme
Is Bovada Legit?
This is a question that needs to be addressed as it is one that will be on the lips of most prospective players. It's not that easy to answer, because it all comes down to what you classify as "legit".
In the past, we've talked about how the online casino industry is so tightly regulated that an operator can't fart without an audit learning about it, filing a report on it, and then fining them for gross indecency. In the UK, for instance, casinos are constantly being fined for breaching responsible gambling guidelines and offering bonuses that could, potentially, appeal to underage gambling.
Trying to rig a slot game among all of that red tape is like trying to rob a multinational bank of every last penny while working as a clerk. It just doesn't happen—the industry is watertight.
But what happens when you take away the regulator and the auditor; what happens when there is no one there to guarantee that a site is fair and you have to basically take the casino's word for it?
On the one hand, Bovada wants to be the biggest and the best, and it knows that doing so means carefully curating a reputation as an honest and transparent operation. But at the same time, it does things that casinos and sportsbooks in the UK would never get away with.
If a UK sportsbook suddenly started reducing the odds of successful players, insisting on a 9% deposit fee, and requiring them to accept withdrawals via check or Bitcoin, we'd probably tell you to stay the hell away and if we saw a logo from the UK Gambling Commission, we'd be inclined to think it was fake. If we were to hold Bovada to the same standard, then this review wouldn't even exist and it would be right down the bottom of our list.
But we're talking about a US-based casino here. It operates in a country where gambling is tightly controlled; a country that doesn't have the auditors, regulators, and even the developers willing to take a chance, and one where it can be impossible to find a willing merchant. Once you take all of that into account, Bovada's structure becomes more of a necessity than a concern.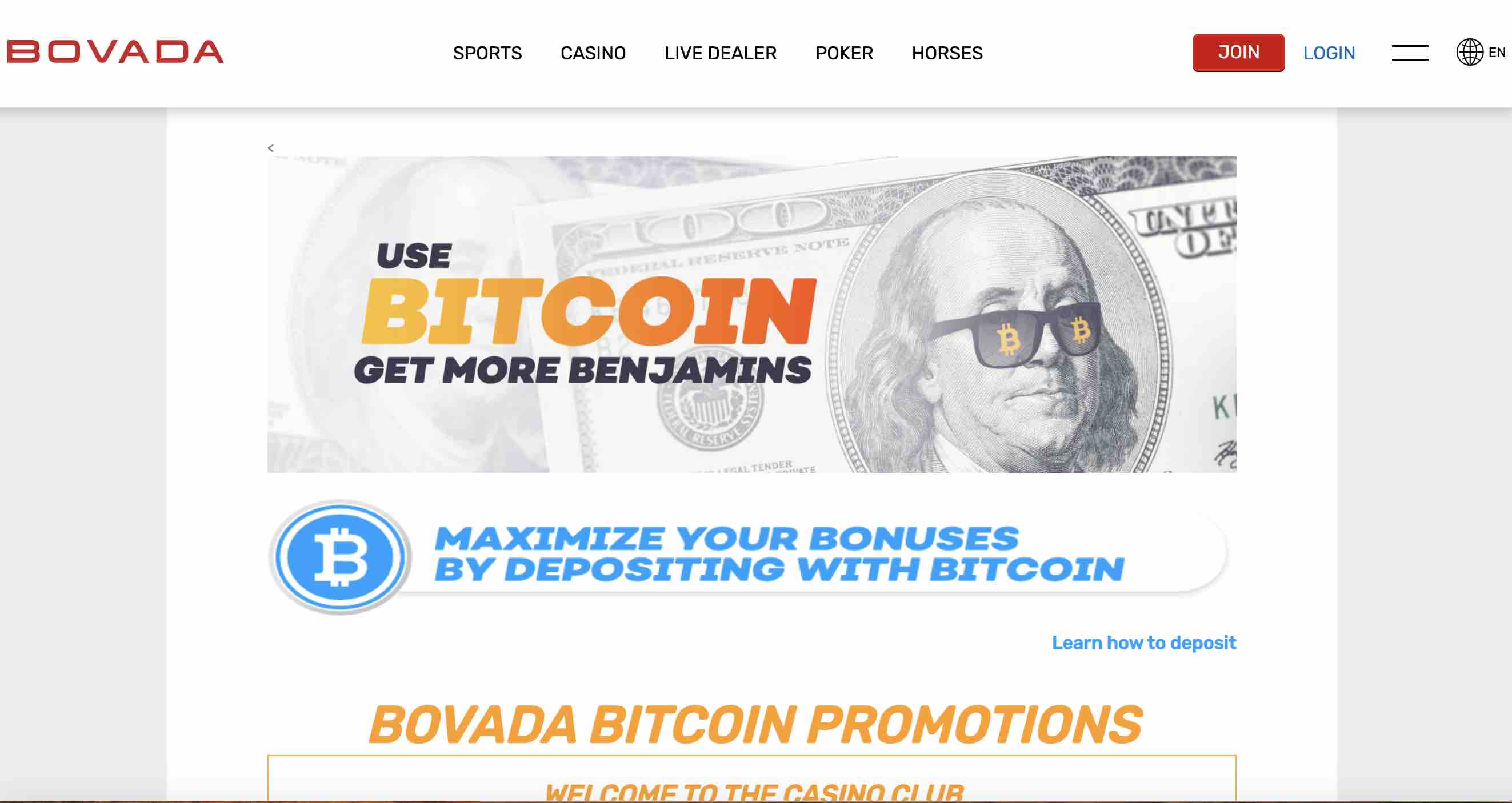 Final Thoughts
Once you get past all of the "maybes" and "what ifs" of an unregulated casino, what really matters is what can a regulator do for you?
If you have an issue with a site in the UK or EU, you can go through the complaint's department and then try to get their attention through a third-party complaints site. If that fails, you can contract the regulator and request mediation.
This is a good option to have, and it's something that Bovada lacks, but as someone who has been through that process following a blatant casino mistake, we can tell you that it is neither pleasant, quick, or favourable. As much as they like to position themselves as the neutral party, the UK Gambling Commission (in our experience at least) tends to gloss over the player's issue and focus on appeasing the casino.
As a UK-based player, you can also go to your payment provider and rely on a strict series of well-defined laws to help you out. Generally, if you're wronged in any way, the law is in your favour and can come down heavy on the casino. With US-based players on sites like Bovada, that's not really the case, but that's the risk that you take if you want to gamble online.
If you're in the US, it's worth signing up to Bovada and taking a look around. See if it works for you and if it has what you're looking for, just don't expect too much. If you're in the UK, Australia, Canada, or another major gambling region, we recommend taking your money elsewhere.
When you live in a country where online gambling is legal and closely regulated, you don't need to take a chance on unregulated sites. Spend some time and money at Bitstarz instead, or try one of the many other regulated sites we have covered.
What is the LV Domain Extension?
The .LV domain extension is the top-level domain for Latvia.
How Can I Get Help?
Bovada directs many of its customer queries through the Bovada Community. This is incredibly frustrating if you have a real issue that needs to be addressed, but the community is actually a lot of fun and is a great place to swap tips and speak with fellow bettors.
Is Bovada Regulated?
Bovada does not currently hold a license with any gaming authorities.
Is Bovada Available in the UK?
As Bovada isn't licensed by the UK Gambling Commission, it can't be accessed from the country. We gained access using a VPN set to the United States.
Is it Legal?
It really depends on where you are, but the good news is that you probably won't be arrested and charged for playing here. Just don't take our word for it—it's a mad world out there and the US doesn't have the same lax attitude to online casinos that it has to land-based casinos.
Can I Use Bitcoin at Bovada?
Not only is Bitcoin available here but it is the method that we recommend the most.
Bovada Casino Review Details
Restricted Countries:
Asia
Canada
Estonia
Germany
Italy
Spain
Sweden
Switzerland
UK
Languages:
Chinese
English
Portuguese
Spanish