Pros
Massively Respected Brand
Sportsbook and Casino
Solid Site Overall
Live Casino
Reload Bonuses
Jackpot Offerings
Cons
Ugly Aesthetic
Withdrawal Limits
Slow Withdrawals
Karamba Casino has some pretty impressive credentials. It is owned by the hugely respected Aspire Global, has been around since 2005, and is available to played in numerous countries around the world. I was excited when I finally got a chance to review this one and, for the most part, it lived up to my expectations. However, there were a few things that I really didn't like about this online casino and sportsbook.
Karamba Casino has some pretty impressive credentials…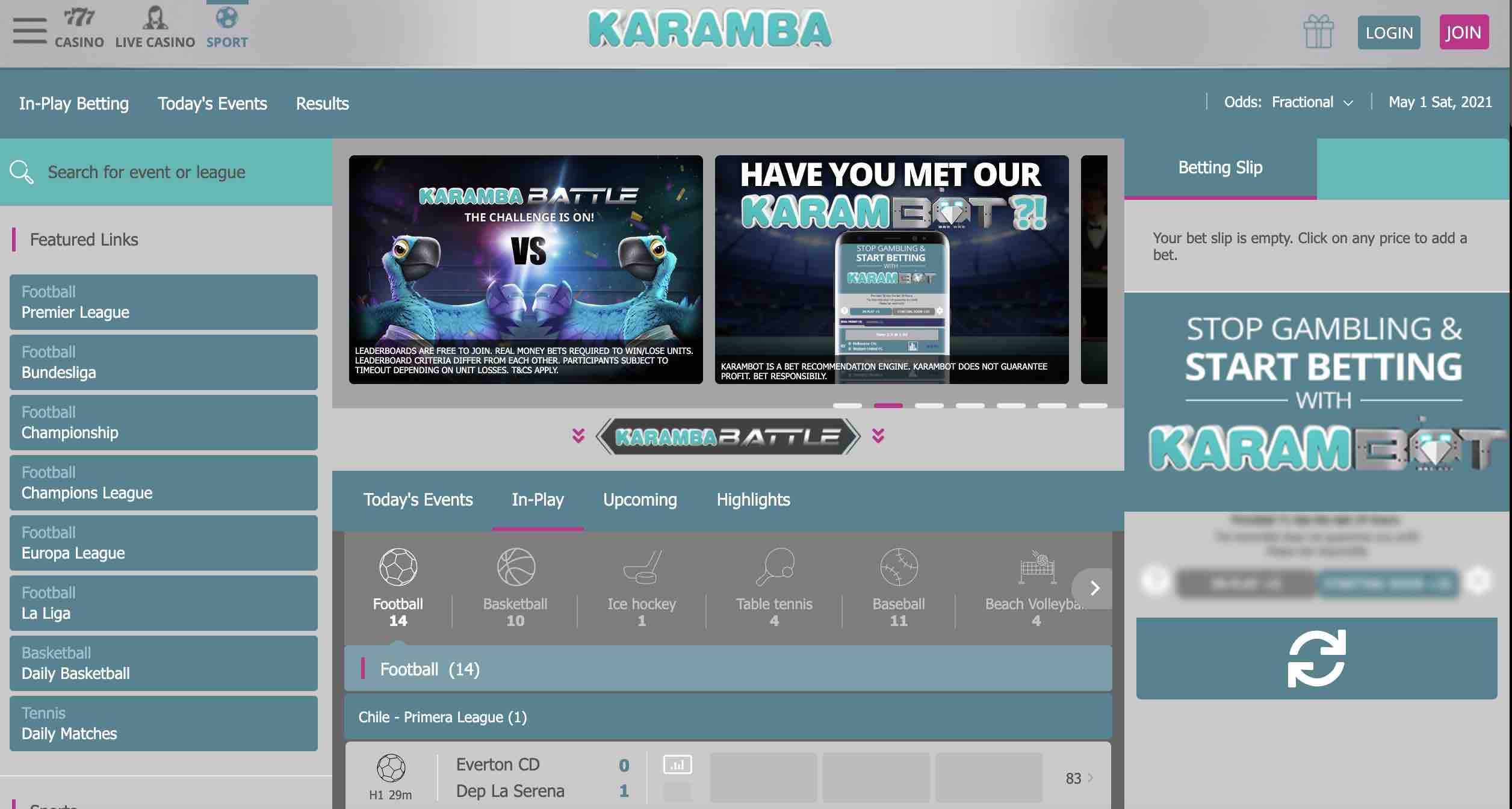 In this Karamba Casino review, I'll discuss the pros and the cons; the benefits and the features. If you're new to Karamba Casino, make sure you read this review before going any further.
Basics
Before I go any further with this review, I want to make it clear that I like Karamba Casino and Sportsbook. I have to say that because in this section, I'm going to trash it.
I've made it clear just how much I detest some casino themes and how I am not willing to give sites a pass when they have themes I don't like. After all, they all have similar payment methods and games; they work with similar aggregators and platforms, and the aesthetics, along with the bonuses and customer support, are the only things that set one casino apart from the next.
Karamba Casino is not as bad as WCasino, which I hated, but I'm still not a fan.
Firstly, I really like the parrot mascot and the name is cool as well. Upon hearing the name of the site and learning that it had a parrot for a mascot, I expected to find a bright and colourful site.
In fact, I expected something like Cadabrus Casino, which I have praised extensively in the past.
Instead, what I got was a site with a basic and pretty dull green and grey aesthetic. What's more, I keep getting errors when I use the site on desktop. Every time I visit a new page on the site, I get an error page telling me that there were too many redirects, only for the site to open several seconds later.
It's frustrating, and it ruins the experience somewhat.
Karamba Casino does get a lot of things right, though. The content is very well written and there is a lot of it. I don't always get to say that for online casinos, so it makes for a nice change. It's just basic SEO content and it's there for Google and not the players, but it's always good to see a casino that takes care to get this right.
I'm just not a big fan of the aesthetic or the loading screens. Take those issues out of the equation, and this would be a brilliant and eye-catching site from the get-go. But with them, it doesn't get off to the best start.
As soon as I saw all of that, I was very disappointed and prepared for another low-quality casino. Thankfully, that wasn't what I got. The bar was set a little low to begin with, but it went up and up from there.
Software and Games
Karamba is a NetEnt casino first and foremost. It has a Live Casino provided by Evolution Gaming and you will find games from the likes of Blueprint Gaming, Quickspin, and Thunderkick, to name just a few.
There are some exclusive titles here, which is always nice to see, and the Live Casino is very busy.
I am not a big fan of the selection, and that's the biggest issue that I have with Karamba. If you're not a big fan of NetEnt or Microgaming, your options are going to be pretty limited.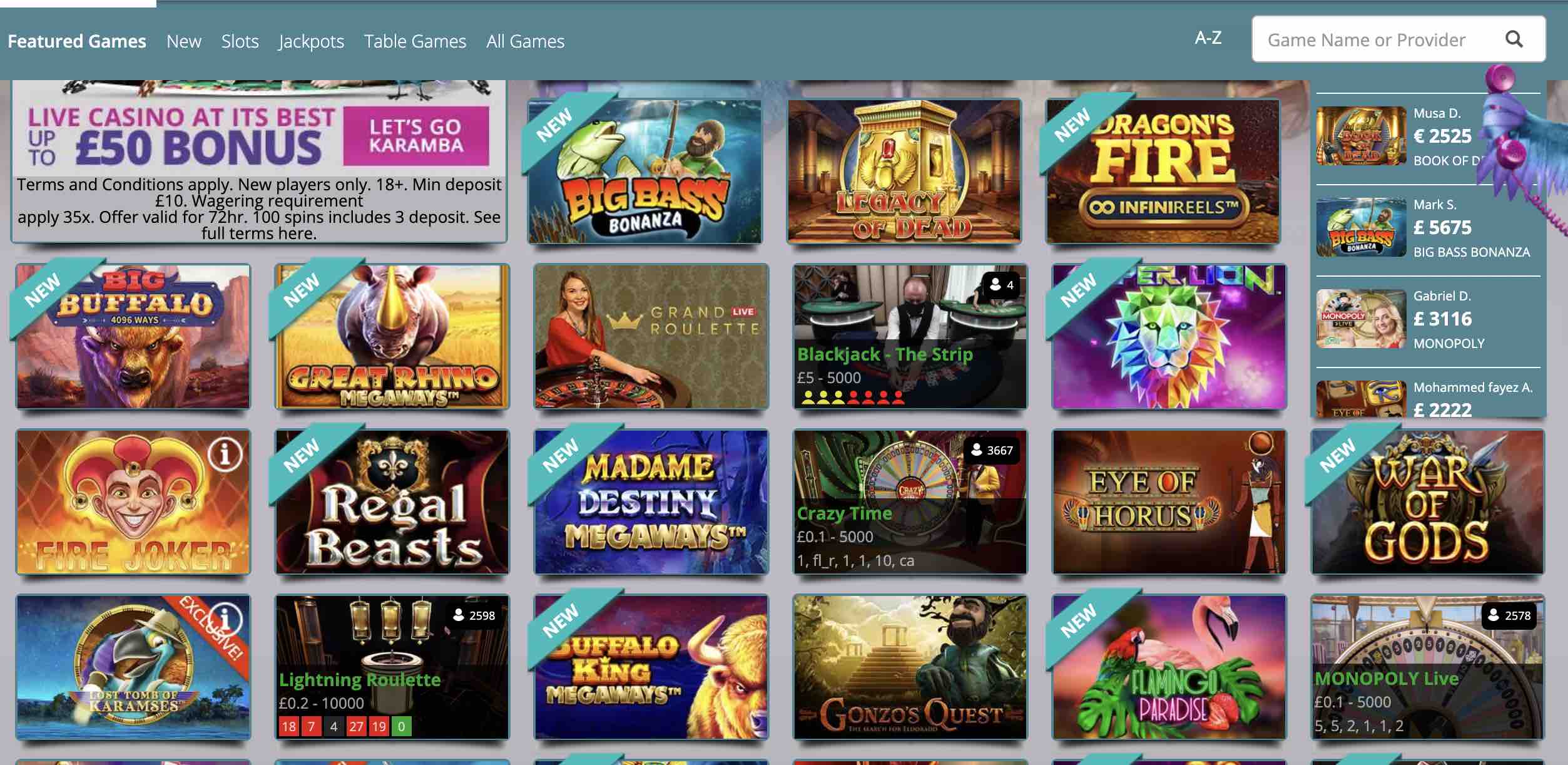 There are a lot of games here and there's probably enough for everyone, but I've kinda been spoilt for choice over the years. After all, Wild Tornado has over 4,000 slots, which is 10x more than the average UK-focused online casino.
Now for the good stuff: the Karamba Sportsbook. I'm here to review the casino, so I won't go into depth about this site of the site, but needless to say, it has some great markets, is very accessible, and offers stacks of top betting options.
I wouldn't go as far as to compare it to the massive bet365, as nothing can compare in truth, but it is certainly better than average and I found a few markets that I struggle to find elsewhere.
For instance, it has a solid selection of Esports betting markets, and that's always great to see as it's an area that many other UK gambling sites overlook. It also has a surprisingly large number of markets for table tennis.
It could benefit from having a few more popular sports (I couldn't find any snooker markets, for instance, even though the World Championship was active at the time of writing) but the sports that are covered are great.
If you find yourself with some time to kill between football kick-offs and real money slot tournaments, take a look at the site's Virtual Sports. These are fantastic. I won't rave about them again, as I already did that on my Rabona Review, but it's a solid selection.
Bonuses and Promotions
Karamba gives all new players from the UK up to £50 and 100 Free Spins. In the past, I have complained about apparently "small" bonuses that offer up to €300, including sites like Playamo Casino. In comparison, Karamba is even worse, but we're talking about a UK casino here and the bonus bar is a little lower.
It's rare for UK-focused online casinos and sportsbook to go all-out in the bonus department. I have been gambler for over 20 years and I live in the UK. I don't recall ever being offered more than £200 as part of a Welcome Bonus from a UK casino. Sure, there were European sites that used to offer a lot more, and you can occasionally find big offers from more obscure sites.
But when you're talking about sites that focus primarily on the UK market and are run by major operators, including the likes of bet365, Ladbrokes, William Hill, and PokerStars, it's rare to see anything above €200.
On the plus side, the Reload offers and VIP Schemes are usually much more generous and that is also true for Karamba. There are Free Bets, Free Spins, Real Money Tournaments, and lots of giveaways.
Also, unless you're a high roller, you won't benefit from a bonus that offers much more than £50. One of the things that baffles me the most in this industry is players who typically deposit £10 to £20 dismissing sites with £50 Matched Deposit Bonuses in favour of ones that offer £500 or more.
Whether the upper limit is fixed at £50, £500, or £50,000, you're only going to get £20 if that's what you deposit. All that extra cash doesn't matter.
What does matter are the loyalty bonuses and any additional Welcome Package offers, such as the Free Spins that are attached to the Karamba offer.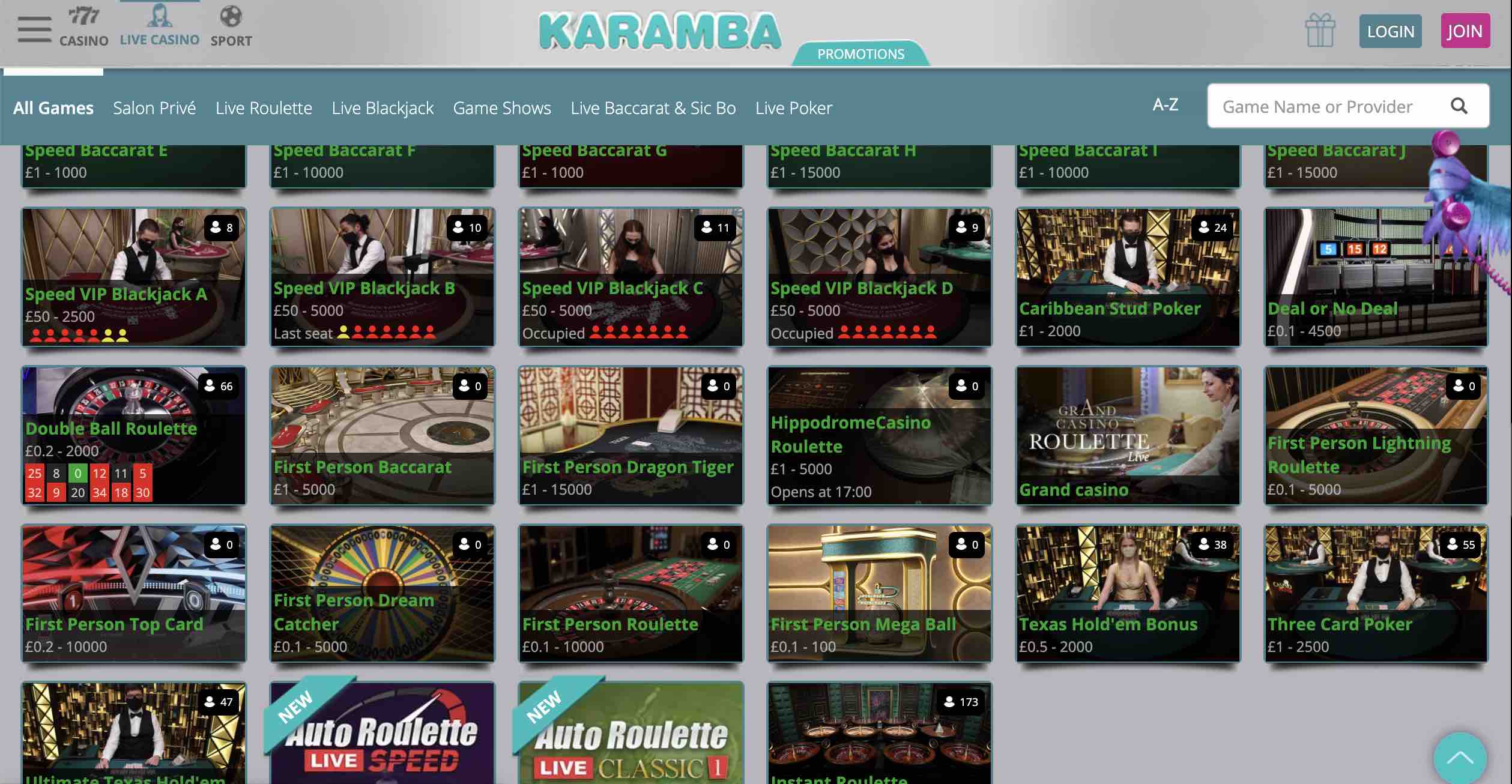 Of course, if you are a high roller, you may be better off elsewhere. In such cases, I recommended taking a look at a site like LevelUp Casino, where you can get up to 4BTC when you first join.
In fact, if you drop by our review page (just click the "Reviews" tab), you will see hundreds of casino reviews, all of which have their bonuses highlighted. There are sites that offer anywhere from a few Free Spins all of the way up to €100,000 worth of Bitcoin.

Payment Options
You can't use Bitcoin or other cryptocurrencies on Karamba. There is also a withdrawal limit, and although this seems to differ from region to region, with UK members having it easier than most, it is fixed at just €7,000 a month. It could also take up to two days for your withdrawals to be processed.
Those things are not great, but they're not dealbreakers either, and there are plenty of positives to offset them. For instance, Karamba accepts payments made using PayPal. It's offered for both deposits and withdrawals. If you prefer, you can use Visa, Mastercard, or Maestro, and Karamba also accepts Paysafecard.
The payment methods available to you differ from country to country. Take a look at the table below this Karamba review for a full list that covers all methods available in all regions. Just remember that not all of these will be available to you.
Highlights
Owned by an Established Operator
Launched Back in 2005
Sportsbook and Virtual Sports Available
Open to Players from the UK and Europe
MGA and UKGC Licenses
Mobile-Friendly
Big Live Casino Available
FAQs
Is Karamba Casino Fair?
Karamba Casino is owned by Aspire Global and it is regulated by the Malta Gaming Authority and the UK Gambling Commission. It is very fair, and you'll be safe when you're gambling here.
Does the Site Have Any Issues?
As noted in my review, I had a few issues when I first joined Karamba. These were frustrating, and while I didn't have them on mobile and was able to fix them by using a different browser, it's still frustrating that I needed to jump through those hoops.
On the plus side, it's not as bad as Ladbrokes, which created numerous issues from me over several years.
Can I Play Karamba in the UK?
Yes, you can play Karamba in the United Kingdom. It has a license from the UK Gambling Commission and this allows it to offer its services to players across the UK.
Can I Play Karamba in the US?
You are not able to play Karamba if you are in the United States. It is a legitimate and reputable online casino and, therefore, doesn't jeopardise itself by trying to acquire customers from the United States.
Does Karamba Accept Bitcoin?
Although Karamba doesn't accept Bitcoin right now, that might change in the future, at which point this review will also change. There are lots of other traditional payment options available as well. Take a look at the info below this Karamba review for a full list.
User Reviews and Customer Support
The majority of Karamba reviews are positive. However, there are a few really frustrated user reviews out there and many seem to complain about the speed of the withdrawals. Some note that it takes 2 to 3 days before the site processes their money, a time period that feels a little too long for a 2021 casino.
Others complain that the process was prolonged even more due to mistakes and certain methods not being available anymore.
Personally, I have had nothing but good experiences with the customer support, but based on my experiences with other sites, I know that even the best teams drop the ball every now and then.
As for the pending time, it's definitely something that needs to be fixed. 48 hours was fine when Karamba first launched back in 2005, but this is 2021, and when most of your competitors process payments instantly, you need to up your game!
Final Thoughts
The name Karamba seems to be a reference to "ay caramba", which means "oh no" in Spanish. It's also a phrase used by Bart Simpson. Combine this phrase with the mascot of a colourful and fun little parrot, and you have all the makings of what should be an exciting and stylish casino, but that's not what it is.
The layout is solid, the writing is great, the features are fantastic, and it's clear that the site makers know what they are doing. But I just can't get over the colour scheme.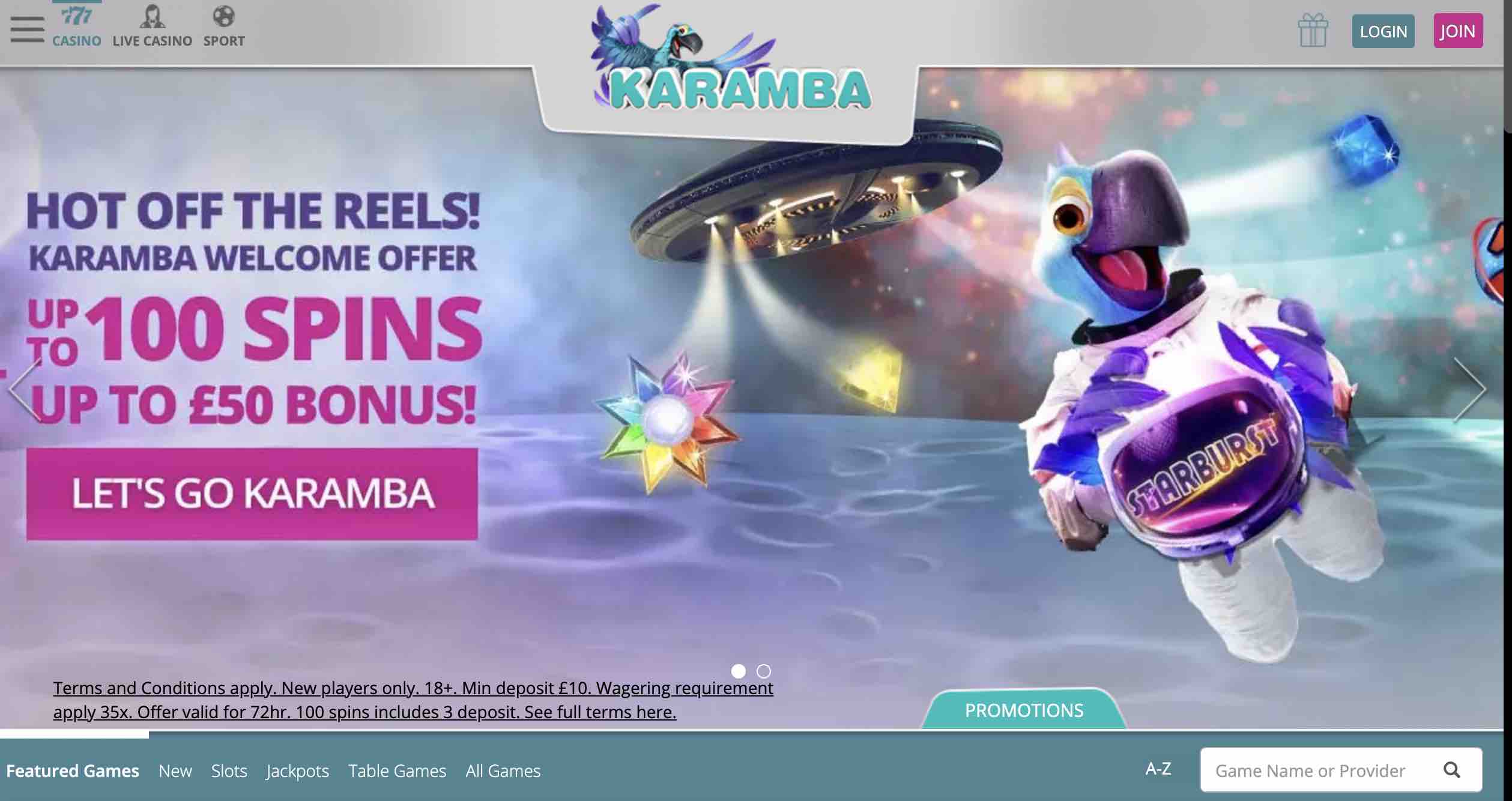 Maybe I am alone in that. Maybe I am overreacting. In fact, this is a massive website that has been around for a long time. It has a lot of members, a lot of employees, and was probably designed by someone who knew what they were doing, so it could just be my taste.
If you like the design, then you're going to love everything here, as it's one of the few negatives. If not, it's still worth checking out. Let's be honest, even the worst designs are fine when they become familiar (with the exception of Space Lilly Casino, perhaps, which I don't think anyone could ever get used to).
Spend an hour or two browsing the site, playing the games, and exploring all the features, and you'll barely notice the fact that someone thought it was a good idea to combine pickle-green with gunmetal grey.
Sign up to Karamba today using the link at the top of this page. That way, you'll get the latest Welcome Bonus and can begin your membership with whatever cash, credits, spins, bets, or golden coins the site is offering.
Karamba Casino Review Details
Restricted Countries:
Africa
Asia
Bulgaria
Cyprus
France
Italy
Poland
Romania
Spain
Sweden
Switzerland
US
Languages:
Danish
English
French
German
Greek
Italian
Portuguese
Spanish
Swedish
Currencies:
AUD
CAD
DKK
EUR
GBP
NOK
USD