Pros
Established Operator
Great Games
Many Payment Options
Betsoft, Playtech, and NetEnt
Fiat Currencies and Cryptos
Cons
Withdrawal Limits
Slow Withdrawals
We've had a lot of fun with DAMA N.V. casinos in the past and were delighted when LevelUp Casino appeared on our radar. These operators have produced numerous award-winning casinos and sportsbooks over the years, including the weird and wonderful Konung Casino.
These operators have produced numerous award-winning casinos…
Not everything they have done has been successful and not all of their casinos are worthy of the highest praise. But there are more successes than failures and that's more than we can say for the majority of other iGaming providers.
In this LevelUp Casino review, we'll look at the pros and cons of this casino and see how it compares to its many brothers and sisters, as well as the countless top BTC casinos that populate our list.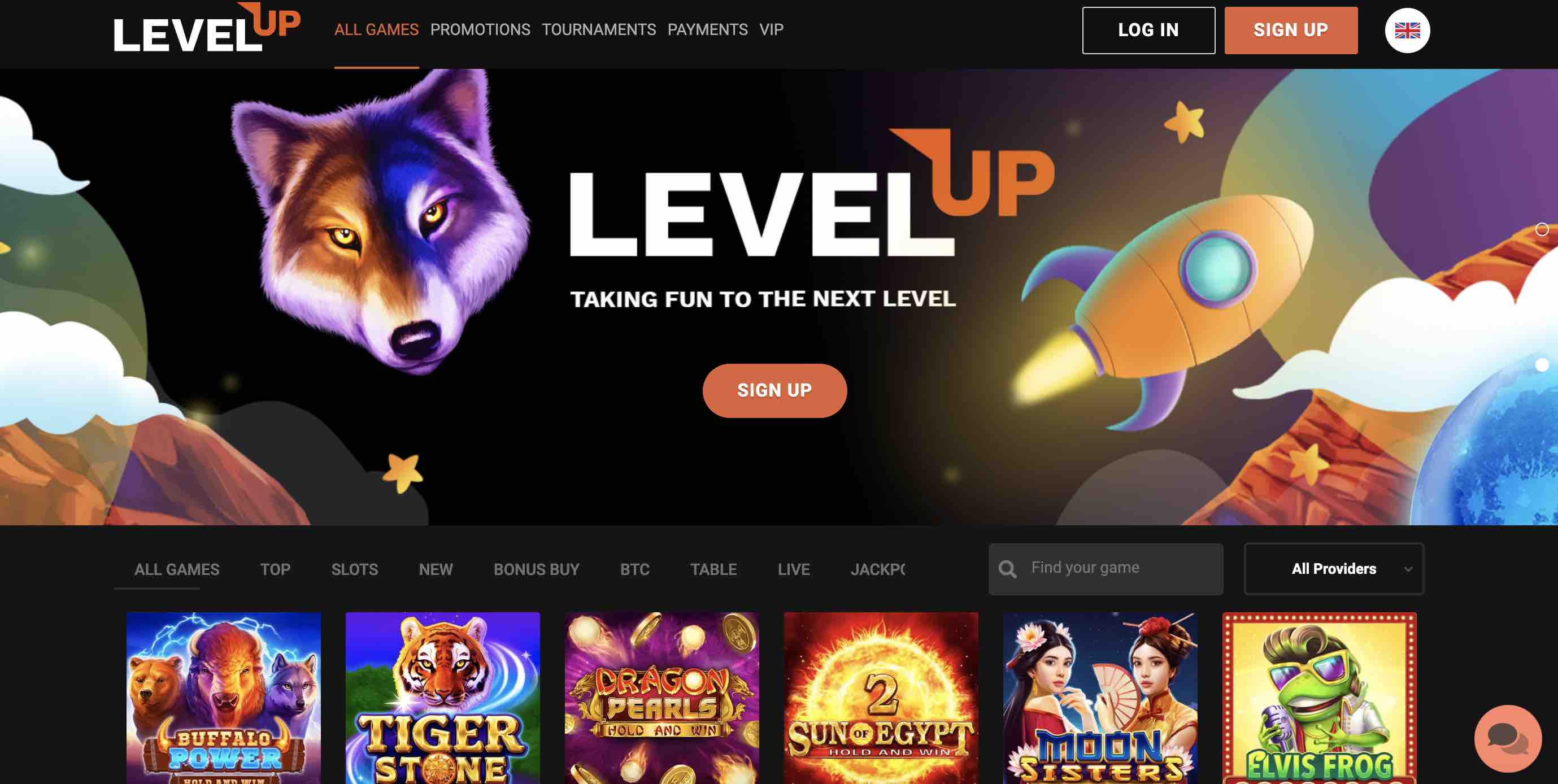 Basics
Although the operator of LevelUp Casino is licensed in Curacao, it is actually located in Limassol, Cyprus. Along with the capital city of Nicosia, this seems to be a popular location for gambling companies, which is strange, as it seems to be very short on actual gambling destinations and most visitors aren't even sure if they can legally gamble or not.
It's a similar story in Curacao, actually, as it regulates hundreds of online gambling sites but doesn't actually allow gambling within its borders. It's one of the many quirks of this sector and one that raises a lot of questions from players uncertain about a site's legitimacy.
The only thing you need to know is that this is all perfectly normal and incredibly common, and rather than being a hint that something is wrong and illegitimate, it is actually confirmation that LevelUp Casino is a legal and certified online casino.
Software and Games
LevelUp Casino doesn't really have a theme, at least not one that we can discern. Based on the name, we expected something themed around video games, but other than a few appearances by an orange spaceship, there doesn't seem to be much going on here.
Still, if Space Lilly Casino has taught us anything, it's that no theme is better than a bad theme. At least they haven't tried to cram too many irrelevant things together and force a cohesive form that just doesn't work.
As far as the layout is concerned, it's relatively simple, with blacks, greys, and whites that make for something that's easy on the eye and even easier to navigate.
The casino's games are provided by a few big-name developers, including some Coinbuzz favourites like Blueprint Gaming, Playtech, Yggdrasil, NetEnt, and Betsoft.
In fact, if you asked us to pick five preferred developers, those would probably be the first five on our list. If that was all this casino had to offer, it would be a good selection, but it's just the tip of the iceberg as there are over two dozen more providers adding titles to the mix.
The only exception that stops this casino being perfect is Scientific Games. Also known as SG Gaming, this creator owns the Barcrest and WMS Gaming brands, which means it is home to everything from Rainbow Riches to Ruby Slippers. Still, we're nit-picking, as LevelUp Casino was not developed specifically for us and it has more than enough on offer to appease the majority of players.
All games can be accessed on mobile, as well as desktop, and there are hundreds to choose from. You can browse by developer, category, and more. We would have liked to see some more creative category options, including Megaways, 3D Games, and other such unique filters, but there are still plenty of ways to narrow down the search and find what you're looking for.
One of the things that we don't like about LevelUp Casino is the list of player wins that flashes across the bottom of the screen at all times.
If you have read some of our other reviews, you may have seen us complain about similar features in the past. On the mobster-themed Syndicate Casino, for instance, it showed the player's full name and if they used their email address instead of a name, it showed that instead. Considering many players specifically use Bitcoins so they can gamble anonymously, this is a little concerning.
Thankfully, there is no such issue with LevelUp Casino, but it does make another mistake as it insists on showing all wins, most of which are small and pointless.
It makes sense to flash daily wins of hundreds and thousands of Euros, and if someone has recently won a jackpot, it should make every effort to show that as well. But what's the point of highlighting wins of just a few cents?
It seems like a waste of time. Not only because no one cares about these wins, but because it means the endless succession of small wins drowns out the big ones.

Bonuses and Promotions
LevelUp Casino is one of a small percentage of casinos that has a separate bonus for its crypto players and its fiat currency players. This is something we always like to see as the crypto bonus is usually a lot higher than the traditional one.
For instance, as a new player using Bitcoins, you can collect up to 1 BTC, which has a value of around €35,000 at the time of writing. But if you're using Euros or another non-crypto option, you're limited to just €100.
That's a massive difference, and it's only just the start.
A second, third, and fourth deposit bonus is available as well and for Bitcoin players these offer 1.25, 1.25, and 1.5 BTC, adding up to a total of 4 Bitcoins. You will also get 200 Free Spins, making the LevelUp Casino Welcome Offer one of the most generous we have seen.
Of course, it's a different story for traditional currency users and is actually quite disappointing in that sense, but we're here to focus on big bonus BTC sites and LevelUp Casino definitely fits that description.
Reload bonuses are available once you have finished with the Welcome Offer and while these are nowhere near as generous, they are still interesting enough to keep you active. The additional promotions change all of the time so make sure you keep an eye on the LevelUp Casino Promotions page once you have played through your Welcome Offer.
Another feature worth highlighting is the LevelUp Casino Loyalty Scheme, which has 20 levels and allows you to collect big prizes when you "Level Up". It's one of the few areas in which the name of the casino actually begins to make sense and in terms of generosity and playability, we would put it on par with the brilliant SlotsHeaven Loyalty Scheme.
LevelUp Casino also has a bunch of real money tournaments for you to discover. You can play these throughout the week and gain free access to some mega cash events. Every cent you win on the slots will land in your account as normal and if you're lucky, you will earn some extra points to propel you through the leaderboard rankings. The higher you finish in these leaderboards, the bigger those extra prizes will be!
Payment Options
DAMA casinos are far from perfect where payment options are concerned and LevelUp Casino is no exception.
On the one hand, players can choose from a multitude of payment options, including Skrill, Visa, Bitcoin, Litecoin, Ethereum, Tether, and Dogecoin (all cryptocurrencies are processed using CoinsPaid). On the other hand, there are relatively small limits in place for most payment methods and you can't withdraw more than €3,000 a day or €15,000 a month.
Another issue is the slow rate at which these withdrawals are processed.
The pending period can take up to 72 hours. That's three days during which your winnings will not be going anywhere.
For those of you who don't know, a "pending time" is the length of time that the site holds your winnings before it initiates a withdrawal. In the past, it used to run from 2 to 5 days on average and most players were happy with that. Things moved slowly back then and we didn't know any better.
These days, most casinos process withdrawals instantly, which makes sites like LevelUp Casino stick out like a sore thumb. We know it doesn't take that long to process a withdrawal, so why are they wasting their time and ours?
It's a question we have put to players and casinos multiple times over the years. Casinos often tell us that they need this time to verify the identity of a player and to ensure there is no fraud or money laundering taking place. Players often insist that they're delaying things on purpose.
The truth is probably is a little bit of both, but there are two things we know for sure.
Firstly, the longer the delay, the more likely the player is to cancel the withdrawal, gamble the money, and lose every cent. The simple act of delaying everyone by a couple of days will probably increase a casino's revenue quite substantially.
Secondly, most verification checks are done at the point you sign up and the more detailed stuff is requested directly as part of a separate process. And even if those checks were needed, why would they take so long and why don't all sites have the same process?
Whatever the truth is, these are two of the biggest issues that we have with LevelUp Casino. In fact, there are two of the only issues that we have with the site.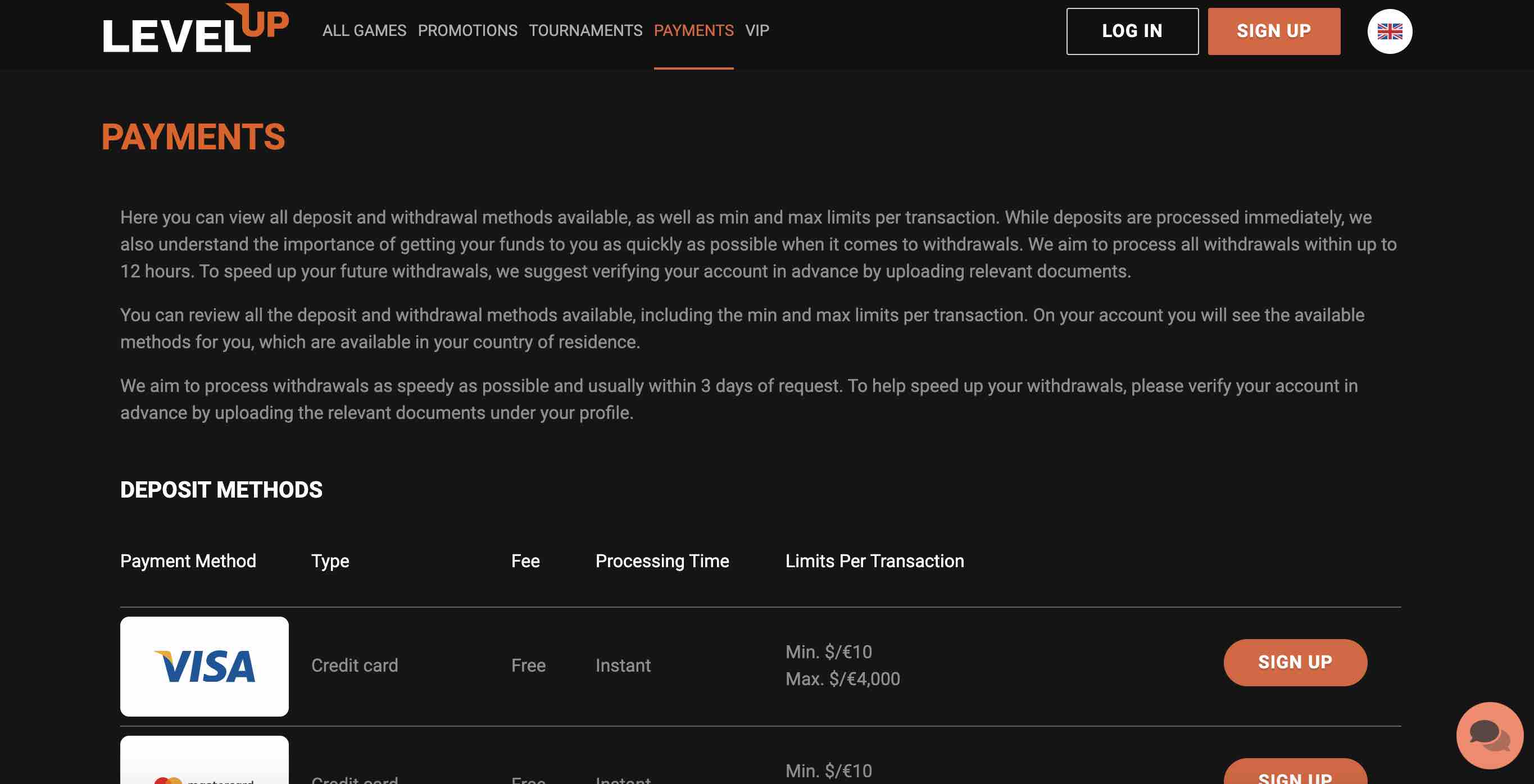 Highlights
Choose from Traditional and Crypto Methods
A Very Well-Respected Operator
Lots of Great Games
Big Jackpots
Play on Mobile and Desktop
User Reviews
There is no shortage of good reviews out there for LevelUp Casino. In fact, we reviewed this casino just a few weeks after it launched and already there were a handful of positive reviews from happy players.
More importantly, these reviews had received replies from the casino's support team, which is always good to see. It shows that the casino actually cares about its players and is willing to go the extra mile to help. It also gives you an outlet should you have an issue and feel like you are banging your head against a brick wall.
We have some experience of the customer support team ourselves and have found them to be nothing be helpful and professional. They responded to our questions without delay and were keen to do whatever they could to help us. It's good to see, and it's also becoming quite rare, as so many casinos have shocking support these days.
For every site like LevelUp Casino and the exceptional Slots Palace Casino, ones that act quickly and offer friendly service, there are dozens that just don't seem to care and are more likely to dismissively quote Terms and Conditions than offer any assistance.
FAQs
Is LevelUp Casino Available in the UK?
As it does not have a license from the Gambling Authority of Great Britain, LevelUp Casino is unable to operate there.
Is LevelUp Casino for High Rollers?
The withdrawal limit means that LevelUp Casino is not suitable for high rollers. We recommend taking your big spending ways over to 1xBit, which is better suited to high rollers.
Can I Use a VPN to Play?
We're seeing an increasing number of US players joining sites like this by using a VPN and a decentralized currency like BTC. But just because you can get through the doors doesn't mean you will be allowed to stay. A legitimate casino could ask you to verify your identity at any time and if you are there illegitimately, you will be banned and could stand to lose all money in your account.
Can I Use PayPal at LevelUp Casino?
PayPal is not available here. In fact, it's not very common on DAMA casinos, or other Curacao-licensed online casinos for that matter. You can use Skrill and Neteller, though, and it also accepts many other payment methods.
Is LevelUp Casino Safe?
As a fully licensed and certified online casino, LevelUp Casino is very safe and secure. You can play without concern and without issue.
What are the Best Games at LevelUp Casino?
If you are not sure where to begin, we recommend taking a look at Betsoft and Blueprint. Both of these developers produce brilliant 3D games.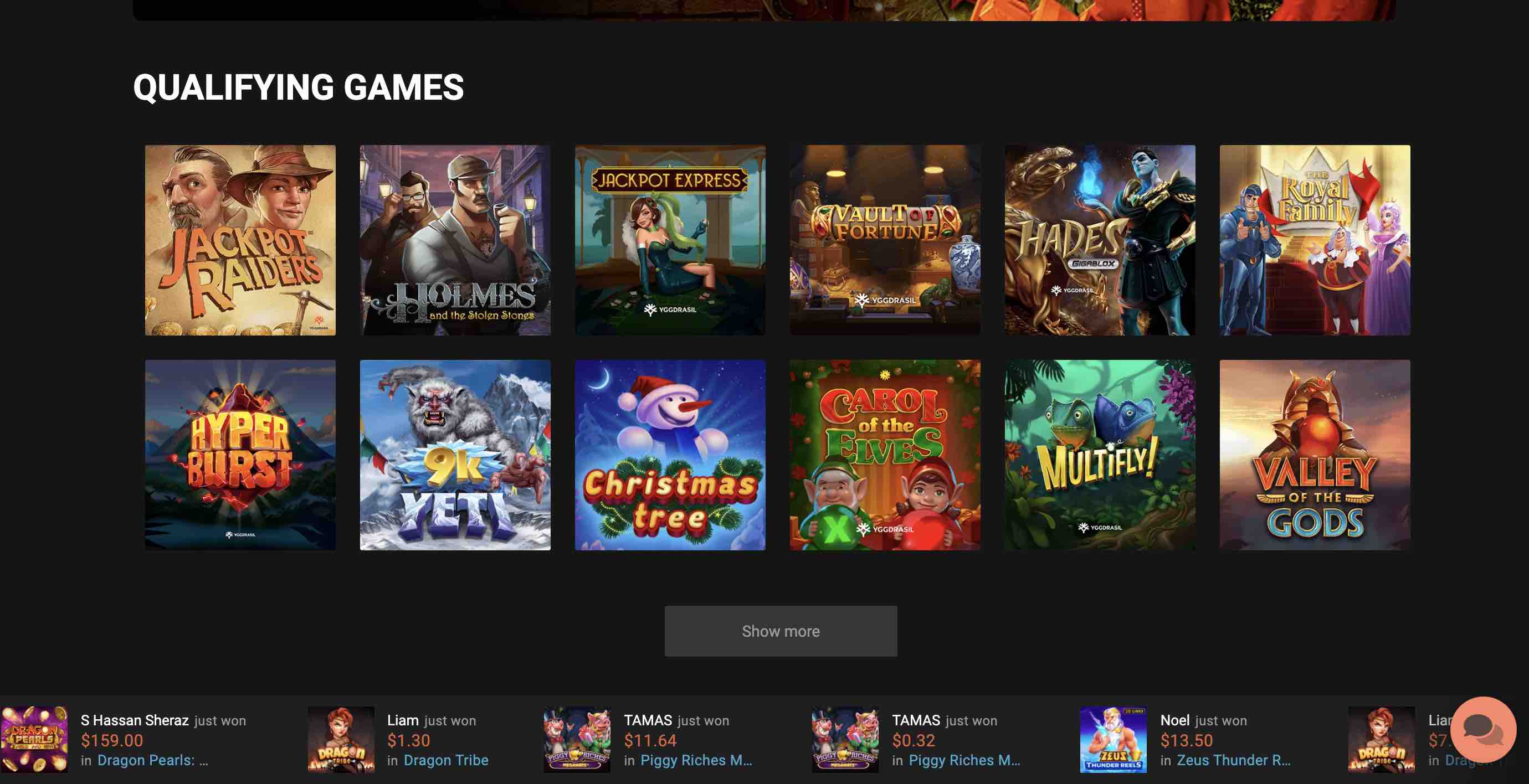 Final Thoughts
LevelUp Casino is another in a long line of online casinos that had the potential to be perfect, but ultimately fell at the final hurdle. Nearly everything is perfect here, but the withdrawal limit and the slow withdrawal speed are two huge letdowns that spoil the experience on the whole.
Don't get us wrong, this is still a great casino and one that ticks a lot of boxes and gets a lot of things right. We would definitely recommend signing up and seeing what it has to offer, as it's still one of the best sites out there right now.
But if anyone from LevelUp Casino is reading this and wants to turn that near-perfect score into a perfect one, just get rid of the withdrawal limit, speed up your process, and we'll happily give you the extra nudge you need to top out list.
LevelUp Casino Review Details
Restricted Countries:
Estonia
France
Israel
Italy
Lithuania
Netherlands
Spain
Sweden
Switzerland
UK
Ukraine
US
Currencies:
AUD
BTC
CAD
DOGE
ETH
EUR
LTE
NOK
NZD
USD
XRP