The crypto gambling industry is on fire right now and that fire is getting bigger and fiercer with eery passing year. One of the brands that is cashing in on the growth—and assisting with it—is CoinsPaid. Not sure what it is, how it works, or what it has to offer you as a cryptocurrency gambler? Keep reading to learn more.
What is CoinsPaid?
So, what is CoinsPaid? Well, in simple terms, it's a web wallet service that focuses on cryptocurrencies as opposed to traditional payment methods like Visa credit and debit.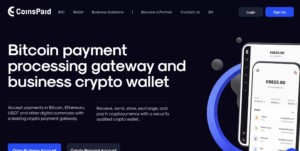 CoinsPaid accepts payments in a host of cryptocurrencies, including Ethereum, Bitcoin, and USDT. Users just need to sign up for an account (a very quick and easy process) and choose between a Business Account and Personal Account.
Once you have a CoinsPaid account, you are free to receive, store, send, and exchange cryptocurrencies.
It's an award-winning service that has been around since 2014 and has exploded over the last couple of years. As things stand, it has processed over 6 million transactions and works with more than 600 businesses, with those numbers increasing every single day.
CoinsPaid Pros and Cons
It's hard to find fault with CoinsPaid. Sure, it might not be as accessible and familiar for people who don't use cryptocurrencies, but if that's you, then you're probably not reading this page (or this site) to begin with.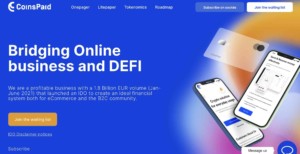 The truth is, if you're a Bitcoin or alt coin user, then you will love what CoinsPaid has to offer.
It features support for a multitude of bank cards, has a built-in exchange, and providers support for many different currencies, as well as subscription services.
Everything moves quickly, and all payments are instant. It's also completely supported on mobile.
What more could you ask for?
If you would prefer to use cryptocurrency wallets directly, take a look at our extensive guide to Dogecoin casinos.
FAQs
Can I Use CoinsPaid to Gamble?
Yes, you can. In fact, all of the casinos and sportsbook on this page accept CoinsPaid as a deposit and withdrawal method. Some of them are so trusting in the services that CoinsPaid provide that they work exclusively with this service.
Can I Use it on My Mobile?
CoinsPaid was developed with mobiles in mind. It ensures that you can quickly and easily send cryptocurrencies to merchants and other users.
How Many Cryptocurrencies Does it Accept?
You can currently use more than 30 different cryptocurrencies with CoinsPaid, including most of the highest performing alt coins on the market based on market capitalization.
Can I Swap Back to a Fiat Currency?
rnCoinsPaid allows its users to transfer payments back to more than 20 fiat currencies, so while it is crypto based, it doesnu2019t mean that you can only deposit and withdraw Bitcoin and alt coins.rn
Play CoinsPaid Casinos Now
To start using CoinsPaid on the best online casinos and sportsbooks, simply scroll up and take a peek at the casinos and sportsbook on this page. All of the sites that you see here will allow you to use CoinsPaid. There are no exceptions—if you see it listed, it means that it accepts CoinsPaid.