Pros
Fast Withdrawals
Great Aesthetic
Betsoft and NetEnt
Mobile-Friendly
Fun Casino
Cons
Withdrawal Limit
Limited Gaming Selection
DAMA N.V. is one of the biggest brands in the Bitcoin gambling sector. It has produced some of the best casinos that we have reviewed, including the exceptional GetSlots Casino, and its portfolio is getting larger with each passing year. It has its issues, sure, but most brands do, and few are as consistently brilliant as DAMA.
In this review, we'll look at one of the latest offerings from this top brand. Casitsu Casino hit the market in 2020 and has been riding a wave of support ever since. It has received a wealth of positive reviews (from critics and users alike) and has a lot of great features, bonuses, and games to offer.
Casitsu Casino hit the market in 2020 and has been riding a wave of support ever since.
If you're looking for a brand-new casino and an enticing Welcome Offer, take a look at this Casitsu Casino review and see if it has what you need.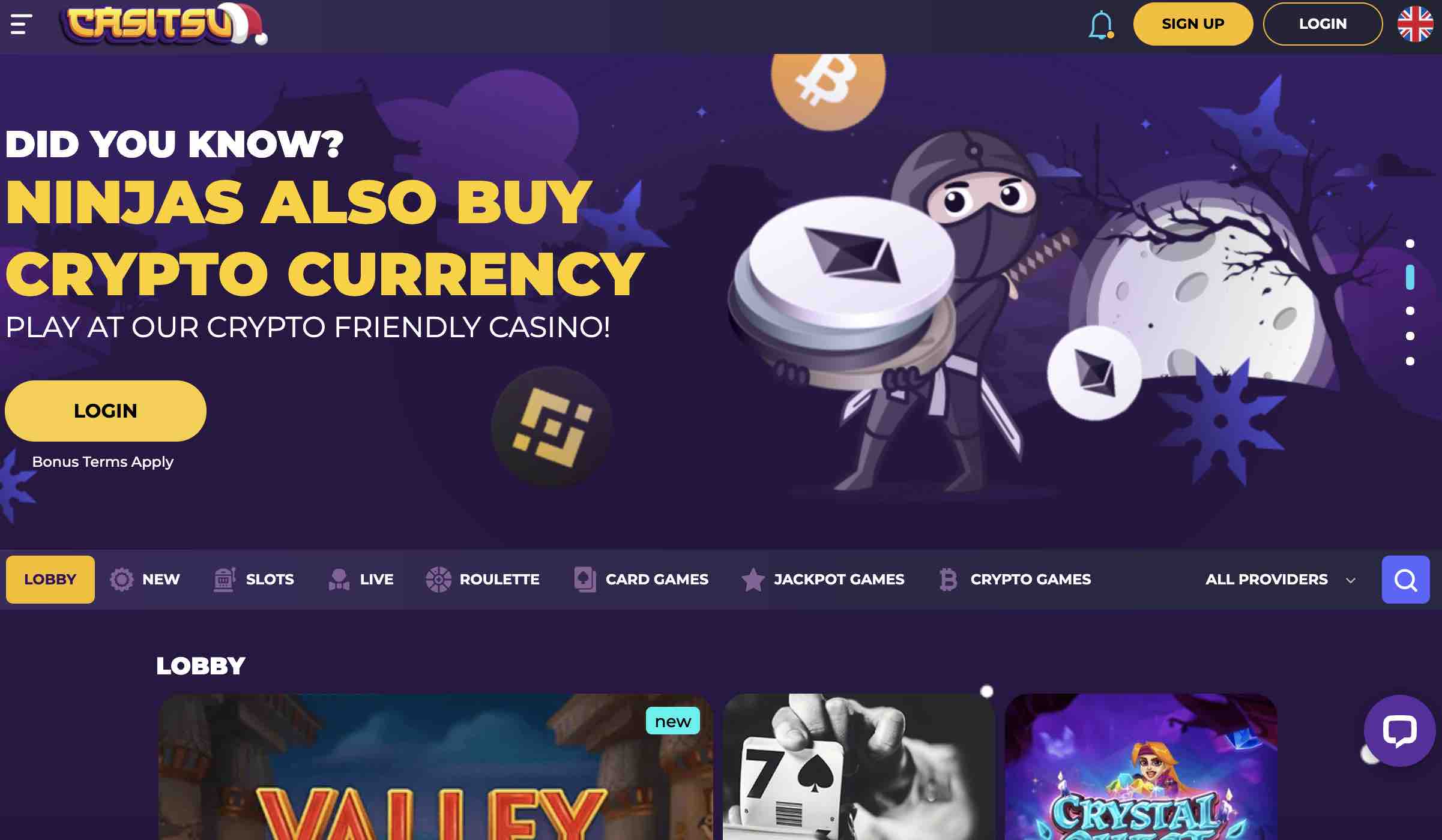 Basics
One of the first things I do when reviewing an online casino is to try and understand the general theme and see how it syncs with everything else that the casino has to offer. Sometimes, this is pretty easy to do. King Billy Casino, for example, styles itself as a kingdom for online gambling and everything from its games and promotions to its Loyalty Scheme adopt this theme.
Other times, I come across sites that have nonsensical names, visuals that don't make sense, and an aesthetic that seems completely disconnected from everything else. Joo Casino is one such example, and to this day I have no idea what that name means or what the casino is even about.
At first glance, I assumed that Casitsu Casino would fall into the latter category. But to give the operators credit, there is something a little deeper going on here.
The site's mascots are little ninjas, suggesting that the name is an amalgamation of "casino" and "ninjitsu". It has eye-roll potential, but at least it's unique and at least they have made it work.
The site is also very well designed. It's not cluttered and it's not too "in your face".
It's also busy enough to make things interesting and manages to look great on both mobile and desktop. In the past, I have complained about the use of the "mobile-menu" icon on desktop casino sites, which opens the menu and showcases links to other part of the site, but it actually works here.
It is probably the only time I have actually said that, and other casinos can learn a lot from this one.
If I had to pick fault, and I always do, it would be with the logo, which is wearing a Santa hat. Don't worry, I'm not going to get into a debate about how people are forcing Christmas down our throats. I personally love Christmas and I also like it when brands get into the spirit of the season. What I find weird is that I'm reviewing the site on January 28th.
It's either a little late, or incredibly early.
I'm now curious as to how long this will last. I'll be dropping by before Easter to see if it's been swapped for bunnies or if they will just keep the hat until next Christmas. Let's be honest, we've all done the same (or thought of doing the same) with Christmas decorations.
The primary currency at Casitsu Casino is the Euro. If you are using anything else, you may be subject to a currency conversion charge. This is rarely the case and you should receive all of your winnings in the currency of your choice. However, it might cause problems with credit card deposits and withdrawals and could lead these transactions to being a little more expensive than they otherwise would.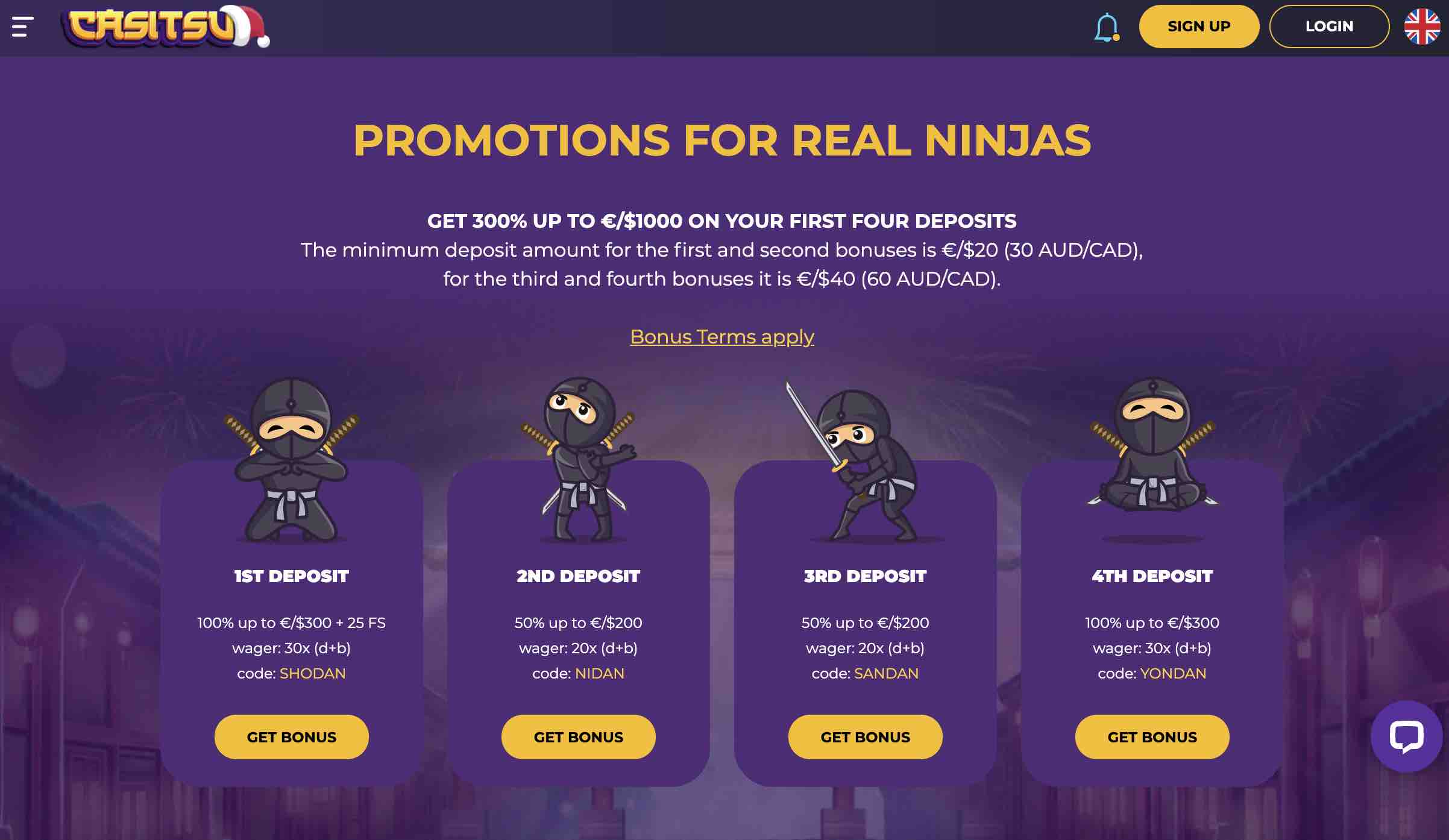 Software and Games
In 2020, it seemed like casinos were trying to outdo one another. The games rooms were getting bigger and bigger, moving from a norm of between 500 and 1,000 to over 2,000. In fact, some of the casinos I have reviewed, including the massive Wild Tornado, exceed 4,000 games.
Casitsu Casino has gone the other way and has a surprisingly small selection of games from a very limited number of developers. In fact, when I saw the providers in the menu bar my instinct was to scroll right and when nothing happened, I assumed it was broken before I even considered that there just weren't that many providers.
Yggdrasil Gaming provides the bulk of the games in the Casitsu Casino games room, and that should tell you everything you need to know, because as impressive as this developer is, it doesn't have the biggest gaming roster. Betsoft and NetEnt are also here and it's much the same story with them, prioritising quality over quantity.
These are the three biggest developers at Casitsu Casino and probably provide more than 90% of the casino's slots and table games. As for the Live Casino, most of those games come from Evolution Gaming, the biggest name in the Live Dealer sector. There are Live games of Blackjack, Roulette, Baccarat, Poker, and a bunch of gameshow titles.
All things considered, it's a decent selection of games. If you were going to create an online casino that was limited to just half a dozen developers, these would be most of the names you'd pick. If you only have a small number of slots and Live Casino games to choose from, you'd want most of these.
If I put on a more critical hat, however, Casitsu Casino really needs games from Playtech, Microgaming, and/or Blueprint Gaming. These creators add size and depth but they also add a huge number of jackpot games to the mix.
If you're a very picky player, as I am, then Casitsu Casino likely won't hold your interest for long and you may find yourself getting bored a few weeks or even days after the Welcome Bonus has expired.
Bonuses and Promotions
Casitsu Casino has a pretty impressive Welcome Bonus, one that is spread across your first four deposits with the casino. It is described as an "up to 300% and €1,000" bonus, which is a little misleading. It suggests that you can get a 300% match on your deposit and that this is capped at €1,000, but that's not the case.
They're simple adding together all of the percentage amounts from the four deposit bonuses, which are fixed at 100%, 5o%, 50% and 100% respectively.
The cap is €300 for the first and fourth and €200 for the second and third. Strangely enough, the wagering requirement also changes. It is fixed at 30x for the first and final bonus and drops to 20x for the second and third. In both cases, it applies to the deposit and the bonus amount.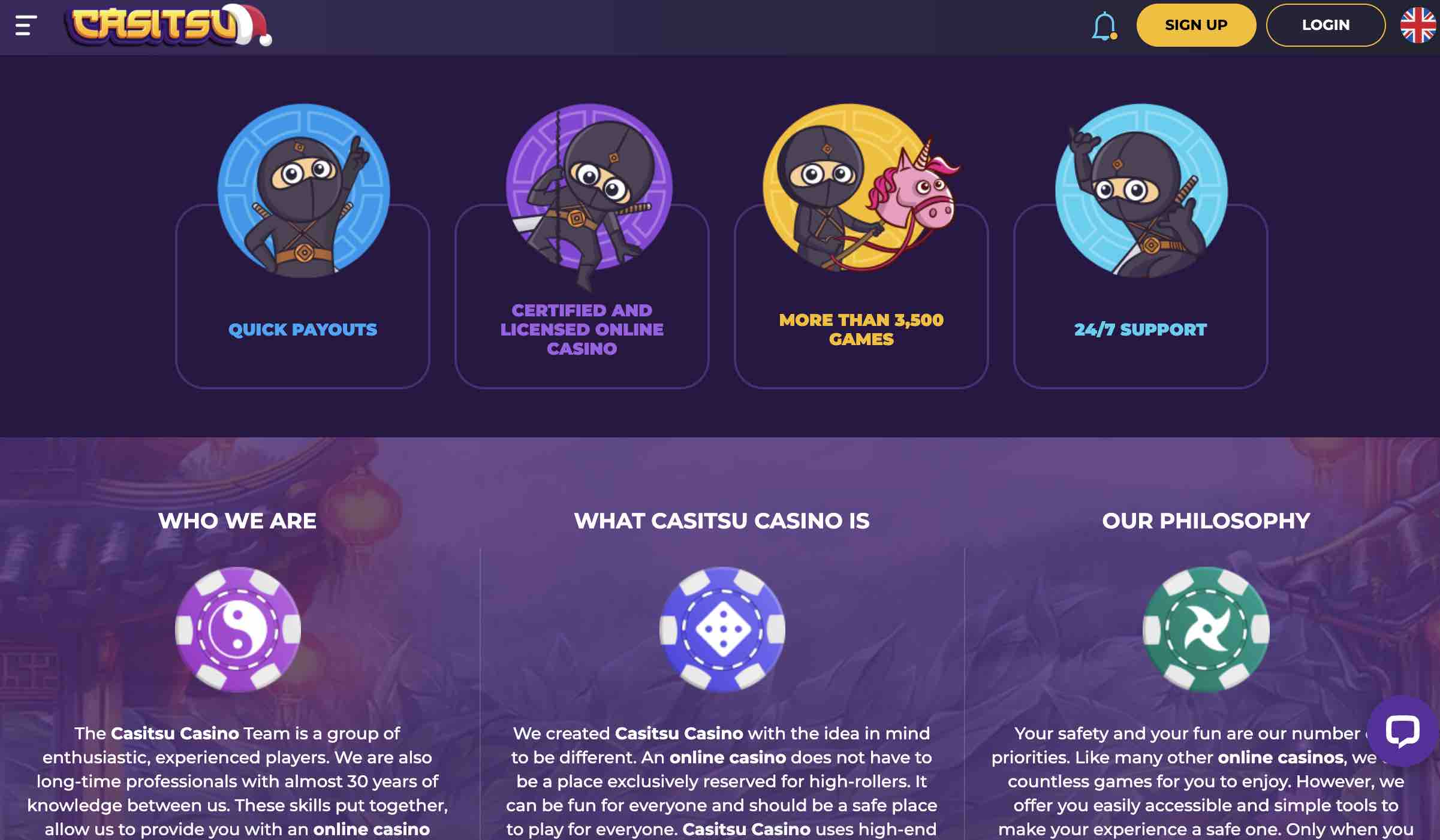 Payment Options
Casitsu Casino accepts a wide variety of payment methods and most of these are available for both deposits and withdrawals. There are no fees and most withdrawals are processed in just a few hours. That may sound like pretty standard stuff, but it's really not. A small percentage of casinos charge fees and many of them, including the otherwise great LadyHammer Casino, require a processing time of several days.
Most of these methods require a minimum deposit of €10, but Canadian players using methods like iDebit and Interac need to deposit at least CAD15. The maximum is fixed at $4,000, and this applies to most options.
As for withdrawals, the minimum is €10 for most methods, CAD25 for iDebit and Instadebit, and CAD100 for Interac.
If you're using Bitcoin, the minimum is 0.001 for both deposits and withdrawals and while the Payments page states a maximum withdrawal of 2 BTC, that's not actually the case. Casitsu Casino makes the same mistake that countless other DAMA casinos make, saying one thing on its Payments page and another in its Terms and Conditions.
If you dig through those Ts & Cs, you'll see that the limit is actually €4,000 per day, €15,000 per week or €40,000 per month.
On the plus side, this is a relatively minor oversight when compared to other sites as they usually have the incorrect info listed for all payments and it's one of the things that frustrates me the most. Also, while the withdrawal limit is definitely a downside, it's not that low and it won't make that much of a difference to the majority of players.
€40,000 a month is actually 4x higher than the limits on most Araxio Casinos, including the excellent Cadoola Casino. Generally, it will only be an issue for the smallest percentage of players, the ones depositing thousands of Euros at a time.
There are exceptions though and these can be concerning.
For instance, the Ts & Cs state that if you win more than €15,000, the casino has the right to divide the payment into monthly instalments. It's strange that it would need to make this clarification when you consider that it's well within the monthly withdrawal limit, but just because it has the right to do something doesn't mean it will.
Also, if you're worried about progressive jackpots, don't be. If you're lucky enough to win 5, 6, 7, and even 8-figure sums spinning a progressive jackpot slot, you will still be paid in full. This should be the case with all casinos, as progressive jackpots are released by the developer and not the casino, but unfortunately there are some casinos that will still withhold your money and repay it slowly.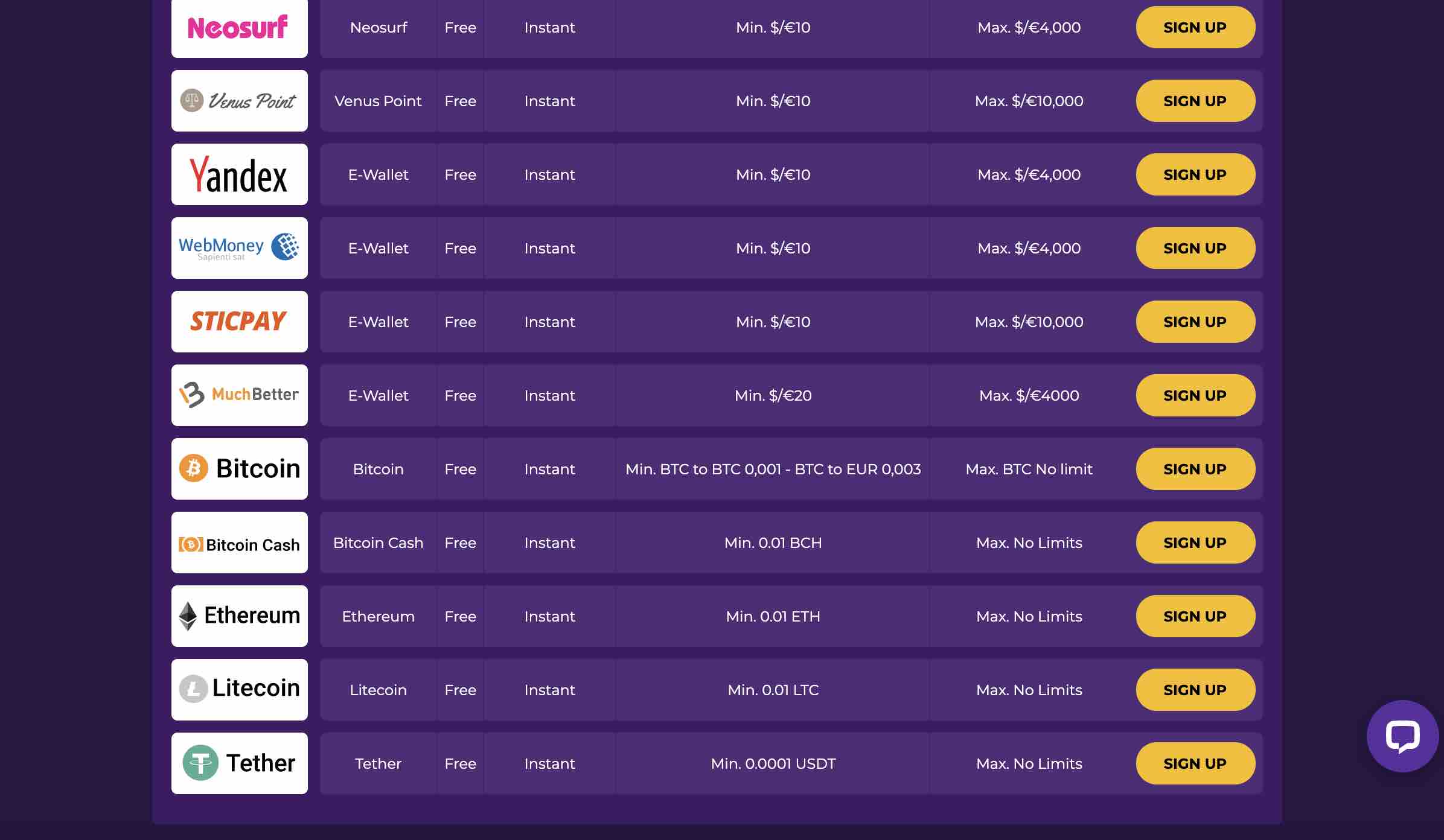 Highlights
Very Attractive Online Casino
Easy to Navigate and Find What You're Looking for
Powered by the Brilliant SoftSwiss
Fiat Currencies and Cryptocurrencies
An Expansive Live Casino
Lots of Great Slots
Owned by an Established iGaming Brand
FAQs
Does Casitsu Casino Have a Withdrawal Limit?
You are limited to withdrawals of €4,000 at a time and €40,000 a month. This is true for all currencies, including Bitcoin.
Is Casitsu Casino for High Rollers?
It's not as bad for high rollers as some of the other sites we have covered, but it does have withdrawal limits so it might not be ideal for those withdrawing tens of thousands of Euros a month. If you're in this category, take a look at our review of CloudBet Casino.
How Quickly are Withdrawals Processed?
It should take a few hours to get your money if you use web wallets or cryptocurrencies but you may need to wait a little longer with debit cards and bank transfers.
Is Casitsu Casino Safe?
It is very safe and secure! Casitsu Casino is regulated by the authorities of Curacao and these regulators ensure that everything is operating legally and fairly while also acting as mediators.
Can I Join Casitsu Casino from the UK?
If you are in the United Kingdom you won't be able to join Casitsu Casino. In fact, the casino blocks all UK players from even visiting the site.
Can I Join Casitsu Casino from Canada?
Not only can you join from Canada, but Canadians are some of the biggest players at Casitsu Casino. The site has multiple CA-only payment options and the site currency can be switched to CAD.
Final Thoughts
The layout of Casitsu Casino is pretty standard. It's not too busy, it's not too empty, and unlike a few of the casinos I have reviewed in the past, it doesn't use a headache-inducing colour-scheme of black and white. The colours are mostly just shades of purple and gold, and while that sounds absolutely terrible on paper, it actually works really well in practice.
In many ways, Casitsu Casino reminds me of Cadabrus Casino, one of the best-looking casinos I have reviewed and one that has a well-deserved place at the top of our online casino rankings.
And just like Cadabrus Casino, Casitsu also has a good Welcome Bonus and a host of additional promotions. But despite all of these positives, there are a few major negatives as well. Firstly, there is the withdrawal limit. It's not as small as the limits on other sites, but the fact that it exists will be a big issue for many high stakes players and may leave them searching for greener pastures.
Secondly, and most importantly, the gaming selection is very limited and pales in comparison to the likes of MELbet, which has thousands of games for you to choose from. Still, no site is perfect and there are lots of great things to focus on here.
Click the links on this page, sign up, deposit, and don't forget to collect your Welcome Offer. Just make sure you return to this review and use the comments below to let us know what you think. We publish all player comments (good and bad) and are really interested in what you have to say, so let us have it!
Casitsu Casino Review Details
Restricted Countries:
Estonia
France
Israel
Italy
Lithuania
Netherlands
Spain
Sweden
Switzerland
UK
US
Currencies:
AUD
BTC
CAD
DOGE
ETH
EUR
JPY
LTE
NOK
NZD
RUB
USD